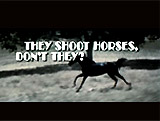 They Shoot Horses, Don't They? (1969)
In director Sydney Pollack's Depression-Era drama:
the cruel scenes of the brutal, predatory days-long dance Monster Marathon at the Aragon Ballroom in Ocean Park, California (on Santa Monica pier)
the beleaguered, pained and anguished contestant-couples competing for the grand prize of $1,500: ("It isn't a contest, it's a show")
the character of marathon master of ceremonies Rocky (Oscar-winning Gig Young) noted for his phrase: "Yowza! Yowza! Yowza!" and for warning: "There can only be one winner, folks, but isn't that the American way?"
the 'derby' dance-sprint scene of contestant Gloria (Jane Fonda) dragging and stumbling along with her weak-hearted partner-sailor Harry Kline (Red Buttons) across the finish line - and realizing that he had died in his arms of a fatal heart attack
the surprise nihilistic ending - the shooting death of Gloria - shot in the head outside the music-hall (and her imagining herself falling in a grassy field) by her dance partner-drifter/farm boy Robert (Michael Sarrazin) who confessed: "They shoot horses, don't they?"