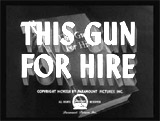 This Gun For Hire (1942)
In director Frank Tuttle's atmospheric, sinister, film noir spy-mystery (and melodramatic thriller with some romance) from Paramount Studios - it was an adaptation of Graham Greene's 1936 novel A Gun for Sale, scripted by Albert Maltz and W.R. Burnett, and transposed from London to the two emblematic locales for noirs - SF and LA. It was remade as director James Cagney's Short Cut to Hell (1957).
This was the first of four pictures teaming Alan Ladd (fourth-billed in his breakthrough role) with co-star Veronica Lake due to their electrifying on-screen chemistry, followed by two other great early noirs: Stuart Heisler's The Glass Key (1942) and George Marshall's post-war crime thriller The Blue Dahlia (1946). It was remade by Jean-Pierre Melville as Le Samouraï (1967, Fr.), with Alain Delon starring as the Raven character (Jef Costello).
At the box-office, according to conflicting sources, the film made $12 million (or as low as $1 million) on a budget of about $500,000 dollars. The film's tagline was: "He's dynamite with a gun or a girl"; the propagandistic plot was about international intrigue, double-cross, murder and treasonous espionage by fifth columnists - and the uncovering of an LA spy ring (in a corrupt big business) by a troubled contract killer, who became both the hunter and the hunted as he delved into the sale of a secret chemical formula to the Japanese enemy. Its extreme violence in a few instances was allowed by the Production Code, due to increased patriotic fervor during the post-Pearl Harbor attack time period. Peekaboo blonde Veronica Lake, who had recently starred in Preston Sturges' light comedy Sullivan's Travels (1941), became the unwitting accomplice of a young hired assassin.
the film opened in the early 1940s in a dumpy San Francisco hotel rooming house (The Marchbank), where expressionless, un-smiling, baby-faced, cat-loving, paid professional killer Philip Raven (Alan Ladd in his first major role) was introduced with his hand-gun; his dark and predatory nature was revealed in his name; uncharacteristically, he offered a saucer of milk to a stray kitten and then revealed some violent psychopathic traits when he angrily berated, slapped and tore the shoulder of the dress worn by slatternly house-maid Annie (Pamela Blake) who had shooed away a stray kitten - he considered all cats symbols of his own good luck; she was upset: ("Look at my dress. You oughta buy me a new one") as he ordered her away: "Go on, beat it!"
Raven entered the SF apartment of chemical company payroll master, chemist and blackmailer Albert Baker (Frank Ferguson) on Bridge Street that afternoon; Raven was to exchange money for document papers with stolen chemical formulas detailing the production of poison gas in the Nitro Chemicals corporation (in LA); he was startled for a moment to see a disabled Little Girl (Virita Campbell) with braces on her legs suffering from polio, sitting directly in his pathway on the stairs
in Baker's apartment, the blackmailer Baker excitedly anticipated being the recipient of a bundle of cash in exchange for information he had threatened to send to Senator Burnett's investigating committee in Washington DC that evening; in remorseless cold-blood, Raven reached not for money, but for his gun in a satchel (also revealing his deformed, distended left wrist), and shot point-blank at Baker, and then Raven murdered his floozy secretary (Bernadene Hayes) (who was in the wrong place at the wrong time) through a kitchen door where she had fled; he recovered the formulas, contained in a typewritten letter
| | | |
| --- | --- | --- |
| Blackmailer Baker with Secret Document Papers in Exchange For Money | Typewritten Documents Addressed to Senator Burnett - With Secret Formulas | Headlines: Chemist and Woman Murdered - Killer At Large |
on the way down the stairs, Raven had to again pass by the Little Girl, knowing that she might have heard gunshots and could identify him to the authorities; when she called to him, he hesitated for a moment, struggling about what to do with her - and then realized she only wanted help to retrieve her ball
the next day after the murders, Raven met up in a small SF cafe with the person who had commissioned him to commit the contract murder for hire - fat, misogynistic, peppermint candy-loving, effeminate chemist Willard Gates (Laird Cregar) (alias Mr. Johnson) who said he hated violence; Raven was unaware that he was an LA nightclub owner and also worked for the Nitro Chemical Corporation based in Los Angeles; claiming that he was "most grateful" for the hit job, Raven was then paid off with $20,000 dollars, but the distrustful killer didn't realize that he was being double-crossed with "hot" money (marked $10 dollar bills); after the deal, 'Gates' gifted Raven with free orchestra tickets to a floor show (he said his one vice was "backing leg shows"), but Raven declined - he was characterized as a loner without a girlfriend ("live alone, work alone")
Gates went straight to the SF police to report a crime of theft allegedly committed a week earlier, and to provide the incriminating serial numbers on the bills; he spoke with LA police investigator-detective Michael Crane (Robert Preston) (another bird name), who was vacationing in SF, and was assigned to the case; the company offered a reward of $5,000 dollars (Gates: "We want him dead or alive")
Gates' equally-corrupt boss - the wheelchair-bound chemical company, tycoonish business-executive president Alvin Brewster (Tully Marshall), nicknamed "Old King Chlorine," wanted to eliminate any traces of their arrangement by having Raven charged by the police with the theft of $20,000 in funds from the Nitro company's paymaster
in the next scene at the Fletcher Theatrical Agency's Audition Hall, super-sultry, peek-a-boo blonde, and femme fatale Ellen Graham (Veronica Lake), was introduced - she was actually Crane's girlfriend/fiancee - revealed later; she was a nightclub stage singer with a magician act who was auditioning for a job from Gates; she sang "Now You See It, Now You Don't" (dubbed by Martha Mears) as she performed; he was impressed by her act and hired her to work at his Neptune Club in LA; she was to immediately travel to LA that evening on the 7 pm Southern Pacific train; it was then revealed that someone behind the scenes was pressuring her to work for Gates
| | | |
| --- | --- | --- |
| Ellen's Magician-Singing Act Audition for Gates in SF | Ellen Hired by Gates to Work in His LA Nightclub - The Neptune Club | Ellen - Also Hired as a Secret Agent by Sen. Burnett, to Spy on Gates |
shortly later, Ellen privately met in the back seat of Senator Burnett's (Roger Imhof) vehicle, and agreed to perform undercover work for the government as a secret agent - to spy on suspected traitor Gates while working at his LA nightclub; within LA's Nitro Chemical Corporation, Brewster and Gates were suspected of running an LA spy ring that manufactured poison gas to sell to Japan - the US' wartime enemy amongst the Axis Powers
according to Burnett, Gates was considered a threat to the country: ("There's a handful of those heels in this country today. And they're powerful enough to sabotage our defense. We're trying to expose them...In the daytime, he's an executive at Nitro Chemical. In between times, he's been seeing men that are suspected of being foreign agents"); she was ordered to keep her spy assignment from her boyfriend-fiancee Crane: ("You can't tell anybody, not even him")
as Raven was returning to his SF hotel, he impulsively gave one of his $10 bills to the young salesgirl (Mary Davenport) of a nearby dress shop, telling her that "a girl named Annie" would soon be down to purchase the $8.98 dress displayed in the front window; as she excitedly told her Mama (Joan Evans) about the sale, she realized the greenback was one of the marked bills listed on the $5,000 Reward flyer
Ellen met up with her boyfriend/fiancee Detective Crane in a local carnival; Ellen realized that she would be in LA at her new nightclub job (and secret gov't job), while her fiancee would have to remain behind in SF to investigate the theft case; she told him: "I thought we'd be down there together," but was hoping they would soon be able to marry once they were both in Los Angeles: "I want my guy. I want a home, some kids"; Crane was called away with news of a marked bill spent at a dress shop
in the rooming house-hotel, Raven overheard the manager (Chester Clute) and maid Annie describing him to Detective Crane: "He's acted funny ever since he came here. He don't talk to nobody, he don't look at nobody. Like he's got a secret....his name is Raven....He's no good"; Annie told how Raven had torn her dress and hit her in the face over a cat incident; Raven learned from Annie - as he held a gun to her in the hotel's phone booth, that he had been set-up with marked money and had unwittingly "passed a stolen bill in a dress shop"; additional information from the manager helped to identify Raven: "His left wrist, it was badly broken. The bone is big. He never smiles, neither"; once the police left, Raven locked the manager and Annie in the back hotel office closet
Ellen, Raven, and Gates converged separately at the LA train station; Ellen and Crane bid farewell to each other as she boarded the LA-bound 7:00 pm Southern Pacific train; at the same time, Raven had no choice but to flee from his hotel, and take the same 7:00 pm Southern Pacific train to Los Angeles as a fugitive, to follow after and seek revenge against Gates and his boss Brewster
by accident or coincidence, or for plot convenience, Raven happened to sit next to Ellen during their train ride to LA, where the couple got to know each other during their long overnight trip; at first, she distrusted him when she caught him stealing $5 dollars from her purse, but didn't report the crime ("Hand it over and we'll forget it"); he told her he was on his way to LA to repay "a fat man who likes peppermints" and his boss after being double-crossed and framed (for a robbery) by them
Overnight Train Ride to Los Angeles
in the morning as he went to breakfast, Gates spotted them innocently sleeping next to each other on the train and wired the LA police to arrest them at their destination; once they arrived, Raven seized Ellen at gunpoint as his hostage, knowing that she suspected him to be 'on the run' from the law (after being framed); they were able to evade the authorities checking the departing passengers for a broken left wrist; in a shadowy scene, the two entered a building about to be demolished, and as he contemplated killing her by shooting her with her back turned, they were distracted by a construction crew and Ellen escaped from Raven's custody
after checking into the Hotel Wilshire (offscreen), she arrived at the Neptune Club, populated on stage with a cast of females wearing shiny outfits and mermaid costumes; during the dress rehearsal of her singing number "I've Got You," Ellen was dressed in black dominatrix leather, wielding a large riding crop; it was shown that she was actually holding a fishing pole and wearing a shiny leather wading outfit
"I've Got You" Dress Rehearsal at the Neptune Club
Gates watched the rehearsal and then offered her a peppermint - it dawned on her that Gates (whom she was spying on) was also the man who had double-crossed Raven; she had been invited to have dinner in Gates' Hollywood mansion, where plans were to kidnap and eliminate her under Brewster's orders (Gates suspected she was allied with Raven after seeing them on the train together: "I don't know whether they're working together or not")
upon his return to LA, Michael also went looking for Raven, and spoke to Brewster at the Nitro headquarters, who urged: "This man Raven is a professional killer. None of us is safe...this man Raven should be shot on sight"
after a period of questioning at Gates' residence that evening, Ellen was caught in a lie by Gates, who accused her of aiding Raven: ("What have you to do with him? He's after me and you're helping him"); Ellen was knocked out with a candelabra by Gates' thuggish chauffeur Tommy (Marc Lawrence), and then bound and gagged, and was to be set up for a mock suicide (Tommy had planned to throw her off a bridge into a reservoir with catgut bindings that would dissolve in water)
meanwhile, Detective Crane arrived at Gates' mansion, but the chauffeur lied to him about Ellen never being there for dinner; after Crane left to find Gates at the club, Raven (who had tracked down Gates' whereabouts) also arrived at the mansion to seek Ellen; after finding her discarded monogrammed purse, he pushed the deceitful chauffeur down a long flight of cellar stairs
Raven located Ellen stuffed behind Gates' clothes closet; he untied her bound hands and gagged mouth, and took her with him at gunpoint (intending to use her as a protective hostage); they drove in Gates' stolen car to the Neptune Club where he sought to avenge Gates; he told her before they left: "Look, I'm not gonna hurt ya. You treated me okay. But you do what I tell ya"
Raven's intentions were blocked when he confronted Crane - who had just been speaking to Gates at dinner during a club floor show; Raven again escaped with Ellen as they fled; she provided a trail of 'bread-crumbs' for Crane to follow by dropping monogrammed (EG) playing cards from her magic act behind her
while they were being tracked and surrounded, as they sat on some stairs inside a deserted gasworks factory, Ellen was drawn into the hunt for their common enemy Gates by Raven as his accomplice and friend; they exchanged information - he told her he was paid by Gates in "hot money" to do a job; she explained that she had heard about the "man behind Gates" - who worked at Nitro Chemical
when they moved on to a railroad freight yard and sat in a shack, she saw that he had cut his right wrist on a drain pipe wire; she tried to help bandage his hand, but he pulled his hand away ("That's enough") - resisting the care she provided
Ellen also mentioned that she knew Raven had killed the blackmailing chemist Baker; they speculated that the "man behind Gates" felt threatened when Baker was about to send a letter with chemical formulas to Sen. Burnett
the two enjoyed the company of a friendly orange cat named Tuffy; he explained how he admired cats as independent creatures ("They're on their own, they don't need anybody") who brought good luck; as their relationship was progressing, she attempted to understand the assassin's "soft side"; Ellen mentioned how she thought the chemical formula was for "poison gas" that was being sold to the American enemy - the Japanese, who would then make bombs targeting the homeland: ("Tomorrow they'll ship it back in bombs. Japanese breakfast food for America"); she urged patriotic feelings from Raven to help the war effort: ("This war is everybody's business, yours too")
but then Raven was forced to silence and smother the animal to prevent it from meowing and giving away their location - ending Raven's streak of luck: ("I killed my luck. You got the break, Tuffy. I'd like to crawl down there with you and sleep")
while awaiting daylight, the murderous, wild-eyed, cold-blooded hired gun Raven admitted to Ellen, in a lengthy monologue, that he was abused as a child living in miserable poverty; Raven told about his victimization as a child, when he was left orphaned at age three when his criminal father was executed for murder, and his mother died young; he was forced to live with his mean Aunt: ("She used to beat me. To whip the bad blood out of me, she said")
at the age of fourteen, he had acquired a scarred and misshapen left wrist when his Aunt, who frequently beat him, bashed him in the wrist with a hot clothes flat iron for reaching for a piece of chocolate set aside to make a cake; he then murdered his unforgiving Aunt by slitting her throat, and spent a punishing time in a reform school: ("...They stuck a label on me, killer, they shoved me in a reform school and they beat me there too, but I'm glad I killed her..."); his background clearly foretold his avenging nature as a lone criminal and killer
Raven was pressured by Ellen, appealing to her own reforming efforts, to not kill Gates (or anyone else from now on) but to acquire a signed confession of his traitorous behavior ("Who's behind him, names, everything"); she further urged him to show "flag-waving" patriotism: ("It's important to your country"), but he resisted her suggestion: "I'll take care of Gates my way!"
the pair struggled to avoid police who were led by Michael Crane and closing in on the train yard with a dragnet during a foggy morning; to avoid gunfire, the two exchanged clothing - and the plan was for her to distract the police while he escaped out the back; she kissed him on the cheek before they split up; however, when Raven broke free and raced away on foot, he was forced to shoot his way out by killing Officer Glennon (Elliott Sullivan), one of the policemen; he escaped by leaping off an overhead railway bridge onto a moving train
Raven tracked the double-crossing smugglers down to the Nitro Chemical plant in LA where the spy ring was headquartered; in the climactic finale, Raven arrived during a gas attack drill throughout the entire company, requiring all of the employees to wear face-obscuring gas masks; he made his way in by joining a tour group of the plant
after knocking out Tommy and disguised in his uniform, the gas-masked Raven made his way into the office of the corrupt, double-crossing Willard Gates, who immediately began blaming his boss; Raven led Gates at gunpoint into the upper-floor, secure office of traitorous, wheel-chaired double-agent Alvin Brewster (who was drinking milk) - and ordered them to both sign a written confession; they admitted they were selling secrets about the chemical composition of poison gas to foreign agents (the Japanese)
| | | |
| --- | --- | --- |
| Raven Leading Gates at Gunpoint to Brewster's Office | Inside Brewster's Office - Raven Revealed Himself | The Mastermind Behind The Sale of Poisonous Gas - Alvin Brewster |
| Raven Forcing the Traitors to Sign a Written Confession | Deaths of Brewster and Gates | Barrage of Police Bullets At the Entry Door to Brewster's Office |
during exchanges of gunfire in a showdown, Brewster died of a heart attack (after attempting to shoot Raven with a hidden pen-gun), and Gates was shot dead by Raven, but then Raven was also lethally-wounded by arriving LAPD Detective Lieut. Michael Crane (who was suspended from a painter's scaffolding outside the window); Raven hesitated to kill Michael as Ellen helped to safely guide him into another window; and then other police officers barged through the door and fired more shots at Raven
as Raven died with a rare smile on his face, they found the sabotagers' written confession exonerating Raven; Crane read the written confession that Raven had obtained from the bad guys; before expiring from his gunshot wounds, Raven was assured by Ellen that she hadn't turned him in, after Raven asked: "You didn't tell the cops, did ya?" Then, he asked her about what she thought: "Did I do alright for ya?"
"Did I do alright for ya?"


Ellen with Det. Crane
she nodded yes as absolution, and moments later, Raven passed away. For reassurance, Ellen embraced Crane and unconvincingly gushed: "Oh Michael, my darling, hold me," as the film ended and faded to black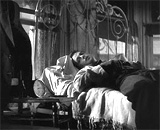 Raven's Introduction: Lying on a Bed in a Cheap Hotel in SF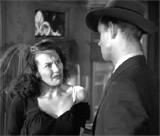 Raven's Reprimand of House-Maid Annie For Shooing Away a Stray Kitten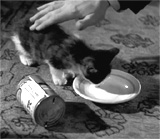 Raven's Love for Cats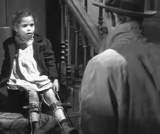 The Little Girl on the Apartment Stairs With Polio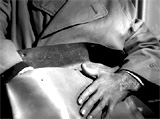 Raven Reaching For Gun (Not Money), Revealing His Deformed Left Wrist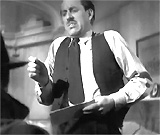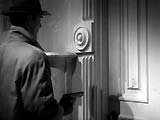 Raven's Murder of Blackmailing Chemist Albert Baker and His Secretary Behind a Kitchen Door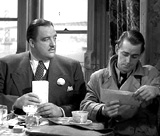 Raven Paid by Fat, Double-Crossing Chemist Willard Gates (Laird Cregar)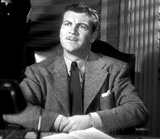 Gates Meeting with LA Police Investigator-Detective Michael Crane (Robert Preston) in SF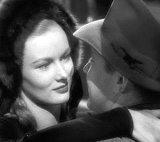 Ellen with Her Fiancee-Boyfriend, LA Detective Crane at a Local Carnival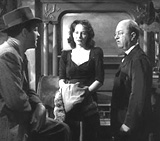 Crane Questioning the Marchbank Hotel Manager and Maid About Raven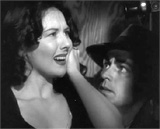 Raven Holding a Gun on Annie in the Hotel's Phone Booth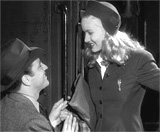 Farewell At the SF Train Station Between Ellen and Fiancee Crane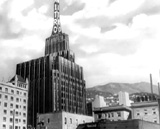 The Nitro Chemical Building in Los Angeles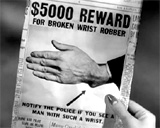 $5,000 Reward For Killer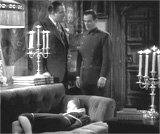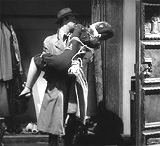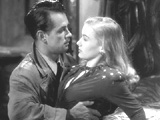 Ellen Bound and Gagged, and Heroically Rescued by Raven From Gates' Mansion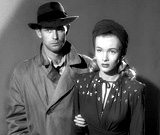 Ellen (Held at Gunpoint) With Raven in The Neptune Club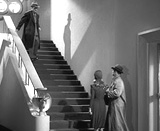 Confronted by Michael in The Neptune Club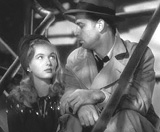 Hiding out With Ellen on Stairs in a Deserted Gasworks Factory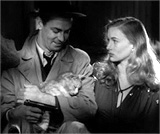 Hiding Out in a Shack with an Orange Cat Named Tuffy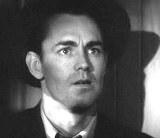 Raven's Mad Monologue About His Abused Upbringing With His Mean Aunt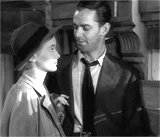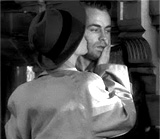 Raven and Ellen Exchanging Clothes During His Escape - And A Kiss on the Cheek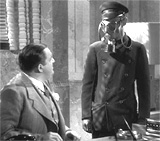 Raven (With Gas Mask) Confronting Gates In His Office