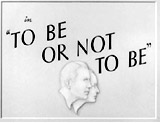 In Ernst Lubitsch's propagandistic screwball romantic (and black) comedy, remade by Mel Brooks as To Be or Not to Be (1983):
a WWII era film set in Nazi-occupied Warsaw, among a troupe of Polish thespians led by egocentric ham actor Joseph Tura (Jack Benny)
the delivery of Tura's famous "To be or not to be" Hamlet soliloquy, triggering the exit of Polish audience member/fighter pilot Lt. Stanislav Sobinski (Robert Stack) from his second row seat to innocently rendezvous backstage with Tura's flirtatious wife and glamorous leading lady actress Maria (Carole Lombard in her last screen performance) in her dressing room
the scene of Maria telling her husband Joseph off after he called her a prima donna: ("Whenever there's a chance to take the spotlight away from me, it's becoming ridiculous the way you grab attention. Whenever I start to tell a story, you finish it. If I go on a diet, you lose the weight. If I have a cold, you cough. And if we should ever have a baby, I'm not so sure I'd be the mother"); Joseph responded: "I'm satisfied to be the father"
and the scenes of Joseph impersonating both the buffoonish Nazi officer Col. Ehrhardt (Sig Ruman) and Polish traitor/Nazi spy Professor Siletsky (Stanley Ridges)
the oft-repeated line of Gestapo chief Col. Ehrhardt: ("So they call me 'Concentration Camp' Ehrhardt, eh?!")
and one of the film's funniest lines about Tura's acting talent, spoken by Nazi officer Ehrhardt: "What he did to Shakespeare we are doing now to Poland"
the lampooning of Hitler by Polish actor Bronski (Tom Dugan), saluting himself: "Heil myself"