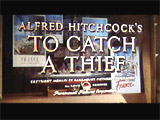 In Alfred Hitchcock's lightweight, suspenseful romantic thriller and heist film (with a mystery element and racy dialogue) set on the colorful French Riviera, where a nighttime jewel-thief (cat burglar) was creating panic amongst the visitors and residents; the sexy caper was filmed in VistaVision and Technicolor, and partially on-location:
the opening view was of a distressed female after she noticed her empty jewelry case in her French Riveria hotel room; she was screaming: "My jewels! I've been robbed. Someone stole my jewels" - the film emphasized the motif of a stealthy, prowling jewel thief (cat burglar) that had committed the crime - a black cat crossed a slatted, tiled rooftop at night
the authorities' only suspect was a reformed and retired ex-burglar (for 15 years) - American-born John Robie (Cary Grant), known as "The Cat" who lived in a hillside Cote d'Azur villa near Cannes; photographed from the air, the police (who arrived to question Robie) chased after him as he drove away and fled from his villa, although it was only a diversion
to successfully escape, Robie boarded a bus to Cannes and sat in the rear seat, while he watched through the back window as detectives returned to his villa. He was squeezed on the bench seat between a cage containing two fluttering birds (enticing to a cat) and a portly passenger (director Hitchcock's cameo)
once Robie reached Cannes in the French Riviera, he decided to investigate the crime by himself and find the real thief who was imitating his crimes, before the police trailed and arrested him; he met with his old ex-con friends in a restaurant - including head waiter Bertani (Charles Vanel) and wine steward Foussard (Jean Martinelli) from the days of French Resistance against the Germans during WWII
when the police arrived, Robie was helped to escape via a speedy motor-boat by Foussard's smitten and flirtatious young, teenaged blonde daughter Danielle Foussard (Brigitte Auber) to a nearby, luxury Cannes hotel's beach club
while lounging on the hotel's beach, Robie (and the audience) had their first view of beautiful, lanky and cool blonde Frances Stevens (Grace Kelly) in a yellow turban and sunglasses who was applying sun-tan lotion
Robie pursued his own investigation of the recent string of 'cat' burglaries by meeting at a flower market in Nice with a contact of Bertani's named H. H. Hughson (John Williams) - an insurance agent of Lloyds of London that was losing money after the rash of thefts; he was conveniently provided with a detailed list of names of those on the Riviera who were heavily-insured clients with expensive jewels (supposedly, they would be the Cat's next victims); one of the names on the list was affluent, nouveau riche American widow - an oil millionairess named Mrs. Jessie Stevens (Jessie Royce Landis), who was traveling with her beautiful blonde daughter Frances and staying at the Carlton Hotel
Robie was able to maneuver drinks with Mrs. Stevens and her spoiled yet refined daughter, by posing as a wealthy Oregon lumber magnate named Conrad Burns (although Frances quickly saw through his disguise as an American tourist)
At Her Hotel Door, An Unexpected Goodnight Kiss from Frances for Robie
afterwards to his complete surprise, Robie escorted Frances, a pretty and quiet socialite, back to her hotel suite - the seemingly-modest Frances unlocked her hotel room door, turned - and then after a warm glance into his eyes, she seductively placed her arm around his shoulder and passionately kissed him (the kiss was initiated by her). Without a word, she then backed away, and shut her door. He slowly turned toward the camera with a satisfied smile on his lip-stick stained lips
the next morning, it was learned that the cat burglar had again struck and stolen more jewels; during a breakfast scene, in one of the most memorable and vulgar images on screen, an exasperated Mrs. Stevens extinguished or stubbed out her lighted cigarette (a phallic symbol) in the yolk of a fried egg, while being warned about keeping her jewelry in her safe
| | | |
| --- | --- | --- |
| Mrs. Stevens Extinguishing Her Cigarette in An Egg Yolk | Frances in Carlton Hotel Foyer with Robie | Verbal "Cat"-Fight Between Danielle and Frances at the Carlton Hotel's Floating Raft |
Frances attracted attention in the hotel's foyer with Robie - she was fashionably decked out in a high-necked, black bathing suit, oversized white sunhat, and white coverup; while Robie was reclining on a beach chair with Frances, cute brunette Danielle caught Robie's attention in her bathing suit, and they swam out to the hotel's floating raft; Danielle informed Robie that Bertani's ex-convicts had been threatening to kill him (they were worried about discrediting suspicions being cast onto them)
Frances swam out and joined them at the hotel's floating raft, where the two engaged in a verbal 'cat'-fight over the bemused Robie - both of the bitchy women were extremely jealous of each other
later, Frances invited Robie to join her for a picnic basket lunch and a drive in her open convertible sports car ("I have my car and a basket lunch with chicken and beer"). After a tense and swervy car ride to evade a pursuit car of detectives, she parked at a "lonely and secluded" picnic spot that she had picked out, overlooking the seaside town, where they shared the contents of her picnic basket placed on the front seat (he sat on the floorboard with his legs out the open passenger door); she excitedly revealed that she knew he wasn't Mr. Burns, and suspected that he was the jewel thief John Robie
their conversation turned particularly saucy and was filled with witty double entendres and sexy innuendo. When she passed him a beer, he asked: "You got an opener?"; in a famous provocatively-teasing line, Francie made an offer to Robie, referring to the fried chicken (and more) that she had brought on the picnic, causing him to do a double-take:

Frances: "Do you want a leg or a breast?"
Robie: "You make the choice."

later in Frances' hotel suite, Frances begged Robbie to make her his accomplice during his crime spree; while real fireworks exploded through the open doors in the background (over the water in the night sky), other 'sexual' fireworks burst within the room between them - she had invitingly turned out the lights: "If you really want to see the fireworks, it's better with the lights out. I have a feeling that tonight, you're going to see one of the Riviera's most fascinating sights. I was talking about the fireworks....The way you looked at my necklace, I didn't know." Acting as an exploitative predator, she enticed him by displaying her white strapless gown and his main weakness - her sparkling, glistening diamond necklace as the ultimate prize (the word 'diamonds' also referred to her bare decolletage and breasts)
she asked if he was passionately staring at her valuable necklace that he was frustratingly "unable to touch" -- "The thrill is right there in front of you, but you can't quite get it." She stroked her necklace and tantalizingly discussed the diamonds she was wearing. She encouraged him to extol the beauty of both her diamonds -- and her breasts. "Even in this light, I can tell where your eyes are looking. (He sat down next to her.) Look, John. Hold them. Diamonds. The only thing in the world you can't resist. Then tell me you don't know what I'm talking about. (She kissed his fingers, one by one, and then put her necklace in the palm of his hand.) Ever had a better offer in your whole life? One with everything?" He responded: "I've never had a crazier one." She purred: "Just as long as you're satisfied." He remarked about her fake diamond necklace: "You know as well as I do. This necklace is imitation," to which she replied: "Well, I'm not." (They kissed)
the scene climaxed with the white-hot, orgasmic peak of the colorful fireworks exhibition bursting in a vibrant closeup in the night sky, illuminating the intensity of their kiss in the dark - and the imminent loss of her virginity. The scene was one of filmdom's most blatantly-sexual images
after their very seductive encounter, the next day, Frances accused Robie of being responsible for the loss (theft) of her mother's jewels (and her own sexual loss of virginity) by distracting her the previous evening: "Give them back to me...Mother's jewels!"; Robie confessed to her his true identity and revealed he was "The Cat" ("My name is John Robie. I used to be a jewel thief several years ago"), but denied stealing her mother's jewels; he slipped out onto the roof when Frances attempted to summon the police
later in the film, when Robie was staking out a house for the thief, he was attacked by an unknown assailant; he inadvertently killed the man who was identified as Danielle's father Foussard (the restaurant's wine-steward); police mistakenly thought he was The Cat, until Robie informed the police that it was impossible for peg-legged Foussard (with a prosthetic leg) to climb rooftops during robberies; however, the public still believed that Foussard was the 'Cat Burglar'
just before a major costume ball scheduled for the weekend at an estate, Frances apologized for accusing Robie of being the thief - she also confessed that she loved him ("I'M IN LOVE WITH YOU") and would help find the real burglar; they both attended the estate's fancy event, with Frances wearing a Louis XV-era gold-gown
in the film's conclusion during the masked costume ball, Robie (who was wearing a black Moorish nubian slave outfit with a mask and was able to switch places with Hughson) was free to track the real Cat from the villa's rooftop during the evening; he noticed a black-clad figure exiting a window (after major jewel thefts) and traversing the rooftop - he froze, spied the figure, and then chased after it
Robie's Capture of the Real Cat Burglar - Danielle
Robie caught up to the masked thief - grabbed the individual - and unmasked DANIELLE; a light was directed toward the rooftop and caught Robie in the spotlight, but he proved his innocence and revealed the real masked copycat thief - young blonde Danielle Foussard, who fell and dangled from the roof's gutter until she confessed that her father Foussard and restauranteur Bertani had planned all of the robberies
in the final short scene set at Robie's Cote d'Azur villa, Frances (still wearing her gold gown from the costume ball) urged and pressured Robie into admitting that he was in love with her; he obliged her by repeating what she had dictated to him: "Without you, I couldn't have done it. I needed the help of a woman. I guess I'm not the lone wolf I thought I was, Francie"
as they were about to say goodbye, he pulled her arm toward him for an embrace and kiss; Frances had finally nabbed the slightly-dismayed Robie - as she triumphantly noted in the last line that she was domesticating him: "So this is where you live. Oh, Mother will love it up here!"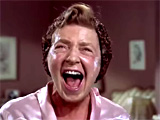 Hotel Room Visitor: "My jewels! I've been robbed"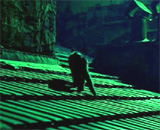 The View of an Actual Black Cat on a Rooftop - a Symbol of a 'Cat Burglar'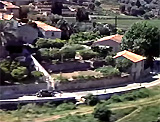 Diversionary Flight From Robie's Cote d'Azur Villa - Aerial View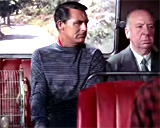 Robie Seated On a Bus to Cannes (Director Hitchcock's Cameo)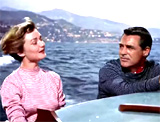 Robie with Flirtatious Teenaged Blonde Danielle Foussard (Brigitte Auber) on a Motorboat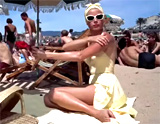 First View of Frances Stevens (Grace Kelly) on Cannes' Carlton Hotel Beach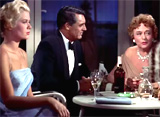 Drinks at the Carlton Hotel with Frances and Her Mother Mrs. Stevens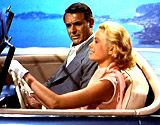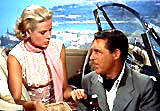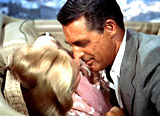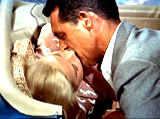 Robie Riding in a Convertible Sports Car with Frances - For a Picnic Lunch - She asked: "Do you want a leg or a breast?"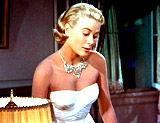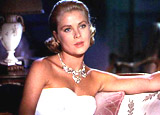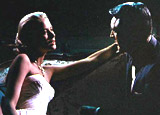 Robie Admiring Frances' Jewels (and Other Body Parts)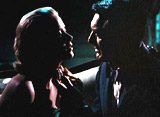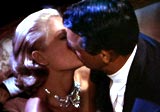 The Explosive Kissing-Fireworks Sequence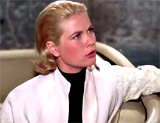 Frances' Confession to Robie: "I'm in love with you"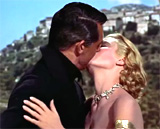 Robie and Frances Together Kissing in the Closing Scene at His Cote d'Azur Villa: ("Mother will love it up here")