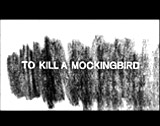 In director Robert Mulligan's great film adaptation (by Horton Foote) of Harper Lee's Pulitzer Prize-winning novel:
the opening credits sequence of a child's toy box and flashbacked memories to 1930s Alabama
the porch scene in which lawyer-father Atticus Finch (Oscar-winning Gregory Peck) listened to Jem (Phillip Alford) and 6 year-old daughter Jean Louise "Scout" (Mary Badham) discussing their dead mother: (Scout: How old was I when Mama died? Jem: Two. Scout: How old were you? Jem: Six. Scout: Old as I am now. Jem: Uh huh. Scout: Was Mama pretty? Jem: Uh, huh. Scout: Was Mama nice? Jem: Uh, huh. Scout: Did you love her? Jem: Yes. Scout: Did I love her? Jem: Yes. Scout: Do you miss her? Jem: Uh, huh)
during mealtime, Atticus' touching speech about the responsibility his father taught him in using his first gun when he was thirteen or fourteen - and how it was 'a sin to kill a mockingbird' - a songbird that harmlessly existed only to give pleasure: ("I remember when my daddy gave me that gun. He told me that I should never point it at anything in the house. And that he'd rather I'd shoot at tin cans in the backyard, but he said that sooner or later he supposed the temptation to go after birds would be too much, and that I could shoot all the blue jays I wanted, if I could hit 'em, but to remember it was a sin to kill a mockingbird...Well, I reckon because mockingbirds don't do anything but make music for us to enjoy. They don't eat people's gardens, don't nest in the corncribs, they don't do one thing but just sing their hearts out for us")
| | |
| --- | --- |
| Atticus Talking About Gun Responsibility | Atticus Killing a Rabid Dog on the Street |
Atticus' killing of a rabid dog on the street
Atticus' heroic defense in a hot courtroom trial of a black man (Brock Peters) wrongly accused of the rape of a white woman; Atticus gave a moving closing court argument, urging the jury to look beyond race and prejudice: ("In the name of God, do your duty. In the name of God, believe Tom Robinson")
the scene of the blacks in the balcony of the courtroom standing to respectfully honor the defeated lawyer with Rev. Sykes' (William Walker) words to Finch's six year-old daughter Scout (Mary Badham): "Miss Jean Louise, stand up, your father's passin"
tomboy Scout's and ten year-old Jem's (Phillip Alford) scary walk home from a school pageant into the woods - and the vicious attack upon them by a bigoted town resident
and Scout's discovery of demonized neighbor Mr. Arthur "Boo" Radley (Robert Duvall in his film debut) behind their bedroom door ("Hey, Boo") and the taking of her guardian angel's hand
the moving coda in which "Scout" sat on the porch swing with the timid Boo Radley (who had saved Jem and was found behind the bedroom door), and then she walked - with his hand in hers - to the Radley gate and up their front walk, accompanied by Elmer Bernstein's melancholy music score and Jean Louise's narration as the adult Scout (voice of Kim Stanley):
("Neighbors bring food with death, and flowers with sickness, and little things in between. Boo was our neighbor. He gave us two soap dolls, a broken watch and chain, a knife, and our lives...One time Atticus said you never really knew a man until you stood in his shoes and walked around in them. Just standin' on the Radley porch was enough. The summer that had begun so long ago had ended, and another summer had taken its place, and a fall, and Boo Radley had come out. I was to think of these days many times. Of Jem and Dill and Boo Radley, and Tom Robinson - and Atticus. He would be in Jem's room all night, and he would be there when Jem waked up in the morning")

the camera pulled out of the window in Jem's room, where "Scout" was cradled in her father's arms, to a long shot of the Finch house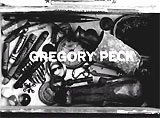 Opening Credits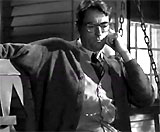 Atticus in Porch Scene Overhearing His Children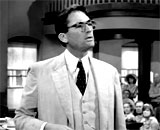 Atticus' Court Defense of Black Man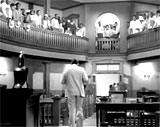 "Your father's passin'"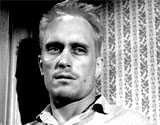 Boo Behind Door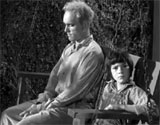 Scout on Porch with Boo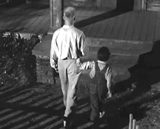 Scout Walking Boo Home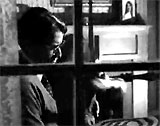 View From Outside of Jem's Room as Atticus Cradled Scout in His Arms