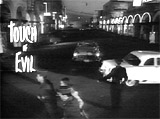 In Orson Welles' off-beat, twisted, dark and sweaty, film noirish thriller (considered the last official film noir), with the themes of murder, police corruption, kidnapping, betrayal, perversion and more:
the film's celebrated credits-opening (appearing only in the 1958 version, not in the restored version) was a continuous-action, spectacular 3-minute and 30 second tracking and panning crane shot - an audacious, incredible, breathtaking, uninterrupted view following a convertible (after a timed explosive dynamite device had been placed in its trunk as it was parked in Mexico), as it crossed the US/Mexico border into the squalid Mexican-American border town of Los Robles (TX); the car was driven by wealthy local American businessman involved in construction - Rudy Linnekar (Jeffrey Green) who was with his blonde mistress-girlfriend Zita (Joi Lansing), a striptease dancer
the car's route was intertwined with views of a newly-married couple: Mexico City narcotics investigator Ramon Miguel "Mike" Vargas (Charlton Heston) and his blonde American bride Susan (Janet Leigh) walking to the border crossing; as the inter-racial newlyweds kissed, the sound of the sudden and violent explosion of the detonated car overlapped on the soundtrack, and they turned their faces toward the blast
at a low-angled shot, a grotesque, cigar-smoking, candy-chewing bloated and obese local detective Hank Quinlan (Orson Welles) first appeared as he rolled out of his car at the scene of the car bombing
acid was splashed on a peeling poster on a crumbling wall of stripper performer Zita (an echo of her death in the burning car explosion)
as a narcotics commission expert, Vargas became snarled in the local investigation with the racist Quinlan, at the behest of Quinlan's loyal partner Police Sgt. Pete Menzies (Joseph Calleia), and DA Adair (Ray Collins). Vargas in particular suspected that the local Grandi narcotics ring, run by local crime boss Uncle Joe Grandi (Akim Tamiroff), was somehow involved
meanwhile, Vargas entirely ignored his young honeymooning bride; in a continuing series of sexual terrorization, she was first harrassed in Grandi's sleazy, dark motel in town by a peeping tom with a flashlight that shone on her as she removed her cashmere sweater
Grandi was interested in intimidating Susan to pressure her to have her husband Vargas end his prosecution of Grandi's drug-dealing brother who was imprisoned and awaiting trial in Mexico
while Quinlan was on the Mexican side of the border during the case, he visited with cigar-smoking, Mexican gypsy and brothel manager Tanya (Marlene Dietrich in a memorable cameo), a former lover and femme fatale; she engaged in verbal foreplay with Quinlan: (To Quinlan: "I didn't recognize you. You should lay off those candy bars....You're a mess, honey")
then, while Susan was sequestered in a room of a deserted, out-of-the-way and remote motel on the outskirts of the Texas town (not knowing it was owned by Grandi), she was attacked by menacing thugs (also members of the Grandi gang), and had to endure the care of the weirdo, nervous and twitchy motel manager/night watchman (Dennis Weaver)
| | | |
| --- | --- | --- |
| Susan Caught in a Flashlight's Beam | Mexican Gypsy and Brothel manager Tanya (Marlene Dietrich) | Weird Motel Manager (Dennis Weaver) |
during this and many other past investigations, the experienced, old-time cop Quinlan habitually fabricated or planted evidence to convict the guilty (even though his instincts were usually correct and he had a perfect arrest record). He framed young Mexican shoe clerk Sanchez (Victor Millan) who had secretly married Marcia (Joanna Moore), Linnekar's daughter. Quinlan had surreptitiously placed two sticks of dynamite in a shoe box in Sanchez' apartment - in a long and second unedited sequence. (Vargas knew of the deception, putting him into conflict with Quinlan.)
behind the scenes, Grandi plotted with Quinlan to discredit and destroy Vargas professionally and personally by framing Susan for drug use; at the motel, Susan was shot up with drugs and then brought back to a room in Grandi's downtown hotel, to appear like she had experienced a drug overdose
in addition, Quinlan had chillingly strangled Uncle Joe Grandi to death in the hotel room next to a semi-unconscious Susan, in an attempt to frame Susan for his murder - and she was arrested
as the film wound to its climactic conclusion, Sgt. Menzies revealed to Vargas that Quinlan was implicated when his cane was found at Grandi's murder scene, and he agreed to wear a wire to try and entrap his partner
in the gripping climax, Quinlan began to confess his wrong-doings - but then realized that Menzies was betraying him and recording him; he heard the echo of his own voice as it was recorded on a transmitter held by Vargas under a bridge, and realized he had been taped and everything about the frame-up had been revealed by his partner Sgt. Pete Menzes
Quinlan angrily shot Menzies and lethally wounded him. To protect the unarmed Vargas from also being shot by Quinlan, Menzies shot Quinlan before dying. The corrupt police captain was finally brought down; the final image was of Quinlan lying dead and floating whale-like in dark and stagnant gutter-canal water and garbage
Vargas was informed that Sanchez had confessed to the crime, and then he was reunited with Susie. Tanya arrived to deliver Quinlan's epitaph in the film's final line: "He was some kind of a man. What does it matter what you say about people?...Adios!"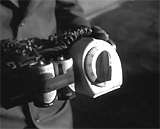 Bomb with Timer


The Convertible With a Bomb in Trunk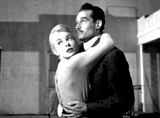 Mike Vargas with Bride Susan at the Moment of the Blast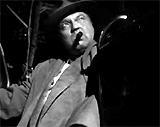 Detective Hank Quinlan's (Orson Welles) First Appearance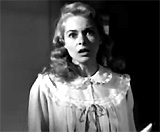 Susan Terrorized by Gang in Motel - and Shot Up with Drugs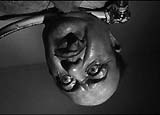 The Strangulation Death of Uncle Joe Grandi by Quinlan, to Frame Susan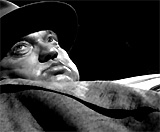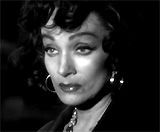 Tanya's Epitaph for Quinlan