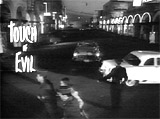 In Orson Welles' masterpiece (considered the last classic film noir):
the continuous-action, spectacular 3-minute and 30 second tracking and panning crane shot - an audacious, incredible, breathtaking, uninterrupted shot following a convertible (after a timed explosive dynamite device had been placed in its trunk as it was parked), as it crossed the US/Mexico border at Los Robles (Texas) in the film's credits/opening (appearing only in the 1958 version, not in the restored version); the convertible was drven by wealthy local American businessman - Rudy Linnekar (Jeffrey Green) and his blonde mistress-girlfriend Zita (Joi Lansing), a striptease dancer
the car's route was intertwined with views of a newly-married couple: Mexico City narcotics investigator Ramon Miguel "Mike" Vargas (Charlton Heston) and his blonde American bride Susan (Janet Leigh) walking to the border crossing; as the inter-racial newlyweds kissed, the sound of the sudden and violent explosion of the detonated car overlapped on the soundtrack, and they turned their faces toward the blast
the first appearance (a low-angled shot) of a grotesque, cigar-smoking, candy-chewing bloated local detective Hank Quinlan (Orson Welles) as he rolled out of his car at the scene of the car bombing
the image of acid splashed on a peeling poster on a crumbling wall of stripper performer Zita (an echo of her death in the burning car explosion)
the appearance of cigar-smoking Mexican gypsy and brothel manager Tanya (Marlene Dietrich in a memorable cameo), the femme fatale, who engaged in verbal foreplay with Quinlan: (To Quinlan: "I didn't recognize you. You should lay off those candy bars....You're a mess, honey")
Susan's scenes of sexual terror - first in a dark motel room in town by a peeping tom with a flashlight that shone on her as she removed her cashmere sweater, and then in a deserted and remote motel room on the outskirts of town where she was attacked by thugs (members of the Grandi gang)
the character of the weirdo, nervous and twitchy motel manager/night watchman (Dennis Weaver)
the scene of planted evidence in a bathroom (in the film's second, long unedited scene)
Quinlan's chilling strangulation-killing of Uncle Joe Grandi (Akim Tamiroff) in a hotel room next to a semi-unconscious Susan
the gripping climax when Quinlan heard the echo of his own voice as it was recorded on a transmitter held by Mike under a bridge, and realized he had been taped and everything about the frame-up had been revealed by his partner Sgt. Pete Menzes (Joseph Calleia)
the sequence of the death of Quinlan (shot by a dying Menzes to protect Mike Vargas)
the final image of Quinlan lying dead and floating whale-like in dark and stagnant gutter-canal water and garbage
Tanya's epitaph for Quinlan in the film's final line: "He was some kind of a man. What does it matter what you say about people?...Adios!"