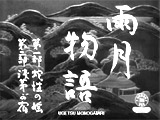 Ugetsu Monogatari (1953, Jp.) (aka Tales of Ugetsu)
In Kenji Mizoguchi's beautifully-composed anti-war film and supernatural fantasy tale - a fable of misdirected love, based on two stories by the 18th century writer Akinari Ueda (often described as the Japanese Maupassant):
the film's story set in the late 16th century: restless, vain and ambitious potter and peasant farmer Genjuro (Masayuki Mori), living with his loving wife Miyagi (Kinuyo Tanaka) and their young son Gen'ichi in a village hut - viewed in a lengthy right to left panning shot in the film's opening, as the camera came to rest on his family unit
Genjuro's neglectful departure from his home for the civil war - not for patriotic motivations, but to greedily find wealth by marketing his ceramic wares
the scene of Genjuro's first view of the bewitching, seductive, glamorous, ghostly, vengeful and threatening noblewoman-princess Lady Wakasa (Machiko Kyo) - "daughter of the late Lord Kutsuki" - and his trek following her to Kutsuki, her creepy castle-manor, where as he entered each room, candles were lit along the way
the sequence at a garden hot springs pool when Genjuro's spirit-lover/enchantress bathed Genjuro and told him: "You think I'm an enchantress, don't you? But you're mine now. From now on, you must devote your entire life to me"; he watched as she ran off, disrobed (off-screen), and joined him in the hot water; the camera stayed focused on him (to coyly avoid showing her nakedness), and moved along the ground to the left
the temporal ellipse, denoting the passage-of-time, as the camera moved further to the left, rippled and dissolved into a Zen rock garden - and then tilted upward again to a lakeside park where the couple was picnicking on the lawn in the sunshine; on the soundtrack, a female's voice sang: "Love has driven me mad" - Genjuro chased after Lady Wasaka and grabbed her: "Even if you are a ghost or enchantress, I'll never let you go. I never imagined such pleasures existed. This is exquisite! It's paradise!" - and they collapsed on the ground in each other's arms
Genjuro's eventual discovery that the mansion was only ruins - an illusory pile of burnt wood, and the princess was a long-dead ghost (who had died without knowing love)
in the film's conclusion, realizing his mistake, Genjuro returned home to his wife Miyagi, who was happy to see him; however, he awoke and realized that he was only dreaming - his wife was only a phantom - earlier she had been stabbed and murdered by a soldier in the war; at her grave, he asked: "Why did you have to die, Miyagi?"; Miyagi's long-suffering and patient spirit (in voice-over) assured Genjuro, as the camera slowly pulled back: "I did not die. I am at your side. Your delusion has come to an end. You are again your true self, in the place where you belong. Your work is waiting"; she continued to encourage his pottery work: "You've finally become the man I had hoped for, but alas, I am no longer among the living. I suppose such is the way of the world"