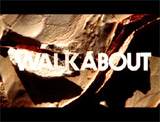 Walkabout (1971, UK/Australia)
In Nicolas Roeg's haunting directorial solo debut film:
the shocking opening scene of a suicidal Australian businessman (John Meillon) who tried to murder his teen-aged, 14 year-old schoolgirl daughter (17 year-old Jenny Agutter in her film debut) and six-year-old son (Lucien John) in the bush during a picnic and then committed suicide in front of them
the two were forced to struggle and adapt to the blazing hot and hostile climate of the Australian outback and its terrain. They were fortunately saved when aided by a teenaged adolescent Aboriginal Black Boy (David Gumpilil), who was involved in his ritualistic 'walkabout' (to prove his manhood and mark his entrance into adulthood)
Struggling to Survive in the Outback
after overcoming self-consciousness and civilization's social conventions, the Girl engaged in a lengthy nude swim (an awe-inspiring natural scene) in a natural lagoon pond (with non-gratuitous full frontal nudity) - a symbol of her sexual awakening, although this would lead to tragic circumstances for the older aboriginal boy
Nude Swimming Sequence
during the native aborigine's 'walkabout' - with a painted skeleton on his body - he performed a silent, ritualistic mating dance for the civilized, repressed girl at a deserted farmhouse, where he glimpsed her half-undressed.
The Boy's Rejected Mating Dance

The Aborigine Boy's Pursuit of Half-Dressed Girl
she ignored and resisted his (and her own) sexual rite of passage, by continuing to treat him as a detached servant -- with disastrous results. After the aboriginal danced all night and became saddened and weary (with tears in his eyes), she found him the next morning hanging dead in a mango tree, and she barely reacted to his death
the film ended years later with the young girl now married and returned to civilization, living in a high-rise apartment complex. She was wistfully daydreaming back to her idyllic days in the outback when she happily swam naked with the aborigine and her young brother. They were long-gone days of paradise lost, reflected in a voice-over quote from Part 40 of A.E. Housman's 'A Shropshire Lad':

Into my heart an air that kills From yon far country blows: What are those blue-remembered hills, What spires, what farms are those? That is the land of lost content, I see it shining plain, The happy highways where I went And cannot come again.
Girl's (Jenny Agutter) Recollections of the Outback in the Film's Conclusion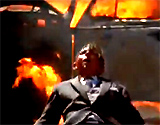 Suicide of Businessman Father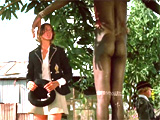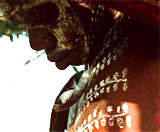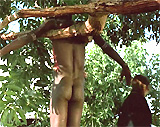 Mating Dance - With Disastrous Consequences