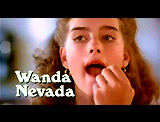 Wanda Nevada (1979)
In director/actor Peter Fonda's modern-day, plot-twisting western comedy (and road trip misadventure) set in the 1950s, an odd take combining Paper Moon (1973) with Mackenna's Gold (1969):
the two main mismatched characters: modern-day swindler and handsome, lackadaisical drifter Beaudray Demerille (Peter Fonda), and 13 year old pouty and oft-posturing orphan Wanda Nevada (Brooke Shields), won in a poker game
the beautiful scenic backdrops of the Southwest, the Colorado River, and the Grand Canyon
the confused message of the film - kiddie adventure with an old-fashioned search for gold or an account of pedophilia for a young sex-pot (Was Demerille Wanda's surrogate father or lover? Why repeated instances of adult men lusting after Wanda, including perverted and fussy bird watcher Merlin Bitterstix (Severn Darden))?
the many closeups of precocious Wanda's grown-up, heavily-painted or rouged face, looking like a streetwalker
Demerille's words to Wanda: "I ain't sayin' I don't care for you. You put some meat on those bones, you'll be a real looker. Men'll be falling all over themselves just askin' for your hand"
the encounter with smelly old bearded prospector nicknamed "Dutch" (Henry Fonda, almost unrecognizable in his cameo role, and in the only film of his career with his son) in the Grand Canyon, who scoffed at Wanda's assertion that they were looking for gold: ("Gold, huh! Everybody knows there ain't no gold in the Grand Canyon...if there be gold down there, you can bet your sweet britches Dutch Gravelle would have found it by now!")
the duo's evasion of the pursuit by a pair of dim-witted, incompetent crooks: Strap Pangburn (Ted Markland) and Ruby Muldoon (Luke Askew), who met their justified end (crucifixion) in the desert
the absurd shoot-out between Wanda, Demerille, and the two crooks, in which no-one was injured
the legend of the curse of an Apache ghost protecting the gold - occult Native-American lore
the closing scene - including the surprise rebirth of Demerille after dying from an arrow wound in the previous sequence, who rescued Wanda from being returned to a church orphanage, and the two rode off in his new 50s gold convertible (financed by the gold?) into the sunset, accompanied by the Carole King song: "Morning Sun" and Demerille's laughing last words: "Aw, hell, everyone knows there ain't no gold in the Grand Canyon"