When Worlds Collide (1951)
In producer George Pal's sci-fi disaster picture - a follow-up to Destination Moon (1950), and typical of 50's apocalyptic, doomsday disaster films - with a mediocre story that had spectacular special effects (Films with a similar plot included Deep Impact (1998) and Melancholia (2011):
the film's prologue quoted the Book of Genesis in the Bible - specifying God's punishment upon the corrupted people of Earth by destruction ("the end of all flesh"), and the saving of the faithful Noah with an Ark.
it told about the imminent destruction of the Earth (in six to eight months in the future) by a rogue star named Bellus that was on a collision-course with the planet. [Note: Since the threatening object was a 'star' - then the title was inaccurate. It wasn't a "world" that was about to collide with Earth.] The first threat was Bellus' single orbiting satellite known as Zyra that would pass close to Earth, 19 days before Bellus would crash into the planet.
to save the human race from extinction, there were desperate efforts to build a space ark to transport a group of men and women to Zyra. As time ticked away and the 'day of doom' approached, Zyra as predicted came close to Earth (on Z-day) and caused massive earthquakes, volcanic eruptions, forest fires, floods and tsunamis that wreaked havoc around the world. Fires threatened to destroy the 'ark' spacecraft set to take off in a few weeks.
The Hour of Doom - Zyra's Z-Day
the rocket-propelled 'ark' spaceship that was built on a ramp, was stocked with food, medicine, microfilmed books, equipment, livestock and animals, and was ready to depart
in the improbable happy ending, the spaceship launched with about 45 passengers (selected by lottery) off the curved ramp, as they watched Bellus crash into the Earth on a viewing screen. The 'ark' craft safely entered Zyra's atmosphere and landed with a gliding free-fall and belly-flop since the fuel had already been depleted. When the crew disembarked into a deep snow field, they found that Zyra was habitable with fresh air, and would be greener and more lush further away at lower elevations
some of the best examples of visual effects were a great fireball - a sun-sized body called Bellus - hurtling toward earth, the rocket-propelled spaceship built on a curved ramp, and a view of the sunrise landscape on Zyra (a color sketch/drawing).
Ending Views of Zyra's Landscape (A Sketch Drawing)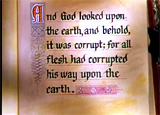 Opening Prologue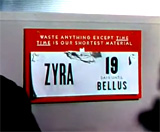 Close Passage of Zyra and Collision with Bellus - Z-Day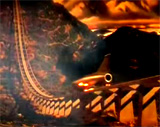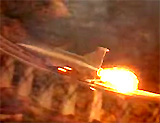 The Take-Off of the 'Ark' on Curved Ramp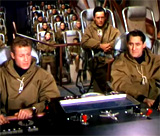 Passengers on Ark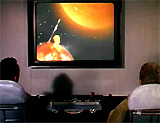 The Approach of Bellus - A Great Fireball on Viewing Screen Inside 'Ark'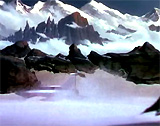 Landing on Snowy Icefield