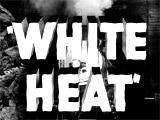 In director Raoul Walsh's exciting Freudian-tinged gangster film:
the opening mail-train robbery sequence in the High Sierra at the California border
Arthur "Cody" Jarrett's (James Cagney) mother-fixation, exemplified by sitting on his crooked mother's - "Ma" Jarrett (Margaret Wycherly) - lap when he described the feeling of pain in his head during debilitating headaches: "It's like having a - it's like having a red hot buzzsaw inside my head"
the instances that Cody shot people through objects (a car trunk, an apartment door)
the 'accident' scene in the prison's machine shop
the screeching of the machines that portrayed Cody's mental state
the 3-minute prison dining-hall sequence when Cody passed a question about his mother ("Ask him how my mother is?") down a long line of prisoners sitting at a table; the camera panned to the left as each prisoner whispered the question to the next guy; word of Cody's mother's death ("She's dead") was then passed back (prisoner to prisoner) and when it reached Cody, he had a beserk, epileptic reaction - standing on and sprawling across the table, and then attacking the guards and making gutteral sounds before being dragged away
Cody's final cry: "Made it Ma. Top of the world," and his fiery ending atop the globe-shaped gas tanks as they exploded in the climax
the film's concluding words, spoken by undercover agent Hank Fallon (Edmond O'Brien): "He finally got to the top of the world... and it blew right up in his face"