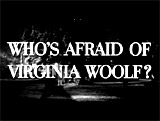 Who's Afraid of Virginia Woolf? (1966)
In director Mike Nichols' searing and visceral four-person drama - his debut film, based on Edward Albee's play about a marital couple engaged in tempestuous, personal warfare:
the bawdy, volatile and saucy performances of Oscar-winning 33 year-old Elizabeth Taylor as 52 year-old, plump Martha - probably her greatest role ever as a delusional and drunken harridan, and Oscar-nominated Richard Burton as her husband - failed Associate Professor of History George; Martha's father was the president of the college
Martha's spouting of "What a dump!" to invoke Bette Davis - the film's opening line of dialogue
the arrival of their evening's guests: a new faculty couple, young colleagues from the university - impotent Biology Professor Nick (Oscar-nominated George Segal) and timid and pale Honey (Oscar-winning Sandy Dennis)
the sequence in which an inebriated Honey told George: "I didn't know that you had a son" - and then George glared at Martha - angry that she had violated their life-long pledge of discretion by revealing their make-believe procreation of a fantasy child, an imaginary son, that they could never have
the dramatic scene of George's retreat to a closet, with a swinging bare lightbulb, to avoid listening to Martha's humiliating tirade about him concerning a public "boxing match" they had; there, he found a shotgun, brought it out to the living room, and pointed it at the back of Martha's head as she told the guests an embarrassing incident from his past; when he pulled the trigger, an umbrella was released
| | | |
| --- | --- | --- |
| | | |
| George in Closet | Aiming the Shot Gun at Martha | Fake Umbrella-Gun |
the drunken bantering-discussion scene in the yard between George and Nick, when Nick revealed that he had married Honey - not for love, but because of her wealthy family and an alleged pregnancy
the emotionally-charged scene in a deserted juke joint or road house, where Nick began to dance inappropriately with Martha, culminating in George's decision to play the first of their many fun and social games: ("Now that we're through with Humiliate the Host...and we don't want to play Hump the Hostess yet...how about a little round of Get the Guests?")
the scene in which George realized how he could ultimately triumph over Martha, when he purged and exorcised their son-myth - a final game called "Bringing Up Baby" - Martha was devastated: "YOU CAN'T KILL HIM. YOU CAN'T LET HIM DIE"; George explained his reasoning for killing their son - Martha had revealed their most-private secret to Honey: "You broke our rule Martha. You mentioned him, you mentioned him to someone else."
in the final scene as dawn approached, George sang softly to Martha: "Who's afraid of Virginia Woolf, Virginia Woolf, Virginia Woolf?" Martha: "I am George."
George: "Who's afraid of Virginia Woolf?" Martha: "I am George, I am."
Reconciliation of The Couple
as the Sun Rose ("Who's Afraid of Virginia Woolf?...")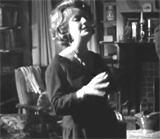 Opening Line - Martha: "What a dump!"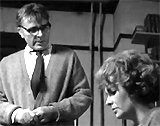 George and Martha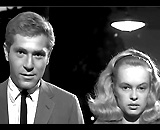 Martha's and George's Guests: (l to r): Honey and Nick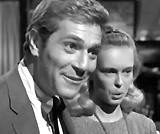 Honey: "I didn't know you had a son"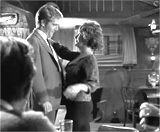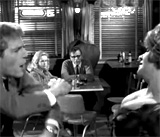 Nick and Martha Dancing in Road House Followed by Social Games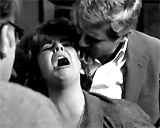 Martha Slumping to the Floor - Yelling at George: "YOU CAN'T KILL HIM. YOU CAN'T LET HIM DIE"