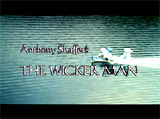 The Wicker Man (1973, UK)
In director Robin Hardy's suspenseful, mysterious and erotic folk horror-occult film - an R-rated classic British supernatural thriller, with a tagline that described the double lure of sex and death: ("Flesh to touch...Flesh to burn! Don't keep the Wicker Man waiting!"); the screenplay by Anthony Shaffer's script was derived from the 1967 novel Ritual by David Pinner; the film was notable for containing 13 traditional folk songs that complemented the film's authenticity - [Note: an inferior US remake directed by Neil LaBute starred Nicolas Cage and Ellen Burstyn - The Wicker Man (2006).]:
in the plot set in late April of 1973, repressed, virginal, puritanical and devoutly religious Scottish policeman Sergeant Neil Howie (Edward Woodward) traveled solo by seaplane to Summerisle (during the opening title credits); it was a remote Scottish (Hebridian) island known for its fruit production
he had received an anonymous tip in a letter, regarding a missing young 12 year-old schoolgirl Rowan Morrison (Geraldine Cowper), the alleged daughter of May Morrison (Irene Sunter), a resident of the island; it was suspected that the missing-girl (or kidnapped?) victim might be located there, or there might be clues to her disappearance
at May Morrison's confectionary shop in town, the alleged mother said the Rowan in the photo didn't exist; she introduced Howie to her 9 year-old daughter named Myrtle - not the girl in Howie's photograph; to Howie's surprise, Myrtle identified Rowan as a hare she knew who ran and played in a field
after his arrival, the Sgt. booked a room for the night in the local Green Man Inn with the pub innkeeper Alder MacGregor (Lindsay Kemp); [Note: The "Green Man" was often associated with vegetative growth or rebirth.] He met the sexy and bawdy inkeeper's daughter Willow MacGregor (Britt Ekland) who would show him to the dining room and later to his room
| | | |
| --- | --- | --- |
| (l to r): At the Inn: Willow and Alder MacGregor (Britt Ekland and Lindsay Kemp) | Sgt. Howie in His Constable's Uniform | Pictures of the Harvest Festivals - The Latest One was Missing! |
while viewing photographs on the Inn's wall of the island's annual Harvest Festivals (May Day), Sgt. Howie noted that the pictures strangely ended in May of 1971 (the one for the spring of 1972 was missing); later, he speculated that the missing girl would be the latest virgin sacrifice as the May Queen for the current year of 1973
while there, Howie was continually tested by the disturbing pagan practices and degenerate sexual behavior of the island's inhabitants, some of whom practiced open sexuality; outside the Inn after dinner, he witnessed various unsettling and indecent sights, such as couples copulating in a graveyard, and a naked female crying over a tombstone; the celebate Christian Howie had a restless night when forced to listen through the wall to orgasmic moanings of Willow having sex in the adjacent room
Odd and Unusual Practices of Pagans on Summerisle


Couples Copulating in a Graveyard


Naked Woman Weeping Next to a Tombstone


Maypole - a Phallic Symbol
the next morning while walking to visit the local school, Howie watched young male students engaged in an outdoor's May Pole celebration; indoors, girls in a school class were openly and frankly corrupted as they were taught by Miss Rose (Diane Cilento) about how the May Pole was a phallic symbol -- "It is the image of the penis, which is venerated in religions such as ours, as symbolizing the generative force in nature"; Sgt. Howie interrupted and asked if any of the students recognized Rowan in his picture - none of them did; but then he discovered Rowan's name in the school register (and one suspiciously-empty desk in the room); he denounced the teacher and the class of girls as "despicable little liars"
Howie was very disturbed that the young people were being taught reincarnation rather than the Christian doctrine of resurrection; Miss Rose explained: "Those rotting bodies are a great stumbling block for the childish imagination"; later in town at May Morrison's store, her daughter Myrtle was told to cure her sore throat with a small toad briefly placed into her mouth
| | | |
| --- | --- | --- |
| Grotesque Headstones | Mother Nursing Child with Egg in Her Hand | Small Toads as a Cure for Sore Throats |
in the nearby crumbled church's graveyard, he observed grotesque headstones, and a young mother nursing her infant and holding an egg in her open hand; the island was devoid of Christian churches (or ministers and priests) and the remains of graveyards had been desecrated
Howie's fears were confirmed when Rowan Morrison's unmarked grave was pointed out (she had supposedly been dead for six to seven months) - with her naval string as decoration; in the official registrar's office in town, Howie was denied seeing Rowan's death certificate; he was told he needed permission from Lord Summerisle (Christopher Lee) first; he pressured her to show him the book, revealing no record of Rowan's death
in the town's apothecary shop, with clear jars of foreskins, rat brains, snake oil embrocation, brains, hearts, and animal fetuses, the proprietor Mr. Lennox (Donald Eccles) was questioned about his photographs of the May Day harvest celebrations
Howie observed many of the town's pregnant women engaged in fertility rites or initiations, who were seated naked in a circle around a ceremonial fire in a Stonehenge setting, and jumping through the flaming bonfire
while visiting Lord Summerisle in his lavish estate, Howie needed permission to exhume Rowan's body; he became upset that many of the island's young inhabitants followed the openly-pagan teachings of leader Lord Summerisle - an eccentric millionaire and a proponent of atheism, fertility rites and witchcraft; the Lord summarized the island's history of how its fruit crop harvest, developed by his grandfather, was guaranteed for the barren island by the propagation of pagan worship and sacrifice
after exhuming Rowan's body, the carcass of a dead hare was found in the coffin, and Howie was frustratingly perplexed; it was further proof that Rowan was either murdered, or possibly being detained for a future pagan human sacrifice during the next day's May Day celebration to appease the gods of the heathen community after a poor fruit harvest
in the film's most-discussed sequence, during his second night at the inn, the seductive Willow attempted to entice Howie in the room next to his; at first as she laid in bed and pounded the wall behind her with her right hand, she sang about "the things I'll give to you...the things I'll show to you." Rising from the bed, she strolled to the door and pounded against it, as she writhed naked; she also stroked a statue before going to her window and also striking its frame. She was soon striking other objects in the room such as furniture and the wall to further drive him insane; he proved that he wouldn't succumb to the fleshly temptations provided by Willow
The Sensual Innkeeper's (Britt Ekland) Daughter's Dance

Body Double in the Fully Nude Images
the next morning, Howie was unable to leave the island after discovering that his seaplane had been sabotaged and the radio was damaged
just before the film's May Day finale, Lord Summerisle announced that a sacrifice was about to take place at 3 pm: ("A holy sacrifice will be offered up jointly to Nuada, our most sacred god of the Sun, and to Avellenau, the beloved goddess of our orchards, in order that we may furnish them with renewed power, to quicken the growth of our crops"); to join in the town's May Day celebratory parade, Howie disguised himself as Punch (he tied up the innkeeper Alder MacGregor (Lindsay Kemp) and stole his costume and mask)
at the end of the costumed parade at the beachside, Howie viewed young Rowan tied up at the entrance to a cave; he raced to her side to cut her free, but then after escaping with her into the cave's dark tunnel, he emerged and discovered, to his shock, that Rowan ran to embrace Lord Summerisle, her islander captor and her mother; the 'missing' girl was never really missing - but had served as bait to lure him there; Lord Summerisle admitted: "The game is over"
Rowan had been part of Lord Summerisle's grand plan to entrap him as the year's virginal fire sacrifice, after the year's disastrous fruit harvest; Howie was apprehended and told that he would be the perfect candidate: ("Animals are fine, but their acceptability is limited. A young child is even better, but not nearly as effective as the right kind of adult")
he was told he was the "unique" sacrificial subject that they needed, for four reasons:

Willow: "A man who would come here of his own free will."
Librarian: "A man who has come here with the power of a king by representing the Law."
Willow: "A man who would come here as a virgin."
Librarian: "A man who has come here as a fool." [Note: He was costumed as Punch, one of the great fool-victims of history.]

Howie learned that he was the one to be sacrificed to save the crops: (Librarian: "You will undergo death and rebirth. Resurrection, if you like. The rebirth, sadly, will not be yours, but that of our crops"); he retorted back: "I am a Christian. And as a Christian, I hope for resurrection. And even if you kill me now, it is I who will live again, not your damned apples"
Howie was told he was to be prepared for his sacrificial fate at sunset by being stripped and clothed in a ceremonial garment with his hands bound: ("It is time to keep your appointment with The Wicker Man"); he protested his fate: "Don't you see that killing me is not going to bring back your apples?" (arguing that the crop failure was due to the climate and not the lack of a sacrifice), but the heathen leaders refused to listen to him, believing that their apple crop would be restored because of his sacrifice
he was led to a giant, hollow wicker-constructed figure of a man on a cliffside at sunset where he cried out ("Oh, my God!"). The 'wicker man' statue was created of wicker materials designed to be used for fire sacrifices - with compartments for live farm animals (pigs, ducks, calves, etc.). Lord Summerisle prayed to the "Mighty god of the Sun, bountiful goddess of our orchards. Accept our sacrifice and make our blossoms fruit."
The Ritualistic Sacrifice of Sgt. Neil Howie in The Wicker Man
he was horrified when he was locked inside the structure and the worshippers surrounded it (and sang a Middle English folk song with lyrics as it was set on fire : "Summer is a-comin' in, loudly sing cuckoo. Grows the seed and blows the mead, and springs the wood anew. Sing, cuckoo! Ewe bleats harshly after lamb, cows after calves make moo")
while he was being burned alive, Sgt. Howie began to recite Psalm 23 as a prayer to God in heaven for deliverance: ("The lord's my shepherd, I'll not want, He takes me down to lie in pastures...")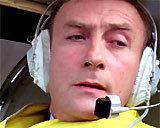 Sgt. Neil Howie (Edward Woodward) Piloting a Seaplane to Summerisle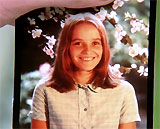 Photograph of Allegedly Missing 12 Year Old Rowan Morrison (Geraldine Cowper)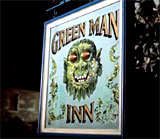 The Green Man Inn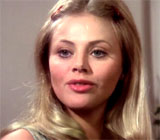 The Alluring Innkeeper's Daughter Willow MacGregor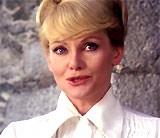 Schoolteacher Miss Rose (Diane Cilento)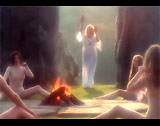 Sexual Rites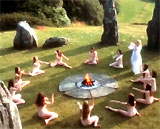 Fertility Rites: Young Girls Dancing and Jumping Over Fire in a Stonehedge Setting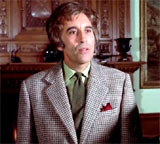 Lord Summerisle (Christopher Lee)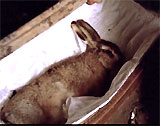 The Contents of Rowan's Exhumed Coffin: A Dead Hare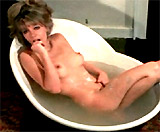 Rowan's Chance Encounter with Naked Librarian (Ingrid Pitt) in a Bathtub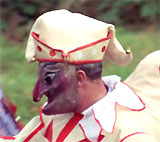 Howie in Stolen Punch Costume During May Day Parade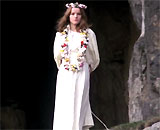 Rowan - Tied Up in Front of Cave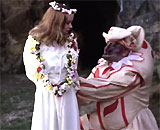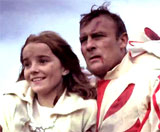 Rowan Cut Free by Howie (in Punch Costume)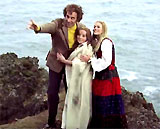 Rowan Embraced by Lord Summerisle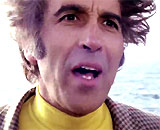 Lord Summerisle to Howie: He was the Perfect Sacrificial Candidate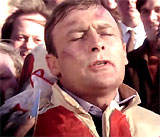 Howie Protesting His Fate: "I am a Christian!"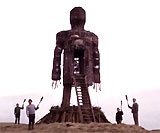 Howie's First View of 'The Wicker Man'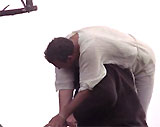 Howie Carried Into the Wicker Man Structure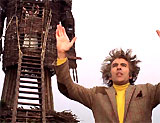 Lord Summerisle Praying: "Mighty god of the Sun..."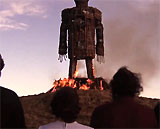 Flames Consuming the Structure