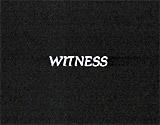 Witness (1985)
In director Peter Weir's suspenseful and dramatic crime thriller (his debut Hollywood film) that was also a tortured love story and meditation on violence and culture clash, that won two Academy Awards (Best Original Screenplay and Best Film Editing):
the film's opening scene - a bucolic view of the Lancaster, PA Amish country, and a funeral ceremony held for Jacob Lapp, the husband of recently-widowed Amish woman Rachel Lapp (Kelly McGillis), with her young, wide-eyed 8 year-old son Samuel Lapp (Lukas Haas)
| | |
| --- | --- |
| Rachel Lapp (Kelly McGillis) | Samuel Lapp (Lukas Haas) |
Rachel and Samuel planned a train trip to visit Rachel's sister in "the big city" of Baltimore, MD - they were bid goodbye at their local train station by her father-in-law Eli (Jan Rubes) and Rachel's suitor Daniel Hochleitner (Alexander Godunov); during Rachel's and Samuel's travels, the young boy witnessed a horrific, brutal murder in the public men's rest-room in the Philadelphia train station; he saw an undercover narcotic police officer's throat slit by two men; Samuel escaped being detected by evading a search of the toilet stalls
| | | |
| --- | --- | --- |
| Throat-Slitting Murderer in Restroom - Officer McFee (Danny Glover) | Samuel Hiding in Toilet Stall | Detective John Book (Harrison Ford) |
homicide city detective John Book (Oscar-nominated Harrison Ford) and his African-American partner Sergeant Elton Carter (Brent Jennings) questioned Samuel, the sole witness to the homicide, who indicated that one of the killers was a large black man
at the police station, he learned from Samuel that the killer was pictured in a newspaper clipping - identified as African-American Narcotics Officer McFee (Danny Glover) in the police force; Book surmised that the murder occurred because McFee had absconded with $22 million dollars worth of confiscated black-market amphetamines (550 gallons of P-2-P) that he was selling to drug dealers, and the murdered undercover cop had been investigating him
Book was ambushed and shot in a parking garage and left badly wounded by the chief suspect, Officer McFee; McFee's accomplices included Book's own superior, Chief of Police Paul Schaeffer (Josef Sommer), and another officer - Leon Ferguson or "Fergie' (Angus MacInnes); meanwhile, he instructed his partner Carter to destroy the interview files on the Lapps, and warned: "Watch your back!"
| | | |
| --- | --- | --- |
| McFee Identified as the Killer | Corrupt Chief of Police Paul Schaeffer (Josef Sommer) | The Corrupt Police (l to r): Ferguson, Schaeffer, McFee |
Book was compelled to borrow his sister Elaine's (Patti LuPone) VW station-wagon to hide and drive Rachel and Samuel back to their isolated, peace-loving, idyllic Amish community (Lancaster County), where he also sought protective refuge with them at their farm when he fainted and crashed his car. While recovering from gunshots, he suffered from a high fever, blood loss, the possibility of infection, and unconsciousness, as Rachel showed extreme caring and affection for him by treating his wounds; Rachel's father-in-law Eli was reluctant about keeping the outsider, but reluctantly agreed to shelter him until he recovered and could leave; Rachel also insisted: "While you're in this house, I insist that you respect our ways"; to hide his identity and not stand out as a stranger, Book wore the plain clothing of her dead husband
Book began to establish a beautifully-realized, illicit yet smoldering romantic relationship with Rachel; when Book was repairing his non-functioning car in a garage barn, they informally, awkwardly, and playfully serenaded and danced with each other to the tune of the car radio playing Sam Cooke's "(What A) Wonderful World," illuminated by the car's headlights - a behavior that was frowned upon by the Amish; they almost kissed, but were interrupted by Rachel's scolding father-in-law Eli Lapp; she argued back: "I have done nothing against the rule of the Ordnung...I committed no sin" although she faced the possibility of being shunned by the community; he reminded her: "You know there has been talk"
Barn Dancing Sequence: "What a Wonderful World"
in the film's love triangle, Rachel's jealous suitor Daniel was miffed by Rachel's attentiveness to Book; during the Amish community's barn-raising scene for a newly married couple, the Zooks, John's carpentry skills came in handy but Daniel became upset when Rachel defiantly served John first; Rachel was also told that her relationship with the "Englishman" was the talk of the entire community
that evening, their budding romance was signaled by one other erotically-charged, wordless incident; when she was bathing from a bucket with a sponge - she realized that she was being watched by Book from a doorway and turned unembarrassed to boldly face him, deliberately lingering for a few moments bare-breasted; he averted his eyes momentarily, but then they both looked at each other with longing until she turned away
the next morning, he told her that if they had made love, they would be faced with a choice: "If we'd made love last night I'd have to stay. Or you'd have to leave"
shortly later, Rachel realized that Book would be leaving the next morning (as he reinstalled a repaired giant birdhouse feeder in the yard); Eli could also foresee Book's return to the city and told Rachel: "He's going back to his world, where he belongs. He knows it, and you know it, too"; in response, she removed her bonnet and they passionately ran to each other and kissed in the twilight
the film concluded with the suspicious "line of duty" death of Carter, followed by the ominous, tense and violent visit, showdown and shoot-out at dawn at the Amish farm between Book and the threesome of Schaeffer, McFee, and Officer Ferguson or "Fergie."
after defeating them (including cleverly trapping Ferguson in a corn silo and suffocating him with grain, killing McFee with Fergie's retrieved gun, and surrounding Schaeffer with dozens of Amish as witnesses), the two lovers Book and Rachel faced the reality of the situation as both knew that they would return to their separate worlds
Goodbye: Last Looks Between Rachel and Book
Eli delivered the film's last line to Book: "You be careful out among them English!"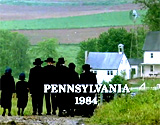 Opening Setting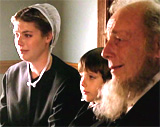 Funeral: Young Widowed Rachel Lapp with Son Samuel and Father-in-Law Eli (Jan Rubes)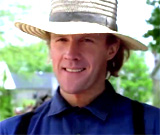 Rachel's Amish Suitor Daniel Hochleitner (Alexander Godunov)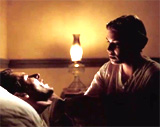 Rachel Caring for Book Recuperating From Gunshots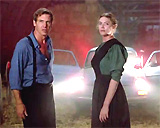 Rachel and Book Caught Illicitly Dancing in Barn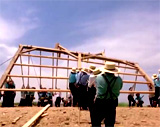 The Barn-Raising Sequence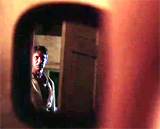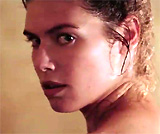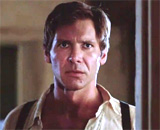 Erotic Bath Scene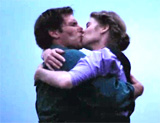 Passionate Kissing in the Twilight



The Approach of the Three Corrupt Cops at Dawn at the Amish Farmhouse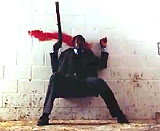 McFee Shot Dead by Book