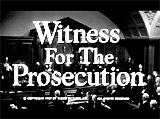 Witness for the Prosecution (1957)
In Billy Wilder's adaptation of the classic Agatha Christie murder mystery and courtroom drama:
the playful banter between crafty barrister/defense attorney Sir Wilfrid Robarts (Charles Laughton) and his nurse Miss Plimsoll (real-life wife Elsa Lancaster): (Sir Wilfrid: "If I'd known how much you talked, I'd have never come out of my coma!"), including the scene in which she revealed the forbidden cigars (causing Sir Wilfrid's heart attack) hidden in his cane
Sir Wilfrid's use of his monocle to extract truth from potential clients by reflecting light blindingly into their eyes
the seduction of elderly wealthy widow Emily Jane French (Norma Varden) by her accused murderer - American Leonard Vole (Tyrone Power in his last role before his death), now on trial for her murder
the entrance of dignified, strong-willed Mrs. Christine Vole/Helm (Marlene Dietrich) in Sir Wilfrid's doorway
the scene of a vengeful, scarred, thick Cockney-accented mystery woman giving Sir Wilfrid critical evidence and showing him her facial disfiguration: ("Want to kiss me, duckie?")
the memorable moment when Sir Wilfrid screamed at Christine for her habitual perjuring: "Or are you not, in fact, a chronic and habitual liar?"
the startling surprise courtroom scene ending after defendant Leonard's acquittal when Christine admitted to Sir Wilfrid that her strategy as a "witness for the prosecution" worked
the shocking moment when she stabbed Leonard to death in the stomach for his double-crossing philandering with Diana (Ruta Lee)
Sir Wilfrid's classic line after the stabbing when he corrected Miss Plimsoll: "Killed him? She executed him"