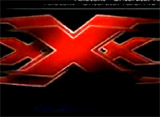 xXx (2002)
Director Rob Cohen's PG-13-rated action spy thriller featured the breakout star of his previous year's hit The Fast and the Furious (2001) (see above). It starred Vin Diesel as unemployed, anti-authority, cyber-savvy bad-ass and extreme-sports daredevil and stuntman Xander Cage. The glamorized spy film, with wide plot holes, an illogical story-line and corny dialogue, had a booming techno soundtrack and well-choreographed stunts of fiery explosions at a Colombian drug ranch, skydiving, soaring motorcycles in a helicopter chase, and a snowy avalanche. It was noted as a very-cliched and thin copy-cat version of a James Bond film, involving cartoonish European terrorists with thoughts of world domination.
Its tagline hinted at the film's theme: "A NEW BREED OF SECRET AGENT." [Note: Triple X was the name of the Russian secret agent (the Bond Girl Major Anya Amasova) in the 10th Bond film, The Spy Who Loved Me (1977).] Sequels included XXX: State of the Union (2005), XXX: Return of Xander Cage (2017), and more.
The initial efforts of the US government's National Security Agency (NSA) were to infiltrate into a underground group of anarchists named Anarchy 99, that was suspected of Russian biochemical weapon-warfare. They had developed and/or obtained a Soviet-era biological weapon dubbed "Silent Night" that had been presumed missing since 1991 - the date of the fall of the Soviet Union.
A government agent Jim McGrath (Thomas Ian Griffith), who had been sent to infiltrate the group and retrieve the weapon, had failed in his mission when his identity was discovered by Anarchy 99, and he was shot in the back during a heavy-metal German band concert at Rammstein - he stood out conspicuously by wearing a tuxedo!
At NSA's Remote Intelligence Facility in Mt. Weather, Virginia, one of the NSA's top agents, facially-scarred Augustus Gibbons (Samuel L. Jackson), recommended finding a replacement agent who had no previous government ties - such as a convict, a mercenary, or a contract killer ("The best and brightest of the bottom of the barrel...Programmable, expendable, effective").
In the next scene set in Sacramento, CA at a members' only club, conservative, racist, morally-superior California State Senator Dick Hotchkiss (Tom Everett) drove his red Corvette sports car convertible up to a parking area, where he left his car with the valet - the rule-breaking, unorthodox, muscle-bound, gruff-voiced and tattooed Xander Cage (Vin Diesel) - identified by triple-X tattoos on the back of his neck. Cage sped off in the car, and as he drove away captured on live video CrashCam broadcasts how the State Senator had attempted to ban rap music (for its violent lyrics) and video games. He was protesting the Senator's political views by stealing his car - and found himself pursued by a phalanx of police cars. With his gang members, he had prepared for the car to be driven off a bridge while he sky-dived and parachuted from it as the car crashed below him, with threatening warnings: ("You've just entered the Zander Zone...The moral is, don't be a 'dick', Dick!").
Parachuting From State Senator's Stolen Red Corvette Driven Off a Tall Bridge
That same evening in a club-bar where Cage was praised as an anti-hero for his illegal behavior, a SWAT team abducted him and drugged him (with a dart shot into his chest). The NSA put him through two tests of his abilities and skills. Cage found himself awakening in a roadside diner where he noticed some obvious discrepancies (and deduced that the entire situation was staged and fake) - the nervous, imposter waitress was improbably wearing high heels (which would cause blisters), and a dressed-up Wall Street broker was reading about the markets on a Sunday. He "aced" the test by easily thwarting the robbery, although he exhibited a "poor attitude." Gibbons remarked: "Why is it always the assholes who pass the test?"
Xander's First NSA Test - A Faked Diner Robbery
Cage's second test, along with other recruits, was to be dropped from a plane into the Colombian jungle, at the site of a Colombian drug cartel's cocaine plantation. He soon realized that it was a "real" test of his abilities after being captured by "El Jefe" (Danny Trejo) wielding a machete during torture. Cage was able to expose the cartels and successfully escape on a motorcycle during a fierce Colombian Army raid. He jumped tall barbed wire fences while pursued by a helicopter, as flames and explosions engulfed the compound's structures.
The Second NSA Test


Cage Captured, Strung Up, and Tortured


Colombian Drug Cartel Leader "El Jefre" (Danny Trejo)


Triple X's Escape Amidst Flames on a Motorcycle From Drug Cartel's Plantation
Speaking to Cage who had proved his worth, Gibbons identified him - wanted and hunted FBI criminal who was wanted for reckless endangerment and grand theft auto - as a possible tough-guy, undercover special agent for the NSA's European task. Gibbons recruited/blackmailed him into a governmental service mission in exchange for a pardon and clean record: ("I'll make all your criminal transgressions go away"), or otherwise threatened jail time. Cage reluctantly agreed - he was dubbed Agent Triple-X.
Cage journeyed to Eastern Europe (Prague, Czech Republic) to investigate the group of Russian anarchists led by ex-Soviet Army soldier, ex-KGB agent, and megalomaniacal, renegade criminal Yorgi (Marton Csokas), by attempting to infiltrate into their underground group named Anarchy 99. He purposely outed a member of his own NSA support team, Czech agent Milan Sova (Richy Müller), in order to ingratiate himself with the sinister Yorgi and his younger brother Kolya (Petr Jákl) who as a fan-boy idolized Cage. Cage negotiated with Yorgi to acquire high-end sports cars (a front for financing their anarchic terrorist plans), and met one of the other extremist commandos - leather-booted, flirtatious, sultry and sexy Yelena (Asia Argento), Yorgi's girlfriend and the second-in-command.
With techno-weapons and gadgets geek-specialist Toby Lee Shavers (Michael Roof), Triple X was provided with special "Eagle Eye" X-Ray binoculars (with "every little boy's dream - a penetrator mode" allowing one to see through walls and clothes). When xXx had the opportunity during a car deal in a warehouse, he shot Sova with one of genius Shavers' tech-toys - a trick special revolver, and used blood splatter to fake Sova's death. As a result, he became a full-fledged member of Anarchy 99.
During xXx's search for the bio-chemical nerve-agent weapon "Silent Night" at the group's castle HQs, he realized that Yelena was breaking into Yorgi's secret safe. At a restaurant, he revealed his true NSA identity to her ("I'm a secret agent") although at first she didn't believe him. She soon became his love-interest.
As xXx continued to search for the bio-weapon and bring down Yorgi, his cover was blown by double-agent Sova, and a sniper was sent to kill him, but failed. The NSA's and Special Forces plans to invade the castle and seize the bio-weapon were compromised, but xXx refused to have NSA Agent Gibbons return him to the US.
xXx (with Yelena) continued with their espionage mission, and overheard Yorgi in his underground secret weapons lab at the castle describing details about the anarchist's plan. They were about to launch AHAB - a solar-powered speedboat-drone-sub that would release the "Silent Night" weapon in a series of chemical attacks upon 10 major cities in Europe.
AHAB - The Solar-Powered Speedboat-Drone-Submarine
They watched as the nihilistic and vengeful Yorgi experimented with the bio-chemical weapon and killed all of the scientists who had developed both the super-weapon drone/boat-sub and three phallic-shaped rockets containing the poisonous bio-agent gas. He sealed off the room and then filled the 'gas chamber' with the "Silent Night" chemical weapon, and then coldly watched as they begged to be released.
After killing Kolya with a special bandage bomb and fleeing, xXx was then threatened by Sova who admitted why he had switched sides, before Sova was killed by incoming fire from Yelena through a wooden door, fortuitously saving xXx's life. She revealed her true identity to xXx ("I'm an agent as well") - she had been an undercover Russian Federal Security Board (FSB) agent working on Yorgi's case for two years - but had been abandoned. Cage was ordered home by Gibbons, but refused, because he wanted to stay and help save Yelena's life. Just before the planned invasion of the castle, Cage negotiated political asylum for her in the US, in exchange for information about Anarchy 99's plans.
During the Czech Special Forces raid of Yorgi's castle HQs, xXx executed his own plan to disrupt communications by interfering with the go-ahead signal. In a snowy mountainous region of the Czech Republic, he parachuted from a plane near Anarchy 99's communication tower, then threw a few grenades behind him, prompting an avalanche that destroyed the tower and about a dozen gang members on snowmobiles below, and was able to out-snowboard down the mountain ahead of the avalanche. At the bottom, he was captured by Yorgi, who admitted he knew about Yelena's identity and had also seized her.
xXx was able to free himself with Yelena during the launching of the castle attack. Yorgi had already launched the dreaded AHAB sub to target the center of Prague, and then fled in the opposite direction in a motorboat. xXx was able to kill Yorgi with machine gun fire as he fled in a motorboat - causing his boat to crash and explode into a rock wall. However, xXx feared Gibbons' and the Czech military would use destructive airstrikes from jets that would spread the bio-agent - fortunately, Gibbons ultimately called off the airstrikes.
| | |
| --- | --- |
| Triple X Harpooning the AHAB With a Cable From A Moving Car | Para-Sailing on the Cable to Transfer Himself From the Car to the AHAB |
Meanwhile, to neutralize the AHAb, xXx raced after and tracked down the launched and speeding steel drone-speedboat/sub in the river, and from his weaponized Pontiac GTO driven by Yelena on a parallel road, he was able to fire a steel cable to miraculously harpoon the boat, and then he para-sailed (on an American Flag chute) on the cable to transfer himself to the boat - where he disabled and destroyed the AHAB by reversing the direction of the 3 firing rockets (containing the green bio-agent), sinking it ("Welcome to the Zander Zone") and blowing it up.
In the film's epilogue, xXx was vacationing in Bora Bora with Yelena, and ignored further job requests from NSA Agent Gibbons.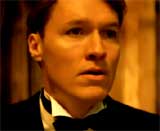 NSA Agent Jim McGrath (Thomas Ian Griffith) Before His Death at Rock Concert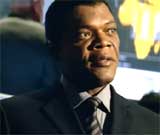 NSA Agent Augustus Gibbons (Samuel L. Jackson) - His Idea to Recruit a Convict as a NSA Agent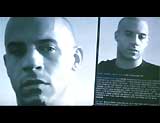 Xander Cage's (Vin Diesel) Mug Shot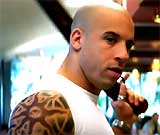 Xander Cage (Vin Diesel) In the Diner Robbery Test Scenario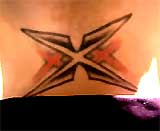 Xander's 3 X Tattoos On the Back of His Neck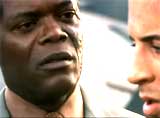 After the Second Test, Gibbons Recruited Cage, as Triple X, to Become a Replacement Undercover Agent in Prague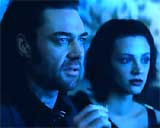 Renegade Anarchist Villain Yorgi (Marton Csokas) with Girlfriend Yelena (Asia Argento)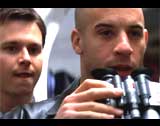 NSA's Tech Gadget Guy Toby Lee Shavers (Michael Roof) - The X-Ray Binoculars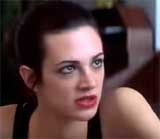 Yelena in Restaurant Learning That Triple-X was a "Secret Agent"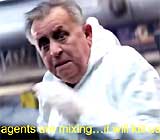 The Killing of Yorgi's Own Scientists in a Sealed "Gas" Chamber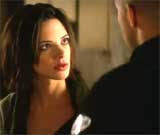 Yelena's Revelation to xXx After Gunning Down Sova: "I'm an agent as well"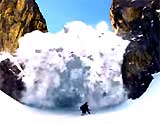 Triple X Snowboarding Down Mountain After Causing Avalanche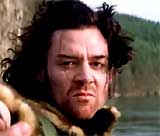 Just Before the Death of Yorgi on a Fleeing Motorboat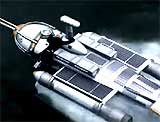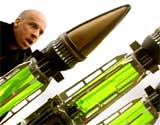 Triple X Atop the AHAB With Phallic-Shaped Rockets to Disable Them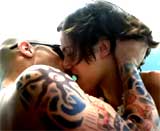 Epilogue: Cage and Yelena in Bora Bora, Tahiti