The New Decade's Major Changes:
Cinema in the 1960s reflected the decade of fun, fashion, rock 'n' roll, tremendous social changes (i.e., the civil rights era and marches) and transitional cultural values. This was a turbulent decade of monumental changes, tragedies, cultural events, assassinations and deaths, and advancements, such as:
1959 - Barbie Doll and the Microchip invented
1960 - Introduction of the Twist dance by Chubby Checker
1962 - Death of Marilyn Monroe
1962 - First TV broadcasts in color
1962 - Spacewar, the first computer video game, invented
1962 - The Cuban Missile Crisis
1963 - TouchTone telephones introduced
1963 - President John F. Kennedy's assassination
1963 - Women's Liberation, signaled by the publication of Betty Friedan's The Feminine Mystique
1964 - Beatlemania, the Beatles 'invaded' US
1964 - Boxer Cassius Clay joined the Nation of Islam and changed his name to Muhammad Ali
1965 - Miniskirt made first appearance
1965 - Watts (LA) race riots
1965 - Protests of racial stereotyping against 'Amos and Andy' TV show forced it off the air
1966 - One Million Years BC made Raquel Welch a sex symbol in a two-piece fur bikini
1967 - "Hair" opened off-Broadway
1967 - Human Be-In (Golden Gate Park), and Summer of Love in San Francisco
1967 - First Heart Transplant
1967 - Anti-Vietnam War Protests Escalated as War Deaths Multiplied
1968 - "60 Minutes" debuted on CBS-TV
1968 - Martin Luther King, Jr's and Robert Kennedy's assassinations
1969 - Woodstock Musical Festival in upper-state New York
1969 - Introduction of the indoor-safe NERF ball
1969 - "Sesame Street" debuted on TV
1969 - Mai Lai
1969 - Arpanet (first Internet) invented
1969 - The brutal and 'ritualistic' murder of 26 year-old actress Sharon Tate (Roman Polanski's pregnant wife) and others in Los Angeles (Bel Air) by Charlie Manson's hippie 'cultic' family
1969 - First Man on the Moon with Apollo 11 space flight
1970 - Kent State Massacre
1971 - Charlie Manson and three of his female followers in their 20s were convicted of the Tate-LaBianca murders, after the longest murder trial in US history
However, 1963 was the worst year for US film production in fifty years (there were only 121 feature releases). And the largest number of foreign films released in the US in any one year was in 1964 (there were 361 foreign releases in the US vs. 141 US releases).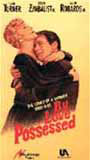 With movie audiences declining due to the dominance of television, major American film companies began to diversify with other forms of entertainment: records, publishing, TV movies and the production of TV series. For example:
in July of 1961, TWA Airlines began the first regular in-flight movies in first-class during a NYC to LA flight, with a Bell and Howell projector aimed at a screen to show the glossy soap opera By Love Possessed (1961), starring Lana Turner
in September of 1961, Saturday Night at the Movies premiered on NBC with the first wide-screen comedy, How to Marry a Millionaire (1953) - it marked the start of the trend to broadcast Hollywood movies on TV
in 1965, Columbia released folk/rock singer Bob Dylan's album Highway 61 Revisited
separate awards for Black and White and Color Cinematography were eliminated by AMPAS for 1967 (and after) films, because most films were being made in color
Financial Difficulties Within the Film Industry:
Increasingly in the 60s, the major studios financed and distributed independently-produced domestic pictures. And made-for-TV movies became a regular feature of network programming by mid-decade. Many "runaway" film productions were being made abroad to save money. By mid-decade, the average ticket price was less than a dollar, and the average film budget was slightly over one and a half million dollars. And by the end of the decade, the film industry was very troubled and depressed and experiencing an all-time low that had been developing for almost 25 years.
Studio-bound "contract" stars and directors were no longer. And most of the directors from the early days of cinema were either retired or dead. Some of the studios, such as UA and Hal Roach Studios, had to sell off their backlots as valuable California real estate (for condominiums and shopping centers). Some sold props (MGM was selling various film artifacts in 1970, including Dorothy's ruby slippers from The Wizard of Oz (1939)), offered tours of back lots (Universal began its famed studio tours in 1964), or created theme parks (DisneyWorld in Orlando, Florida).

To aid the tourist industry and create another attraction, in 1960, the Hollywood Chamber of Congress inaugurated the Hollywood Walk of Fame (bronzed stars in pink terrazzo and surrounded by charcoal terrazzo squares that were embedded in the sidewalks along sections of Hollywood Boulevard and Vine Street). The first star, placed on February 9, 1960, was for Joanne Woodward. However, by the mid-70s, Hollywood was better known for its adult bookstores, prostitutes, and run-down look.
The Birth of the Multiplex and the Demise of Theatre Palaces:
Stanley H. Durwood became the father of the 'multiplex' movie theater in 1963 when he opened the first-ever mall multiplex, composed of two side-by-side theaters with 700 seats at Ward Parkway Center in Kansas City. Three years later, Durwood introduced the world's first four-plex and then in 1969, he built a six-plex with automated projection booths. Durwood went on to head up AMC Entertainment, making it the third-largest movie theater company in the nation.
Meanwhile, the creation of and flight to the suburbs, the studios' divestiture of their theatre holdings after 1948, and the impact of television in the 1950s meant the demise and razing of the benchmark, downtown movie palaces of the 20s. Architectural wonders, such as the Paramount Theater in Times Square (New York), projected its last scheduled film in 1964. The RKO (Hill Street) Theatre in Los Angeles was destined to become a parking garage soon after. And the RKO Orpheum Theatre in downtown San Diego, built in 1924, was demolished to make room for a bank.
Studio Take-Overs:
Due to various insecurities and financial difficulties, the studios were quickly taken over by multi-national companies, especially after the deaths of pre-war, entrepreneurish movie-studio moguls such as Louis B. Mayer of MGM and Harry Cohn of Columbia, the ousting of Darryl F. Zanuck from 20th Century Fox in 1971, and the sale of one-third of Warner Bros. stock by Jack Warner to Seven Arts in 1967. The traditional, Hollywood studio era would soon be history, as more and more studios were acquired by other unrelated business conglomerates. The age of "packaged" films and the independent company and producer were beginning.
In the mid- to late 60s, there was a buying/selling frenzy of the major conglomerates who invested and traded in studios and networks:
In 1962, the growing entertainment conglomerate MCA (the Music Corporation of America) acquired Universal-International Studios (actually Universal-International-Decca), a merger that would have lasting influence on show business; it developed its strength as a TV production company
In 1966, Gulf+Western Industries bought the floundering Paramount, and made Robert Evans head of the studio's production; Evans would soon be responsible for some of the studio's most influential films, such as Rosemary's Baby (1968), Love Story (1970), The Godfather (1972), and Chinatown (1974) which Evans produced
In 1967, New Line Cinema was founded by Robert Shaye as a privately-held distributor of art films, such as John Waters' trash comedy classic Pink Flamingos (1972)
In 1967, Bank of America absorbed United Artists through its Transamerica Corporation subsidiary
In 1967, Jack Warner (co-creator of the famous studio) sold his controlling interest in Warner Bros. to a Canadian production and distribution corporation called Seven Arts, and the company was re-named Warner Bros-Seven Arts. The new company acquired Atlantic Records, but debt-laden, was sold in 1969 to Kinney National Services Incorporated, a New York conglomerate whose interests included parking lots and funeral homes; the studio was later renamed Warner Communications in 1971
In 1968, Avco, an aviation equipment and financial services company, bought Embassy Films from founder Joseph E. Levine
In 1969, MGM was acquired by the Las Vegas hotel financier and airline mogul Kirk Kerkorian, who won control of the studio in a proxy battle with Seagram's Edgar Bronfman, Sr.; it temporarily suspended film-making for over ten years, until acquired by United Artists and relaunched in 1981
the original, large-screen IMAX projection system was developed in 1967, and made its debut in 1970 at the Fuji Pavilion at the World Expo in Osaka, Japan, with a five-story screen and 70mm film in the projector (and the first IMAX film Tiger Child - a Multiscreen Corporation production)
The Cleopatra Disaster:

The much-heralded Joseph L. Mankiewicz film Cleopatra (1963), filmed on location in Rome, brought together the explosive pairing of Elizabeth Taylor as the Queen of Egypt and future husband Richard Burton as Marc Antony, who brought more headlines with their blossoming romance than the budget problems. It proved to be a tremendous financial disaster for 20th Century Fox, headed by Darryl Zanuck. Taylor, already the highest-paid performer in the history of Hollywood at $1 million, had a costume wardrobe budgeted at almost $200,000, and with numerous cost over-runs, extravagant sets and thousands of costumes for the cast, the film was the most expensive up to that time at a record $44 million (in adjusted dollars, about $300 million), from an initial budget of $2 million. It was also the longest, commercially-made American film released in the US - at 4 hours and 3 minutes. [Fox was saved from financial disaster only by the release of the fact-based war epic The Longest Day (1963), an all-star re-creation of the events surrounding D-Day, and the blow was also softened by the unexpected success of The Sound of Music (1965).]
British Influences: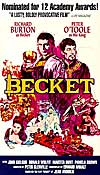 With the high cost of producing and making films in Hollywood and the shrinking of studio size, many studios decreased their internal production and increased moviemaking outside the country, mostly in Britain (an economically advantageous production base), making big-budget, big-picture films there. In 1962, for example, the number of Hollywood films in production had hit an all-time low, dropping off 26% from the previous year. Two examples of films made elsewhere included these magnificent historical dramas of 12th century England:
Becket (1964) with Richard Burton (as Archbishop Thomas Becket of Canterbury) and Peter O'Toole (as King Henry II), an Oscar-winning film for Best Screenplay
The Lion in Winter (1968), the retelling of the clash between King Henry II (Peter O'Toole reprising his role as the King) and Eleanor of Aquitaine (Katharine Hepburn), with Oscar wins for Hepburn and James Goldman's screenplay [this film featured Anthony Hopkins' feature-film debut as King Richard the Lion-Hearted]

The major studios increasingly became financiers and distributors of foreign-made films. Two of director David Lean's 60's films, the ones that defined his career's reputation, were made in Britain. The scenic beauty and backdrops of both films became a tangible character, and opened the door for similar epic-travelogues:
Lawrence of Arabia (1962) - the spectacular, adventure epic film made in 70 mm about an enigmatic, masochistic British officer/hero named Col. T. E. Lawrence who fought guerrilla-style alongside Omar Sharif (in a breakthrough role), with Shakespearean actor Peter O'Toole in his first major, Oscar-nominated, star-making screen role as the homoerotic protagonist; from a revered screenplay by Robert Bolt
Doctor Zhivago (1965), a sweeping romantic/historical drama adapted from Boris Pasternak's Nobel Prize-winning novel of the days of Russia's Civil War played out against the story of physician Yuri Zhivago, the two female loves of his life: sensuous mistress Lara (Julie Christie) and wife Tanya (Geraldine Chaplin), and the villainous Kamarovsky (Rod Steiger)
The Anglo-American epic A Man For All Seasons (1966) by director Fred Zinnemann, won six Academy Awards, including Best Picture, Best Director, and Best Actor Oscars. It portrayed the clash of ideals between the honorable and principled Sir Thomas More (well-spoken, Oscar-winning Paul Scofield reprising his stage performance) who sacrificed his own life as a rebel against the egocentric and tyrannical King Henry VIII (Robert Shaw).
The Phasing Out of Big Historical Epics:
However, costly historical epics were being phased out. Two big-money, opulent, epic productions, both directed by Anthony Mann, were carryovers from the 50s decade of inflated historical epics. These were made in Spain and Italy respectively, two less expensive movie-making locations in Europe:
El Cid (1961) with heroic Charlton Heston as the legendary 11th century Spanish warrior; Mann made the film after being fired from the set of Spartacus (1960) - see below
producer Samuel Bronston's historical drama The Fall of the Roman Empire (1964) - a disastrous, exorbitant film that overextended and bankrupted his studio
Nicholas Ray's and Andrew Marton's 70 mm. 55 Days at Peking (1963), also produced by Samuel Bronston, starred Charlton Heston and Ava Gardner, and John Huston's religious epic The Bible: In the Beginning (1966) lost favor as extravagant film productions of this kind became too costly.
British "Kitchen Sink" Cinema: "Angry Young Men" Films
A new wave of grim, non-fictional, social realism in British cinema, dubbed or styled "Kitchen Sink" due to its angry, every-day working-class heroes, frank dialogue, and negative post-war themes, was exemplified in the grainy, powerful works of various directors in the late 50s and early 60s. Most of the directors had backgrounds in theatre, television and documentaries and brought their talents to the screen.
Their socially-conscious films were also categorized as "Angry Young Men" films, due to the fact that each one focused on the economic and social problems of a frustrated male protagonist who attempted to break free from society and its expectations, through the use of alcohol, sex, sports, and money, etc. They broke new material by portraying England's angry and alienated youth in fresh, energetic, and frank terms:

Film History of the 1960s
Part 1, Part 2, Part 3, Part 4, Part 5, Part 6
---



---