1954
The winner is listed first, in CAPITAL letters.
Actor:
MARLON BRANDO in "On The Waterfront", Humphrey Bogart in "The Caine Mutiny", Bing Crosby in "The Country Girl", James Mason in "A Star Is Born", Dan O'Herlihy in "Adventures of Robinson Crusoe"
Actress:
GRACE KELLY in "The Country Girl", Dorothy Dandridge in "Carmen Jones", Judy Garland in "A Star Is Born", Audrey Hepburn in "Sabrina", Jane Wyman in "Magnificent Obsession"
Supporting Actor:
EDMOND O'BRIEN in "The Barefoot Contessa", Lee J. Cobb in "On The Waterfront", Karl Malden in "On The Waterfront", Rod Steiger in "On The Waterfront", Tom Tully in "The Caine Mutiny"
Supporting Actress:
EVA MARIE SAINT in "On The Waterfront", Nina Foch in "Executive Suite", Katy Jurado in "Broken Lance", Jan Sterling in "The High and the Mighty", Claire Trevor in "The High and the Mighty"
Director:
ELIA KAZAN for "On The Waterfront", Alfred Hitchcock for "Rear Window", George Seaton for "The Country Girl", William Wellman for "The High and the Mighty", Billy Wilder for "Sabrina"
---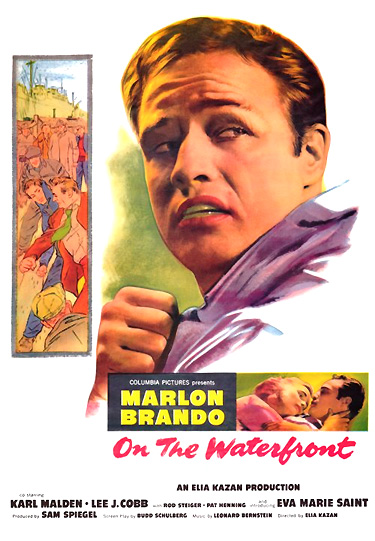 The Best Picture winner (of producer Sam Spiegel), director Elia Kazan's semi-documentary, expose, and thriller, On The Waterfront (with twelve nominations and eight wins) matched two other films with eight wins - but they each had thirteen nominations:
The awards for the top winner this year included: Best Picture, Best Actor, Best Supporting Actress, Best Director, Best Story/Screenplay (Budd Schulberg), Best B/W Cinematography (Boris Kaufman), Best B/W Art/Set Direction, and Best Film Editing.
The low-budget, black and white Best Picture was filmed entirely on location in Hoboken and told the gritty story of New York dock workers, brutality, corruption, and embroilment with a gangster union boss. It provided an expose of union racketeering while showcasing the murder of an innocent longshoreman. Kazan and screenwriter Budd Schulberg justified their own naming of names (blacklisting-testimony against alleged Communists) as friendly witnesses before the House Un-American Activities Committee (HUAC) in the early 50s with the film's story of an heroic longshoreman informant Terry Malloy (Marlon Brando) who stood alone and turned witness against the corrupt and intimidating union bosses and became a marked 'pigeon'. The film marked a comeback for Brando, who hadn't won a Best Actor Oscar - yet.
Losing to the Best Picture winner were these four films:
director George Seaton's and Clifford Odets' backstage melodrama The Country Girl (with seven nominations and two wins - Best Actress and Best Screenplay) about the comeback attempt of an alcoholic singer
Fox's light CinemaScope travelogue/romance by director Jean Negulesco about three women romantically involved with Italian men while working in Rome, Three Coins in the Fountain (with three nominations and two wins - Best Color Cinematography (for Milton Krasner) and Best Song, the title song "Three Coins in the Fountain" - remarkably defeating Judy Garland's "The Man That Got Away" in A Star Is Born)
another CinemaScope film and one of the best musical/dance films ever made by director Stanley Donen, MGM's Seven Brides for Seven Brothers (with five nominations and only one win - Best Musical Score) about seven fur-trapping brothers in the Oregon Territory who gradually find wives, starring Jane Powell and Howard Keel
the courtroom drama about a naval mutiny based on Herman Wouk's novel, The Caine Mutiny (with seven nominations and no wins) from director Edward Dmytryk
Elia Kazan, director of the dockside drama On The Waterfront won his second (and last) Oscar, defeating among others director Alfred Hitchcock, who was also nominated for Rear Window. [The famed suspense/thriller director Alfred Hitchcock has always appeared to be discriminated against by the Academy - he never won a Best Director Oscar out of five tries - Rebecca (1940), Lifeboat (1944), Spellbound (1945), Rear Window, and Psycho (1960). His only Best Director nomination for a color film occurred in this year. Hitchcock resorted to receiving an Honorary Award in 1967.]
George Seaton was nominated for two-Oscar winner The Country Girl (Seaton's screenplay for the film was honored with an Oscar for Best Screenplay). William Wellman (who won his only Oscar for Original Story for the earliest film version of A Star is Born (1937)), was nominated for The High and the Mighty. [Wellman had been directing films since 1929 including such memorable films as The Public Enemy (1931), Nothing Sacred (1937), Beau Geste (1939), The Ox-Bow Incident (1943), and The Story of G.I. Joe (1945), but he was nominated only one other time as Best Director for Battleground (1949) - and he lost then too.] Finally, Billy Wilder, who was also nominated for his screenplay for Sabrina, lost the Best Director award as well. Director Stanley Donen (always snubbed as Best Director), whose superb film Seven Brides for Seven Brothers was nominated for Best Picture, was missing from the Best Director nominees. [Donen finally received an Honorary Award in 1997 -- 43 years later.]
1954 was another upset year in the Academy Awards, particularly in the Best Actor and Actress categories, where each favored nominee lost.
Marlon Brando's Best Actor victory (he was "a contender" with his fourth consecutive nomination since 1951, and first win!) was for his role as the confused, ex-prizefighter and roughneck longshoreman Terry Malloy, a racketeer's stooge in Elia Kazan's On The Waterfront. The win was a surprise one (Bing Crosby was favored), but a deserved one. His transformation from passive dockworker to a crusader against trade-union tyranny is impressive.
Other Best Actor-nominated performers included distinguished performances:
Bing Crosby (with his third and final career nomination) as an against-type, has-been alcoholic actor/singer Frank Elgin in the depressing, realistic drama The Country Girl, one of Crosby's four dramatic roles
James Mason (with his first of three unsuccessful nominations) as ruined, alcoholic actor Norman Maine in A Star Is Born (with six nominations and no wins). (In a long career, Mason had only a total of three nominations including later films Georgy Girl (1966) and The Verdict (1982) - Mason never won an Oscar.)
Humphrey Bogart (with his third and last career nomination) in the memorable role as paranoid, twitchy, and disintegrating Captain Queeg who is obsessed with cleanliness and rolls steel ball bearings in his hand on the witness stand in The Caine Mutiny. [Bogart's only win, often seen as a 'payback' career Oscar, came three years earlier for The African Queen (1951) - when he also competed against Brando with his superior performance in A Streetcar Named Desire (1951).]
Irish actor Dan O'Herlihy (with his sole career nomination) as castaway Robinson Crusoe in the film adaptation of Defoe's novel in the Luis Bunuel-directed Adventures of Robinson Crusoe (the film's sole nomination)
Crosby's co-star in The Country Girl, Grace Kelly, was nominated (with her second consecutive nomination - and her last career nomination) for her de-glamorized role as his frumpy, slatternly, dowdy, embittered wife Georgie Elgin (with horn-rimmed spectacles and a shapeless cardigan sweater), and she won the Best Actress award - her sole win. In her role, William Holden's interest in her destroys her husband's (Bing Crosby) sobered, singing comeback. [Kelly probably won the Best Actress Award because she was being rewarded for a very versatile year - she appeared in five films in 1954: the other three films were Dial M for Murder, Green Fire, The Bridges at Toko-Ri and Rear Window. Kelly had been better suited in more romantic, sleek, and stylish roles in films such as To Catch a Thief (1955) and High Society (1956).]
The other Best Actress nominees included:
veteran musical-performer Judy Garland, who was favored to win because of a return to film after four years of personal problems, including breakdowns, attempted suicide, drug problems, and bankruptcy. With her first of two unsuccessful career nominations, Judy Garland played the wife of an alcoholic - a comeback role as Esther Blodgett/Vicki Lester in George Cukor's remake of the 1937 Fredric March/Janet Gaynor film - A Star Is Born.
[Note: Garland hadn't been in a film since Summer Stock (1950), and it would be another seven years before her next film, Judgment at Nuremberg (1961). Her loss to Grace Kelly sent her into another depressive tailspin. Garland won only one Oscar - a Special Award she had received for 1939 (presented at the 1940 Academy Awards ceremony) for "her outstanding performance as a screen juvenile during the past year."]
black actress Dorothy Dandridge (with her sole Oscar nomination) in the title role as a factory worker in Otto Preminger's Carmen Jones (with two nominations and no wins) - [Dandridge was the first black woman/performer to be nominated for Best Actress]
Jane Wyman (with her fourth and final career nomination) as wealthy blinded woman Helen Phillips in director Douglas Sirk's sentimental, heart-wrenching tearjerker Magnificent Obsession (the film's sole nomination)
Audrey Hepburn (with her second of five career nominations) as beautiful chauffeur's daughter Sabrina Fairchild in Billy Wilder's entertaining romantic comedy Sabrina (with six nominations and one win - Best B/W Costume Design). [It was Hepburn's second major starring film role. She won the previous year for Roman Holiday (1953), but would never win another Oscar.]
On The Waterfront was one of only a few films in cinematic history that received multiple acting nominations in the same category. [Other films with three nominees in direct competition with each other in the same category include: Tom Jones (1963), The Godfather (1972), and The Godfather, Part II (1974).]
Three out of the five nominees for Best Supporting Actor were from the major Oscar winner of 1954, but the roles seemed to cancel each other out and give the vote to the victor:
Karl Malden (with his second and last career nomination) played the concerned, liberal, militant waterfront and neighborhood priest Father Barry
Lee J. Cobb (with his first of two unsuccessful career nominations) portrayed the unscrupulous, arrogant gangster/union boss-racketeer Johnny Friendly
Rod Steiger (with his first of three career nominations) was in one of his best career roles as crooked, opportunistic lawyer Charley Malloy (Marlon Brando's brother) working for the racketeer boss
The fourth nominee was Tom Tully (with his sole career nomination) as The Caine's skipper Captain DeVriess (before Bogart took charge) in The Caine Mutiny.
The upset winner in the category was Edmond O'Brien (with his first of two career nominations - and his sole Oscar) as flamboyant, sweaty, slimy and nervous Hollywood publicist/press agent Oscar Muldoon who helps Humphrey Bogart promote a Spanish dancer (the beautiful Ava Gardner) in director Joseph Mankiewicz's trashy melodrama The Barefoot Contessa (with two nominations and one win - Best Supporting Actor). [O'Brien would be nominated only one other time in his career, for Seven Days in May (1964).]
In the role of a courageous young, convent-bred daughter of a longshoreman named Edie Doyle (who becomes Marlon Brando's devoted girlfriend at the end) in On The Waterfront, TV and stage actress Eva Marie Saint (with her sole career nomination - and only Oscar win for her first screen role) won the Best Supporting Actress Oscar. It was her debut film - and although she was a leading lady in the film, her Best Supporting Actress nomination helped to assure her win. [Note: Other actresses in future years who would win similar Best Supporting Actress awards for central starring roles include Goldie Hawn in Cactus Flower (1969), Jessica Lange in Tootsie (1982), Geena Davis in The Accidental Tourist (1988), and Marisa Tomei in My Cousin Vinny (1992).]
The other Best Supporting Actress nominees were:
Nina Foch (with her sole career nomination) as chic, but grief-stricken secretary Erica Martin in director Robert Wise's Executive Suite (with four nominations and no wins)
Mexican-born actress Katy Jurado (with her sole career nomination) as Senora Devereaux (Spencer Tracy's Comanche wife) in Broken Lance (with two nominations and one win - Best Motion Picture Story) [Jurado was more memorable in High Noon (1952) but un-nominated]
and two co-stars of director William Wellman's The High and the Mighty (with six nominations and one win - Best Dramatic Score) - a suspenseful airline drama with John Wayne as the airline pilot: Jan Sterling (with her sole career nomination) as mail-order bride and plane passenger Sally McKee and Claire Trevor (with her third and last career nomination) as aging, jaded, and bitter beauty May Hoist
The Best Color Costume Design Oscar was presented to Sanzo Wada for Gate of Hell - this marked the first Japanese-made film to win a competitive award.
To compensate for the fact that screen legend Greta Garbo had never received a competitive Best Actress Oscar, she was belatedly presented with a special Honorary statue "for her unforgettable screen performances" - thirteen years after her retirement from her last film, Two-Faced Woman. [Garbo had four career nominations for exceptional definitive roles including Anna Christie (1929-30) and Romance (1929-30), Camille (1936) and Ninotchka (1939).]
Another Honorary Award was presented to the versatile, red-haired comic Danny Kaye, for "his unique talents, his service to the Academy, the motion picture industry, and the American people." He never even received a nomination throughout his entire film career, that was marked by such great films as Wonder Man (1945), The Kid From Brooklyn (1946), The Secret Life of Walter Mitty (1947), Hans Christian Andersen (1952), Knock on Wood (1954), and The Court Jester (1956).
Oscar Snubs and Omissions:
While Hitchcock was nominated as Best Director for Rear Window (in addition to three other nominations including Best Screenplay, Best Color Cinematography, and Best Sound Recording), the film should have also been nominated for Best Picture, replacing inferior films such as: Three Coins in the Fountain, The Caine Mutiny, and The Country Girl. The same fate happened to Billy Wilder's Sabrina that was nominated for six Oscars (including Best Director, Best Actress (Audrey Hepburn), Best Screenplay, Best B/W Cinematography and Best B/W Best Art Direction-Set Decoration, with one win for Best B/W Costume Design), but wasn't the recipient of a Best Picture nomination!
Three stars of Rear Window (with four nominations, and none for acting), James Stewart (as 'Jeff' Jefferies), Grace Kelly (as Lisa Carol Fremont), and Thelma Ritter (as Stella) were not nominated (the studio - Paramount - promoted Kelly in its other film The Country Girl instead).
Another better candidate for Best Picture which wasn't nominated was George Cukor's A Star Is Born, due in part to Warner Bros.' decision to ignore the film during Academy promotions. Director Nicholas Ray's independent, odd cult Western Johnny Guitar with Sterling Hayden, Joan Crawford and Mercedes McCambridge in lead roles, was entirely unnominated.
Two other films that deserved more recognition included Douglas Sirk's melodramatic Magnificent Obsession with Jane Wyman (who received a Best Actress nomination, the film's sole honor) and Rock Hudson, and John Huston's quirky adventure comedy Beat the Devil (without nominations) with Humphrey Bogart.
And why wasn't Fred MacMurray nominated (he was never nominated in his entire career) instead of Tom Tully, for his stronger performance as cynical troublemaker Captain Keefer in The Caine Mutiny? And Charles Laughton was neglected for his role as Henry Horatio Hobson in David Lean's un-nominated British comedy Hobson's Choice. Judy Holliday failed to receive a nomination for her role as Gladys Glover in another Gordon-Kanin-Cukor comedy/satire It Should Happen to You (a film with only one nomination - Best Costume Design) - she co-starred with Jack Lemmon in his film debut.
American-born Composer Larry Adler (blacklisted and self-exiled in England) saw his nominated score for Genevieve credited to conductor-arranger Muir Matheson. (The Academy would correct the nomination in 1986.) And the great choreographer Michael Kidd (with no career nominations), responsible for the high-stepping and dancing in Best Picture-nominated Seven Brides for Seven Brothers, finally was given some recognition by a special Honorary Award in 1996 presented by the Academy.