1961
The winner is listed first, in CAPITAL letters.
Actor:
MAXIMILIAN SCHELL in "Judgment at Nuremberg", Charles Boyer in "Fanny", Paul Newman in "The Hustler", Spencer Tracy in "Judgment at Nuremberg", Stuart Whitman in "The Mark"
Actress:
SOPHIA LOREN in "Two Women", Audrey Hepburn in "Breakfast at Tiffany's", Piper Laurie in "The Hustler", Geraldine Page in "Summer and Smoke", Natalie Wood in "Splendor in the Grass"
Supporting Actor:
GEORGE CHAKIRIS in "West Side Story", Montgomery Clift in "Judgment at Nuremberg", Peter Falk in "Pocketful of Miracles", Jackie Gleason in "The Hustler", George C. Scott in "The Hustler"
Supporting Actress:
RITA MORENO in "West Side Story", Fay Bainter in "The Children's Hour", Judy Garland in "Judgment at Nuremberg", Lotte Lenya in "The Roman Spring of Mrs. Stone", Una Merkel in "Summer and Smoke"
Director:
JEROME ROBBINS and ROBERT WISE for "West Side Story", Federico Fellini for "La Dolce Vita", Stanley Kramer for "Judgment at Nuremberg", J. Lee Thompson for "The Guns of Navarone", Robert Rossen for "The Hustler"
---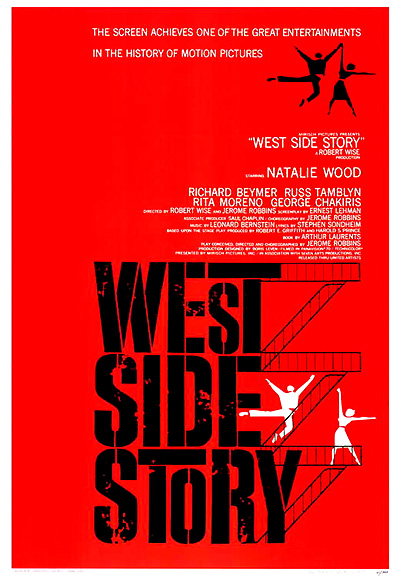 The Best Picture winner was a well-honored musical with Leonard Bernstein's score, fiery dance numbers and Stephen Sondheim's lyrics in a contemporary updating of Shakespeare's story of Romeo and Juliet (with rival NY street gangs - Puerto-Rican Sharks headed by George Chakiris and Jets led by Richard Beymer) titled West Side Story. The film had eleven nominations and ten Oscar wins (losing only its Screenplay nomination) - close to matching the record established by Ben-Hur (1959) with its twelve nominations and eleven Oscars.
The Best Picture winner's awards included: Best Picture, Best Supporting Actor, Best Supporting Actress, Best Director (Robert Wise and co-credited choreographer Jerome Robbins), Best Art Direction, Best Cinematography, Best Sound, Best Musical Score, Best Film Editing, and Best Costume Design. Only two of its ten Oscars went to actors (in supporting roles). Robbins was also awarded a special statuette for "his brilliant achievements in the art of choreography on film." Robbins was the only Best Director Oscar winner to win for the only film he ever directed.
[West Side Story was the first instance in which a co-directing team - Robbins and Wise - won the Best Director Oscar. Joel and Ethan Coen also won the Best Director Oscar for No Country For Old Men (2007). Other examples of a directorial team being nominated were Heaven Can Wait (1978) with co-directors Warren Beatty and Buck Henry, and the Coen brothers nominated for True Grit (2010).]
The other nominees for Best Picture included the following:
director Joshua Logan's non-musical Fanny (with five nominations and no wins) with Leslie Caron and Maurice Chevalier (co-stars in the successful Gigi (1958)) cast in the title roles as a young girl who finds herself pregnant and her husband - a different older man
director J. Lee Thompson's suspenseful action/adventure war film, The Guns of Navarone (with seven nominations and only one win - Best Special Effects) about a sabotage team of American-British-Greek intelligence agents sent in 1943 to the fictionalized Aegean island of Navarone to destroy giant German guns
director Robert Rossen's character drama about professional pool-room sharks and a naive, self-destructive pool hustler, The Hustler (with nine nominations and two wins - Best B/W Cinematography and Best B/W Art Direction/Set Decoration)
director Stanley Kramer's three-hour long, star-studded Judgment At Nuremberg (with eight nominations and two wins - Best Actor and Best Screenplay) - a film about the 1948 war crimes trials following World War II
The Hustler accumulated four acting nominations, but none of the deserving individuals won.
Paul Newman (with his second nomination) probably gave the greatest performance of his career and was nominated as Best Actor for his role as professional pool shark Fast Eddie Felson. [Newman would have to wait 25 years to win an Oscar for playing the same character - only older - in the sequel The Color of Money (1986).]
co-star Piper Laurie (with her first of three career nominations) was nominated for Best Actress as Sarah Packard, Paul Newman's crippled, alcoholic girlfriend/lover
Two Best Supporting Actor nominees in The Hustler were:

Jackie Gleason (with his sole nomination) as real-life hustler Minnesota Fats
George C. Scott (with his second of four career nominations) in a superb performance as Bert Gordon - Felson's fast-talking, conniving, manipulative promoter/manager [Note: Actor George C. Scott in his third screen appearance became the first actor to decline an Oscar nomination (to be awarded in 1962). Though he wished to turn down the nomination, his name remained on the ballot, and he lost to George Chakiris for West Side Story (1961).]
Three of the four performers who won acting Oscars were virtually unknown - Maximilian Schell, George Chakiris, and Rita Moreno, and the fourth, Sophia Loren, was known mostly as an Italian sexpot rather than as a serious, deglamourized actress. The winning group basically beat out lots of better known heavyweights.
The Best Actor winner was 31 year-old Austrian-born Maximilian Schell (with the first of three career nominations - and his sole Oscar win) as Hans Rolfe - a disturbing Nazi-German defense lawyer who defended the Nazi generals for war crimes in Judgment at Nuremberg. [Note: Schell's role was basically a supportive one, and he was listed fourth in the cast. He became the first performer to win an Academy Award for recreating on screen a role he had originally performed for television.] He was the only performer to take home the film's sole acting Oscar win.
Other Best Actor nominees included:
Schell's co-star Spencer Tracy (with his eighth and next-to-last career nomination) as Judge Dan Haywood - the presiding American/Allied judge in the Nuremberg trials in Judgment at Nuremberg
Charles Boyer (with his fourth and last unsuccessful career nomination) as waterfront proprietor Cesar (Horst Buchholz's father), in Fanny
Stuart Whitman (with his sole nomination) as Jim Fuller - a paroled child molester in the dramatic British film by director Guy Green, The Mark (the film's sole nomination)
Paul Newman (see above)
The Best Actress award also went to a non-American, to help acknowledge non-English language performers and boost Hollywood's desire to favor non-American markets for films:
Sophia Loren (with her first of two career nominations) won her only Oscar in director Vittorio De Sica's sub-titled Italian film Two Women (1960, It.) (aka La Ciociara) (the film's sole nomination) in the role of Cesira - the widowed and tormented young mother of a 13-year-old daughter (Eleanora Brown) who she vainly tried to protect in war-torn Italy during World War II. In the Italian countryside during the taking of Rome, both of them were traumatized and forced to survive an aerial strafing attack, deprivation, and rape during the dark war year of 1943. [Note: The film's sole nomination won Best Actress for Loren. This same feat occurred when Jodie Foster won Best Actress for The Accused (1988) - also the film's sole nomination.]
[Note: Loren was the first to be nominated for (and win) an acting Oscar for a foreign-language film role - in a film that was not in English. This feat, a non-English acting award, was also awarded to Roberto Benigni for his performance in Life is Beautiful (1998). Also, Loren remains the only actress to win an Oscar in a foreign-language film. However, it has been noted that Robert De Niro also won an Oscar for his foreign-language performance, speaking only Italian/Sicilian in The Godfather, Part II (1974), and the same is true of Meryl Streep's Best Actress foreign-language performance in Sophie's Choice (1981), and Haing S. Ngor's Best Supporting Actor role in The Killing Fields (1985).]
Sophia Loren's other competitors in the Best Actress race included:
Audrey Hepburn (with her fourth of five career nominations) in one of her best-loved roles as charming, eccentric, melancholy New York City playgirl Holly Golightly in director Blake Edwards' offbeat romance, Breakfast at Tiffany's (with five nominations and two wins - Best Comedy Score, and Best Song for Hepburn's rendition of Henry Mancini's "Moon River")
Geraldine Page (with her second of eight career nominations) as Alma Winemiller - a repressed Mississippi minister's daughter/spinster in another adaptation of a Tennessee Williams play by director Peter Glenville, Summer and Smoke (with four nominations and no wins)
Natalie Wood was nominated (with her second of three unsuccessful career nominations) for her role as teen sweetheart and sexually-frustrated, troubled teenager Wilma Dean ("Deanie") Loomis opposite boyfriend Warren Beatty (in his film debut) in director Elia Kazan's Splendor in the Grass (with two nominations and one win - Best Story and Screenplay)
Piper Laurie (see above)
The two Best Supporting Actor and Actress awards went to two West Side Story co-stars:
Puerto-Rican-born Rita Moreno (with her sole nomination and Oscar win in her entire career) as the fiery, headstrong, tempestuous, skirt-tossing dancer, a Puerto Rican 'Sharks' member, and Maria's (Natalie Wood) friend Anita. She was the first Hispanic actress to win an acting Academy Award. She was also the second performer (after Helen Hayes) to win these four different awards - Oscar (1961), Tony (1975), Emmy (1977, 1978), and Grammy (1972) - by 1977, one year after Hayes.
George Chakiris (with his sole nomination - and sole Oscar win - in his first leading film role) as the 'Sharks' tragic, knife-fighting gang leader Bernardo, the heroic brother of the film's Juliet - Maria (Natalie Wood)
At the time, front-runner favorites were two Supporting Actor/Actress nominees for their roles in Judgment at Nuremberg - Montgomery Clift and Judy Garland - and both of them had never won Oscars. The Best Supporting Actor nominees who lost were:
Montgomery Clift (with his fourth and last unsuccessful career nomination) was nominated as Rudolf Petersen - a Nazi-victimized witness who testifies for the prosecution, in Judgment at Nuremberg
Peter Falk (with his second consecutive and last career nomination) as Joy Boy in Frank Capra's remake of his own Lady for a Day (1933) (and Capra's last film), Pocketful of Miracles (with three nominations and no wins) - the film co-starred Bette Davis as down-and-out street vendor Apple Annie
Jackie Gleason (see above)
George C. Scott (see above)
Other losing Best Supporting Actress nominees included:
Judy Garland (with her second and last unsuccessful career nomination) as Irene Hoffman - a German housewife who defends her marriage to a Jew, in Judgment at Nuremberg
Fay Bainter (with her third and last career nomination in her last film) in the role of Mrs. Amelia Tilford - the grandmother of a lying teenage girl in director William Wyler's film version of Lillian Hellman's play about slander directed toward two teachers in a re-make of Wyler's own These Three (1936) titled The Children's Hour (with five nominations and no wins)
Lotte Lenya (with her sole nomination) as unappealing, Italian procuress Contessa Magda Terribili-Gonzales in director Jose Quintero's film of an adaptation of a Tennessee Williams novella, The Roman Spring of Mrs. Stone (the film's sole nomination) - a film starring Vivien Leigh as a fading, widowed actress in Rome and Warren Beatty as a handsome Italian gigolo
Una Merkel (with her sole nomination), a veteran character actress for many decades, was also nominated as Geraldine Page's mentally-disturbed mother Mrs. Winemiller. (Merkel lost her sole Oscar bid to another Summer and Smoke co-star, Rita Moreno who won for her role in a different film)
Oscar Snubs and Omissions:
Although Breakfast at Tiffany's was nominated five times, and won two Oscars (Best Score and Best Song for Henry Mancini), it was not nominated for Best Picture.
Producer/director Elia Kazan's Splendor in the Grass, nominated for only two Oscars (an unsuccessful Best Actress nomination for Natalie Wood and a Best Original Story and Screenplay nomination with Oscar awarded to William Inge), failed to achieve a Best Picture or Best Director nomination. In the same year, Natalie Wood starred in West Side Story as Puerto Rican Maria, one of the star-crossed romantic lovers (with singing dubbed by Marni Nixon), but was un-nominated for that role.
Oscar-worthy nominees for acting roles in many overlooked films included James Cagney in his second-to-last film as European Coca-Cola executive C.R. MacNamara, and Hanns Lothar with his comedic, heel-clicking performance as Schlemmer - in Billy Wilder's satirical farce One, Two, Three (with one unsuccessful nomination for B/W Cinematography). Also overlooked was the young and promising Albert Finney for his role as hedonistic working-class Arthur Seaton in the British film Saturday Night and Sunday Morning (un-nominated for any awards), Vincent Price as the villainous Nicholas Medina in the second of Roger Corman's Edgar Allan Poe series - The Pit and the Pendulum, Sidney Poitier for his performance as Walter Lee Younger - part of a financially struggling Chicago black family in A Raisin in the Sun (also un-nominated for any awards), and Rosalind Russell for her performance as widowed Brooklynite Mrs. Jacoby, a stereotypical Jewish mother in A Majority of One.
Vivien Leigh was un-nominated for her performance as a wealthy, widowed actress living in Rome - attractive to gigolo Warren Beatty in The Roman Spring of Mrs. Stone, and young Hayley Mills' role as an innocent Kathy Bostock in director Bryan Forbes' allegorical Whistle Down the Wind (un-nominated for any awards) was also un-nominated. And the last film of legends Marilyn Monroe and Clark Gable, director John Huston's The Misfits, received no nominations.
Through a Glass Darkly (Sw.) brought Ingmar Bergman his second Best Foreign Film Oscar win, but was missing from the Best Picture nominees.
Although Federico Fellini's La Dolce Vita had a total of four nominations (including two for Fellini himself for his direction and screenplay, another nomination for Best Art Direction, and an Oscar win for its Best Costume Design), Marcello Mastroianni was not nominated for his famed role as handsome, world-weary, desperate gossip columnist Marcello Rubini. [Later in his career, Mastroianni was nominated three teams for leading roles in Divorce - Italian Style (1962), A Special Day (1977), and Dark Eyes (1987).] His co-star Anita Ekberg was also not nominated for her role as buxom movie star Sylvia, who cavorted and danced in Trevi's water fountain in a black evening gown. Her entire career was unrecognized by the Academy.