The Misfits (1961)
Background
---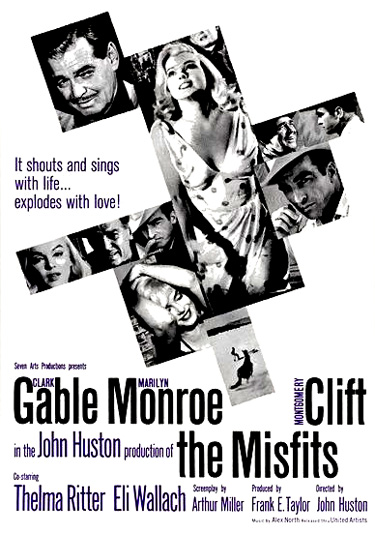 The Misfits (1961) is a poignant drama about the death of the old West, from director John Huston and screenwriter Arthur Miller (who was briefly married to star Marilyn Monroe from 1956-1960, wrote the film for her, and experienced a disintegrating marriage during the film's production). [Ironically, the film was set in Reno, Nevada, where divorces were often sought by separating couples. The year the film premiered, Miller's marriage to Marilyn ended.] Some of the film's posters exclaimed the tagline:
It shouts and sings with life...explodes with love!
It is best known for being the final, haunting, fully-completed film for two major screen legends: 59 year old Clark Gable (once "The King of Hollywood") and 35 year old Marilyn Monroe. A film retrospective was made by director Gail Levin over 40 years later, titled Making the Misfits (2002), featuring interviews with Arthur Miller and star Eli Wallach and archival photographs.
The Story
---
The minor classic film concerns a troubled ex-stripper and divorcee Roslyn Taber (Marilyn Monroe) in Reno, Nevada for a quickie divorce. With difficulty, she practices her lines to a divorce judge with her experienced, wisecracking landlady Isabelle Steers (Thelma Ritter), to rid herself of husband Raymond (Kevin McCarthy). Through Isabelle, she is introduced first to ex-mechanic, former WWII pilot, and widower Guido Racanelli (Eli Wallach) and then in a local bar to aging, washed-out 'real-life' cowboy Gay Langland (Clark Gable), a rugged individualist.
Both are interested in the young voluptuous blonde woman, although she eventually falls in love with the gallant Langland - who is old enough to be her father. They are offered an unfinished house in the desert, abandoned by heartbroken Guido after the death of his wife, and they move in together. Roslyn is exhilarated by the freedom of the wide open spaces, and a new, growing passionate relationship with Langland. [Note: Scenes of Roslyn's face are always in soft-focus, while the harsh light of the black and white film accentuates the crags and wrinkles on the faces of the cowboys.]
The trio of men -- Langland, Guido, and reckless, worn-out, injured 'rodeo cowboy' rider Perce Howland (Montgomery Clift) -- team up to go after a herd of wild horses in the desert highlands for a last roundup, and they take Roslyn along. After Guido's small airplane guides and terrorizes the animals down from the hills, the others lasso and roundup the 'misfit' horses from a speeding pick-up truck.
Roslyn is ultimately shocked to learn that these free and wild horses will be slaughtered and cheaply sold to a dog food company for pet food. She hysterically screams at them, accusing them of being murderers - in a dramatic long shot - gesturing and attempting to persuade Langland to call off the roundup. When he refuses, she successfully appeals to Perce to release the horses that have already been captured. This infuriates wrangler Langland, who recaptures the stallion leader of the horses after a rough struggle. [Note: Sources claim that Gable's subsequent heart-attack, only about two weeks after filming ended, was due to executing his own strenuous, bronc-busting stunts without a double.]
After he has proved that he is the boss, he then decides to let the horses free, thereby reconciling with Roslyn:
Don't want nobody makin' up my mind for me, that's all. Damn 'em all! They changed it, changed it all around. Smeared it all over with blood. I'm finished with it. It's, it's like, like ropin' a dream now. I just gotta find another way to be alive, that's all. If there is one anymore. (He stands). Perce, cut that mare loose for me, will ya?
The roundup ends up as a financial failure, but from the ordeal, Roslyn and Langland make a new start together. In the final scene from the front seat of a pick-up truck, Roslyn speaks to Langland about having a family together and taking the right path:
Roslyn: Gay, if there could be one person in the world, a child who could be brave from the beginning - I was scared to when you asked me, but I'm not so much now. Are you?
Gay: No.
Roslyn: How do you find your way back in the dark?
Langland: (nodding to the nighttime sky) Just head for that big star straight on. The highway's under it - it'll take us right home.
---
---