Bill Melendez and the Peanuts Animations:
Bill (J. C.) Melendez, who first worked at Walt Disney Studios during the classic animated 40s era, then moved to Leon Schlesinger Cartoons (AKA Warner Brothers Cartoons) in 1942 at the time of the Disney strike, where he made a number of notable Looney Tunes cartoons.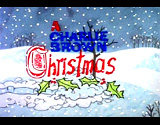 But his biggest success was his collaboration with comic-strip cartoonist Charles M. Schultz, and the making of the first animated Peanuts special on CBS-TV, the irreplaceable Christmas special A Charlie Brown Christmas (1965). It was a surprise hit, and became an annual Christmas time favorite, and led to further TV specials and feature films. The next four prime-time TV specials were equally popular - Charlie Brown's All Stars! (1966), the Halloween special It's the Great Pumpkin, Charlie Brown (1966), You're in Love, Charlie Brown (1967), and He's Your Dog, Charlie Brown (1968).
[Note: Jazz musician Vince Guaraldi scored the 1965 special and continued to score all the Charlie Brown television specials till his death in 1976. His distinctive scores were used on all subsequent specials, movies and TV series.]
Ultimately, Melendez would be involved as director of over 30 Charlie Brown prime-time TV specials after 1965. He also 'acted' by providing the voices of Snoopy and Woodstock. Melendez' feature-length film collaborations with Schultz included:
Four Feature-Length Peanuts (Charlie Brown) Theatrically-Released Films

Titles
Notables


A Boy Named Charlie Brown (1969)

this was the first full-length animated film starring the Peanuts gang
it contained Vince Guaraldi's classic Oscar-nominated score (that featured lyrics by Rod McKuen)


Snoopy, Come Home (1972)

often considered the best feature-length Peanuts film
it featured the first on-screen appearance of Woodstock (named after the famous rock-music festival in 1969)
normally mute, Snoopy communicated his thoughts for the first time with 'thought balloons'
this was the only Peanuts animated project without a Vince Guaraldi musical score


Race For Your Life, Charlie Brown (1977)

this was the first Peanuts feature-length film produced after the death of composer Vince Guaraldi


Bon Voyage, Charlie Brown (and Don't Come Back!) (1980)

the fourth full-length feature film to be based on the Peanuts comic strip
its sequel was a 23-minute TV special tribute to US veteran soldiers of WWII titled What Have We Learned, Charlie Brown? (1983), a Peabody Award winner
Melendez was also the producer of a 1983 Saturday morning cartoon show called The Charlie Brown and Snoopy Show.
A stage version of the Peanuts comic strip, You're a Good Man, Charlie Brown, first appeared in 1967 in an off-Broadway Greenwich Village theatre, and remained for four years. The show was later revived on Broadway in 1999 for a short run, and won two Tony Awards.
[Note: Melendez also directed the Emmy Award-winner for Outstanding Animated Program for PBS-TV's special The Lion, Witch, and the Wardrobe (1979) which was co-produced by the Children's Television Workshop (famed for two TV series, Sesame Street and The Electric Company). It was based upon the first story of C.S. Lewis' classic children's tales series, Chronicles of Narnia, and it was the first full-length animated feature film created directly for television's small screen. It was broadcast over two nights in April 1979 on US television.]
Another Peanuts variation was the computer-animated full-length feature film The Peanuts Movie (2015).
Adults-Rated Animations in the 70s and After: Ralph Bakshi

Normally, animations are regarded as an innocent, innocuous form of entertainment, even though iconoclastic writer/director Ralph Bakshi's, adults-only rated-X feature (in its original release) Fritz the Cat (1972), based upon cartoonist Robert Crumb's underground comics character, was the first X-rated animated feature in Hollywood history. It was also the first independent animated film to gross more than $100 million at the box office. The film featured a hippie-like, sex and drug-loving cat.
Writer/director Bakshi's next X-rated animated feature (later re-cut and re-released with an R-rating) was the violent, gritty and misogynistic Heavy Traffic (1973), a semi-autobiographical tale about a misfit comic-book cartoonist that was loosely adapted from Hubert Selby's novel Last Exit to Brooklyn. It blended together animated and live-action sequences in its urban scenes, and also layered old film clips into cartoon backgrounds. The animation auteur also released the controversial Coonskin (1975) (aka Street Fight) that was accused of being racist and offensive. It contained urban-oriented, politically-oriented blaxploitation content about a rabbit that ruled the streets of Harlem.
The surrealistic animator Bakshi also directed the animated cult film Wizards (1977) - a tale of good vs. evil. It was a test run for his next animation - The Lord of the Rings (1978) - the first cinematic production of the story that combined The Fellowship of the Ring and The Two Towers into the final animated film. His plan to film the final chapter of the trilogy, The Return of the King, never materialized. Bakshi's film had an adapted screenplay co-written by Peter Beagle (based, although incompletely, upon books in J.R.R. Tolkien's trilogy), and was noted for its extensive use of the animation technique of rotoscoping, in which human actors were filmed and 'traced' as cartoon characters.
[Note: Tolkien's earlier introductory work The Hobbit (1937) was filmed as an hour-long (78-minute) animated TV movie (broadcast in late November 1977) by the team of Arthur Rankin Jr.-Jules Bass in 1977 as The Hobbit (1977). Voices for the characters were: Orson Bean (the hobbit Bilbo Baggins), John Huston (the wizard Gandalf), Otto Preminger (Elvenking), Richard Boone (Smaug), Hans Conreid (Thorin), and Brother Theodore (Gollum). Rankin-Bass also concluded the story in the animated TV film The Return of the King (1979).]
Bakshi also released the not-for-children sword-and-scorcery animated Fire and Ice (1983), with work by fantasy design artist Frank Frazetta. (Bakshi also directed various dark and psychedelic-flavored episodes of the Spider-Man cartoon series on ABC-TV beginning in its second season in the late 1960s.) One of his later works was the Paramount studio-financed, poorly-received Cool World (1992), containing a plot with similarities to the parallel animated Toon World in Who Framed Roger Rabbit (1988). It also raised the intriguing question of whether a live-action person could have sex with a cartoon character, and featured Brad Pitt as the voice of a Las Vegas cop, and Kim Basinger as cartoon sex symbol creation Holli Would, who wished to become a 'noid' in the human world.
Rankin-Bass:
The team of Arthur Rankin-Jules Bass was most known for its holiday specials aired on television, such as the object-animated Rudolph the Red-Nosed Reindeer (1964) - with the voice of Burl Ives, Frosty the Snowman (1969) - with the voice of Jimmy Durante, and Santa Claus is Coming to Town (1970) - with voices of Fred Astaire, Mickey Rooney, and Keenan Wynn.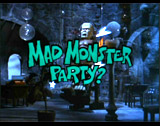 They also created the parody-spoof of monster films, their only feature-length animated film titled Mad Monster Party? (1967), with characters based upon many of the Universal 'monsters,' including Frankenstein (voiced by Boris Karloff), Count Dracula, The Wolf Man, King Kong, The Mummy, Dr. Jekyll and Mr. Hyde, The Invisible Man, and The Creature from the Black Lagoon. The film used the stop-motion "animagic" process to animate the three-dimensional puppets. Two future Mad Magazine contributors, Harvey Kurtzman and Jack Davis, were responsible for co-writing the screenplay and design work. Reportedly, Tim Burton found this film to be extremely influential upon his own later work.
Also, the team of Rankin-Bass produced the anime-like mythological tale The Last Unicorn (1982). It was a sophisticated story from a screenplay by children's book novelist Peter Beagle. It told about a lonely, last-remaining unicorn (voice of Mia Farrow) who set out on a quest to confront a beast of fire named Red Bull that had eliminated all the other unicorns.
Other Exceptional Animations with Mature Subject Matter in the Late 70s-Early 80s:
Nepenthe Productions and writer/director Martin Rosen (and animator Tony Guy) made two dark films with mature (serious-minded) subject matter - both based on Richard Adams' best-selling novels about animals and ecological concerns:
Titles
Notables


Watership Down (1978)

a bleak, allegorical animated fantasy film, the most successful British animated feature of its time. It told about the desperate quest of a warren of rabbits to find a new home, led by heroic Hazel (voice of John Hurt), a small, nervous rabbit named Fiver (voice of Richard Briers), and courageous Bigwig (voice of Michael Graham Cox). In the anthropomorphized tale, they must escape the destruction of their land during the construction of a housing development, and join a rival warren named Efrafa led by a vicious militaristic dictator, General Woundwort (voice of Harry Andrews). The film also included the last involvement in a motion picture for legendary actor Zero Mostel who played the voice of the cantankerous seagull Kehaar.
the Adams' stories of the rabbits of Watership Down were retold in a short-lived animated TV series, produced by Rosen - 3 series of episodes aired beginning in 1999; with title music by Andrew Lloyd Webber


The Plague Dogs (1982)

an even darker, far more nihilistic, pro-animal rights film about two abused laboratory experiment dogs, a cynical, bitter black Labrador named Rowf (voice by Christopher Benjamin) and a brown and white dog named Snitter (voice of John Hurt). Both escape from captivity in a secret British government research lab (Animal Research, Surgical and Experimental) and become fugitives. While on the run, it is falsely reported and suspected that they carry the deadly bubonic plague and they are relentlessly pursued.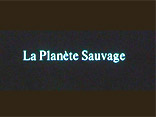 The French/Czech-made, science-fiction oriented Fantastic Planet (1973, Fr.) (aka La Planète Sauvage) possessed similarities to Fritz Lang's Metropolis (1927) with its two-tiered society on a faraway planet of Ygam, consisting of enslaved humanoids called Oms and a ruling class of bizarre, blue-skinned alien giants named Traags. It was based upon the popular French newspaper serial (Stefan Wul's Oms en Serie ("Oms by the Dozen")), and was lauded with the Cannes Film Festival's special jury prize, the Grand Prix, when it was first released. Its animation technique was to move paper cutouts across backgrounds.
The inventive animated fantasy Twice Upon a Time (1983), executive produced by George Lucas, told a story about two heroes and their friends who tried to prevent a maniacal madman from giving children nightmares. It used the same cut-out paper animation that South Park: Bigger, Longer & Uncut (1999), the most profane animated film (with 399 swear-words), would also later employ.
The Stop-Motion Animation Work of Phil Tippett:
One of stop-motion animation pioneer Ray Harryhausen's animators was Phil Tippett, who followed in his mentor's footsteps with Oscar-nominated and winning work in Visual Effects, often for LucasFilms and Industrial Light & Magic (ILM). He worked on the following fantasy films:
Star Wars: Episode IV - A New Hope (1977) - the holographic chess-game sequence, and the seedy extraterrestrials in a Mos Eisley dive bar cantina on Tatooine
Star Wars: Episode V - The Empire Strikes Back (1980) - the early Hoth snow battle sequence with its famed AT-AT Imperial Walkers and hybrid alien Tauntaun
the fantasy adventure Dragonslayer (1981) - an Oscar-nominated film for Best Visual Effects, with its innovative, more fluid stop-motion filming technique of go-motion, used for the realistic movements of the dragon
Star Wars: Episode VI - Return of the Jedi (1983) - recipient of a Special Achievement Oscar Award for Visual Effects
director Steven Spielberg's Indiana Jones and the Temple of Doom (1984) - the mine car chase sequence
The Golden Child (1986)
Howard the Duck (1986)
RoboCop (1987) - the two-footed experimental enforcer robot ED209
Willow (1988) - an Oscar-nominated film for Best Visual Effects
Jurassic Park (1993) - an Oscar-winning film for Best Visual Effects, for its realistic CGI depictions of dinosaurs
DragonHeart (1996) - an Oscar-nominated film for Best Visual Effects
Starship Troopers (1997) - an Oscar-nominated film for Best Visual Effects, for its hordes of giant, hostile alien arachnids
Rock-Oriented Animation Favorites:
Other pioneering animations in the early 80s relied heavily on rock music, adult themes of sex and violence, and capitalized on the post- Star Wars (1977) sci-fi fantasy boom. They have since become cult favorites for midnight movie fans:
Titles
Notables


Heavy Metal (1981, US/Can.)

director Gerald Potterton's uneven, multi-part anthology film was based on the 70s fantasy, cyberpunk comic book/magazine of the same name
it was heavy on adult-oriented content
it was produced by Ivan Reitman (who would soon become famous for directing Ghostbusters (1984)), and two of the stories ("Soft Landing" and "B-17") were contributed by Dan O'Bannon - the screenwriter for Alien (1979)
a midnight screening favorite, it featured hallucinatory images and a heavy rock soundtrack by performers Black Sabbath, Blue Oyster Cult, Nazareth, Cheap Trick, Devo, and Grand Funk Railroad
[Note: a computer-generated and cel animated sequel that went direct-to-cable TV, Heavy Metal 2000 (2000), featured a tough, buxom heroine named FAKK 2 (who was based upon the B-movie queen Julie Strain), frequent glimpses of cartoon nudity, and a heavy metal soundtrack by Pantera, Monster Magnet, MDFMK, Insane Clown Posse, Billy Idol, Bauhaus and others]


Pink Floyd the Wall (1982, UK)

director Alan Parker's combination live-action/animated musical drama was based on the Pink Floyd the Wall rock album released in 1979
the screenplay was written by Roger Waters, one of the Pink Floyd band-members
cartoonist Gerald Scarfe's animation in the anti-authoritarian, anti-war film presented deeply adult content (on the subjects of sex, drugs, rock and roll, and violence) and psychosexual Freudian imagery


Rock & Rule (1983, Can.)

director Clive Smith's post-apocalyptic animated musical fantasy told about an aging R&R singer named Mok (voice of Don Francks) who was searching for eternal life in order to immortalize himself, and was attempting to summon a demon
other voices included singer Lou Reed, Iggy Pop, Robin Zander of Cheap Trick, Earth Wind & Fire, and Deborah Harry of Blondie
[Note: Smith's animation studio Nelvana had earlier produced a 27-minute short The Devil and Daniel Mouse (1978). Rock & Rule was the studio's first feature-length film]
Early Claymation and Gumby:
Claymation is a type of animation that uses hand-crafted, sculpted plasticine or clay. This form of stop-motion animation was first associated with director Art Clokey's clay-hero character named Gumby for children's TV - a slant-headed bendable figure. (Clokey filmed the animated motion study Gumbasia at USC in the early 1950s. Gumby shorts were inaugurated in the mid-1950s - and the character first debuted on The Howdy Doody Show in 1956.)
Early on, the technique of claymation was mostly associated with the directorial work of Will Vinton, most recognized for his work on the TV commercial about California Raisins in the late 80s. He was the co-director of the first Claymation film, Closed Mondays (1974), which won the Best Animated Short Film Oscar award. His work was evidenced in the first full-length feature film showcasing claymation titled The Adventures of Mark Twain (1985) (aka Comet Quest), a biography of the US humorist derived from Twain's own Huckleberry Finn sequel Tom Sawyer Abroad. James Whitmore provided the voice of the title character on a transcontinental, riverboat balloon journey to find Haley's Comet. Twain's classic tales were featured in various segments, such as "The Celebrated Jumping Frog of Calaveras County" and "The Mysterious Stranger". The Vinton studio also provided claymation effects for the live-action fantasy Return to Oz (1985).