Beyond the Forest (1949)
Background
---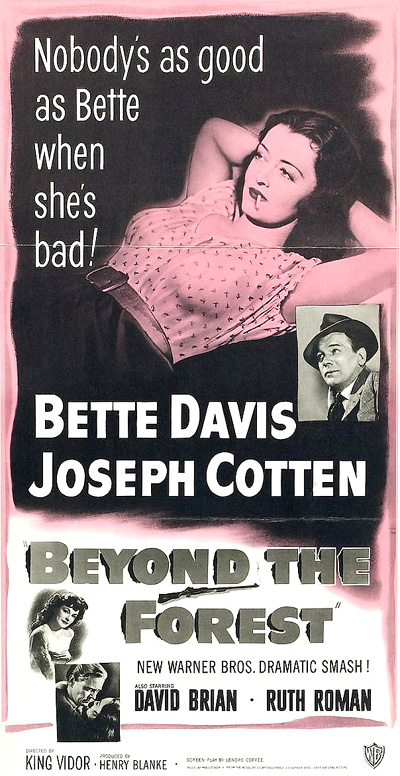 Beyond the Forest (1949) is a melodramatic, far-fetched camp classic and also a fine example of film noir from director King Vidor, with an impressive bombastic score by Max Steiner. It is best known for one famous line of dialogue, and for being Bette Davis' last film for Warner Bros after 18 years with the studio.
The actress played one of the baddest, trashiest, and most warped of all femme fatales in this film - and the film's poster tagline took advantage of that fact in its splashy advertisements:
Nobody's as good as Bette when she's bad!
The film begins with a warning title:
This is the story of evil. Evil is headstrong - is puffed up. For our soul's sake, it is salutory for us to view it in all its ugly nakedness once in a while. Thus may we know how those who deliver themselves over to it end up like the Scorpion, in a mad frenzy stinging themselves to eternal death.
The Story
---
A narrator introduces the character of Rosa Moline (Bette Davis) as "evil," a suspect in a manslaughter trial. The film, in flashback, tells the events that led up to Rosa's murder trial, the context for her "evil" reputation, and the events that led up to the accidental murder.
Black-hearted, unattractive hag Rosa is a Loyalton, Wisconsin mill town girl, married to a decent, saintly small-town Midwestern doctor Dr. Lewis Moline (Joseph Cotten). She is dissatisfied, bored, discontented, and repressed by small town life in the mill town, longing for big-city life and desperate for wealth. She complains:
If I don't get out of here, I'll just die! Living here is like waiting for the funeral to begin. No, it's like waiting in the coffin for them to take you out!
The most famous line of dialogue is delivered by Rosa to her doctor husband, as she tosses back her long black hair and snarls in a most-famous line:
What a dump!

[Note: This line of dialogue would later reappear in the opening scene of Who's Afraid of Virginia Woolf? (1966), delivered by Elizabeth Taylor, from Edward Albee's play of the same name. Earlier, it had appeared in Fallen Angel (1945) - as Dana Andrews' reference to a seedy San Francisco hotel.]
To escape her boredom, she first tries adultery. Rosa engages in an illicit, erotic love affair with a vacationing neighbor, a wealthy Chicago industrialist/millionaire Neil Latimer (David Brian), while he is at his hunting lodge cabin near their hometown.
When Latimer returns to Chicago, Rosa insists that her husband's patients pay their bills. She exploits her husband's clients so that she can use the money to finance a trip to Chicago to see Latimer. She explains that she is funding a shopping trip to buy a new wardrobe. At first, Latimer avoids her, but then finally admits that he is engaged to a wealthy society woman - and he rejects her. At one point, he tells her: "Anything I had to say to you, I wouldn't put on paper." He breaks off his relationship with Rosa and she must return home, discouraged.
Rosa discovers she is pregnant by her husband - her husband is happy and confident that the baby will help solidify their marriage. Together, they attend a party given for their friend, Moose Lawson (Minor Watson), who is the caretaker for Latimer's hunting lodge-cabin. Latimer is at the party, and tells Rosa that he has broken off his engagement and wants her to come with him to Chicago. Excited by the possibility of moving to the big city, Rosa agrees, but Moose threatens to tell Latimer of her pregnancy if she leaves Dr. Moline.
The next day at a hunting party, Rosa shoots Moose dead to silence him - in order to further her escape. In the murder trial, she claims it was accidental, and is found not guilty. Later, Dr. Moline intercepts a phone call from Latimer urging Rosa to run away with him soon. Moline angrily tells her she can be free after the baby is born.
Rosa drives to another doctor (a "psychiatrist" - code for abortionist) to see about aborting the baby, but is discovered by her husband. As they drive home, in a memorable scene, Rosa - in bluejeans - throws herself from the moving car down a hillside into a ravine to cause an injury and a miscarriage, to rid herself of the baby.
The baby is lost, and Rosa's recovery is slow. She contracts blood poisoning, but insists on going to Chicago anyway. In a half-crazed, fever-induced madness, she frantically and hysterically attempts to escape her environment. She prepares to leave and staggers out of the house.
In her memorable death scene, the Chicago train pulls away, revealing that Rosa has fallen and died in the roadway as she neared the boarding platform of the train station.
---
---