Background
---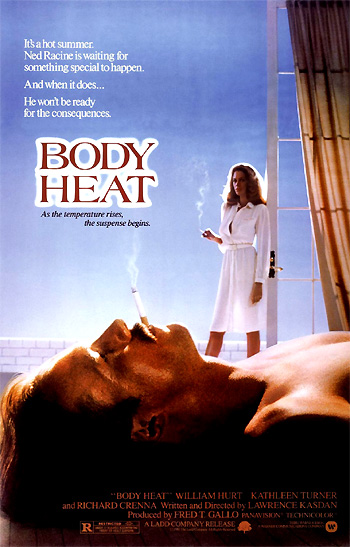 Body Heat (1981) is writer/director Lawrence Kasdan's debut feature film - a modern-day, twisting film noirish tale of a deadly and obsessive love triangle, involving adultery, murder, and a deceptive femme fatale, and was modeled after Double Indemnity (1944) and The Postman Always Rings Twice (1946).
The sexy suspense thriller featured the following descriptive poster tagline:
It's a hot summer.
Ned Racine is waiting for
something special to happen.

And when it does...

He won't be ready for the consequences.
The subtitle was: "As the temperature rises, the suspense begins." The main female star - a newcomer to feature films, Kathleen Turner, had agreed to film the many nude scenes, and had previous acting experience on the daytime soap opera The Doctors, as the character of Nora Aldrich.
The film was set in the hot atmosphere of the fictional town of Miranda Beach, Florida.
It was up against heavy competition in the Academy Awards race in 1981, when Raiders of the Lost Ark (1981), On Golden Pond (1981), Chariots of Fire (1981, UK), and Reds (1981) were vying for multiple nominations and awards, and therefore received no accolades.
The Story
---
The alluring, crafty, tempting, sizzling, smoky-voiced, and highly-sensual, sultry femme fatale "Matty Tyler Walker" (Kathleen Turner, who later spoofed her own role in The Man With Two Brains (1983)) claimed she had an elevated 'body heat' temperature - hence the film's title.
She was introduced with her famous line toward simple-minded, corruptible, dim-witted, naive, and incompetent small-town (fictional Miranda Beach) Florida attorney Ned Racine (William Hurt):
You're not too smart, are you? I like that in a man.
He willingly responded: "What else do you like? Lazy, ugly, horny, I've got 'em all." The predatory female ultimately set her sights on him to both seduce him, and to help plot the murder of her wealthy husband Edmund Walker (Richard Crenna) - making him her accomplice.
In an erotic, steamy sex scene, Ned was about to leave Matty's mansion, but was enticed to reenter by an eager-looking Matty inside. He broke into her locked house through the porch bay window with a garden lawn chair (to the sound of wind chimes over her balcony) to the awaiting, horny and receptive Matty. After feeling her breasts and crotch through her clothing, she laid back on the floor. He removed her panties to make love to her, exclaiming: "It's so right!"; she begged: "Please, Ned. Do it!"
During their initial encounters, their conversations were laced with lots of verbal foreplay and double-entendres. She inadvertently (but deliberately) kept referring to her husband's faults, her own unhappiness and how she'd wish her husband would die. She had mentioned that she had asked for a divorce, but a previous prenuptual agreement would leave her with little money.
She used everything as an instrument of seduction, including numerous, incredibly sweaty, highly-charged, and sexy non-stop love-making and lewd suggestive dialogue, to manipulate his emotions so that he would help plot the murder:
"Do it!"
"I need you so badly."
"I want you right now more than I ever have!"
"I'd kill myself if I thought this thing would destroy us."
He weakly complained: "You shouldn't wear that body!", and "Gimme a break here. It takes a little while..You are killing me. I'm red, I'm sore...Look at it. It's about to fall off."
In a scene that foreshadowed a future plot twist, Ned mistakenly delivered a very forward proposition to Matty's visiting high school girlfriend Mary Ann Simpson (Kim Zimmer), who slightly resembled her: "Hey lady, do you wanna f--k?"
During another controversial scene, Matty's young niece Heather (Carola McGuinness) caught the two in an oral sex act but couldn't identify the man with the erection.
Fueled by his lust for both Matty's body and wealth, Ned conspired with Matty to plot the murder of her unsuspecting husband one night. Matty offered final assuring words to Ned: "Whatever happens, you must believe that I love you" which eventually proved to be empty.
There was a violent fight-to-the-death with Matty's husband during the botched murder in the hall of his opulent home. Edmund's body was transported in Ned's car trunk to his abandoned beachfront hotel, and burned to the ground (with a timer device that was rigged by Racine's ex-client and arsonist Teddy Lewis (Mickey Rourke)). After the murder, Ned learned from cop Oscar Grace (J. A. Preston) that Matty was a suspect and that he should stay away from her:
She's trouble, Ned. Real big-time major-league trouble.
He was also cautioned by ass't (or deputy) prosecuting attorney Peter Lowenstein (Ted Danson) to watch out for Matty. Although police first suspected that an arson accident had taken the life of Edmund, recent alterations to Edmund's will (co-signed by Ned, and with Mary Ann Simpson as a witness) made Ned the prime suspect. [Note: It was later revealed that Matty had forged Ned's name on the documents, to inherit all of the estate.]
Matty had also rigged a similar device in the mansion's boathouse. After Ned became suspicious and forced Matty at gunpoint to enter the boathouse, an explosion blew up the structure, and presumably killed her. "Matty" was identified by dental records and Ned was charged with her murder and imprisoned.
In the surprise, knockout ending, Ned - who was serving time in the Florida State Penitentiary for Matty's murder, finally realized that he had been duped. Matty had planted Mary Ann's body in the boathouse before the explosion, and escaped with her own life. Matty had assumed the name and life of her friend - and presumably, the real "Matty" learned of the deception and threatened blackmail, but was then killed - and her body was stashed in the boathouse.
This was confirmed for Ned in the startling conclusion when he saw Matty Tyler's picture in a 1968 high school yearbook, with her name displayed as "Mary Ann Simpson" (with the nickname "The Vamp" and her ambition: "To be rich and live in an exotic land"). The final view in the film was of 'Matty Tyler' reclining on a beach chair in the tropics, where she had escaped "to be rich and live in an exotic land."