Famous Documentary Film-makers:
Errol Morris -
Errol Morris' unique contributions to the documentary film category were significant with many examples of weird or investigative films with offbeat and unusual subject matter:
the looney Gates of Heaven (1978), Morris' first film, a tragi-comedy about the closing of a bankrupt N. California pet cemetery and the reactions of its devoted pet-owners
Vernon, Florida (1981) about the quirky inhabitants of a backwater Floridian town
the controversial thriller The Thin Blue Line (1988) that helped free accused and convicted murderer Randall Dale Adams on Texas' death row for a 1976 murder that he didn't commit
the biographical A Brief History of Time (1992) with ALS-afflicted and wheelchair-bound cosmologist Stephen Hawking discussing quantum physics
the fascinating Fast, Cheap & Out of Control (1997) composed of clips from oddball B-films, about four eccentric individuals with unusual jobs (a topiary gardener/sculptor, a lion tamer, a mole-rat expert, and a robotics scientist/inventor)
Mr. Death: The Rise and Fall of Fred A. Leuchter, Jr. (2000), about a caffeine-addicted specialist who designed execution equipment
The Fog of War: Eleven Lessons from the Life of Robert S. McNamara (2003), composed of interviews with 85 year-old former Secretary of Defense Robert McNamara who served during the Vietnam War (the film won the Oscar for Best Documentary Feature)
Standard Operating Procedure (2008), including the staging of reenactments of scandalous prisoner torture and abuse at Iran's Abu Ghraib conducted by US military police
the bizarre yet gripping Tabloid (2010), the story of crazed and obsessed Southern belle Joyce McKinney, who stalked Mormon lover Kirk Anderson in the late 1970s, abducted and chained him to a bed in an English cottage where she had sex with him for three days, to de-program him and save him (aka "The Mormon Sex in Chains Case")
Barbara Kopple -
Director Barbara Kopple's Harlan County, USA (1976), another Academy Award winner for Best Documentary, documented a Kentucky coal miners' strike in the early 1970s against the Eastover Mining Company. She also directed a second Oscar-winning documentary film on labor struggles, American Dream (1990), about striking employees at a Hormel meat-packing plant in Austin, Minnesota. In addition, she filmed an in-depth documentary on comedian/musician/director Woody Allen and his 1996 jazz band tour of Europe, titled Wild Man Blues (1997).
Michael Moore -
Iconoclastic, sardonic, independent film-maker/journalist Michael Moore has had varied success with his personally-made films about the excesses and abuses of corporate America, social issues and politics, including The Big One (1997) filmed during a 1996 promo tour for his own first book Downsize This!, and the darkly humorous Roger & Me (1989) - Moore's first documentary, and the most successful documentary film up to its time in film history (Moore broke his own record 15 years later). With scathing commentary, it examined the devastating effects of the 1986 closing of auto factory plants in Flint, Michigan (Moore's hometown) by GM's unavailable former CEO Roger Smith.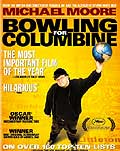 Moore's next film, Bowling for Columbine (2002), the Best Documentary Feature Academy Award-winner, presented the US' trigger-happy obsession with gun rights, violence, and the American culture of fear, including a remarkable interview with NRA spokesman/actor Charlton Heston. The film was the first documentary to compete in the Cannes Film Festival's main competition in 46 years, and was the unanimous winner of the festival's 55th Anniversary Prize. It was also the first documentary film to be nominated and then win the Writers Guild of America (WGA) Award for Best Original Screenplay in 2003. It was also the highest-grossing documentary of all time, soon to be surpassed by Moore's own Fahrenheit 9/11 (2004).

Another critical expose, Moore's Fahrenheit 9/11 (2004) provided a scathing indictment of President George W. Bush's handling of the terrorist crisis and his alleged connections to Al-Qaeda leader Bin Laden's family. It was a controversial tirade against the Bush administration, its 'war on terror', and government corruption. The documentary film was included among the Cannes Film Festival's main competition (only the second time in 48 years for a documentary) - and won the top prize Palme D'Or - the first for a documentary in nearly 50 years. The controversial film had earlier gained further publicity and notoriety when Disney opted not to distribute the film through its Miramax subsidiary unit, and Moore accused the company of censorship. [Supposedly, Disney feared the film might endanger tax breaks Disney received in Florida where its theme parks were located, and where the president's brother, Jeb Bush, was governor at the time.]
Moore's film set box-office records as the highest-grossing non-concert, non-IMAX documentary film of all time - and at the time was the only documentary ever to win a box-office weekend during its debut showing. It established a significant precedent for a political documentary by being the first ever documentary to cross the $100 million mark in the US (eventually earning $119 million). However, the film's diatribe against President George W. Bush wasn't able to prevent his re-election in 2004. His next film was the searing look at the American health care system, Sicko (2007).
The liberal activist's next few films included Capitalism: A Love Story (2009) - basically a searing indictment of capitalism following the financial crisis of the late 2000s and the subsequent debt-ridden economy, Where to Invade Next (2015) - composed of interviews conducted in various European countries about quality of life, the one-man show about the 2016 Presidential election and his support of Hillary Clinton in Michael Moore in TrumpLand (2016), and Fahrenheit 11/9 (2018) - referencing his previous film and the date of the announcement of the 2016 election's results.
Stacy Peralta -
Life and culture in Southern California were the subject matter of documentary films produced by youth-oriented TV producer and skateboarding icon Stacy Peralta: Dogtown and Z-Boys (2002) surveyed the growth of skateboarding since the late 1960s by following a group of skaters off Venice Beach and their subculture, and Riding Giants (2004) was an engaging and exciting film about the evolution of the big-wave surf culture as seen through the experiences of legendary, thrill-seeking surfers. It credited blonde pre-teen star Sandra Dee and her Gidget (1959) film with the explosion of surf culture in the early 1960s.
The Prelinger Films Archives -
Prelinger Archives, founded in 1983 by Rick Prelinger would grow over the next twenty years into a collection of over 48,000 "ephemeral" (advertising, educational, industrial, and amateur) films. Included were films produced by and for many hundreds of important US corporations, non-profit organizations, trade associations, community and interest groups, and educational institutions. Some of the films were outrageous and sometimes bizarre examples of 40's and 50's US propaganda that were aimed at influencing the public. They ranged from social guidance films like Are You Popular? (1947) (which warned that only 'bad' girls park with boys in cars at night) and 'mental hygiene' films on how to engender family courtesy and etiquette like A Date with Your Family (1950). Other subjects were Cold War films like the cartoon Meet King Joe (1949) produced to convince American workers of their good fortune, and Why Play Leap Frog? (1949) that also attempted to convince workers to increase their productivity. Others were Don't Be a Sucker (1947) and Make Mine Freedom (1948) which warned against the dangers of Communism, and Brink of Disaster (1972), a Nixon-era film decrying the evils of 60's activism, and how it threatened American moral, religious and ethical principles.
Biographical Documentary Films:
The Oscar-winning documentary by Richard Kaplan, The Eleanor Roosevelt Story (1965), was a tribute to one of the most influential First Ladies in US history. Bruce Weber's Let's Get Lost (1988) was a biographical account of the life of jazz trumpeter Chet Baker. Marcel Ophuls' riveting Hotel Terminus: The Life and Times of Klaus Barbie (1988), with an extensive examination of the exploits of the infamous Nazi 'Butcher of Lyon,' won the Best Documentary Feature Oscar in its year of competition.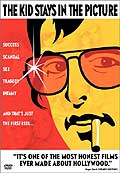 Terry Zwigoff's intriguing Crumb (1994) provided a bizarre portrait of the underground comic book artist/writer Robert Crumb (famous for Fritz the Cat, Mr. Natural, and the 'keep on truckin'' slogan). When We Were Kings (1996) provided powerful insight into Muhammad Ali during the time of his pursuit of the heavyweight world championship ("Rumble in the Jungle") against challenger George Forman in Zaire in the mid-70s. [The film inspired Ali (2001) with Will Smith five years later.] An exploration of the life and writings of the controversial playwright/novelist was found in Michael Paxton's Best Feature Documentary-nominated Ayn Rand: A Sense of Life (1997). Filmmaker Estela Bravo chronicled the life of the famed revolutionary Cuban leader in Fidel: The Untold Story (2001). In the dream-like, self-consciously narrated documentary The Kid Stays in the Picture (2002), the life of high-living showman Robert Evans - famed egotistical Hollywood producer at Paramount Pictures (responsible for hits that included Rosemary's Baby (1968), Love Story (1970), The Godfather (1972), The Godfather, Part 2 (1974), and Chinatown (1974)), was revealed.
Two rock music documentaries concentrated on folksinger/songwriter Bob Dylan: D.A. Pennebaker's Don't Look Back (1967) followed a young Bob Dylan on his 1965 tour of England. And then Martin Scorsese's epic documentary No Direction Home (2005) was a 3-and-a-half hour portrait of the first six years of Dylan's career.