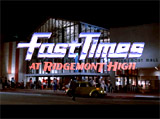 Fast Times at Ridgemont High (1982)
In Amy Heckerling's R-rated cult teen, coming-of-age youth sex comedy (after the success of Porky's (1981)), her directorial debut feature film (from a script by free-lance journalist and future film-maker Cameron Crowe, who went undercover in a SoCal HS); it was the quintessential teen comedy and seminal high-school film of the 80s, told from a feminine perspective. It was the frank story of Southern California (Los Angeles area) teens preoccupied by sex - with some scenes of unglamorous sex (especially for the female involved) and promiscuity. See Sex in Films for uncensored version:
the popular early 80s film followed the exploits of a number of San Fernando Valley (CA) HS students in and out of the classroom, including

Stacy Hamilton (Jennifer Jason Leigh), a virginal and naive 15 year-old freshman, sexually-inexperienced but curious
Linda Barrett (Phoebe Cates), Stacy's 17 year-old senior friend and her more experienced and out-spoken mentor and co-worker at Perry's Pizza at the Ridgemont Center Mall
Brad Hamilton (Judge Reinhold), Stacy's semi-nerdy older brother - a senior who had an unfulfilled crush on Linda
Mark "Rat" Ratner (Brian Backer), a sophomore, and a movie-theatre usher at the Mall, who was Stacy's on-and-off eventual boyfriend
Mike Damone (Robert Romanus), a smooth-talking, slick hustler who was friends with Mark
Jeff Spicoli (Sean Penn), a perpetually-stoned, carefree, often truant and tardy, happy-go-lucky, bleached-blonde California surfer slacker-dude who was in constant conflict with his history teacher

Brad Hamilton was skating through his last year at Ridgemont HS, while working an entry level, fast-food job at All-American Burger, where his girlfriend of two years Lisa (Amanda Wyss) was also employed
the 'worldly', experienced, sexually-outspoken high-school, liberated sexpot Linda Barrett claimed she had sex for the first time when she was 13; she often tutored co-worker Stacy about the finer points of sex
Jeff Spicoli often arrived late at school; he tumbled out of his VW mini-van (filled with pot-smoke), and then disrupted his American history class taught by stern and exasperated Mr. Hand (Ray Walston) - and was kicked out for tardiness and for calling the teacher a "dick"
Jeff Spicoli's Arrival at School in VW Van And His First Day at School with History Teacher Mr. Hand
one of the earliest scenes occurred in a crowded school cafeteria, when Linda demonstrated for Stacy how to perform oral sex ("blow jobs"): ("There's nothin' to it. It's so easy...Relax your throat muscles. Don't bite. And slide it in...Good. Push it slowly in and out. You got it"); the naive Stacy then asked: "When a guy has an orgasm, how much comes out?" Linda revealed her tendency to exaggerate: "A quart or so," but then claimed she was just kidding
Linda's Lesson - With a Carrot
the lecherous, boasting, ticket-scalper Mike Damone spoke to inexperienced and shy movie-theater usher Mark "Rat" Ratner who was secretly in love with Stacy, emphasizing to him that he must have attitude: ("The attitude dictates that you don't care whether she comes, stays, lays, or prays. I mean whatever happens, your toes are still tappin'. Now when you got that, then you have the attitude")
during the chronicling of one school year, Stacy was sexually taken advantage of twice; there were two uncomfortable, awkward and devastating scenes of Stacy's sexual initiation - to "cure" her of her virginity; both times were highlighted by Jackson Browne's "Somebody's Baby":

in the first instance, a night scene in a dilapidated softball dugout at the Point, Stacy had snuck out for a date with older 26 year-old Pacific Stereo audio consultant Ron Johnson (D. W. Brown) whom she had met at her job at Perry's Pizza; he asked: "Am I gonna get to first base?" and then wondered if the innocent-looking Stacy was really 19 years old as she claimed; Stacy was painfully and uncomfortably deflowered in the field's dugout; from her point of view, Stacy looked up at the graffiti-covered ("SURF NAZIS") concrete walls during intercourse; the next day at school, she shared the experience with Linda ("I like Ron. But it hurts so bad"), who responded: "Don't worry. Keep doing it, it gets a lot better, I swear"; although she received a bouquet of red flowers from Ron, he didn't keep in contact with her, and Linda comforted her friend at Perry's Pizza parlor where they worked in the Ridgemont Mall: "It's his loss"
Stacy Having Sex in a Dugout with Older Audio Consultant Ron

Linda to Stacy: "Don't worry. Keep doing it, it gets a lot better, I swear"
in early scenes during his work at the All-American Burger joint, Brad contemplated ending his long-term, 2 year relationship with his co-worker girlfriend Lisa so that he could experience "freedom" in his senior year: ("I just feel like I need my freedom now, you know?"); when he began to discuss things with her on the job, she told him: "I don't want to have to use sex as a tool, Brad," and then refused to talk any further: "I don't want to talk about it here"; he practiced delivering a speech to Lisa in the rest-room
after three weeks in Mr. Hand's class, when Spicoli was late again, Mr. Hand asked him: "Why do you shamelessly waste my time like this?"; Spicoli said he didn't know; Mr. Hand used his response for a lesson written on the chalkboard: "I Don't Know"
in a dream-fantasy sequence, Jeff gave a surfing interview to sportscaster Stu Nahan (as Himself) including his fantasy dream of glory and fame as a championship-winning, world-class surfer - while surrounded by two bikinied Playmate babes (Ava Lazar and Lori Sutton); Jeff delivered his answer to the question: "When you get out there, do you ever fear for your life?": ("Well Stu, I'll tell ya, surfing's not a sport, it's a way of life. No hobby. It's a way of lookin' at that wave and sayin', 'Hey bud, let's party! Ha, ha, ha'")
after being fired from his job at All-American Burger for poor customer service to a complaining patron when he used profanity and threatened violence, Brad felt that his life was crumbling around him; during a basketball game, he confided in Lisa that he actually really needed her, but she reversed things on him and dumped him; she told him exactly what he had been planning to tell her: "And I think we owe it to ourselves to be free, to go out with other people. I still want to be friends"
after Mark made a date to take out his crush Stacy, Mike offered "for free" his 'five-point plan' to inexperienced Mark, about how to successfully make-out and score with girls: ("All right, now pay attention. First of all, Rat, you never let on how much you like a girl. 'Oh, Debbie. Hi.' Two, you always call the shots. 'Kiss me. You won't regret it.' Now three, act like wherever you are, that's the place to be. 'Isn't this great?' Four, when ordering food, you find out what she wants, then order for the both of ya. It's a classy move. 'Now, the lady will have the linguini and white clam sauce, and a Coke with no ice.' And five, now this is the most important, Rat. When it comes down to makin' out, whenever possible, put on side one of Led Zeppelin IV")
Mark's first date with Stacy that began at a German restaurant was a disaster, including the fact that Mark forgot his wallet; later in Stacy's bedroom after she had changed into a white robe, Stacy made an attempt at seducing him and partially succeeded when they kissed, but then he shyly and abruptly claimed that he had to leave; she assumed that he had no interest in her and explained the awkward experience to Linda: "I made the first move, I made the second move. I made a complete jerk out of myself, is what I did"; when Linda suggested that she date someone older, Stacy admitted: "But I was really beginning to like him"
Brad acquired another job at Captain Hook Fish & Chips, but hated work (later, he quit this second job due to his disgust for wearing the required silly pirate uniform)
Linda was sunbathing at Stacy's house swimming pool, where she claimed that she always climaxed with her older boyfriend Doug: "He's no high-school boy"; they were joined by Mike and Mark; when Stacy's depressed and dejected brother, senior-year student Brad came home and saw Linda and Stacy at the pool, he retreated to the house
in the film's most memorable fantasy, slow-motion sequence (to the tune of The Cars' hit "Moving in Stereo"), Linda was mentally disrobed when Brad imagined the emergence of Linda speaking seductively to him: "Hi, Brad! You know how cute I always thought you were"; she slowly opened and shed her bright red-bikini top from the middle as she walked over to Brad and toplessly kissed him; the scene has regularly been voted as one of the sexiest scenes ever filmed in the 80s - and of all-time
it was actually revealed that Brad was spying through the nearby pool-side bathroom window and fantasizing about Linda while pleasuring himself. In reality, she dove into the pool, got water in her ear, and went to look for Q-tips in the pool-side bathroom to remove the water. She barged into the bathroom and was shocked to catch Brad pleasuring himself; humiliated, he asked himself after his privacy was invaded: ("Jeez. Doesn't anybody f--king knock anymore?")
Brad's Pool Party Fantasy Scene with Linda (Phoebe Cates)
there were further encounters in Mr. Hand's history class during the film; after Spicoli ordered a double cheese and sausage pizza delivered to his desk by "Pizza Guy" delivery man (Taylor Negron) during a class lecture, the incident caused major outrage: (Mr. Hand: "Am I hallucinating here? Just what in the hell do you think you're doing?" - Spicoli's laid-back response: "Learning about Cuba, and having some food"); Mr. Hand confiscated the pizza pie and shared some of the pieces with other students ("Mr. Spicoli has been kind enough to bring us a snack. Be my guest. Help yourselves")
Stacy's 2nd painful and quick impregnation was by lecherous Mike Damone in her own poolhouse's changing room when she invited him in for iced tea and a swim; after he kissed her and she was complimented, "You're really a good kisser," she asked: "You want to take off your clothes, Mike?" He responded: "You first." She decided: "Both of us at the same time." After stripping off her top and her panties and lying down on a sofa, he laid on top of her and quickly and prematurely climaxed during love-less sex, causing her to ask: "Are you OK?" He said he had come ("I think I came, didn't you feel it?"), then hurriedly dressed and left ("See ya!") as she sat up and looked bewildered, used, unsatisfied and hurt
the next day, Stacy unabashedly lied to Linda (as they both sliced a large phallic-shaped slab of salami) about how long Damone took to orgasm: "15 to 20 minutes." She was assured when Linda said: "That's not bad for a high school boy"; however, intercourse had resulted in Stacy's pregnancy, and Mike had no interest in taking responsibility: "It was your idea. You wanted to do it. You wanted it more than I did"; Stacy arranged for an abortion at the Free Clinic for $150, but Mike reneged in splitting the fee ($150 dollars) and offering a ride; he was unsupportive toward Stacy and abandoned her
Stacy was able to talk her brother into taking her to a bowling alley (close to the clinic) and after the procedure he became suspicious ("Since when do you go bowling anyway?"), but promised not to tell their parents; to retaliate against Mike on Stacy's behalf, Linda spray-painted "Prick" on his car door and marked his school locker with "Little" Prick
at the end of the school year, on the night of the HS graduation dance, Mr. Hand surprised malingering Spicoli by calling on him at home while he was lying in bed and getting high (with his room decorated with Playboy centerfolds) - to discuss "in great detail the Davis Agreement, all the associated treaties, and the American Revolution in particular"; his scheme was to vengefully compensate for 8 hours of wasted and lost history class time during the school year, and to delay Jeff from attending the dance
| | | |
| --- | --- | --- |
| Mr. Hand's Final Class Lesson with Jeff In His Bedroom | Stacy to Linda: "I want a relationship. I want romance" | Stacy Showing Romantic Interest in Mark Ratner |
after Stacy's unfortunate dual experiences with sex, she explained at work to Linda how she wanted a relationship with romance: ("Linda, I finally figured it out. I don't want sex. Anyone can have sex. I want a relationship. I want romance."); Linda advised: "You want romance? In Ridgemont? We can't even get cable TV here, Stacy, and you want romance!"; to the tune of the Tymes" So Much In Love," Stacy waved and summoned nerdy Mark Ratner, across the way at the theater, to come over so she could give him a picture to remind him of her during the summer; as she was called away, she quickly kissed him; the film implied that she would soon have the possibility of fulfilling her wish; the epilogue mentioned that she and Rat were "having a passionate love affair --- but still haven't gone all the way"
in the film's final scene, Brad was employed at Mi-T-Mart (a convenience store), where Spicoli entered as a customer and vowed he didn't need work: "All I need are some tasty waves, a cool buzz, and I'm fine"; while Jeff was using the store's restroom, Brad foiled an armed robbery heist committed by a thief (James Russo) by tossing a pot of hot coffee into his face, retrieving the gun, and holding the man at gunpoint - and thus became a hero in Spicoli's eyes ("Awesome! Totally awesome!")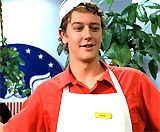 Senior HS Student Brad Hamilton (Judge Reinhold) Working in a Lowly Fast-Food Job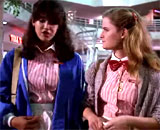 Sexpot Linda (Phoebe Cates) Tutoring Co-Worker Stacy (Jennifer Jason Leigh)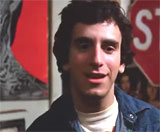 Mark "Rat" Ratner (Brian Backer)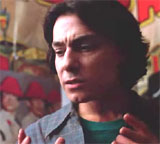 Slick Hustler Mike Damone (Robert Romanus)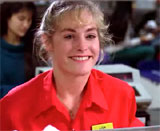 Brad's Long-Term Girlfriend Lisa (Amanda Wyss)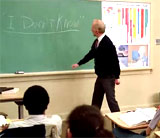 Mr. Hand's "I Don't Know" Lesson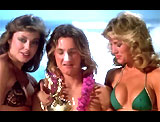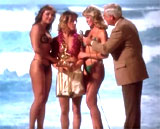 Spicoli's Dream Fantasy Surfing Interview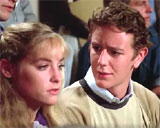 Lisa's Unexpected Break-up With Brad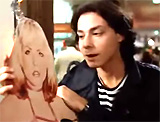 Mike Damone's 5-Point Plan to Help Mark For His Date With Stacy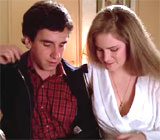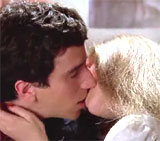 Mark's Awkward Seduction by Stacy in Her Bedroom - He Abruptly Left After Kissing Her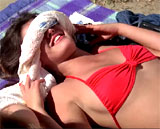 Linda and Stacy Sunbathing by Pool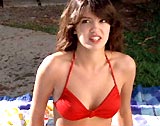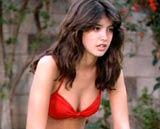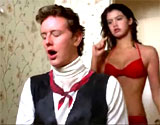 Linda Discovering Brad in Bathroom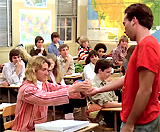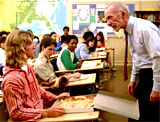 Delivery of Pizza to Spicoli in History Class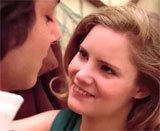 Mark to Stacy: "You're a really good kisser" Before Loveless Sex in Stacy's Pool House with Mike Damone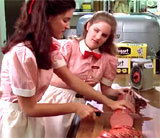 Slicing Salami with Linda, Stacy Lied That Damone Climaxed Between 15 and 20 minutes