Background
---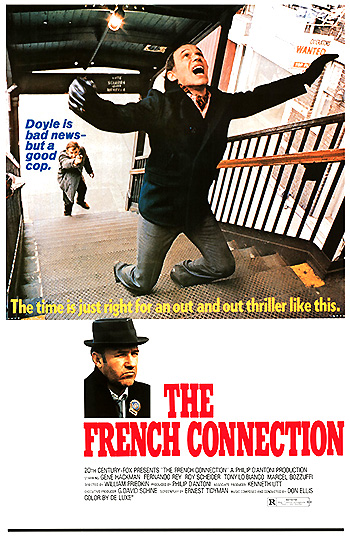 The French Connection (1971) is director William Friedkin's brilliant, fast-paced, brutally-realistic police/crime film - his commercial break-through film ("The time is just right for an out and out thriller like this"). The true-to-life film about the largest narcotics seizure of all time in 1962 (the seizure of 120 pounds or 60 kilos of pure heroin) - with an innovative semi-documentary-style technique that conveys the story with very few words, was produced by Phillip D'Antoni who had made the exciting police film Bullitt (1968). The screenplay by Ernest Tidyman about a crackdown on a multi-million dollar international dope smuggling ring was based on Robin Moore's best-selling 1969 book The French Connection.
The semi-documentary police thriller features an unsympathetic protagonist - the vulgar, brutal, tireless, unlikable, maniacal and sadistic Jimmy "Popeye" Doyle (Gene Hackman) as the main undercover New York City narcotics cop, who toes the thin line between fighting crime and committing crimes himself. He passionately and obsessively pursues drug pushers with his partner Buddy "Cloudy" Russo (Roy Scheider). One of the film's posters emphasized:
"Doyle is bad news - but a good cop."
The film's raw script was based on Robin Moore's best-selling book of the same name about the ruthless, real-life adventures of idiosyncratic Harlem special narcotics squad officers Eddie Egan (the Doyle character) and Sonny Grosso (the Russo character) - both have small cameo roles in the film and served as technical advisers for the film.
The heavily-nominated film (with eight nominations) was a multiple-Academy Award winning effort, taking accolades in five categories: Best Director (William Friedkin), Best Actor (Hackman with his first Oscar), Best Adapted Screenplay (Ernest Tidyman), Best Editing (Jerry Greenberg), and Best Picture. The three other nominations included: Best Supporting Actor (Roy Scheider), Best Cinematography (Owen Roizman), and Best Sound.
The authenticity of the film is accentuated by dozens of sordid, on-location NYC sets (the Lower East Side, Times Square, Bedford-Stuyvesant, and Grand Central Station, among others), sub-titles for the French dialogue, rough "Egan-style" police work, brutal winter scenes in the city, hand-held camera shots, and gutsy, nitty-gritty performances. The film inspired a complementary sequel four years later - French Connection II (1975), directed by John Frankenheimer.
Plot Synopsis
---
Marseilles: French Assassin Murders Detective:
The dramatic opening scene is set in Marseilles, France in December of 1970, where a crime boss' malevolent professional hit man Pierre Nicoli (Marcel Bozzuffi) kills a French undercover, plainclothes detective (Jean Luisi) with a bloody gunblast to the face. The assassin callously tears off a piece of the man's long loaf of French boulangerie bread just purchased before walking off. The victim had been following the crime boss and his henchman before he was discovered and murdered.
Two Disguised Brooklyn Cops In the Midst of a Drug Bust:
In Brooklyn, New York during the Christmas holiday season, two NYPD cops are disguised outside the seedy Oasis Bar & Grill in the course of their work - a drug stakeout:
Detective Jimmy 'Popeye' Doyle (Gene Hackman) - a passionate, tough, pushy, unorthodox, bigoted and racist NYPD cop, disguised as a Santa Claus
Detective Buddy "Cloudy" Salvatore Russo (Roy Scheider) posing as a hot dog vendor in a black and white checkered coat
A two-bit black dope-drug Pusher named Willy (Alan Weeks) is confronted and accosted, who reacts by slashing Russo's arm with one swipe of his concealed knife. The two race after him on foot down the street toward a deserted lot, where the hot-headed Doyle and pissed-off Russo viciously beat him; they then drag him to a litter-strewn alleyway, where they use the tactic of good cop/bad cop to intimidate him without finding any drugs on him. Typical of his obscene vocabulary, sadistic nature and strong-arm tactics, Doyle uses his famous pet non-sequitur on him:
Hey, s--thead. When's the last time you picked your feet? Huh?...I got a man in Poughkeepsie wants to talk to you. Have you ever been to Poughkeepsie? Huh? Have you ever been to Poughkeepsie?...Come on, say it. Let me hear you say it, come on. Have you ever been to Poughkeepsie? You've been in Poughkeepsie, haven't ya? I want to hear it! Come on! ...You've been there, right?...You sat on the edge of the bed, didn't ya? You took off your shoes, put your finger between your toes and picked your feet. Didn't ya? Now say it!...All right, you put a shiv in my partner. You know what that means, god damn it? All winter long, l gotta listen to him gripe about his bowling scores. Now, I'm gonna bust your ass for those three bags and I'm gonna nail you for picking your feet in Poughkeepsie."
French Criminal Mastermind and Drug-Smuggler Introduced:
A few other characters are then introduced in Marseilles, France. After visiting the docks and his import-export shipping business, debonair French criminal mastermind Alain Charnier (Spanish actor Fernando Rey), an illicit smuggler/heroin importer (and hitman Nicoli's boss), drives to his posh seaside villa to meet up with his beautiful young wife Marie Charnier (Ann Rebbot).
Doyle and Russo's Hunch to Follow "Big Spender" Sal Boca in Nightclub:
Shortly later in the police station, Doyle also makes a shocking (for-its-time) statement to his injured partner:
Doyle: "You dumb guinea!"
Russo: "How the hell did I know he had a knife?"
Doyle: "Never trust a n----r."
Russo: "He could have been white."
Doyle: "Never trust anyone."
After work, Doyle and Russo (posing as plainclothesmen) share a drink at an Eastside club, known as the Chez; the two stumble into a suspicious group of "greasers" and mob figures at a corner table: "That table is definitely wrong," surmises Doyle. They see large sums of money being flashed by handsomely-dressed playboy ("the last of the big spenders") Salvatore "Sal" Boca (Tony Lo Bianco) and his blonde wife Angie (Arlene Farber) (with a wig). "Just for fun," Doyle suggests tailing "the greaser with the blonde." Taking the long-shot hunch, they trail the couple driving a 1970 Ford LTD for the entire remainder of the early morning hours (first driving through Times Square and spending some time outside a kosher restaurant named Ratner's where the couple eats breakfast) - up until 7 am the next morning; they also witness a brief drug "drop" with a briefcase on Broome St. in Little Italy, before the couple cross the Brooklyn Bridge into Brooklyn Heights, and switch into a white 1961 Comet Sedan (registered to Sal's brother Lou (Benny Marino)). The Bocas end up at "Sal & Angie's" - a small candy/newspaper store and luncheonette, owned and run as a small-time, working-class business by the couple.
Charnier's Friendship with French TV Star Devereaux:
Back in Marseilles, France, Charnier takes a motorboat out to a large, highly-fortified, offshore island fortress known as Château d'If for a secret meeting with his assassin Nicoli, who confirms the job of killing the undercover detective as an "ugly job." They await the late arrival of a TV celebrity named Henri Devereaux (Frédéric de Pasquale), although Nicoli is opposed to Charnier's plan: "It's a mistake to involve him....I don't trust him." Once Henri arrives, the cash-strapped actor agrees to accept Charnier's unknown proposition (to ship Devereaux' car to the US for free?) with a hand-shake: "I've decided to accept." [Note: Devereaux is unsuspecting that Charnier is engaged in drug smuggling, and will ship drugs in the vehicle.]
Surveillance and Stakeout on the Suspicious Activities of the Bocas:
After a week of surveillance of the Boca couple with a stakeout, it is clear to the two narcotics detectives that the couple (and Sal's garbage-man brother Lou), all ex-criminals, cannot possibly support their lavish lifestyle (their business was only a "front"). All of the Bocas have a suspicious history of criminal activities and shady associates.
In voice-over, Russo describes what has been discovered to his partner Doyle:
Russo: Our friend's name is Boca, Salvatore Boca. B-O-C-A. They call him Sal. He's a sweetheart. He was picked up on suspicion of armed robbery. Now get this. Three years ago, he tries to hold up Tiffany's on Fifth Avenue in broad daylight. He could have got two and a half to five. But Tiffany's wouldn't prosecute. Also, downtown, they're pretty sure he pulled off a contract on a guy named DeMarco.
Doyle: What about his old lady?
Russo: Her name's Angie. She's a fast filly. She drew a suspended for shop-lifting a year ago. She's only a kid - nineteen according to the marriage license.
Doyle: Mmmm, nineteen going on fifty. What else?
Russo: He's had the store a year and a half. Takes in a fast seven grand a year.
Doyle: So what's he doin' with two cars and hundred dollar tabs at the Chez?
Russo: The LTD's in his wife's name. The Comet belongs to his brother, Lou. He's a trainee at the garbageman's school on Wards Island. He did time a couple of years ago - assault and robbery.
Sal takes three trips in one week to visit Jewish mafia boss, drug kingpin and lawyer Joel Weinstock (Harold Gary) living in a luxury Manhattan condo. Weinstock is known to be a major, wealthy financial backer of the illegal importation of drugs, and was connected to the illicit drug imports from Mexico. Sal also drives to Wards Island, for unknown reasons ("maybe it's another drop"). [Note: Wards Island is eventually revealed to be the site of, among others, The Charnier Shipping Company of Marseilles, France, where purchased cars for their scrap metal are held until being shipped.]
Another Russo and Doyle Drug Bust in a Brooklyn Bar:
In another sleazy, black and Puerto Rican junk-house bar in Brooklyn, Russo and Doyle return - as Doyle announces: "All right, Popeye's here!"; he hassles and shakes-down a group of patrons lined up against the wall: ("Get your hands on your heads. Get off the bar and get on the wall. Come on, Move, move!"). He watches pill containers drop to the floor, and grills another suspect: "Do you pick your feet?" As he cleans the bottom-side of the bar counter of drugs stashed there by running his hand along the bottom-side of the bar, he threatens: "We told you people we were comin' back. We're gonna keep comin' back here until you clean this bar up," and then quizzically asks: "What is this? A f--kin' hospital here? Huh?" He deposits all of the pills, powders and weed into a cocktail-mixing glass with beer and shakes the concoction up before offering: "Anybody want a milk shake?" He then singles-out two individuals to empty their pockets before leading them to two separate phone booths, where they are instructed to lock themselves in before being arrested.
Informant With News of Upcoming Drug Shipment in Two Weeks:
From one of his black informants (Al Fann) he manhandles and leads to a back room, Doyle learns the reason why everyone's clean and there are no hard drugs on the streets: "Ain't nothin' around. Nobody's holding. ..There's been some talk... a shipment, comin' in this week, the week after. Everybody's gonna get well." However, the informant doesn't know the source of the shipment. To make their encounter look realistic, Doyle punches the man in the face, and then takes the two men in the booths into custody as they leave.
Popeye's and Russo's Reluctant Boss Walter Simonson:
Because Popeye's hunches have "backfired" before, Popeye and Russo are flatly denied permission by their boss Lieutenant Walter Simonson (Eddie Egan, the character who inspired Popeye Doyle) in the Narcotics Bureau to work on their current hunches about Boca and Weinstock:
Lt. Simonson: You couldn't burn a three-time loser with this garbage you're bringin' in here. The man has done absolutely nothing. The first thing you know, you'll wind up in an entrapment rap - the both of you. Brooklyn is loaded with guys that own candy stores, two cars, and like to go to nightclubs.
Russo: Yeah, but you put this little candy store hustler together with Joel Weinstock, and maybe we got a big score.
Lt. Simonson: Big score, my ass. At best, he's sellin' nickel and dime bags.
They plead with Lt. Simonson to support them:
Russo: We got the information there's no s--t on the street, right? It's like a god-damn desert full of junkies out there. Everybody waiting to get well.
Doyle: Goddamn it! This could be it! This little candy store guy. He's puttin' on a big show in a fancy nightclub with known narcotics connections. They were all over him. And then, on our own, after workin' a whole day and night, we tail him to Brooklyn, and we sat on him for practically a week. Now, who do we come up with? Joel Weinstock, for Christ's sake. Now, you gotta let us have it.
They are reluctantly allowed a court order for two wiretaps ("one on the store, one on the house") to continue their pursuit in a special assignment.