Background
---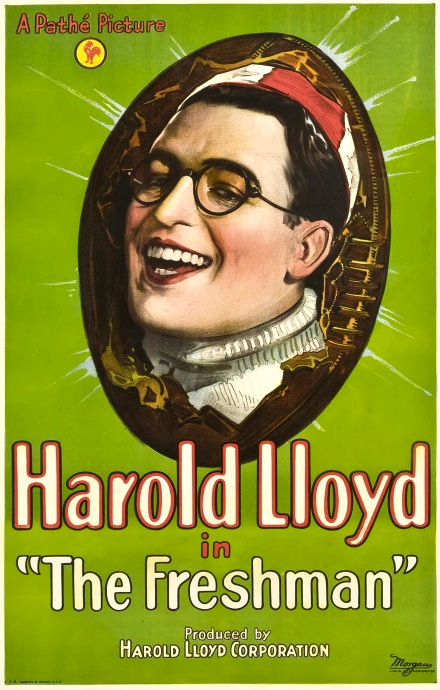 The Freshman (1925) is actor/director Harold Lloyd's silent film satire of college life (aka College Days), one of his best-remembered and well-crafted films and also his most successful effort. It was one of the top-grossing films of the year, taking in $2.6 million (from a budget of $301.7K). It has often been regarded as the first great sports comedy, and the first important college-related comedy. The popular 76-minute film was released in late August of 1925 - in one of the greatest years of silent cinema, appearing alongside Chaplin's The Gold Rush (1925), two epics: Ben-Hur: A Tale of Christ (1925) and King Vidor's The Big Parade (1925), The Eagle (1925) starring Rudolph Valentino, Eisenstein's Battleship Potemkin (1925), The Phantom of the Opera (1925) starring Lon Chaney, Buster Keaton's Seven Chances (1925) and Go West (1925), the monster-adventure film The Lost World (1925), and the melodrama Stella Dallas (1925).
Harold Lloyd, a popular silent clown, has been dubbed the 'third' genius or master of silent comedy - mostly overshadowed by the silent greats Charlie Chaplin and Buster Keaton. Like his silent comedic counterparts, Lloyd also spent some time in the early years with Mack Sennett, where he became known for realistic, acrobatic daredevil stunts. From 1915-1921, he produced a number of short films for Keystone and for major comedy producer Hal Roach.
He often played the part of a normal Everyman (with a "Glasses" or "Boy" character with recognizable horn-rimmed spectacles). He became instantly recognizable for his bespectacled, neat, innocent, noble-hearted, 'never-say-die,' 'average Joe' All-American characters. "Glasses" debuted in the one-reel comedy short Over the Fence (1917), and continued with one-reel appearances until His Only Father (1919). From 1919 to 1921, Lloyd extended the "Glasses" character in longer two- and three-reel films, from Bumping into Broadway (1919) to Never Weaken (1921). "The Boy" character first appeared in shorts beginning in 1919.
Then, Lloyd graduated to full-length silent features, beginning with A Sailor-Made Man (1921), the first of eleven films extending through his last silent feature film Speedy (1928). His most-remembered film, the feature-length Safety Last (1923), featured his perilous, memorable climb up a tall skyscraper's face that climaxed with his hanging off a giant clock face by its hands. The same "Glasses"/"Boy" character was also utilized in this 1925 film - he portrayed a college underclassman determined to redeem himself - on the football field.
With this film, Lloyd ended his professional relationship (since 1915) with his distributor, Pathé. He was offered a profitable deal and contract with Paramount for 77.5% of the domestic gross, and 90% of the foreign gross. [Note: As an actor/producer, he actually outgrossed his better-known counterparts, by retaining ownership of his films and their profits.] Lloyd's career lasted 34 years from 1913 to 1947, with over 200 comedies - mostly short subject featurettes as his famous Tramp-like character Lonesome Luke (from 1915-1917), but including 11 silent features (from 1921-1928) and 7 sound features (from 1929-1947).
Lloyd had sustained a successful belief in the early 1920s that a filmmaker must first shoot a film's magnificent climax before adding the preface or preceding story. Therefore, the first scenes shot were all football-related (the big-game conclusion, filmed at the Rose Bowl - see below), but then Lloyd re-evaluated and realized that the ending sequence was unrealistic and detached. He scrapped the material and commenced again - shooting in sequence from start to finish. Many of the film exteriors of The Freshman were shot at Exposition Park (very near the USC campus), although the early scene of Harold's college train arrival at the Southern Pacific Depot was shot in Ontario, CA (San Bernardino County). (There were also glimpses of Ontario's Chamber of Commerce building, and the original City Hall with its large statuesque cannon.)
The football sequences were shot in four locales - in a number of recently-constructed California sports-football stadiums at the time:
Stadium (Location)

Opened

Specific Scenes in Film

Bovard Field at USC campus
(Los Angeles, CA)
(The home of the Trojans football team until 1923)

Practice scenes
(note the wooden bleachers)

Rose Bowl
(Pasadena, CA)

1922

Most of the playing field sequences
(note the horseshoe-shaped stadium)

California Memorial Stadium (Berkeley, CA)


1923

Wide full stadium views shot during half-time in the November 22, 1924 Big Game in Berkeley, CA between Cal and Stanford University

LA's Memorial Coliseum
(Los Angeles, CA)


1923

The medium views of Harold sitting on the bench, with extras filling in the bleachers behind him
In the story with themes of popular success, peer pressure and aspirational social acceptance, and the importance of remaining true to oneself, bespectacled, naive, awkward, and nerdy Harold 'Speedy' Lamb (31 year-old Harold Lloyd cast with a similar character name, expressing innocence) went off to Tate College, dressing and copying the behavior of the heroic football character Chester Trask in the movie The College Hero (a fictional film at the time, although a Ben Turpin comedy with that title was released in 1927). With youthful optimism, he dreamt of becoming the most popular student on campus and a major football star for the year 1925 at the college, but he lacked any apparent talent and was regarded as the 'college boob'. After he wasn't allowed to join the football team during tryouts, the tough but pitying Coach (Pat Harmon) made him the team's tackle dummy and then the water boy during games. Relentlessly optimistic, Harold was under the mistaken impression that he was on the team, and ignorant that he was the butt of jokes by the entire campus. His love interest and dream-girl was hard-working girl Peggy (Jobyna Ralston) in his boarding house (and at the local hotel) who recognized Harold's good-hearted personality, and he often conflicted with the stereotypical college cad or bully (Brooks Benedict) who mocked him behind his back.
There were at least three major comedic set-pieces in the film, including (1) Harold's impromptu welcome speech at the opening of school, made more difficult by a kitten inside his knit-sweater, (2) the unraveling of Harold's stitched tuxedo (only stitch-basted together by his dizzy tailor) during his hosting of the Fall Frolic dance, and, of course, (3) the climactic championship football game where water-boy Harold was finally allowed to play after every other substitute player had been injured and removed from the game. The film was supplemented by very clever inter-titles, often using hep slang from the 1920s.
The film stimulated or kick-started a craze for 'college-themed' films during the 20s and 30s (when college education and its complementary schedule of football games had become an obsession, due to the popularization of the sport via live-game radio broadcasts) - and for many decades afterward. According to motion picture industry sources, there were only 12 college films from 1921 to 1925, but the number exploded to 60 from 1925 to 1928. Buster Keaton's College (1927) had some of the same plot points as this film. The football game climax was used again as the opening sequence in Lloyd's and Preston Sturges' film Mad Wednesday (1947) (aka The Sin of Harold Diddlebock), Lloyd's last film. In the Marx Brothers' Horse Feathers (1932), its climactic zany Huxley-Darwin football game (involving audible football signals, banana peels, an elastic band, and a chariot) was partly inspired by this silent Harold Lloyd classic.
The Harold Lloyd Trust claimed that Disney's film The Waterboy (1998) with Adam Sandler was a direct copy of this Lloyd film, and there were also resemblances to Rodney Dangerfield's vulgar comedy Back to School (1986). It has been called the "grand-daddy" of all college comedies - and films such as the animated Merrie Melodies' short Freddy the Freshman (1932), the musical Pigskin Parade (1936), the Ritz Brothers' Life Begins in College (1937), Start Cheering (1938), the football comedy The Gladiator (1938) starring Joe E. Brown, National Lampoon's Animal House (1978) and Revenge of the Nerds (1984), and many more, owe their origins to Lloyd's film.
Plot Synopsis
---
Title Screen Opening:
The title screen for the film was displayed on a fluttering, triangular-shaped college pennant, with the backdrop of a football stadium. With the exception of the two main stars, the cast members included mostly stock characters - a college cad (or bully), a college hero, a college belle, a college tailor, and the football coach.
Do you remember those boyhood days when going to College was greater than going to Congress - - and you'd rather be Right Tackle than President?
Opening Scene: The Middle-Class Home of Harold Lamb
His father was the best bookkeeper in the county and the worst radio liar in the state.
Harold Lamb's mother (May Wallace) proudly showed off their son's bank account to her pipe-smoking, white-haired husband, showing how he had saved funds to use as spending money at college, by selling washing machines. In a close-up of the bank book, Harold had saved up a total of $485 dollars. She stated that Harold (Harold Lloyd) had been upstairs in his bedroom all evening unrealistically "dreaming about going to college - he simply can't think of anything else."
In his room, Harold was studying a book titled "COLLEGE YELLS" - a pamphlet of college cheerleading yells, compiled by Arthur Thompson. Wearing his characteristic horn-rimmed classes, a thick, knit turtle-neck sweater emblazoned with the letter T, and a freshman beanie, he turned to the page of TATE College cheers as he was practicing and preening before a mirror. A megaphone and football sat on his dresser. His enthusiastic cheers reverberated through the whole house:
Al - a - ga - ZINK! Boola BINK!! WOW! Brack!! Kack!! Kack!! Wheee! Wham!
Hi Ta Ticky
Bing! Bang!! Blooey!!!
T-A-T-E
ZIP!
CHOP SUEY!!
Downstairs, where Harold's daft father was listening to his radio (with headphones, required to hear the faint radio signals in the mid-1920s), he thought Harold's cheers were being broadcast over the air, and exclaimed: "I've got China!", but then realized that all the "static" was coming from upstairs. Harold's mother explained how Harold was emulating his favorite (fictionalized) movie show, The College Hero, that he had seen six times the previous day. The prospective college freshman idolized the star of the film, Lester Laurel. He glanced at the film's poster hanging on his wall with the title character quoted as saying: "I'm just a regular fellow - step right up and call me 'Speedy'." Harold was dressed to impersonate the film's stereotypical college hero, known as Speedy. He falsely believed that college would be just like the movies or resemble the pamphlets he had read.
He had spread out a number of books on his bed, as part of his romanticized preparations for college life - predetermined to become popular.
CLEVER COLLEGE CLOTHES - An Authoritative Pamphlet - What the College Man Will Wear
HOW TO PLAY FOOTBALL - by Jack A. Richards, a 25 cents pamphlet
JACK MERRIVALE AT COLLEGE - by Truman K. Small
Behind him, hanging on the wall, was a personal shrine to sports, including a TATE pennant, a flag draped above a portrait of George Washington, a football helmet, crossed fencing epees, a fencing mask, and a bag holding golf clubs. Harold also perused the TATE COLLEGE YEAR BOOK 1924, from the previous year. Inside the college annual was a photo of:
CHESTER A. (CHET) TRASK
Voted the Most Popular Man in College
Our Football Captain for 1924
The naive, idealistic and wide-eyed Harold imagined himself as the next 'most popular man' on campus - over-enthusiastically aspiring to be both a campus hero and football star, when the caption below the picture changed to:
HAROLD LAMB
Voted the Most Popular Man in College
Our Football Captain for 1925
He practiced a snappy little dance-jig (imitating his silver screen's 'COLLEGE HERO') followed by a handshake, using it on his father who entered the bedroom. He bragged about how he was emulating the film - and adopting one of Speedy's mannerisms:
I saw it in the movies - the College Hero did that jig every time he was introduced to anyone. It took me a week to learn it, Dad - but I bet it will make a hit at college!
Outside the room, Harold's father worried and expressed his misgivings about Harold's use of the silly introduction once at college:
I'm afraid, Ma, if Harold imitates that movie actor at college, they'll break either his heart or his neck!