Background
---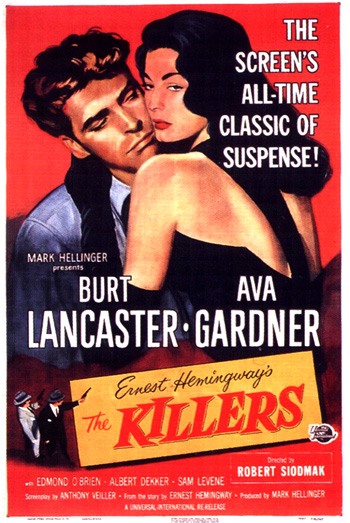 The Killers (1946), a neglected screen classic from director Robert Siodmak, is an intense, hard-edged, stylish film noir of robbery, unrequited love, brutal betrayal and double-cross. It featured two unknowns: Burt Lancaster in his film debut (at age 32) and a break-out memorable performance from 23 year old MGM contract actress Ava Gardner. Her role as the film's duplicitous, strikingly-beautiful, vixenish and unsympathetic femme fatale made Gardner an overnight love goddess and star.
Former Broadway news reporter/columnist-later-independent film producer Mark Hellinger, with his first film for Universal, was known for stark, hard-boiled crime-gangster films (e.g., The Roaring Twenties (1939), High Sierra (1941), Brute Force (1947), and The Naked City (1948)). He selected a sharply-written script from screenwriters Anthony Veiller and collaborator John Huston (uncredited) that was loosely based on Ernest Hemingway's 1927 short story of the same name.
[Note: Hemingway's 10-page short story was composed of the same content re-created in the film's opening thirteen minutes. His works have often been adapted for the screen (e.g., A Farewell to Arms (1932), For Whom the Bell Tolls (1943), To Have and Have Not (1944), The Snows of Kilimanjaro (1952) and The Sun Also Rises (1957)), but this was reportedly the famous author's most favorite and praised adaptation.]
Posters described the twisting, "tense, taut" film as "the screen's all-time classic of suspense!" Other great film noirs from Siodmak in the 40s included:
Phantom Lady (1944)
The Dark Mirror (1946)
Cry of the City (1948)
Criss Cross (1949) (also with Lancaster, Miklos Rozsa's score, and femme fatale Yvonne DeCarlo)
The File on Thelma Jordon (1950)
This post-war, moody, expressionistically-lit black and white film was a big box-office success. It was nominated for four Academy Awards, Best Director, Best Editing (Arthur D. Hilton), Best Original Screenplay (Anthony Vieller) and Best Score (Miklos Rozsa), but came away empty-handed. It is often noted that part of Rozsa's memorable doom-laden score, with a rising and falling dum-de-dum dum - most recognizable in the restaurant shoot-out scene close to the end of the film, was later used for the Dragnet TV series.
About half of the film is unfolded through eleven fragmented, disconnected and unrelated flashbacks, following a technique perfected in Citizen Kane (1941) - but they are different in form. They only reveal the story (clues and pieces of the puzzle) in disjointed fashion rather than portray varying perspectives on the main character. The narrative is composed of two strands - a journey into the dark noir world by an obsessive insurance company officer investigating an unwarranted, mysterious killing (of the Swede) and a hat factory heist, and the reconstructed story of the dead man's enigmatic and troubled past - and why he passively and quietly accepted his fateful, sacrificial death without resistance when delivered by two evil emissaries from his past. The emphasis on flashbacks underlines the influence of the past upon the present.
The film was remade by the project's original director Don Siegel - but many years later in a made-for-TV film The Killers (1964). The remake starred Angie Dickinson as the deceitful femme fatale, Lee Marvin and Clu Gulagher as the hit men, and Ronald Reagan (in his last feature film role) as the gangster. And acclaimed Russian director Andrei Tarkovsky adapted the Hemingway story for his first student film in his film school days - a short 19-minute The Killers (aka Ubijtsi (1958)).
[Director Carl Reiner's film-noir tribute-parody Dead Men Don't Wear Plaid (1982) spliced together footage from eighteen film noirs, including this one, with Steve Martin as the hard-boiled gumshoe detective Rigby Reardon (same last name), and music by this film's composer Miklos Rozsa (spelled incorrectly in the opening credits).]
Plot Synopsis
---
The film opens with a quintessential sequence or prologue, the one faithfully borrowed from Hemingway's short story about two hit men (the 'killers' of the film's title) seeking a doomed man in a small town. The un-nerving, thirteen-minute scene is reminiscent of the opening of director Billy Wilder's noir classic Double Indemnity (1944), another tale of an insurance investigation, when the film's mortally-wounded hero meets his tragic fate.
Typical of film noirs, the ominous scene begins with a car driving through the night with its headlights illuminating a driver's and passenger's silhouettes from behind as they approach a city outskirts sign for BRENTWOOD, NEW JERSEY. The pair are unsmiling, contract killers Max (William Conrad later famous for the TV detective show Cannon) and Al (Charles McGraw), sent to the small rural town to track down a Tri-State Oil Co. attendant. Finding the filling station closed, they cross the street to Henry's Diner where George (Harry Hayden), the manager unobligingly tells them that none of the dinners on the menu that they wish to order are ready until 6 pm, about ten minutes away. Al is upset and begins the playful taunting: "Everything we want's on the dinner. That the way you work it, huh?" They deliberately harass and terrorize the proprietor:
Al: What do you do here nights?
Max: They eat the dinner. They all come here and eat the big dinner.
Manager: That's right.
Al: You're a pretty bright boy, aren't ya?
Manager: Sure.
And they also intimidate the other counter patron, Nick Adams (Phil Brown), and order him and Sam (Bill Walker) the diner's black cook back into the kitchen to tie them up. When George asks what it's all about, he is bluntly and non-chalantly told that their intention is to fulfill a murder contract and kill "the Swede" when he appears at his regular time for dinner:
Max: I'll tell ya what's gonna happen. We're gonna kill the Swede. You know big Swede that works over at that filling station?
Manager: You mean Pete Lunn?
Max: If that's what he calls himself. Comes in every night at six o'clock, don't he?
Manager: Yes, if he comes.
Al: We know all about that. (He rubs his gun barrel.)
Manager: What are ya gonna kill him for? What did Pete Lunn ever do to you?
Max: He never had a chance to do anything to us. He never even seen us.
Al: He's only gonna see us once.
Manager: What are ya gonna kill him for?
Max: We're killin' him for a friend.
When their target, a regular customer using the alias of Pete Lunn, is late and not expected to show on schedule, the gunmen leave to locate the Swede's address in the daybook at the rural filling station. The proprietor unties the two men in the kitchen, and Nick (the Swede's co-worker) runs out the back, takes a shortcut over four neighborhood fences, to get to the Swede first and warn him that he is an intended murder victim.
The camera pans down the length of the bed where the Swede/Pete Lunn (Burt Lancaster) lies passively in his shadowy, dim room in a white T-shirt - his head shrouded in darkness. Breathing heavily, Nick bursts into the Swede's boarding house room with the news that two men are coming to rub him out, but the resigned, immobile Swede responds stoically, calmly and with little surprise that there's nothing to be done to change his impending fate. With no strength to even rise from his bed, or will to run, the acquiescent and unresistant Swede awaits his physical sacrificial death - although he's already emotionally dead. In his last words, he mentions that in his past, he made one fatal error, and it has come back to haunt him:
Swede: There's nothin' I can do about it.
Nick: I could tell you what they look like.
Swede: I don't want to know what they're like. Thanks for comin'.
Nick: Don't you want me to go and see the police?
Swede: No. That wouldn't do any good.
Nick: Isn't there something I could do?
Swede: There ain't anything to do.
Nick: Couldn't you get out of town?
Swede: No. I'm through with all that runnin' around.
Nick: Why do they wanna kill ya?
Swede: I did something wrong - once. Thanks for comin'.
Nick leaves stunned - in disbelief. Only a few minutes later, the fatalistic Swede calmly listens as the two cold-blooded gunman-executioners climb the stairs to his cheap apartment room. He knows that his life isn't worth living anymore. He half-rises from his bed as they open the door and brutally empty their guns of ten bullets into his body. It is the ex-boxer's final knock-out.
The scene fades into black and reopens with a closeup of the personal effects of the Swede: his work uniform, Henry's Diner meal ticket, watch, deck of cards, letters, insurance policy and wallet. They are being examined in the Brentwood, New Jersey police department by the police chief (Howard Freeman) and intrigued insurance investigator James Reardon (Edmond O'Brien) of the Atlantic Casualty & Insurance Company. The chief concludes that the case is "out of our hands" because the murderers were from out of town and were specifically looking for Lunn. Curiously, the Swede's beneficiary in his life insurance policy is Mary Ellen Daugherty, at the Palms Hotel in Atlantic City. Reardon takes one of the Swede's possessions during his quest: a green silk handkerchief with a large golden harp at its center and surrounded by three-leaf clovers.
Reardon questions the chief, one of many acquaintances of the Swede's (over a ten-year period) that the investigator will encounter in his journey to discover why the victim accepted his death. The Swede arrived in Brentwood about a year earlier, and "kept pretty much to himself." Reardon is given a summary of the Swede's character by Nick Adams:
He wasn't a bad sort of fella...easy enough to get along with.
In the county morgue, the mortician Mr. Plunther (John Berkes) explains how the Swede died of eight bullet wounds: "Got eight slugs in him. Near tore him in half." Reardon notices that the deceased has fighter's hands - with broken knuckles. According to Nick, the Swede's phrase 'I did something wrong - once' occurred a long time ago. A few days before the murder, the Swede had become sick with stomach problems.
The first of the film's eleven flashbacks begins at this point, summarized below:
Summary of Film's Eleven Flashbacks

Flashback Content
(rearranged into chronological order)

Date

Source

Sequence in Film

The Swede broke his hand in his last boxing fight

1935

Lieut. Sam Lubinsky

3

At a swanky hotel party, the Swede met and fell under the spell of gorgeous Kitty and her sleazy underworld racketeering friends, led by gangster/boyfriend Big Jim Colfax (who was absent and in jail at the time)

1937?

Lilly Harmon, the Swede's girlfriend (afterwards married to Detective Lieut. Lubinsky)

4

The Swede lied for Kitty when arrested for wearing stolen jewelry, and took the rap himself

1938

Lieut. Lubinsky

5

The Swede served two years of a three year prison term

1938-July, 1940

Charleston, a petty thief, and the Swede's cellmate

6

The Swede met Colfax and other small-time criminals to plan a hat factory robbery. He again fell under the allure of Kitty

Early July, 1940

Charleston

7

Kitty helped to provoke a fight between the Swede and Colfax on the night before the heist

July 19, 1940

Gang member Blinky Franklin on his deathbed

9

The treacherous Kitty came to the Swede in his hideout late at night. She told him about Colfax's betrayal (and the change in rendezvous from the half-way house to the farmhouse BEFORE the fire), confessed her love, and persuaded him to get revenge on Colfax by stealing the payroll

July 19, 1940

Kitty Collins

11

The hat factory payroll heist

July 20, 1940

In office of R.S. Kenyon, insurance company chief, he reads newspaper account (July 21, 1940)

8

The Swede [trusting blindly in Kitty] double-crossed the gang and robbed them of the payroll at the farm house

July 20, 1940

Gang member Blinky Franklin on his deathbed

10

In Atlantic City, Swede was a hotel guest for a few days at the Palms Hotel [with an "unidentified woman" (presumably Kitty)]. Distraught and claiming "she's gone," the duped Swede nearly committed suicide by throwing himself from a window two days later. [Kitty had double-crossed him by stealing the money, ditching him, and rejoining Colfax]

Check-in on July 20, 1940

The chambermaid Mary Ellen 'Queenie' Daugherty, the Swede's beneficiary on his life insurance policy

2

Big Jim Colfax happened to drive into the Brentwood, New Jersey service station where the Swede was working in quiet obscurity, and recognized him. [Colfax hired a pair of killers to execute and eliminate the Swede shortly thereafter.]

1946

Nick Adams, the Swede's co-worker

1