Death (Emotionally and Physically) in Melodramas:
Death has always been one of the most popular themes in melodramas, either physically or in emotional terms, as in the following melodramatic films:
Dark Victory (1939) with Bette Davis as a terminally-ill heiress; remade as Stolen Hours (1963) with Susan Hayward
the classic film about a British school teacher, Goodbye, Mr. Chips (1939), with two scenes of tremendous pathos: the death of Mr. Chips' (Robert Donat) young wife Katherine (Greer Garson) in childbirth and his dazed but resilient appearance in his Latin classroom to teach a lesson, and Chips' own deathbed scene ("I thought I heard you say 'twas a pity, a pity I never had children. But you're wrong...I have...thousands of them...thousands of them...and all boys!")
Disney's animated classic Bambi (1942) with the emotional scene of the tragic killing of young Bambi's mother by Man in the forest
Edward Dmytryk's suspenseful B-film Hitler's Children (1943), the highest grossing film of all time for RKO Studios, told a story of taboo love between a Nazi Hitler youth (Tim Holt) and his American girlfriend (Bonita Granville) amidst anti-Nazi propaganda
Frank Capra's Christmas classic It's a Wonderful Life (1946) about an Everyman named George Bailey (James Stewart) who realized how life would be like in his tiny town of Bedford Falls without him, and the tear-jerking finale when his friends, townsfolk, and family supportively surround him
Disney's Old Yeller (1957), with the stray dog gallantly and heroically protecting young Travis (Tommy Kirk) and his family from a rabid wolf, and Travis' sad realization that he must pull the trigger on his infected and dying companion
the tragic, heartbreaking ending of Franco Zeffirelli's youthful version of the classic, all-consuming love story Romeo and Juliet (1968) featured a double-suicide sequence, in which Romeo (Leonard Whiting) looked upon Juliet's (a beautiful Olivia Hussey) lifeless body and asked: "Why art thou yet so fair?" before poisoning himself, and Juliet's awakening and her own "happy dagger" response; Leonard Bernstein's musical West Side Story (1961) included a similar, ill-fated romance between star-struck lovers, and an ending in which Puerto Rican Maria (Natalie Wood) grieved over her fallen lover and Anglo Jets gang-member Tony (Richard Beymer) while reprising Somewhere ("Hold my hand and I'll take you there")
Arthur Hiller's successful but manipulative Love Story (1970) - the quintessential melodrama about young lovers (Ryan O'Neal and Ali McGraw) from different educational and societal levels - who experience a culminating, tragic, and tearjerking terminal illness ("Love means never having to say you're sorry")
the made-for-TV movie Brian's Song (1971), the true-to-life drama of the strong bond between two Chicago Bears football players: white Brian Piccolo (James Caan) and black Gale Sayers (Billy Dee Williams), with its sappy and depressing ending - includes the scene of a tribute being given to Sayers and his dedication of his Courage award to his cancer-stricken teammate in his acceptance speech: "I love Brian Piccolo. And I'd like all of you to love him, too. And tonight when you hit your knees, please ask God to love him"
other sports film about sports greats who died by film's end include: the biopic The Pride of the Yankees (1942) - famous for Lou Gehrig's (Gary Cooper) on-field retirement speech after he fell ill with ALS ("Today, I consider myself the luckiest man on the face of the earth"), the story of the legendary Notre Dame football player and coach - Knute Rockne: All American (1940) - and dying George Gipp (Ronald Reagan) with his "win one for the Gipper" quote, and Bang the Drum Slowly (1973) about a friendship between a pitcher (Michael Moriarty) and a terminally-ill catcher (Robert DeNiro)
the animated Charlotte's Web (1973) with the heart-felt death of the title-character spider who spins a web to save the life of her friend Wilbur the pig
Michael Cimino's The Deer Hunter (1978) - with its second lethal scene of "one-shot, one-kill" Russian roulette in one of Saigon's back alleyways that kills Michael's (Robert DeNiro) steelworker/Vietnam Vet friend Nick (Christopher Walken), and the final tragic ending sequence in Pennsylvania in which all gather together for a breakfast wake, sing "God Bless America," and toast Nick ("Here's to Nick")
Robert Benton's domestic melodrama and Best Picture Kramer vs. Kramer (1979), about Manhattan adman Ted (Dustin Hoffman) - a recently-divorced man who cares for his son (Justin Henry) and his subsequent battle with ex-wife Joanna (Meryl Streep) when she later decides that she wants custody of the boy
the across-time, passionate, and impossible fantasy romance between a 1912 actress Elise McKenna (Jane Seymour) and a young playwright Richard Collier (Christopher Reeve) in the 1980s in Somewhere in Time (1980)
Steven Spielberg's E.T.: The Extra-Terrestrial (1982), especially the overwrought death scene of the stranded, odd-looking alien witnessed by a heart-broken 10-year old Elliott (Henry Thomas), and ET's tearful goodbyes and departure onto an awaiting spaceship
in Alan J. Pakula's dramatic Sophie's Choice (1982), haunted Holocaust Auschwitz survivor and Polish immigrant Sophie Zatkowska (Oscar-winning Meryl Streep who spoke in three languages: Polish, broken English, and German) suffered heart-wrenching, horrific guilt when remembering her traumatic past, in flashback, the awful forced choice she was given by a Nazi officer
the stylish "soap opera" and maternal melodrama/comedy Terms of Endearment (1983) that covered a thirty year span of time in the lives of Houston mother Aurora (Shirley MacLaine) and her daughter Emma (Debra Winger), and ended with a case of terminal cancer; its deathbed/hospital scenes at the film's conclusion guaranteed sobs (Winger's final goodbye to her two children, and MacLaine's screaming at the nurses: "My daughter's in pain. Give her the shot. Do you understand me? Give my daughter the shot!")
Steven Spielberg's The Color Purple (1985), an adaptation of Alice Walker's novel about 40 years in the lives of three black southerner women, including Celie (Whoopi Goldberg) - married to abusive sharecropper Albert (Danny Glover), an oppressed Sofia (Oprah Winfrey), and Albert's mistress Shug (Margaret Avery)
the first AIDS melodrama, Parting Glances (1986), by writer/director Bill Sherwood who died of AIDS at 37 in 1990, featured an early role for Steve Buscemi
David Jones' 84 Charing Cross Road (1987), a romantic melodrama about struggling writer Helene Hanff (Anne Bancroft) and her correspondence partner, a UK used-book store owner in London named Frank P. Doel (Anthony Hopkins) - the two never meet face-to-face, touchingly realized by Helene when she finally travels to the UK and finds that both the store and Frank have deceased
the ultimate in sappy tearjerker melodramas, Beaches (1988), with Bette Midler as free-spirited, Bronx Jew, and show-biz singer CC Bloom, and upper-class elitist Hillary Whitney Essex (Barbara Hershey) from San Francisco, as two lifelong friends who meet one final summer on the beach in Atlantic City, to experience Hillary's death, followed by her funeral (heard with 'Wind Beneath My Wings'), and CC's adoption of Hillary's daughter
in Peter Weir's Dead Poets Society (1989), the moment of unorthodox (Carpe Diem or "Seize the Day") English teacher John Keating's (Robin Williams) dismissal and departure from the uptight and exclusive Welton Academy in Vermont, and the protest from his liberated students by standing on their desks
Phil Alden Robinson's fantasy melodrama Field of Dreams (1989) with its climactic reunion scene in which the father of Iowa farmer Ray (Kevin Costner) emerges from a cornfield to play a game of catch
Norman Jewison's In Country (1989), a Southern drama with Bruce Willis in a serious dramatic role as a battle-scarred Vietnam veteran, and Emily Lloyd as his niece Samantha, who both form a bond due to their connections with her dead father; the film concluded with a poignant scene at the Vietnam War Memorial
the ultimate modern 'weepie' or 'women's film': Herbert Ross' Steel Magnolias (1989), about six women from small-town Louisiana, and specifically about an over-protective, strong-willed mother M'Lynn (Sally Field) who stood by her dying, diabetic daughter Shelby (Julia Roberts) at her hospital bedside when the plug was pulled, and raged about her death at graveside. Its tagline: "The funniest movie ever to make you cry"
another popular fantasy/melodrama Ghost (1990) with Demi Moore as Molly and Patrick Swayze as Sam - a tearful story of romantic love beyond the grave enhanced by Maurice Jarre's original score; it included the memorable scene of Swayze's senseless murder and his last bittersweet embrace, kiss and goodbye ("See ya") with Moore
Longtime Companion (1990), an ensemble film starring Bruce Davison and Campbell Scott - a melodramatic film that followed the courageous lives of two white, homosexual New Yorkers during the decade of the 80s, showcasing the death of the 'longtime companion' or partner from AIDS (first called a rare form of cancer or "Gay-Related Immune Disorder"), and ended with a heart-breaking fantasy sequence on a Fire Island beach
Joel Schumacher's sentimental Dying Young (1991) flip-flopped the roles of Love Story, with Julia Roberts providing nursing caring for an educated man (Campbell Scott) afflicted by a debilitating disease
the melodramatic portrayal of childhood innocence between precocious, 11 year-old, adventurous tomboy Vada Sultenfuss (Anna Chlumsky) - living with her mortician father, and her friendship with the equally-young Thomas J. Sennett (Macaulay Culkin) in My Girl (1991) - including her first experience of loss with the death of Thomas due to bee stings
the sleeper hit Forever Young (1992), a romantic fantasy with Mel Gibson as a test pilot, cyrogenically frozen in the year 1939 (because of the loss of a loved one named Helen) and thawed out 50 years later - in time to experience a rebirth of love in the form of Claire (Jamie Lee Curtis)
in My Life (1993), the debilitating decline of terminally-ill and expectant father Bob Jones (Michael Keaton), married to pregnant wife Gail (Nicole Kidman) - who makes videotaped conversations to his unborn son
Tom Hanks' understated and heroic role as fired attorney Andrew Beckett dying of AIDS and defending himself in a wrongful dismissal suit with lawyer Joe Miller (Denzel Washington) in Jonathan Demme's Philadelphia (1993)
Merchant Ivory's deeply-moving Remains Of the Day (1993), about a restrained, devoted and 'perfect' English butler named Stevens (Anthony Hopkins) who has sacrificed everything to his duty, as well as love for his housekeeper Miss Kenton (Emma Thompson), based on the novel by Ishiguro Kazuo

Spielberg's Best Picture-winning Schindler's List (1993), about a Polish Nazi businessman (Liam Neeson) who saved the lives of 1,000 Jews with his trusted accountant (Ben Kingsley) - with its weepy coda - the surviving Jews visiting Schindler's grave
Richard Attenborough's memorable Shadowlands (1993) about the doomed love affair between Christian/children's fantasy novelist C.S. Lewis (Anthony Hopkins) and a Jewish-American poet (Debra Winger)
Robert Zemeckis' Forrest Gump (1994), often interpreted as a schmaltzy, manipulative film about an IQ-challenged title character (Tom Hanks) involved in many key events of the 50s-80s, including his weepy visit to the Alabama grave of his love Jenny (Robin Wright Penn)
the pivotal moments in director Clint Eastwood's The Bridges of Madison County (1995), an adaptation of Robert James Waller's bestselling novel, in which lonely Iowan small-town housewife Francesca Johnson (Meryl Streep) gives up her own happiness by declining a life with free-spirited photographer Robert Kincaid (Clint Eastwood) - Francesca's temptation reaches a climax during a rainstorm when she does not open the door of her husband's truck and run to Robert
James Cameron's epic, ill-fated love-story Titanic (1997) culminating with the scene of poor boy Jack Dawson (Leonardo DiCaprio) professing his love for rich girl Rose DeWitt Butaker (Kate Winslet) before sinking below the icy waters (Jack: "Never let go." Rose: "I will never let go, Jack. I'll never let go.")
director Jay W. Russell's filmic adaptation of Willie Morris' memoirs in My Dog Skip (2000), about a frail, nine year-old boy named Willie (Frankie Muniz) given a Jack Russell terrier named Skip by his stern father (Kevin Bacon), capped by the dog's eventual aging and death
Other Recent Examples of Melodramatic Films:
Following the feminist movement of the late 1960s, Martin Scorsese's first Hollywood studio production Alice Doesn't Live Here Anymore (1974) capitalized on the strength of the women's liberation movement, with Best Actress-winning Ellen Burstyn starring as a widowed, thirty-something housewife and single mom pursuing her own career in Phoenix, Arizona.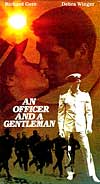 [The film spawned a successful TV sitcom series titled Alice, with Linda Lavin.] Herbert Ross' melodrama The Turning Point (1977) examined the choices most women face between career (ballet in this case) and familial responsibilities. And director Paul Mazursky's 'women's film' An Unmarried Woman (1978) featured Jill Clayburgh as a newly-single woman living in New York.
An appealing three handkerchief 'soap opera,' similar to 40s romances, was An Officer and a Gentleman (1982), the story of a challenged romance between a Navy officer trainee (Richard Gere) and his lower-class townie girlfriend (Debra Winger). Although Fatal Attraction (1987) was regarded as a tense action/thriller, Glenn Close's sexy, possessive role as a scorned and deadly woman after a one-night stand fit the category of melodramatically-doomed love.
Forest Whitaker's weepie soap opera Waiting to Exhale (1995), with a predominantly African-American female cast (Whitney Houston, Angela Bassett, Lela Rochon, and Loretta Devine), told a story of four romantically-wronged women. It was part of a trilogy of films based upon works by novelist/screenwriter Terry McMillan, including the restorative romantic melodrama How Stella Got Her Groove Back (1998), and HBO-TVis romantic urban melodrama Disappearing Acts (2000).