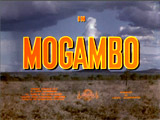 Mogambo (1953)
In director John Ford's Technicolored remake romance/adventure film (twenty-one years after Red Dust (1932) upon which it was based) shot mostly on location in Africa:
the love triangle of characters: African animal trapper and safari leader Victor Marswell (Clark Gable), stranded, provocative wisecracking good-time-girl Eloise "Honey Bear" Kelly (Best Actress-nominated Ava Gardner), and the cool and prim but lustful wife of a British anthropologist Donald (Donald Sinden), Mrs. Linda Nordley (Best Supporting Actress-nominated Grace Kelly)
the scene of an angered Marswell's first encounter with "Honey Bear" (Eloise Kelly) taking an outdoor shower at his home, after noticing her luggage and clothing strewn about, and her sassy frustration at being left stranded by an Indian Maharajah a week earlier, who didn't even leave her "a return ticket": ("Ooh, of all the rotten, subversive tricks. Flying all the way, thousands of miles to this lousy place. Arriving here hot and tired as a Sixth Avenue mink. And that water's even hotter, and that soap gives out about as much lather as blue cheese....Well, I wouldn't be so proud of it....Look buster, don't you get over-stimulated with me! I'm the little gal that flew all the way from New York to this lousy place, this Dark Continent. Only I expected to find a man with a flashlight...Can't you get me a canoe or a truck, or a pair of rollerskates, anything to get out of here?...You mean there's no way to get out?...This will be the gayest week of the season!")
the multiple kissing scenes between Victor and the married Linda Nordley - before a waterfall and during a dusk walk, when she admitted to him: ("You realize, don't you, that just from the way I can't stop myself looking at you, that everybody knows?"); he replied: ("Everybody but Donald...I know, I feel it myself. But he has to be told, that's all"); she worried: ("I don't know how to tell him"); he proposed a solution: ("You stay in camp tomorrow. I'm going up the hill. Do you understand?")
and the kissing scene between Victor and "Honey Bear" Kelly during a moonlit night, when she was conversing with him on the porch: ("The river looks awfully pretty in the moonlight, doesn't it? (Victor impulsively grabbed and kissed her.) Now wait a minute, Marswell. You're turning into the original African hotrod....You can be nice and sweet when you want to, can't you?...I'm warning you. I'm searching. I'm looking, really I am"); he vowed to cooperate: ("I'll look with you - for a little while")
the final scene in which Mrs. Nordley was enraged when she found Eloise in the arms of a drunken Marswell (who was purposely trying to sabotage their forbidden affair) - thereby ending their relationship when Linda wounded him with a gunshot
the ending when Victor proposed to "Honey Bear" Kelly as she was ready to depart, but she rebuffed him: (Honey: "You mean you're gonna make an honest woman out of me?", Victor: "It suits me, Kelly." Kelly: "It suits you!? Listen buster, you and your quick-change acts aren't gonna hang orange blossoms all over me because you feel the cold weather comin' on. No thank you. I'll go back where I can be honest without gettin' kicked around for it. I'll see ya!"); after Marswell yelled out to skipper John "Brownie" Brown-Pryce (Philip Stainton): ("Take good care of her...I said, take good care of her!"), she looked back, decided to leave her departing canoe, jumped in the water, and enjoyed a closing embrace with Marswell on the river's edge
"Honey Bear's" Decision To Stay With Marswell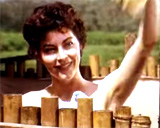 "Honey Bear" Showering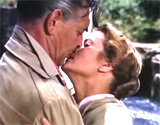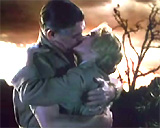 Illicit Love Affair Between Victor Marswell and Mrs. Nordley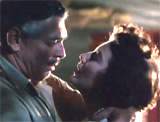 Also Kissing "Honey Bear"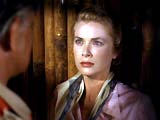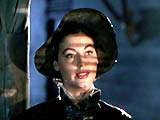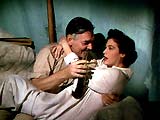 "Honey Bear" In the Arms of Drunken Marswell