Red Dust (1932)
Background
---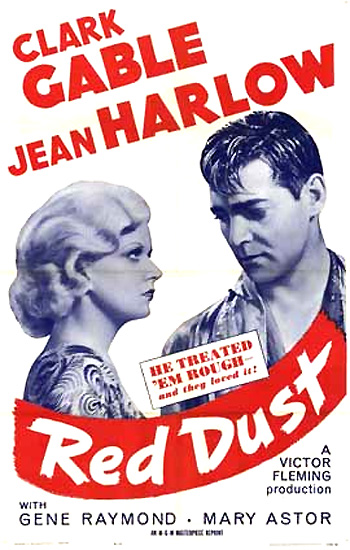 Red Dust (1932) is the earliest of the Clark Gable/Jean Harlow films. One of the film's slogans proclaimed:
"He treated 'em rough - and they loved it!"
The film was remade over two decades later by director John Ford as Mogambo (1953), again with a grizzled Clark Gable as African animal trapper and safari leader Victor Marswell -- now opposite Best Actress-nominated Ava Gardner as stranded, provocative wisecracking good-time-girl Eloise "Honey Bear" Kelly, and Best Supporting Actress-nominated Grace Kelly as Linda Nordley - a cool and prim but lustful wife of a British anthropologist Donald (Donald Sinden).
The Story
---
Vantine (Jean Harlow), an earthy, sexy, wise-cracking, platinum blonde prostitute, fleeing from Indo-Chinese authorities in Saigon, is stranded on the tropical rubber plantation of unshaven, overseer Dennis Carson (Clark Gable), after her steamship breaks down.
Explaining why she's restless after dinner, she tells everyone:
Don't mind me, boys. I'm just restless...Guess I'm not used to sleeping nights anyway.
In many memorable sequences, there is tremendous sexual chemistry between them, when they get to know each other, while discussing each other's cheese preferences, and when he impulsively pulls her into his lap and tells her:
You talk too much, but you're a cute little trick at that. Why haven't you been around before?
She attempts to seduce him, asking: "Denny, have you got a headache?...Would you like me to rub your forehead?...Well, could I get you a drink of something, uh?" Rejected by him, she replies: "Well, let's forget about the drink. I'll just rub your forehead with sandpaper."
The most memorable scene is her infamous, naked rain barrel bath scene, while Denny stands by and watches her, ignoring her wishes ("Gee, can't a girl take a bath in privacy?") and provocative orders:
Hey, Denny, scrub my back.
Sexual rivalry emerges in a love triangle when he falls in love with the wife of another plantation visitor, the refined, well-bred Mrs. Barbara ("Babs") Willis (Mary Astor), kissing her for the first time after rescuing her in his arms from a rain-drenching storm.
At the conclusion of the film, after "Babs" shoots Carson in a jilted rage, Vantine performs a surgical operation on him to clean up his bullet wound.
While recuperating and bed-ridden (from the gunshot wound), Vantine sits by Carson on his bed, reading from a newspaper (with exaggerated baby talk) about a rabbit that goes hippity-hop, hippity-hop - as he's "hippity-hoppity-ing" his hand up her leg by making little walking motions with his fingers up her thigh as he moves his hand up her leg. While reading, she asks herself a sexually-disguised question:
A chipmunk and a rabbit. Hey, I wonder how this comes out?
---
---