The More the Merrier (1943)
Background
---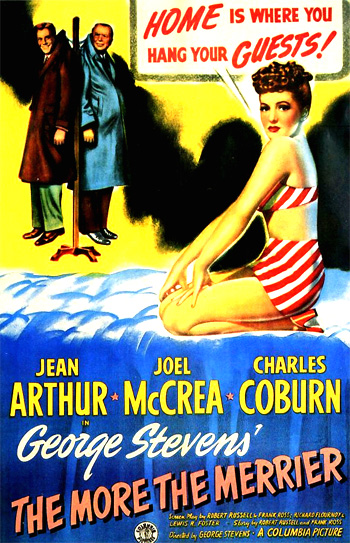 The More the Merrier (1943) is a delightful romantic comedy of the homefront at wartime, exploring the problems of housing-bed-man shortages.
The Story
---
Much against her will, due to a shortage of hotel rooms in the capital city, young working bachelor girl Connie Milligan (Jean Arthur) has to rent half of her apartment to an elderly gentleman Benjamin Dingle (Charles Coburn), a "retired, well-to-do millionaire" in Washington for business.
In one of the most amusing sequences, Mr. Dingle receives Connie's minute-by-minute morning schedule and asks: "Do we do all this railroad time or Eastern war time?" Their first attempt at carrying out the schedule is tremendously funny.
Mr. Dingle sublets out half of his half of the apartment to clean-cut young aviation expert Army Sergeant Joe Carter (Joel McCrea), in Washington on special duty.
One balmy evening, Joe accompanies room-mate Connie home - she is provocatively dressed in an off-the-shoulder black lace evening dress, with a string of white pearls around her soft neck, and her hair is decorated with a white flower. On the way she turns a streetcorner and nearly walks into one of many kissing couples on the sidewalk. As they talk about his family, he keeps taking off and putting on her wrap, putting his hand on her bare shoulder, and taking her arm in his. When she asks about his girlfriends, they almost kiss in a shot framed between two small tree trunks, but then she resists and pulls away, asking: "Are you afraid to get married or something?" As he embraces her, they collapse on the front steps of their shared apartment.
In their famous courtship scene on the front steps, she speaks about her plans for her own marriage and her future with her fiance, an older man, forty-two year old ("a safe and sane age") government official - her stuffed-shirt boss, Charles J. Pendergast (Richard Gaines): "I consider myself a very lucky little lady...being engaged to Mr. Pendergast." All the while, he is amorously embracing her, caressing her, and fondly touching her hands, arms, and shoulders - she vainly attempts to ignore his advances. She holds out her engagement ring for his approval and he responds by kissing her wrist. Connie becomes visibly distracted and her voice cracks when he admires and then nuzzles her bare neck. "Well you see, that's the way with those older men like Mr. Pendergast. A girl gets to appreciate their more mature..." He passionately kisses her on the lips - when he releases, she finishes the sentence: "...viewpoint."
She pauses, looks away for a second, and then takes the two sides of his face with her hands and boldly kisses him back - harder. But then, she realizes that they are getting too involved - she stands and politely states: "I've gotta go. Good night, Mr. Carter." He responds: "Good night, Miss Milligan." She ascends the stairs into the building and shuts the door. He begins walking away and then sheepishly remembers that he is leaving his own apartment: "I almost forgot where I lived." Connie holds the door open for him.
As they bed down in adjacent rooms - shot from outside in a frame split by the wall between them, they discuss how uncomfortable and restless they are, and Joe finally admits: "I love you Connie" and she responds likewise: "I love you more than anything in the world."
In the end, she gives up on Pendergast ("Mr. Smug") and goes ahead with plans to marry Joe.
At last, Mr. Dingle, the aging Cupid who has stage-managed their pairing, can finally celebrate with his favorite line:
"Damn the torpedoes! Full speed ahead!"
---
---