Plot Synopsis (continued)
---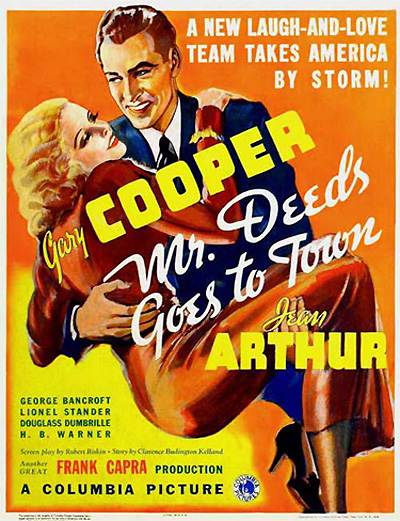 That evening, as he descends the staircase, the eccentric bumpkin Deeds slides down the banister (sneakily when no one's looking), and suggestively tickles the foot and pinches the little toe of a vulnerable statue of a young woman at the bottom of the stairs. He locks his would-be bodyguards, commissioned by Cobb to prevent his free mobility, into a closet. When he emerges for a walk on a rainy night, he removes his hat to feel the rain on his head. In front of his house in order to meet and get close to him for an exclusive story, Babe (wearing an old tweed coat and cloche hat) pretends to faint on the wet sidewalk. He comes to her aid, unaware that she will surreptitiously lampoon him in the newspaper. She tells her chivalric, gallant savior that she is Mary Dawson, a starving, unemployed, exhausted stenographer who has been job-hunting all day. Trusting her masquerade, he hails a taxi and takes her to dinner in Tullio's cafe [a version of the Algonquin Round Table], where one can "eat with the literati" - finding peace and solace in her company, away from the constant pressures of city-folk seeking a piece of his fortune.
Over dinner, she humbly explains, with downcast eyes, that her folks live in a small-town near Hartford, and she is in New York alone to "try and make a living. I'm really just a nobody." As a knight-errant, he summons the restaurant's wandering violinist over to their table to woo her and play a romantic tune, while she listens - baffled by his simple boyish charm. He virtuously replies to his saved victim: "You were a Lady in Distress, weren't you?" A group of snobbish, high-brow New York literati poets, led by Brookfield (George Meeker) invite them to their table, goad him into talking about his inspiration for poetry, have him recite lines, and mockingly make fun of his small-town ways and doggeral verse: "Do you have to wait for an inspiration or do you just dash it off?" At first, Deeds is amiable, but when he realizes that they are seriously making fun of his greeting-card poetry, he counters the sophisticated, ridiculing crowd with anger:
Deeds: I write mine on order. The people I work for just tell me what they want and then I go to work and write...
Brookfield and others: You wouldn't have one in your pocket, would you, Mr. Deeds?...A postcard with one of your poems on it....Perhaps Mr. Deeds would recite one for us....Nothing like a poet reciting his own stuff...How about a Mother's Day poem, Mr. Deeds? Give us one that wrings the great American heart!
Deeds: I guess I get the idea. I guess I know why I was invited here - to make fun of...It's easy to make fun of somebody, if you don't care how much you hurt 'em...I know I must look funny to you, but maybe if you went to Mandrake Falls, you'd look just as funny to us...only nobody'd laugh at ya and make you feel ridiculous - 'cause that wouldn't be good manners. I guess maybe it is comical to write poems for postcards, but a lotta people think they're good - anyway, it's the best I can do...I guess I found out that all famous people aren't big people.
As he leaves, he intimates that if "Miss Dawson" weren't there, he would settle matters with his fists and "bump your heads together." She replies: "Oh, I don't mind." As she backs away, he settles the score by socking two of them in the stomach and jaw. Deeds accepts thanks and an offer to binge and see the sights in New York with one of the intellectual poets named Mr. Morrow (Walter Catlett) after being told he is "a poet with a straight left and a right hook - delicious, delicious."
The next morning, MacWade reads from Babe Bennett's columns about Longfellow Deeds. She has made him a front-page joke, mockingly naming him 'The Cinderella Man.' To advance her career, Babe has reported on his drunken activities and publicly made fun of him for feeding a bag full of doughnuts to hungry delivery horses at two o'clock in the morning. He had also wandered the streets wearing only his shorts, and was accosted and brought home by two policeman for disturbing the peace and shouting: "Back to Nature. Clothes are a blight on civilization."
'I play the tuba to help me think.' This is one of the many startling statements made by Longfellow Deeds, New York's new Cinderella Man who went out last night to prove that his uncle, the late M. W. Semple, from whom he inherited twenty million dollars, was a rank amateur in the art of standing the town on its cauliflower ear...
As she sits in front of her editor's desk and discusses the "exclusive" story on Deeds ("He's the original (sap). There are no carbon copies of that one"), she tosses and repeatedly catches a coin - another little-girl magic trick. In an entirely improvisational segment of the unedited, spontaneous scene while she carries on a complicated conversation with her editor, she drops the coin and searches for the coin beneath her. Further searching leads her to get down on her hands and knees on the floor, almost disappearing from the camera's frame. She rummages under her chair, and finally discovers it under the chair's seat cushion. She picks up the coin, sits back down, and finishes the scene.
The next morning, Cobbs is enraged with a hung-over Deeds for all the negative publicity (and photographs) on the front-page of the paper:
CINDERELLA MAN ON SPREE
Small-Town Poet Laureate Shows Big City How to Cut-Up
Feeds Horses Doughnuts
Punches Literary Lights at Tullio's
"Back to Nature," Cries Cinderella Man
According to him, they have poked fun at him: "They got ya down as a sap." Cobb cautions Deeds "to keep your mouth shut...be careful from now on" and not provide fodder for news-hounds.
On their second evening together, "Mary" shows him around the town by taking him on a sight-seeing tour, visiting an aquarium and riding on the open top of a Fifth Avenue bus. He is becoming enamoured of her, especially because she "thinks about a man's feelings" rather than his wallet. But she is taken aback when he mentions: "I'd like to go down to that newspaper and punch the fellow in the nose that's writing that stuff." On the dark night, she walks with him to Grant's Tomb, where he patriotically extols America as a place where any boy can become President:
Babe: To most people, it's an awful let-down....To most people, it's a washout.
Deeds: Well, that depends on what they see.
Babe: Now what do you see?
Deeds: Me? Oh I see a small Ohio farm boy becoming a great soldier. I see thousands of marching men. I see General Lee with a broken heart surrendering. And I can see the beginning of a new nation, like Abraham Lincoln said. And I can see that Ohio boy being inaugurated as President. Things like that can only happen in a country like America.
Cedar and his attorney colleagues are sweating it out after a week without Deeds' power of attorney. According to the news articles, they believe he is "carrying on like an idiot." Mr. and Mrs. Semple, "relatives of old man Semple" who have kept insisting that if it hadn't been for Deeds, they would have inherited the fortune, are ushered into Cedar's office.
Still on the town, when Deeds tries to spit - into the breeze - on Times Square from the Empire State Building, she wipes the saliva off his front. She assures him that she doesn't believe all the stories about him and tries to downplay their effect: "Oh, they just do it to sell the newspapers, you know." He makes her feel uncomfortable with his idealistic wish:
What puzzles me is why people seem to get so much pleasure out of, out of hurting each other? Why don't they try liking each other once in a while?
In Central Park as they sit on a park bench, as she turns toward him (with her stylish Peter Pan outfit), he asks her about her marital status and then explains his reaction to the big city and all the society girls and mansions of the rich:
People here are funny. They-they work so hard at living they forget how to live. Last night, after I left you, I was walking along and - and lookin' at the tall buildings, and I got to thinking about what Thoreau said. 'They created a lot of grand palaces here, but they forgot to create the noblemen to put in them.' I'd rather have Mandrake Falls.
In a longing memory of her own childhood, she tells him that she was raised in a similar small town. She is a tough, corruptible city girl on the surface, but underneath is really a sweet, small-town girl.
I come from a small-town too, you know...Probably as small as Mandrake Falls...Ah, it's a beautiful little town, too. A grove of poplar trees right along Main Street. Always smelled as if it just had a bath. I've often thought about going back.
She was raised by a father who took her fishing and taught her not to complain. She confesses that Deeds reminds her of her father, a man who also played in the town band: "He was a lot like you, my father was. He talked like you too." She suggests playing "Swanee River" on drums, the way her father taught her. "Mary" breaks a stick in two, raises the 'drum-sticks', and drums on the lid of a garbage can with the two sticks, while singing: "Way down upon the Swanee River. Far, far away..."
In one of the film's most unusual, improvised scenes, they perform a musical, timpani-tuba duet of "Swanee River." She dares him to play "Humoresque," threatening: "You'd better be good." So in counterpoint, he pretends to be making tuba-like oom-pah-pah bass sounds with his mouth on his favorite instrument while she accompanies him on the drums. They are interrupted by the siren of a fire-engine, which Deeds pursues and jumps onto, claiming to be a "fire volunteer" from Mandrake Falls.
A closeup of a manual typewriter shows the keys typing out her next story about the "Cinderella" Man:
CINDERELLA MAN FIRE-EATING DEMON
Longfellow Deeds, "The Cinderella Man' last night threw a "defy" into the teeth of the New York Fire Department, that when it comes to extinguishing...
Later that night, she slumps back on the couch in the apartment where she has moved to live with room-mate Mabel Dawson (Ruth Donnelly), in order to cover up her real identity by pretending to be Mabel's sister. She is disturbed and distressed about writing her next story about the "Cinderella" Man, and tells Mabel: "I can't write it, Mabel. I don't know what's the matter with me." While smoking a cigarette, she receives a phone call from Deeds thanking her for going out with him: "You've made up for all the fakes I've met." He has been tongue-tied, so he decided to express himself in verse with a poem about her. Babe finds herself admiring him and falling in love with him. Consequently she feels ashamed, disturbed, self-disgusted, confused and guilty for her trickery, and for taking advantage of him and exploiting his goodness. She tells Mabel about his exemplary, old-fashioned, simple and sincere character:
Babe: Mabel, that guy's either the dumbest, stupidest or the most imbecilic idiot in the world or else he's the grandest thing alive. I can't make him out...I'm crucifying him.
Mabel: People have been crucified before.
Babe: Why? Why do we have to do it?
Mabel: You started out to be a successful newspaper woman, didn't ya?...
Babe: Here's a guy that's wholesome and fresh. To us, he looks like a freak. Do you know what he told me tonight? He said when he gets married, he wants to carry his bride over the threshold in his arms....I tried to laugh, but I couldn't. It stuck in my throat....He's got goodness, Mabel. Do you know what that is?...No, of course you don't. We've forgotten. We're too busy being smart alecks. Too busy in a crazy competition for nothing.
In his mansion, Deeds calls out with his voice to produce echoes in the voluminous space of the hall. He also encourages his uncle's valet, servant and butler to experiment acoustically and try out their echoes in the foyer: "Let that be a lesson to ya."
The next day, Babe's article is published with the headlines (shown in montage): "'CINDERELLA MAN' FIRE-EATING DEMON, Punches Photographer." Another two headlines in The Daily Mall announce: "'CINDERELLA MAN' TO REFORM OPERA, "Must be put on paying basis or else," says Post-card Poet," and "'CINDERELLA MAN' TO GIVE RECEPTION, Opera Circles Are All A-twitter Tonight in Anticipation of the Reception to be Given by Longfellow Deeds." (MADAME POMPONI, FAMOUS OPERA SINGER, TO LAUNCH DEEDS ON SOCIAL CAREER - Brilliant Reception Set for Tonight)
Elegantly-dressed guests attend the reception, with opera star Madame Pomponi (Margaret Matzenauer) as special guest, while the guests chatter about their absent host "The Cinderella Man." Meanwhile, Babe has decided to pack and run away to avoid seeing Deeds again: "Keeping this up's no good. He's bound to find out sometime." Unexpectedly - Deeds, dressed in evening clothes, appears at Mary's (Babe's) apartment door. He explains that he has just 'thrown out' the crowds at the opera reception because they got on his nerves: "I had a lot of fun doing it." She suggests talking a walk around the block with him during the misty, rainy night.
During their stroll, he tells her of his disillusionment with the city, and his decision to return home in a day or so: "I just don't fit in around here." He confesses: "I haven't married, 'cause I've been kinda waiting...I've always hoped that some day, that imaginary girl would turn out to be real." On her tenement apartment steps after escorting her home, "Mary" offers a heart-felt goodbye: "Goodbye, darling. Don't let anybody hurt you again ever. They can't anyway. You're much too real. You go back to Mandrake Falls. That's where you belong. Goodbye." An overly-romantic Deeds hands her his sincere, sentimental poem - a marriage proposal to his betrayer - about her angelic nature and purity, which she reads outloud (barely audible, however) in a moving, emotionally-choking whisper:
I've tramped the earth with hopeless beat,
Searching in vain for a glimpse of you.
Then heaven thrust you at my very feet,
A lovely angel, too lovely to woo.
My dream has been answered, but my life's just as bleak.
I'm handcuffed and speechless, in your presence divine.
For my heart longs to cry out, if it only could speak.
I love you, my angel, be mine, be mine.
She responds breathlessly, "Oh, darling," and collapses in his arms. Hopelessly embarrassed and bashful, he flees from the scene, clumsily upsetting a series of garbage cans on the way. [In the earlier version of this scene, Deeds ran away and leaped aboard a horse-drawn wagon to sing a duet with an Italian garbageman.]
The next day, Babe informs MacWade that she's quitting the newspaper, extremely upset by the disturbing "twist" in events. She's "fallen for him" but is ready to confess her deception at lunch with him: "I'm gonna tell him the truth...It's gonna be pretty!...He'll probably kick me right down the stairs. I hope he does...Telling him's a long shot and I'm going to take it. Well, it was fun while it lasted, Mac."