Background
---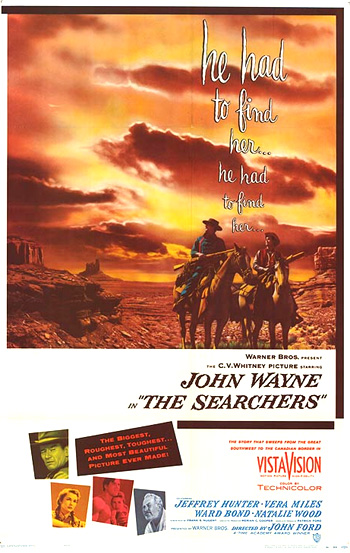 The Searchers (1956) is considered by many to be a true American masterpiece of filmmaking, and the best, most influential, and perhaps most-admired film of director John Ford. It was his 115th feature film, and he was already a four-time Best Director Oscar winner (The Informer (1935), The Grapes of Wrath (1940), How Green Was My Valley (1941), and The Quiet Man (1952)) - all for his pictures of social comment rather than his quintessential westerns. The film's complex, deeply-nuanced themes included racism, individuality, the American character, and the opposition between civilization (exemplified by homes, caves, and other domestic interiors) and the untamed frontier wilderness.
With dazzling on-location, gorgeous VistaVision cinematography (including the stunning red sandstone rock formations of Monument Valley) by Winton C. Hoch in Ford's most beloved locale, the film handsomely captures the beauty and isolating danger of the frontier. It was even a better film than Ford's previous Best Picture-winning How Green Was My Valley (1941). However, at its time, the sophisticated, modern, visually-striking film was unappreciated, misunderstood, and unrecognized by critics. It did not receive a single Academy Award nomination, and was overwhelmed by the all-star power and glamour of the Best Picture winner of the year, Around the World in 80 Days (1956).
The film's screenplay was adapted by Frank S. Nugent (director Ford's son-in-law) from Alan Le May's 1954 novel of the same name, that was first serialized as a short story in late fall 1954 issues of the Saturday Evening Post, and first titled The Avenging Texans. Various similarities existed between the film's script and an actual Comanche kidnapping of a young 9 year-old white girl (Cynthia Ann Parker) at Fort Parker in East Texas on May 19, 1836. [Note: She was finally 'rescued' or recaptured by Texas Rangers about 25 years later in the Battle of Pease River in late 1860, after living as the Comanche wife of warrior Peta Nocona and the mother of three Native-American children (two sons and a daughter). She had great difficulty adjusting to white society upon her return, and died in 1870.] The film's producer was C.V. Whitney - a descendant of Eli Whitney, who was a pioneer in the mass production of muskets in the first firearms assembly factory in New Haven, CT.
Ten to fifteen years after the film's debut, and after reassessing it as a cinematic milestone, a generation of "New Hollywood" film directors, French film critics and others, including Martin Scorsese, Paul Schrader, Steven Spielberg, John Milius, Brian De Palma, Jean-Luc Godard, Wim Wenders, and George Lucas, praised the film. They traced their own fascination with film to this mythic John Ford western, and in reverence, reflected his work in their own films (e.g., Scorsese's Taxi Driver (1976), Who's That Knocking at My Door? (1968), and Mean Streets (1973), Lucas' Star Wars (1977), Spielberg's Close Encounters of the Third Kind (1977), Sergio Leone's Once Upon a Time in the West (1968, It.), and Schrader's Hardcore (1979)). Even rock musician Buddy Holly wrote a song based on John Wayne's trademark line: "That'll Be The Day," popularized by the Beatles.
The Searchers tells the emotionally complex story of a perilous, hate-ridden quest and Homeric-style odyssey of self-discovery after a Comanche massacre, while also exploring the themes of racial prejudice and sexism. Its meandering tale examines the inner psychological turmoil of a fiercely independent, crusading man obsessed with revenge and hatred, who searches for his two nieces (Pippa Scott and Natalie Wood) among the "savages" over a five-year period. The film's major tagline echoed the search:
"he had to find her...he had to find her"
The main characters were briefly described on one of the film's posters:
ETHAN - Whatever it took - he'd find her!
DEBBIE - Somewhere out there - she was captive!
LAURIE - Her heart wanted to wait - and couldn't!
MARTIN - He started the search as a boy - and ended it a man!
CLAYTON - The Good Book in one hand - and a gun in the other!
John Wayne, the "Duke," had already played many major roles in numerous westerns in his career, including The Big Trail (1930), The Spoilers (1942), Howard Hawks' Red River (1948), and The Fighting Kentuckian (1949), and had appeared in five previous Ford westerns, including: Stagecoach (1939), 3 Godfathers (1948), Fort Apache (1948), She Wore a Yellow Ribbon (1949), and Rio Grande (1950) -- and would appear in a few more, including: The Horse Soldiers (1959) and The Man Who Shot Liberty Valance (1962). In this film, his first anti-heroic role, he was a bigot and racist - a tragic, lonely, morally-ambiguous figure perenially doomed to be an outsider. It was a role that the actor often described as his favorite. It is commonly regarded as Wayne's finest-acted performance - and his ninth starring role in a Ford film. [Note: Wayne's other Ford films, four non-westerns, included: The Long Voyage Home (1940), They Were Expendable (1945), The Quiet Man (1952), and The Wings of Eagles (1957).]
Plot Synopsis
---
The opening credits (portrayed in a Playbill fontface) are displayed before a backdrop of an adobe brick wall. The words of the romantic Stan Jones ballad (sung by The Sons of the Pioneers) that play during the credits, What Makes a Man to Wander?, define the central theme of the film - one man's wanderings and obsessive search:
What makes a man to wander?
What makes a man to roam?
What makes a man leave bed and board
And turn his back on home?
Ride away, ride away, ride away.
The screen goes black and a title appears: "Texas 1868." The film begins with a frontier cabin door opening onto the wilderness. [The scene presents the visual motif of the framed doorway and threshold between the two worlds. The interior area in the cabin represents civilized values and the settled family. The brilliant, glaring, sunny outdoor area represents the savage and threatening land of the western frontier loner.] The black silhouette of a frontier woman moves from the darkness, with a forward-tracking camera, through the door to the brightly sunlit wilderness outside through which Monument Valley is seen. Moving excitedly to the porch, she notices a man approaching - in the center of the frame - who slowly rides in from the desert in a mythic entrance - the man is framed between two distant buttes. [This opening scene is symmetrical to the last one in the film, except that the character in the doorway is different.]
After several years of a mysterious absence following the Civil War, loner and war veteran Ethan Edwards (John Wayne) suddenly appears with no explanation (where has he been?), returning on horseback to his estranged brother Aaron Edwards' family, living on a solitary, Texas frontier farm.
All the members of the Edwards family walk to positions on the porch to watch him approach, first Aaron's radiant wife Martha (Dorothy Jordan, the wife of film producer Merian C. Cooper) who in a mid-closeup shot raises her left hand against her forehead to shield her eyes from the sun. Then Aaron (Walter Coy) comes out and steps down from the porch, asking: "Ethan?" Martha doesn't acknowledge what her husband has said. Then, all their children take places on the porch and look out - their two daughters (Ethan's nieces): teenaged, full-skirted Lucy (Pippa Scott) and young 10 year old Debbie (Lana Wood, younger sister of co-star Natalie Wood) with the family dog, and their teenaged son Ben (Robert Lyden) who carries wood. The camera cuts back and forth between views of Ethan and the expectant faces of the waiting family. [A folded Navajo blanket on a hitching post in front of Debbie moves to a hitching post in front of the house, and then disappears!] Lucy tells her brother Ben: "That's your Uncle Ethan."
[As Ethan arrives home, the soundtrack is playing Lorena, a favorite song of Civil War soldiers from both the North and South - and a reminder of the lost love they left at home during wartime - its placement at this point in the film (and repeatedly at key points) is doubly symbolic given the context in the film and the unacknowledged, frustrated relationship between Ethan and Aaron's wife Martha.]
His face hidden by the low, broad brim of his black hat, Ethan dismounts and wordlessly shakes hands with his brother Aaron. Dusty from travel, he wears blue, yellow-striped cavalry britches. His faded, gray Confederate military cape/over-cloak reveals a red sergeant's chevron, and his saber hangs at his side in its scabbard. His sister-in-law, Martha greets him: "Welcome home, Ethan." Then, he kisses Martha on the forehead - she closes her eyes during the reverential kiss. [It is obvious that they have an unspoken, deep and unfulfilled mutual love for each other, although it has long been suppressed and only hinted at. Has he returned home to express his love in the open, and finally settle down?] The children join in the greeting. Martha swirls around in front of the door and enters backwards, drawing him also into the homesteader's cabin.
Having been gone for so long, Ethan mistakes the younger daughter Debbie for Lucy. As he lifts her high into the air above his head [an important gesture that Ethan repeats in the film's climax], she tells him: "I'm Deborah. There's Lucy over there." After Ethan gives Ben his war saber, Aaron asks about his brother's whereabouts, but is given an evasive answer:
Aaron: How was California?
Ethan: California? How should I know?...No, I ain't been to California. I don't intend to go either.
Martha takes Ethan's coat, folds it, and puts it in her bedroom's hope chest, while Ethan watches. At Ethan's side, Aaron - aware of their semi-secret love - peacefully offers a handshake and welcome.
During supper, Aaron's adopted son, part-Cherokee (one-eighth) Martin "Marty" Pawley (Jeffrey Hunter), an orphan saved years earlier by Ethan from an Indian slaughter and raised by the family, rides a horse bareback (Indian-style), leaps off his horse, and bursts into the doorway [another framed doorway motif, linking the two characters who both rode toward an open door for their entrance] to meet Ethan, his uncle. A prejudiced Indian hater, Ethan doesn't acknowledge him as a true relative but as a mixed-blooded, estranged, adopted nephew. Ethan treats him in an intolerant, harsh, racist and insulting manner because of his Indian blood (one-eighth Cherokee):
I could mistake you for a half-breed.
After supper in his first evening home with Aaron's family, Ethan sits in the rocking chair facing the fire. Ethan's hardness and guarded, mysterious background reflect his inability to accept or understand society, or to embrace family life for himself. When Aaron's son asks about Ethan's experiences as a Confederate soldier three years earlier, Ethan doesn't respond:
Ben: Uncle Ethan, will you tell us about the war?
Aaron: The war ended three years ago, boy.
Ben: It did? (To Ethan) So why didn't you come home before now?
His presence in the Edwards family potentially promotes discord, and threatens to destroy its stability. Oblivious to the unspoken overtones already established, the children are excited to see Ethan and gather around him as he gives away mementos of his past to his brother's children. Debbie tells her Uncle Ethan that Lucy is wearing the gold locket that he gave her when she was a little girl, and she would like one too: "...I wouldn't care if you gave me a gold locket if it made my neck green or not." Ethan gives her his medal over Martha's protests, telling her: "Oh, let her have it. It doesn't amount to much."
Martha is a strong force in the family - the essence of not-giving up or weakening. Ethan is furious over Aaron's remark that he seemed anxious to leave the harsh farming existence before the war, but stayed around - implying that it was on account of his yearning for Martha [Ethan allowed Martha, the woman he loved, to marry his brother - and she still continues to love him]:
Aaron: (referring to Martha) ...she just wouldn't let a man quit. Ethan, I saw it in you before the war. You wanted to clear out. You stayed beyond any real reason. Why?
Martha: (interrupting so that the question can remain unanswered) Aaron! Please!
Ethan: (jumping out of the rocker and questioning his brother) You askin' me to clear out now?
Expressing his dependence on no-one, Ethan takes out freshly-minted Yankee dollars and tells Aaron: "I expect to pay my way." Aaron's incredulous reaction at the many freshly-minted double eagles suggests that Ethan may be a wanted man for robbing some Yankee banks during the war, or he may have received the money from another non-US government. (Is the law after him?) Ethan retorts when asked about the brand-new coins: "So?" Later that night before bedtime, Ethan is left alone on the porch with only the dog for company and a sad, reflective look on his face. As he turns back to look into the door frame of the house, he sees Aaron taking Martha to their bedroom and closing their door for the night. [The two doorways make him an outsider to society and to his intimate union with her as well.]
During breakfast the next morning, their Norwegian neighbor Mr. Lars Jorgensen (John Qualen), and Captain / Reverend Samuel Johnson Clayton (Ward Bond), a garrulous preacher and Texas Ranger, arrive with a posse of local folks:
a slightly eccentric old Indian scout Mose Harper (Hank Worden)
rancher Nesby (William Steele)
Lars' son Brad Jorgensen (Harry Carey, Jr., son of Harry Carey, Sr., a famous silent era cowboy star)
Charlie McCorry (Ken Curtis, director Ford's son-in-law, who later played the role of Festus in the western TV series Gunsmoke)
The Reverend greets Martha as "Sister Edwards." They are concerned about Comanche marauders and Indian uprisings. Cattle rustlers (or Indians) have stolen some cattle from the Lars Jorgensen ranch nearby, and they want to hunt for them. Lars comically swears: "Next time, I raise pigs, by golly. You never hear anyone runnin' off pigs I bet you." Sitting down to breakfast and coffee, he asks young Debbie: "You been baptised yet?" Aaron and Marty are deputized to help the Captain and the Texas Rangers find the cattle thieves.
During the deputy oath, Ethan walks into the scene from the background. Clayton greets "the prodigal brother" and wonders about Ethan's whereabouts following the Civil War and the South's surrender three years earlier. Still linked by his oath of loyalty to the Confederacy, Ethan claims he never relinquished his Confederate cloak or saber after the surrender:
Clayton: Well, the prodigal brother. When did you get back? I ain't seen you since the surrender. Come to think of it, I didn't see you at the surrender.
Ethan: (I) don't believe in surrenders. No, I still got my saber, Reverend. Didn't turn it into no ploughshare neither.
Sitting in the family's rocking chair, Mose Harper speculates on the rustlers of the cattle: "The Indians did it, Mrs. Edwards. Caddos or Kiowas. Ol' Mose knows. Yes, sir." Ethan insists that Aaron stay at the homestead, while he takes his place: "Stay close, Aaron. It might be, this is rustlers. Might be that this dodderin' old idiot (pointing to Mose Harper) ain't so far wrong. Could be Comanche." Ethan doesn't want to take an oath to be deputized, claiming it wouldn't be legal anyway. Clayton questions: "You wanted for a crime, Ethan?" Martha interrupts the discussion to deflect attention. Ethan appears to be acting outside the law and may be a fugitive from the law:
Ethan: Are you askin' me as a Captain or a preacher, Sam?
Clayton: I'm askin' you as a Ranger of the sovereign state of Texas.
Ethan: You got a warrant?
Clayton: You fit a lot of descriptions.
Ethan never rejoined the Union after Lee surrendered to Grant:
I figure a man's only good for one oath at a time. I took mine to the Confederate States of America.
As Mose Harper leaves the cabin, he thanks Martha for using the rocker: "Grateful to the hospitality of your rocking chair, Ma'am." Ben and Debbie open the front door [a framing device], catching Brad Jorgensen and Lucy Edwards, two sweethearts, hugging each other.