Various European Starlets in Erotic Dramas:
During the liberalized 1970s and early 80s, many foreign film stars - known as European starlets (some mentioned elsewhere) - appeared in many foreign-made, R-rated soft-core romantic/comedy dramas often requiring the stars to be naked and exhibit erotic appeal.
These numerous sex romp films included these four better-known actresses:
| | | | |
| --- | --- | --- | --- |
| Laura Antonelli | Olivia Pascal | Serena Grandi | Clio Goldsmith |
Laura Antonelli - Italian Film Actress
The dark-haired, voluptuous screen actress Laura Antonelli, tauted to be the next Sophia Loren from Italy, appeared in numerous productions, including many film farces set in the past, and often in the role of an adventurous maid, housekeeper, or waitress. Her first film Le Malizie di Venere, or Venus in Furs (1969) (aka Devil in the Flesh), directed by Massimo Dallamano, was seized by US Customs for 'obscenity violations' - and the film was severely edited by US and UK censors. But it brought the full-figured star attention for its explicit scenes, in her role as Wanda.
Italian Antonelli films in the 1970s included:
Devil in the Flesh (1969) (aka Le malizie di Venere, Venus in Furs), as Wanda von Dunajew
Secret Fantasy (1971) (aka Il Merlo Maschio), as Costanza Vivaldi
The Eroticist (1972) (aka Nonostante le apparenze..., or The Senator Likes Women), a horror comedy spoof by director Lucio Fulci, her breakthrough film, as Sister Delicata
Scoundrel in White (1972) (aka High Heels, or Docteur Popaul), as Martine Dupont, opposite Jean-Paul Belmondo
Malicious (1973) (aka Malizia), a sexy comedic fantasy-drama, as Angela
How Funny Can Sex Be? (1973), in various roles
Simona (1974), as Simone
Till Marriage Do Us Part (1974) (aka Mio Dio Come Sono Caduta In Basso), as Eugenia Di Maqueda
The Divine Nymph (1975) (aka Divina Creatura), as Manoela Roderighi, co-starring with Marcello Mastrioianni
The Innocent (1976) (aka L'Innocente), by director Luchino Visconti, as Giuliana Hermil, co-starring with Giancarlo Giannini
Wifemistress (1977) (aka Mogliamante), as Antonia de Angelis, co-starring with Marcello Mastroianni
A Sampling of Laura Antonelli Films


Devil in the Flesh (1969) (aka Venus in Furs)




The Eroticist (1972) (aka Nonostante le apparenze...)




Malicious (1973) (aka Malizia)




Till Marriage Do Us Part (1974) (aka Mio Dio, come sono caduta in basso!)




The Divine Nymph (1975) (aka Divina Creatura)




The Innocent (1976) (aka L'Innocente)




Wifemistress (1977) (aka Mogliamante)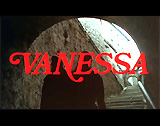 Olivia Pascal - German actress
20 year-old Olivia Pascal appeared for her debut screen role in Hubert Frank's soft-core, 'erotic travelogue' sexploitation film Vanessa (1977, W. Germ.) - a German-produced, Hong Kong-shot, dubbed-in-English film. It was filmed to take advantage of the demand at the time for 'classy' sex films shot in foreign locales, about a young woman on a journey of sexual self-discovery. Ads promoted:
"Where Emmanuelle ended, Vanessa begins!"
Olivia Pascal portrayed the orphaned title character Vanessa Anden - a strict, convent-raised virgin from Bavaria (Germany). In the opening scene in the convent, she was giggling with other convent girls at erotic paintings or photos of statues in a forbidden book of males with gigantic penises.
After being notified by telegram that she had lucratively inherited "a whole chain of beautiful bordellos" and a large citrus fruit plantation from her wealthy Uncle Richard, she traveled to Hong Kong to take possession. When she arrived, she was driven in a taxi by enigmatic Prinz Bandor (Tom Garven), a friend of the family, to Richard's palatial home. There, she would soon met other characters including:
Jackie (Uschi Zech), the niece of Richard's attorney Anthony; a promiscuous bi-sexual and a frequent exhibitionist (often naked), who was regarded as Vanessa's 'cousin'
Anthony Grüder (Peter M. Krueger), Uncle Richard's attorney-lawyer
Major Kenneth Cooper (Anton Diffring), a wealthy, over-sexed husband, married to Cle; Jackie's sadistic brother-in-law
Cle Cooper (Eva Eden), Jackie's sister; married to Major Cooper although involved in many extra-marital affairs
Adrian (Gunter Clemens), Uncle Richard's over-sexed son, lustful and illegitimate, who was the sinister administrator of the plantation - he unsuccessfully contested the will
Tai-Neh (Eva Leuze), Adrian's jealous mistress/servant

Exhibitionist 'Cousin' Jackie




The Major's Cheating Wife Cle Cooper


Tai-Neh in Rice Shower


Voodoo Sex by Tai-Neh Against Vanessa


Vanessa Witnessing Masturbatory Sex in Convent
There was also talk of an "extra-terrestrial force" (black magic) which allowed one to see others completely nude - a power that Vanessa possessed.
Vanessa (Olivia Pascal) During Bathing Sequence
Included in the film were a number of sex scenes:
Vanessa's lesbian relationship with Jackie throughout the film
Vanessa's undressing by servants before nude bathing
Vanessa's sensual Oriental massage on a water bed performed by a servant, while she was observed by topless Jackie, who then joined Vanessa by lying next to her
a rice shower sex scene between Adrian and Tai-Neh, and later a scene of sexual intercourse
Adrian's attempted rape of Vanessa at the plantation in an outdoor pavilion
voodoo sex performed by Tai-Neh against Vanessa
Vanessa's S&M flashback during convent days (when she listened to and witnessed masturbatory sex, and was whipped-spanked as punishment for having lesbian tendencies)
hypnotic-telepathic sex between swami-magician Prinz and Vanessa
Vanessa's bondage-whipping scene in a 'torture-machine' by Major Kenneth Cooper
Vanessa and Jackie In Matching Wicker Chairs at the Beach
By film's end, the title character Vanessa Anden, with distinctively puffy and protruding nipples (and under-armpit hair), experienced a soft-focus lesbian scene with Jackie in her bedroom. Jackie had been aggressively promoting Vanessa's loss of virginity ("It's time you got your cherry picked") for the entire film.
Lesbian Sex Between Vanessa and Jackie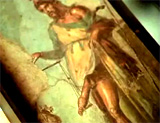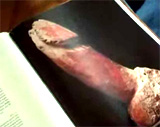 Exaggerated Illustrations or Images in a Forbidden Erotic Book in the Convent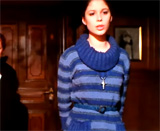 Vanessa (Olivia Pascal) Before Leaving Convent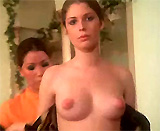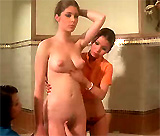 Vanessa Undressed Before Bath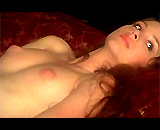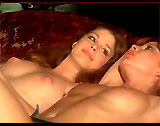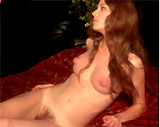 Massage Sequence (With Jackie)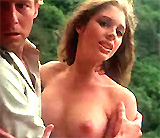 Vanessa's Attempted Rape by Adrian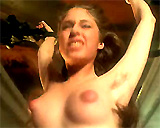 Vanessa's Bondage-Whipping by Major Cooper
Serena Grandi - Italian actress
The liberated actress was known for her enormous breasts and opulent body, and as a popular pin-up (often compared to Sophia Loren or Gina Lollabrigida), and for starring in a number of erotic dramas and comedies in the 1980s as a well-endowed, fantasy female figure.
Her most notable film was Tinto Brass' almost hard-core Miranda (1985) in which she portrayed a lusty and adventurous tavern owner with a seasonal quartet of lovers.
Serena Grandi's Major Films


Miranda (1985)


L'Iniziazione (1987) (aka Exploits of a Young Don Juan)
Her major filmography included:
Miranda (1985), as Miranda
Lady of the Night (1986) (aka La Signora Della Notte), as Simona
Desiderando Giulia (1986), as Giulia (Julia)
L'Iniziazione (1987) (aka What Every French Woman Wants, or Exploits of a Young Don Juan), as Ursule, an erotic coming-of-age comedy
Rimini Rimini (1987), as sex goddess Lola Sarti
Delirium (1987) (aka Le foto di Gioia), as Gioia (or Gloria), an Italian erotic gallo horror film
| | |
| --- | --- |
| Lady of the Night (1986) | |
| Desiderando Giulia (1986) | |
| Rimini Rimini (1987) | |
| Delirium (1987) | |
Clio Goldsmith - French actress
An exotic, curly-haired brunette beauty, Clio Goldsmith appeared in a number of foreign films in the early-to-mid 1980s, including:
The Cricket (1980) (aka La Cicala), as Cicala, co-starring with Virna Lisi
Lady of the Camelias (1981) (aka La Storia Vera Della Signora Dalle Camelie), as Clemence
Heat of Desire (1981) (aka Plein Sud), as Caroline dite Carol - une jeune marginale
Honey (1981) (aka Miele Di Donna), an erotic fantasy, as Anny
The Gift (1982) (aka Le Cadeau, or Bankers Also Have Souls), as Joyane/Barbara
L'Etincelle (1986) (aka Tug of War), as Dale
Some of Clio Goldsmith's Films


La Cicala (1980) (aka The Cricket)


Miele Di Donna (1981) (aka Honey)


Le Cadeau (1982) (aka The Gift, or Bankers Also Have Souls)