Soft-Core B-Film Movie Queens of the 90s and Beyond:
Two of the most prolific soft-core B-film movie queens of the 1990s, Shannon Tweed and Kari Wuhrer, have been selected to discuss more fully, although others who could have been mentioned in the same context at various times in film history include:
Brinke Stevens, Linnea Quigley, Michelle Bauer, Cheryl Rainbeaux Smith, and Candice Rialson.
Shannon Tweed
Shannon Tweed acquired her notoriety as Playboy's Playmate of the Month in November 1981 (and Playmate of the Year, 1982), and then went on, as many Playboy starlets, to many TV series and film roles. She also became the ageless queen of a series of soft-core erotic thrillers during the 80s and 90s with nude appearances, after her first two feature film roles in the rodent horror film Of Unknown Origin (1983) and the teen sex comedy Hot Dog...The Movie (1984) (pictured) - both with nude scenes.
Thereafter, her erotic thriller B-movie film career really took off in the 1990s -- she starred in In the Cold of the Night (1990), Last Call (1991), Night Eyes 2 (1992), Night Eyes 3 (1993) (with her younger sister Tracy), and in other lesser-known, sexually-charged, often direct-to-video films or TV pictures:
Sexual Response (1992)
Cold Sweat (1993)
Indecent Behavior (1993)
Illicit Dreams (1994) (pictured)
Possessed by the Night (1994)
Scorned (1994)
Body Chemistry 4: Full Exposure (1995) (pictured)
Victim of Desire (1995)
Electra (1996)
Human Desires (1997)
Shadow Warriors II: Assault on Devil's Island (1997)
Forbidden Sins (1998)
Naked Lies (1998)
Powerplay (1999)
Singapore Sling (1999) (pictured)
The Rowdy Girls (2000)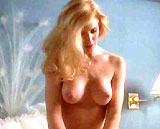 Hot Dog...The Movie (1984)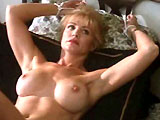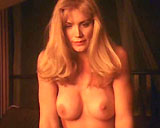 Illicit Dreams (1994)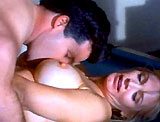 Body Chemistry 4 (1995)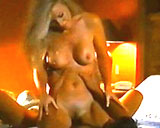 Singapore Sling (1999)
Kari Wuhrer
Kari Wuhrer originally gained fame as a VJ for MTV's game show, Remote Control.
In 1989 due to pressure from the industry, she had breast implant surgery to augment herself to C-cups. However, 13 years later in 2002 at the age of 35, she had them removed after her right breast encapsulated during the filming of Spider's Web (2001).
She put together an extensive career list of B-film credits in dozens of sometimes memorable films and straight-to-video sexploitation releases, including:
Beastmaster 2: Through the Portal of Time (1991)
Boulevard (1994) - Wuhrer's first nude role
Sensation (1994)
Beyond Desire (1995)
The Crossing Guard (1995) (pictured)
Sex and the Other Man (1995) (pictured)
An Occasional Hell (1996) (pictured)
Thinner (1996)
Hot Blooded (1997) (aka Red-Blooded American Girl II)
Luscious (1997) (aka Vivid) (pictured)
Kate's Addiction (1999)
Poison (2001) (aka Thy Neighbor's Wife)
Spider's Web (2001)
King of the Ants (2003) (pictured, with implants removed)
Hellraiser: Deader (2005)
She was often voted one of the sexiest women in film by various film polls, although she never took a starring role or became a major star.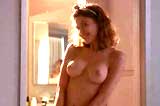 The Crossing Guard (1995)


Sex and the Other Man (1995)


An Occasional Hell (1996)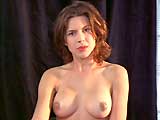 Luscious (1997) (aka Vivid)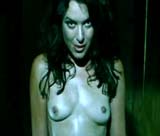 King of the Ants (2003)