Plot Synopsis (continued)
---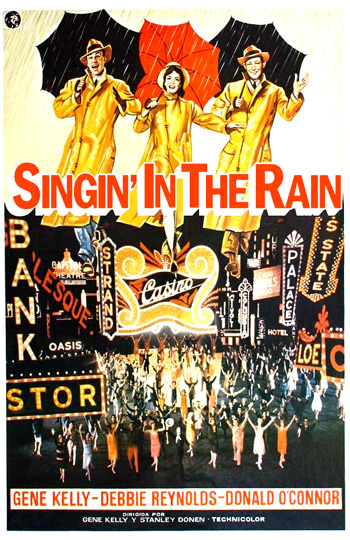 Depressed by the preview, fellow conspirators Don, Cosmo and Kathy discuss their problems later that drizzly evening during an all-night talk session. Depressed, Don confesses his shortcomings as an actor to them:
Don: Everything you ever said about me is true, Kathy. I'm no actor. I never was. Just a lotta 'dumb show.' I know that now.
Cosmo: Well, at least you're taking it lying down.
Don: No. No kidding, Cosmo. Did you ever see anything as idiotic as me on that screen tonight?
Cosmo: Yeah, how about Lina?
Don: All right. I ran her a close second. Maybe it was a photo finish. Anyway, I'm through, fellas.
Kathy: Don, you're not through!
Cosmo: Why, of course not. Why, with your looks and your figure, you could drive an ice wagon or shine shoes!
Kathy: Block hats!
Cosmo: Sell pencils!
Kathy: Dig ditches!
Cosmo: Or worse still, go back into vaudeville.
Trying to salvage the film and their careers, Kathy and Cosmo eventually come up with a brilliant, novel idea - make the disastrous costume film into a musical (in the next six weeks before the film's release)!
Add some songs and dances, trim the bad scenes, add a couple of new ones...
Even though it is 1:30 in the morning (not late evening March 23rd, but actually early morning March 24th), they burst into song and tap-dancing for "Good Morning," an upbeat number. It is performed in the kitchen and on furniture throughout the house, using props everywhere. They are joyously expressing their relief over a perfect solution. But then Don has a sudden fear - it can't be a musical because of Lina. Cosmo agrees:
She can't act, she can't sing, and she can't dance, a triple threat.
But then, Cosmo suggests another brilliant solution - Kathy will dub Lina's voice as she lip-synchs:
Wait a minute. I'm just about to be brilliant. Use Kathy's voice. Lina just moves her mouth and Kathy's voice comes over singing and talking for her.
Don objects at first: "Cause you (Kathy) wouldn't be seen. You'd be throwing away your own career." But Don agrees if it is only for one picture.
Later that night, as Don takes Kathy home and kisses her in the doorway, it is still raining. After saying goodnight to her, she tells him to take care of his health and throat in the 'heavy dew,' because he will now be a great singing star. Don replies: "Really? From where I stand, the sun is shining all over the place." Naturally, he has fallen in love with Kathy and he waves on his driver so he can proceed home on his own.
In a classic, heart-lifting, enchanting dance scene during a cloudburst, he does a glorious, almost five minute performance of the title song "Singin' In the Rain" - a spontaneous expression of his crazy-in-love, euphoric mood and happiness over his new-found love for Kathy. The title song has become movie legend as the most famous dance number in American film - and it is Gene Kelly's finest solo performance ever, although he was suffering from a 103 degree fever.
[This scene was shot on a studio backlot in Culver City, California. It is a widespread - but bogus film fact - that milk was mixed in with the water, fed by long lengths of pipes leading to overhead sprays, to make the liquid more visible. The scene was a late addition to the script, in order to provide literal justification for the film's title, and to ensure that the public wouldn't feel cheated if the film didn't have a 'singin' in the rain' sequence.]
Composed of only ten distinct shots (with a dissolve at its beginning - at the front door - and at its ending), he strolls down the empty two blocks of street in the rain passing shop windows (including a Pharmacy/Drug Store with a 'Smoke Mahout' window display, the Richard Carlane Music Studio, the LaValle Millinery Shop, the 'First Editions' Book Store, and Mount Hollywood Art School). At first he keeps his umbrella open above him to keep dry, but after a few short steps, he shrugs and closes it (and either lays it on his shoulder, swings it, keeps it to his side, or imaginatively incorporates it into the number).
He skips on the sidewalk, exuberantly climbs on and swings around a lamppost with one hand, with his umbrella folded up in his other outstretched hand. He continues to saunter and slosh along, then jumps and tap-dances through the puddles - becoming more and more child-like. He lets a drainpipe of rainwater drain on his upturned, broadly-smiling face, kicks up water, splashes, cavorts, and stamps around with sheer delight. After twirling on the cobble-stoned street, he balances on the street curb like a tightrope walker. When a mystified and vaguely hostile policeman (Robert Williams) finally walks over to find out what he is doing jumping up and down in deep puddles, and looks at him suspiciously, he reacts guiltily toward the authority figure. [When the camera cuts from one view to another, Kelly's two hands on the umbrella change to only his right hand on the umbrella.] He slows down, turns, and answers simply: "I'm dancin' and singin' in the rain." He closes his umbrella, grins boldly, walks off, hands his umbrella off to a needy passerby ('Snub' Pollard), and waves back toward the policeman from afar.
The next day, Don and Cosmo explain their saving idea to Hollywood studio head R. F. Simpson. The Duelling Cavalier is to be renamed The Dancing Cavalier and the plan is to include large-scale musical numbers within the film. To execute their plan and make the film a successful musical, in a series of cleverly-filmed transitions, Kathy's voice is recorded singing "Would You?" with an orchestral back-up conducted by Cosmo. [Note: When Kathy is dubbing Jean's singing voice, Kathy's voice was actually dubbed with the voice of Betty Noyes - see note below.] The scene in the recording studio dissolves to an image of Lina (with her kewpie-doll voice) practicing and struggling to mouth the words to the looped soundtrack for the song.
On the set during actual filming, Don and Lina - in colorful costumes, act out the scene as Kathy's dubbed voice is superimposed onto the soundtrack. The full-color scene on the set is drained of its color - switching to a black-and-white image. As the camera tracks backward, a smaller black-and-white image appears on the screen of the studio's projection room. Don, Cosmo, and Simpson are watching some of the rushes from the newly-dubbed film and Simpson is ecstatic with the results of the dubbing: "Perfect. That Selden girl is great. As soon as the picture is released, I'm going to give her a big buildup."
Don succinctly explains his fantastic idea for all that remains for the film: "one scene and a number...it's a new one. It's for the modern part of the picture." He suggests a large, modern, dance production number that will be inserted into the sound film:
[The ambitious ballet number is titled: "Broadway Melody Ballet" - it's a 14-minute extravagant sequence that cost about $600,000 to produce. The fantasy number, a 'show within a show,' has no direct relation to the plot and is out of place in the film. It tells a show-business rags-to-riches story of a young dancer's success on Broadway. It is a surrealistic, Busby Berkeley-type extravaganza spoof with many sets, costumes, and extras. The entire "Broadway" ballet is filled with magic, unexpected transitions, a huge cast, and spectacular uses of light, color, costumes and sets.]
It's the story of a young hoofer who comes to New York. First we set the stage with a song. It goes like this.
As he points in the direction of the blackened projection room screen, his tuxedoed image appears on-stage. He sings the ballet's opening song: "The Broadway Rhythm." Against an impressionistic background of Broadway signs inspired by the 1920s, Don Lockwood is then presented as a gawky, bespectacled, naive 'young hoofer' who arrives on the Great White Way with his suitcase in hand, looking for his big break.
The spectacular, new musical balletic dance number traces his arrival in New York, where he goes to a theatrical agency and auditions ("Gotta Dance! Gotta Dance!") but is rejected by two agents. A third agent takes him to a speakeasy where he lands a job. He is singing and dancing to "Broadway Rhythm" when, in an extraordinary scene, a woman's long shapely leg appears abruptly on the screen, dangling and balancing the straw hat from his head on her upturned foot. His eyes and the camera follow the leg up to the figure of a seductive Dancer (Cyd Charisse), a gangster's moll. He meets the girl of his dreams, a beautiful, bewitching exotic nightclub performer and city vamp, looking like vixenous silent star Louise Brooks. [In the pas de deux with Charisse, Kelly's ballet is a parody and spoof of gangster movie conventions and familiar movie stars of the era.]
She is wearing a short, gloriously sexy green dress, and has a long cigarette holder in her hand. She leaves the table where her silver dollar-flipping, scar-faced gangster boyfriend (resembling actor George Raft in Scarface: The Shame of the Nation (1932)) sits with two mugs. She dances provocatively around him, shaking her hips and blowing cigarette smoke in his face. She removes his glasses and hat, steams up the glasses with her breath and wipes them on her thigh, and then kicks away both his hat and glasses. She places her long cigarette holder in his mouth. They continue dancing sensuously close together, and she begins to kiss him. But she is lured away by the sight of a thick, sparkling diamond bracelet, held out by her gangster boyfriend's hand.
The young dancer is not allowed to follow his dream girl, although he is ushered through a stage door to the Columbia Burlesque stage, where he soon rises to fame, becoming a star of Palace Vaudeville and eventually entering The Ziegfeld Follies. Outfitted in a tuxedo at a fancy gala celebration while surrounded by flappers, he sees the beautiful girl again. As an imagined, idealized dream vision in a scarf dance, she wears a long [25 feet or longer] white, fluttering and billowing silk scarf. He lyrically dances with her 'pas de deux' in a romantic setting of pinks and grays, but when he returns to reality, she rejects him and he becomes forlorn. He walks off to the huge Broadway set that opened the number, where he sees another young hoofer arriving in town - like himself years earlier. His spirits are revived, and he joyfully leads the massive chorus in a large-scale finale to "Broadway Melody."
Reluctant boss Simpson stubbornly reacts to the new ideas: "I can't quite visualize it. I'll have to see it on film first." He doesn't share their enthusiasm but agrees to make The Duelling Cavalier into a musical film. Don assures him: "On film, it will be better yet."
Lina's career is saved, when Kathy has her voice substituted for all of Lina's lines and songs.
[In the film-within-a-film sequence here and later during the premiere showing of The Dancing Cavalier, when Debbie Reynolds (as Kathy Selden) speaks Lina Lamont's lines - the lines were actually dubbed by Jean Hagen herself! And 19 year-old Debbie Reynolds, who couldn't dance, was tutored by Fred Astaire for her role.]
After recording Kathy's voice, Don confesses his love for her and kisses her, and promises to publicly proclaim their love immediately, but she objects:
Kathy: Your fans will be bitterly disappointed.
Don: From now on, there's only one fan I worry about.
Lina discovers them together (with a tip from friend Zelda about the voice-dubbing deception) and shows how jealous she is over the attention Kathy receives from Don:
Lina: I want that girl off the lot at once. She ain't gonna be my voice. Zelda told me everything.
Don: Thanks, Zelda. You're a real pal.
Zelda: Oh, any time, Don.
Kathy: Now look, Miss Lamont, Don and I have...
Lina (interrupting): (To Kathy) Don! Don't you dare call him Don. I was calling him Don before you were born! I mean...
She persists even after learning that the lovers plan to marry. Because she jealously regards Kathy as the reason for the end of her romance (non-existent) with Don, she insists that Kathy be kept off the lot and deprived of getting full screen credit and publicity. Lina asserts, in the famous lines:
You mean it's gonna say up on the screen that I don't talk and sing for myself?...They can't do that!...They can't make a fool out of Lina Lamont. They can't make a laughing stock out of Lina Lamont. What do they think I am, dumb or something? Why I make more money than Calvin Coolidge put together.
To retaliate, Lina sends out exclusive publicity stories to all the papers and gossip columnists in town (Dora Bailey's column in particular), quoting the producer Simpson as saying: "Monumental Pictures Wildly Enthusiastic Over Her (Lina's) Singing Pipes and Dancing Stems." The bitchy star threatens Simpson, the producer: "You wouldn't want to call the papers and say that Lina Lamont is a big fat liar." And she threatens to initiate a lawsuit if Kathy's understudy role is revealed in on-screen credits:
What do you think I am, dumb or somethin'. I had my lawyer go over my contract...And I control my publicity, not you...The studio's responsible for every word printed about me. If I don't like it, I can suuue...I can suuue. If you tell the papers about Kathy Selden, it would be de-tri-mental and de-li-tereous to my career. I could suuue you for the whole studio.
By a clause in her contract, Lina demands that Kathy be confined to dubbing her voice for her entire career. Simpson thinks Lina is out of her mind - that would take away Kathy's chances at her own career, and people don't do things like that. Lina believes her favorable reviews, as she snaps back:
Peo-ple? I ain't peo-ple! I am a...'a shimmering glowing star in the cinema firm-a-mint!' It says so - right there.
At The Dancing Cavalier's premiere (advertised as "ALL SINGING, ALL TALKING, ALL DANCING"), at Grauman's Chinese Theatre, the audience gives the stars a wild, tremendous ovation. Backstage, Don learns that Lina has succeeded in orchestrating a five-year contract with a "confused" Simpson, making Kathy her "voice" for many more pictures - and so Don threatens to quit.
During the curtain call, the audience calls for Lina to speak and perform a number on stage for them. Of course, big-headed Lina fatefully decides that she wants to speak to the audience following the triumphant premiere of the revamped film. At center stage, she begins, in a nasal voice: "Ladies and g'men. I cahn't tell you..." Silent star Lina delivers a famous line in her curtain call, revealing that even though she is beautiful, she has a horrible speaking voice:
If we bring a little joy into your humdrum lives, it makes us feel as though our hard work ain't been in vain for nothing. Bless you all.
The theatre audience can't believe their ears: "Hey, she didn't sound that way in the picture." So they shout for Lina to give a live encore.
In a memorable sequence, Don, Simpson and Cosmo find a vengeful way to expose Lina even further. Kathy is rushed behind the stage curtain to perform "Singin' in the Rain" in A flat as Lina pantomimes and mouths the words in front of the curtain. During the performance, they pull the curtain aside, and to the audience's amazement, there is Kathy at a microphone behind Lina, singing the lyrics. The audience reacts hysterically, realizing that Lina's vocal talents really belong to Kathy.
[The raising of the curtain to expose the illusion recalls a similar scene in The Wizard of Oz (1939). Ironically, some of Kathy Selden's songs are themselves dubs - the inexperienced, 19 year-old ingenue Debbie Reynolds' singing voice was dubbed by Betty Noyes in "Would You?" and probably for "You Are My Lucky Star."]
Cosmo steps in for Kathy, singing in his baritone voice, as Lina continues the masquerade out front. When she realizes she has been exposed, Lina is laughed off the stage. She rushes off, taking a hasty exit. So does Kathy - up the theatre aisle.
Don wants the audience to know that it was Kathy whose voice they applauded that night. On stage, he announces:
Ladies and Gentlemen. Stop that girl. That girl running up the aisle - stop her. That's the girl whose voice you heard and loved tonight. She's the real star of the picture. Kathy Selden.
The audience applauds Kathy and convinces her to stop. Don starts to sing to her: "You Are My Lucky Star." With tears in her eyes, Kathy turns and walks toward the stage. He approaches and reaches out to her and leads her onstage, as they finish singing together and embrace. Kathy is finally appreciated as a star in her own right.
A profile of the right side of Don's face dissolves into the same image during a clever transition into the last scene. As the camera pulls back, Kathy and Don are pictured facing each other on a billboard that announces them as the new stellar love team of Monumental Pictures in their first picture together, Singin' in the Rain. They consummate the success of the show (and their budding personal relationship) by kissing in front of the billboard that is positioned on a hillside.