Plot Synopsis (continued)
---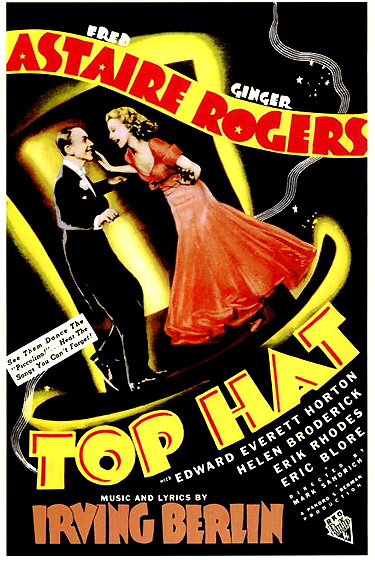 Back at the hotel, fashion model Dale must explain to Alberto Beddini, her pompous dress designer, who exactly is sending her the roomful of flowers. Although it seems unlikely by this point, she exclaims (happily) that she knows her admirer, but knows him only as "Adam": "I've seen him, I've talked to him. I've danced with him." He reminds her that she has promised to go with him to Italy to meet her confidante friend Madge Hardwick and model his clothes, but she refuses: "Alberto, up to the present, our relationship has been purely a business one. But if you start interfering in my personal affairs, I'll go back to America and live on the dole."
Dale receives a telegram from Madge in Venice, suggesting that she look up her husband, Horace Hardwick (Jerry's boss) who is staying at Dale's hotel in London:
Beddini (reading): 'Come ahead stop stop being a sap stop you can even bring Alberto stop my husband is stopping at your hotel stop when do you start stop.' I cannot understand who wrote this.
Dale: Sounds like Gertrude Stein.
At the hotel desk that evening, Dale inquires about Horace Hardwick, Madge's husband, learning that he has Room 404, the room above hers. The clerk points him out as Hardwick, with a briefcase and cane, crosses the hotel's mezzanine. By the time Dale gets closer, Jerry has taken Horace's briefcase and cane and Horace has departed, so she naturally mistakes him for Horace. Naturally, she is furious - she believes her admirer is Horace, the heartless, philandering husband of her best friend Madge Hardwick. Thus begins the key plot development of mistaken identity and romantic complications that isn't resolved until later in the film.
When Jerry greets Dale in the lobby, their encounter creates a slight scene in front of the elevator:
Jerry: Cab miss?
Dale (sarcastically): When a clumsy cloud meets a fluffy little cloud.
Dale slaps him, and understandably rebuffs any further romantic advances and interests from him, believing he is Horace - a married man. He is completely astonished by the rapid turnabout and doesn't understand what has happened to cause it.
Horace is worried that the widely-publicized slap will affect the show: "One breath of scandal will ruin the show." Dale is also infuriated by what she mistakenly perceives to be scandalous:
I hate men. I hate you [to Beddini]. I hate all men...How could he have made love to me when he was married all the time? And to Madge of all people.
She is also uncomfortable at the idea of traveling to Italy to the Lido where Madge is, by accompanying her Italian dress designer Beddini to model clothes. But then she decides to go to Venice anyway to tell Madge what has occurred: "Maybe she ought to know." Meanwhile, Horace is concerned that scandal will break over the incident involving Jerry and the girl. He assigns his valet, dimwitted Bates (Eric Blore) to trail Dale Tremont wherever she goes. Dale ends up fleeing the hotel with her couturier to romantic Venice, trailed by manservant Bates. Jerry discovers that Dale has left town when he speaks to the hotel maids putting the flowers into the rubbish in her vacated room.
In his dressing room following the first act of Horace's London show, Jerry is disconsolate: "Women do strange things sometimes, don't they?..." A telegram that was sent to Horace from Madge in Italy reveals Dale's destination and whereabouts, and ironically reveals that Madge had invited both Dale and Jerry to Italy to introduce them to each other. Horace paraphrases the telegram's contents to Jerry:
All kinds of good wishes for our success. Sorry that we can't fly down to Italy after the performance to meet her new friend. Says her little friend is in London, staying at my hotel. Her name is Tremont.
Overjoyed, Jerry ecstatically demands that Horace charter a plane to take them to Venice for the weekend so that he can follow Dale's flight.
Exuberant, Jerry sprints toward the stage and performs the second act of the London show - the quintessential tuxedo-clad dance and title song "Top Hat, White Tie, and Tails." This routine is the centerpiece of the film's dance numbers - a solo performance and famous Astaire classic, backed by a top-hatted, tuxedoed, male chorus. Jerry rushes on stage, still carrying the telegram in his hand.
The stylish backdrop for the number is suggestive of a Parisian street with the Eiffel Tower in the background. The chorus struts and lunges back and forth, and then separates in two for Jerry, who makes his way forward to the front of the stage. The chorus closes behind him as he begins the title song by reading the telegram invitation to a formal party, pretending it is a prop for his number:
I've just got an invitation through the mail.
Your presence requested this evening is formal
Top hat, white tie, and tails.
He acts out dressing for the formal affair, putting on his top hat, straightening his white tie, and brushing off his tuxedo tails, as the chorus line of top-hatted men behind him stands at a slight angle watching him:
Oh I'm puttin' on my top hat
Tyin' up my white tie
Brushin' off my tails...
I'm steppin' out, my dear
To breathe an atmosphere
That simply reeks with class
And I trust
That you'll excuse my dust
When I step on the gas
Jerry and the chorus pace to one side, and then to the other. When they pause behind him, he lets go a tap dance barrage, whirls, and then waits for the chorus to repeat the movement. Then, the chorus disappears from the stage in three directions (to the rear and two sides), leaving him to solo tap dance with his tapping cane, circling around it, and using it in creative gestures and moves. The music slows and stops, and the lights are lowered. Suddenly, he becomes a lonely man threatened by his strange and darkened, shadowy environment. He expresses many different emotions and feelings, snapping from one to another: friendliness, wariness, startled surprise, crouching to express readiness in the presence of menace, confidence.
On the horizon behind him, the chorus reappears. Methodically, he uses his cane as a weapon - a gun - and his taps represent gun blasts. He mimes shooting at them - first singly, then in groups of two's and three's, then in machine gun bursts of fire. He also fires in various poses - from the front, from behind his neck, while turning, and over his shoulder. The final dancer/target dodges his bullets, so he resorts to using his cane as an invisible bow and arrow to finish it off. The tap dance ends on one final barrage of twirling taps, a quick lunge at the audience, and a closing curtain.
The clever transition dissolves from this scene to the next with the orchestra's reprise of the title song. The Lido in Venice is gleaming and shimmering, a glowing white set of Art Deco structures, white gondolas, islands, arched bridges and winding canals. There, Dale tells Madge about the flirtatious attentions of the man she presumes is Madge's own husband. Madge assures Dale that "Horace's" attentions to her mean nothing - "Horace flirts with every attractive girl he meets. It doesn't mean anything." Of course, a calmly amused Madge doesn't realize that Dale is speaking about Jerry.
When Jerry sees Madge upon arrival in Venice, she asks: "How did Dale strike you?" He replies, tongue in cheek: "Right between the eyes." With Madge's approval, Dale decides to frighten "Horace" (Jerry) into marital responsibility: "I'll make him remember me in a manner he'll never forget."
Dale: Madge, have you any objections if I scare your husband so that he'll never look at another woman?
Madge: Dale, no husband is ever too scared to look.
Dale goes to Horace's/Jerry's shared room and kisses him, inventing a story about their past affair a year earlier in Paris. Jerry has no idea what she is talking about, but plays along with a bewildered look on his face. When Dale reports back to Madge on her conversation, Madge wonders about her husband: "I wonder if you've seen something in Horace that I've never seen."