Background
---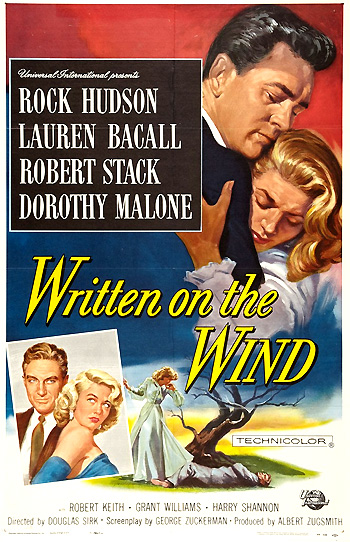 Written on the Wind (1956) is generally regarded as the best of director Douglas Sirk's 1950s lush, vibrantly colorful melodramatic masterpieces. His absorbing, flamboyant, overwrought potboiler films were noted for their glossy and excessive style, soap opera-ish and brightly-colored film noirish characteristics, and exaggerated and overheated emotions. This film provides Sirk's clear commentary and critique of the underlying hollowness and shallowness of American society in the placid 1950s, and misfit lives stunted and corrupted by mental anguish, alcoholism, sexual frustration, and corruptible materialistic wealth.
Sirk's most successful melodramas of the mid-to-late 50s decade included the following - predominantly from Universal-International:
All I Desire (1953)
Magnificent Obsession (1954)
All That Heaven Allows (1955)
Written on the Wind (1956)
The Tarnished Angels (1957) - reuniting stars Stack, Malone, and Hudson
Imitation of Life (1959) - Sirk's last American film
This vivid, gaudy and slightly campy Technicolor film, from a screenplay by George Zuckerman that was adapted from Robert Wilder's best-selling novel of the same name, centers on the frenzied dynamics within a self-destructing, filthy-rich (literally) Texas oil family named Hadley. The bourgeois, immoral, blood-poisoned, money-corrupted clan is composed of a tycoon patriarch (Keith), an alcoholic, profligate, insecure playboy heir Kyle (Stack), a lustful daughter Marylee (Malone), and their stable, responsible, less-wealthy family friend and boyhood playmate Mitch (Hudson) who supportively holds the family together. Dysfunctional tensions rise when the patriarch's booze-soaked son quickly courts and marries the company's respectable, sensible good-girl executive secretary Lucy (Bacall) and his self-pitying fears of impotency (sexual and otherwise) and jealousy - inflamed by his debauched and trashy sister - soon lead to the film's climactic shoot-out (shown in flashback in the film's opening).
One of the film's posters briefly and dramatically described each character:
LUCY ...Her husband's money couldn't buy her, nor another man's love make her unfaithful!
MITCH ...Who gave his best friend the woman he wanted for his own!
MARYLEE ...Who couldn't have Mitch, so she sought love when and where she could get it!
KYLE ...Who hid his secret behind a bottle and a hundred million dollars!
The film's tagline pronounced:
The story of a family's ugly secret and the stark moment that thrust their private lives into public view!
The film includes such sordid subjects as nymphomania, alcoholism, murderous jealousy and rage, phallic power and infertility, miscarriage, back-stabbing emotional blackmail, and illusory materialistic happiness. It has often been noted that Sirk's film came at the same time as George Stevens' epic Giant (1956) - another tale of a Texas family with Rock Hudson. And TV's popular Dallas (on CBS-TV from 1978-1991) and Dynasty (on ABC-TV from 1981-89) - two prime-time soaps in the 80s, owe their heritage to Sirk.
This great film was nominated in three Academy Award categories, including Best Supporting Actor (Robert Stack who should have won, but lost to Anthony Quinn for Lust for Life) and Best Song ("Written on the Wind"), with Dorothy Malone taking home the Best Supporting Actress Oscar (her sole career nomination and win) for an overacted slinky, catty role as a sex-obsessed, wild, nymphomaniacal, provocative member of the Texas oil dynasty's family. [Note: She is probably best remembered for her earlier role as the glasses-wearing bookshop assistant who dallies with Humphrey Bogart after closing shop on a rainy day in The Big Sleep (1946).] This was the sixth of eight films that Sirk made with Hudson.
The Story
---
November 6, 1956 (Tuesday)
Under the credits, the film opens with a flash-forward to events that will occur a year later in the film's climax. The opening epilogue serves to introduce the major players without any dialogue except for the film's theme song, "Written on the Wind," sung by the Four Aces (music by Victor Young, lyrics by Sammy Cahn):
A faithless lover's kiss is written on the wind,
A night of stolen bliss, is written on the wind,
Just like the dying leaves, our dreams we've calmly thrown away
Now they've blown away, softly flown away
The promises we made, our whispers in the breeze
They echo and they fade, just like our memories
Though you are gone from me, we never can really be apart
What's written on the wind is written on my heart.
A yellow sportster roars through a landscape covered with pumping, phallic oil wells. A major architectural structure in town, prominently jutting into the air like an erect protrusion, is emblazoned with a large H (a company logo signifying the "Hadley Oil Company"). On this twilight autumn evening in the ugly town of Hadley, Texas (population 24,554), the wind blows the dying leaves from trees. The driver is drunken Kyle Hadley (Robert Stack) returning from a wrong-side-of-town bar to his white-columned mansion estate. Noticing his return from an upstairs bedroom is Mitch Wayne (Rock Hudson) with Kyle's stricken wife Lucy (Lauren Bacall). Kyle smashes his whiskey bottle against the house and storms into the study as his blonde sister (with eyes spotlighted) Marylee Hadley (Dorothy Malone) listens from upstairs. Dead leaves are blown through the open front door into the empty foyer as Marylee swoops down the long staircase.
From outside, a gunshot is heard off-screen, and an unidentified figure staggers out of the mansion and collapses onto the estate's driveway. Lucy faints upstairs, as the camera zooms toward a closeup of a desk calendar, reading Tuesday, November 6, 1956. The wind rifles the pages back to Monday, October 24, 1955, a year earlier, to flash-back to events that led up to the tragedy.
October 24, 1955 (Monday)
Single, hard-working Lucy Moore has recently been hired as executive secretary in the New York offices of the Hadley Oil Company, under patriarch Jasper Hadley. [An artificial, painted skyline of Manhattan is viewed outside the company's windows.] The oil company's geologist and trusted, smooth-talking right-hand "sidekick" Mitch Wayne enters Lucy's office where he notices Lucy's shapely, disembodied legs. She has mixed handsome Mitch up with oil company son Kyle Hadley ("Prince Charming of the oil empire"), often featured in the tabloids.
Kyle is a big-spending, profligate, impulsive manager of the oil business with a reputation for being a "dashing" playboy. He has sent the level-headed Mitch to urgently summon Lucy to a "conference" at 21, a posh New York restaurant, where the millionaire has flown 1,380 miles for a steak sandwich. Mitch's early interest in Lucy is hinted at with his statement: "Maybe we're two of a kind."
Kyle is already dining with other ladies in the restaurant, and asked to describe his close colleague Mitch:
My sidekick...He's eccentric. He's poor...Mitch is just a country boy. The kind of assets he's got you can't buy with money.
Kyle is pleased to formally meet the attractive and intelligent Lucy, already favorably positioned as "a member of the happy, happy Hadley Industrial Family." [She had once caught Kyle's roving eye in the office.] After a champagne toast, Kyle learns that Lucy is from a small-town in Indiana, and he boasts that he could "put it on the map" if only asked. Unaffected, the clean-living, career-oriented Lucy explains how she wishes to become a suburban wife "with a husband, mortgage and children" and to pursue her career in advertising.
Mitch has heard Kyle's charming proposals to women before ("How would you like to join the Kyle Hadley Society for the Prevention of Boredom?...Around the world in 80 headlines"), and exclaims "Bravo" when principled Lucy clearly rejects Kyle's materialistic advances and consumptive offer to buy her Madison Avenue's Sheraton agency. Kyle answers Lucy's query of Mitch with a smart reply. He is envious of the stability, talent, and responsibility of his own company foreman, down-to-earth geologist (who wasn't expelled), and 'adopted' brother:
Lucy: (To Mitch) Just what do you do for the Hadley Oil Company?
Kyle: (interrupting) We're troubleshooters. Wherever they want trouble, they send for us.
Mitch: I, uh, have a sheepskin that says I'm a geologist.
Kyle: ...I was kicked out of the same school. They found rocks in my head.
On their way out of the restaurant, Kyle waylays Mitch on an errand to purchase cigarettes and takes Lucy by taxi to the Teterborough Airport, although she objects: "I'd like to get off the merry-go-round." He promises her: "Once we get up in the blue, I'm a different fella, a lot different from this character." And he is straightforward about his alcoholism:
I wouldn't admit this to anyone but you, but I drink too much.
Knowing Kyle's well-worn routine to abscond with women, Mitch is already seated onboard the private plane. Lucy joins pilot Kyle in the cockpit, where she is briefed on the relationships within the Hadley business empire during the flight. Kyle's father introduced him to Mitch when they were first-grade chums:
He wanted me to grow up with Mitch...Mitch's old man is my dad's boyhood pal -- his idol, I guess. A small rancher -- kind of a legend in our country. A great hunter, sort of a throwback to Daniel Boone. I used to wish he was my father...Dad's a big man -- so big that he and I know I can't fit his shoes, or even come close to him.
According to Kyle, only Mitch could fulfill his magnate father's aspirations for a son. He honestly speaks to Lucy about his own personal failings as the number one black sheep of the family - a misbehaving, ne'er-do-well playboy:
It's easy to talk like this when you're 6,000 feet above the big poker table...Down there, I'm a guy with too many chips. I throw 'em up in the air and a few land on my shoulders. Hellfire, they'd be disappointed if I didn't behave like a playboy -- didn't end up like my uncle [Joe Bradley].
He also speaks of his 'black sheep' kid sister Marylee:
She's got enough devil in her to put Uncle Joe and me in the shade.
Mitch appears in the cockpit, realizing that they have veered off-course from Texas toward Miami Beach, Florida, because Kyle has planned to woo Lucy even further. He softens her up again - and hints at the tragedy that is slowly brewing ("we're past the point of no return"):
Something is happening to me. I find myself talking to you like I never talked to anyone before -- not even Mitch...I think we're past the point of no return.