Background
---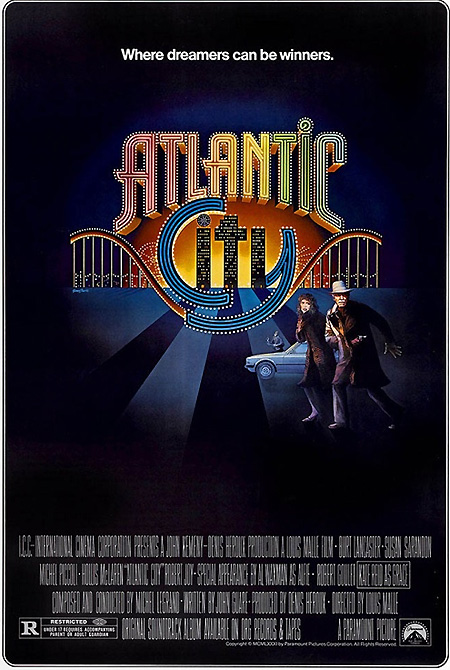 Atlantic City (1981) is a sad, unsentimental, evocative and bleak character study by French New Wave director Louis Malle. The R-rated Paramount Pictures film followed the dual stories of an aging, small-time hood and a struggling oyster-bar waitress both living in the same, soon-to-be-torn-down apartment building just off the Boardwalk in the casino town of the film's title.
At the time, the famed Atlantic City resort-casino town was in great disrepair - crumbling and deteriorating until gambling was legalized there in 1976 and the city was slowly being saved and revitalized by corporate gangsterism - but for the time being it was filled with bulldozers and construction sites for new casinos. "Atlantic City" itself served as one of the film's characters.
[Note: The film's title and setting was in the famed city, known for the Miss America Pageant - first awarded in 1921, locations on the Monopoly board game, and the song "On the Boardwalk (in Atlantic City)" popularized by Dick Haymes and the Charioteers (and sung in the musical film Three Little Girls in Blue (1946)). At least three other films also used Atlantic City as a backdrop: The King of Marvin Gardens (1972), The Color of Money (1986) and The Pick-up Artist (1987), as well as the popular, recent TV series Boardwalk Empire (2010-2014). There was also an earlier WWII-era escapist musical titled Atlantic City (1944) - a highly fictionalized account of AC's rise as a vacation and convention destination during and after WWI. A Bruce Springsteen song titled "Atlantic City" also came out in 1982.]
The main character in the joint French-Canadian film was an aging, has-been, small-time numbers-runner Lou Pascal (Burt Lancaster) who lived in the gray, depressing ghost-town of Atlantic City near the Boardwalk area - at one time a city of dreams during its heyday in the 1920s-1940s. His only source of escape and pleasure, other than nostalgia for the past, was secretively watching his neighbor Sally Matthews (Susan Sarandon, director Malle's girlfriend at the time of filming) - a younger, cynical clam-bar waitress who ritualistically performed a sexy lemon-wash of herself at her window within his apartment's view. Both were struggling to survive in an era of change after enduring questionable pasts, and both faced uncertain futures.
[Note: Sarandon was building a reputation for playing erotic roles and appearing semi-nude before and after Atlantic City, including Joe (1970), Fleur Bleue (1971), The Other Side of Midnight (1977), Malle's own Pretty Baby (1978), and The Hunger (1983), and White Palace (1990). In many of her roles, she was both the object of male sexual attention and a highly-independent and intelligent female.]
This beguiling film had elements of classic film noir, recalling Burt Lancaster's roles in The Killers (1946) and Criss Cross (1949). However, in the early 1980s, a revisionist crime drama with a May-December romance at its heart couldn't compete with the age of Dirty Harry (1971) and Death Wish (1974) vigilante films, The Godfather film saga, and the blockbuster era of Jaws (1975) and the Star Wars Trilogy (1977-1983).
The film's taglines were descriptive of the slightly depressing tale of two losers - a washed-up, wanna-be ex-gangster and a Canadian female emigre with broken dreams, who both found renewal and redemption through each other:
Where dreamers can be winners.
She made him become what he always wanted to be - a lover, a hero, a rich man...and a killer!
Laugh, Cry, and Dream...
There were varying dates given for the film (1980 and 1981), due to a number of factors:
it was filmed in 1979
it was shown at the Venice Film Festival in late August-early September 1980
it was then released in France, Italy and Germany in 1980
its first US showing was April 2, 1981 at the Los Angeles International Film Exposition (Filmex)
its official US premiere was April 3, 1981, with nationwide showings beginning a week later
The film was praised at the time by the Academy of Motion Pictures with five major nominations: Best Picture, Best Director (Malle), Best Actor (Lancaster with his fourth and last career nomination), Best Actress (Sarandon with her first nomination), and Best Original Screenplay (John Guare), but went away empty-handed. It was fairly rare for a film with five key nominations to not win a single Oscar. Unfortunately, the low-budget, independent film was overshadowed by competing against four other major studio pictures. Atlantic City also received the Best Film of 1980 Golden Lion Award at the Venice (Italy) Film Festival (shared with John Cassavetes' Gloria (1981)).
It was overshadowed by the start of another mini-British renaissance of film awards for this year (Chariots of Fire (1981)) and the next (Gandhi (1982)). Lancaster and Sarandon - the main screen couple, lost their bids for the Best Actor and Best Actress Oscars to another screen couple: Henry Fonda (in his final film performance) and Katharine Hepburn in On Golden Pond (1981). [Note: Lancaster previously won Best Actor for his role in Elmer Gantry (1960).] Its box-office revenue (domestic) was only $12.73 million (against a budget of $6.2 million), making it the lowest-earning film of the five Best Picture nominees. The most successful film of the year was Paramount's action-adventure Raiders of the Lost Ark (1981).
Plot Synopsis
---
The Opening Titles Sequence:
The romantic crime drama opened with a closeup of fresh lemons being sliced into quarters by a young and pretty woman. The scene was played to the sound of a cassette tape of Bellini's Italian operatic aria Norma. The female was wearing a white tank top, and was glimpsed through an apartment window in golden light. Methodically in front of her kitchen sink, she took the lemon pieces and massaged her hands, arms, shoulders, throat and breasts with the lemon juice to remove the fishy smell. The sequence became voyeuristic (and forced the audience to identify with the voyeur through his POV) when the camera pulled back through the window, and the audience became aware - as she most certainly was - that she was being peeped at by a gray-haired elderly man in a maroon-colored robe, from an equally shabby adjacent apartment room. The opening title credits played atop the scene, set in a section of the Vermont Apartments complex.
The exhausted female and the older man were later identified as:
Sally Matthews (Susan Sarandon), wide-eyed and naive, escaping from a haunting past and hoping to better her predicament
Lou Pascal (Burt Lancaster at age 68), an aging, sad numbers runner, flunky and petty mobster-crook from the Prohibition Era
Introduction of Major Characters:
Dave - The Theft of the Mob's Cocaine in Philadelphia:
In the city of Philadelphia, Sally's deceitful, no-good, estranged husband Dave Matthews (Robert Joy), a long-haired scruffy, deadbeat-looking hippie, observed a black man hiding a brick of cocaine in a brown paper bag within the ceiling of a public pay-phone booth, on the street near the entrance to Independence Hall, where a museum advertised a Norman Rockwell exhibit. Dave absconded with the package before two sinister mobsters, Felix (Moses Znaimer) and Vinnie (Angus MacInnes) drove up and discovered their drugs were missing and presumed stolen.
Dave and Chrissie - Hitchhiking to Atlantic City:
As more credits played, Dave and his eight-months pregnant, waifish companion Chrissie (Hollis McLaren) - two counter-cultural hippies from the 60s and 70s, were hitch-hiking from Philadelphia to Atlantic City. On the back of a flatbed truck as they passed a large elephant model or structure known as "Lucy" on the outskirts of the city, hippy-ish Chrissie exclaimed: "Oh, wow! Look, it's Ganesh! It's a sign from heaven." [Note: It was a tourist attraction originally built in 1881 for the city of South Atlantic City (then known as Margate). Ganesh was an elephant-headed Hindu deity.] Documentary footage included the implosion of the historic Traymore Hotel on the Atlantic City Boardwalk, as a symbol of the changes coming to the town with the construction of new casinos during the revitalization effort. [Note: However, the Traymore Hotel was actually demolished in 1972 almost a decade earlier.]
When Chrissie and Dave arrived shortly later, they walked across the Atlantic City Boardwalk and entered one of the casinos (to the tune of "On the Boardwalk (in Atlantic City)") sung by the onstage Burns Sisters trio. Dave inquired about the location of Sally - one of the hotel's casino employees. Sally was spotted at the hotel's seafood counter (oyster bar).
Sally - The Unannounced Arrival of Her Estranged Husband Dave and Pregnant Sister Chrissie:
Sally was extremely unhappy to see her estranged husband and her own dippy younger sister: "I don't want you to see you. Get your asses outta here....Look, you're not stayin' with me." However, she took an hour's break, asked her co-worker Jeanne (Norma Dell'Agnese) to cover for her, and led them to her second-floor apartment, striding past whirring bulldozers and an ironic sign reading: "Atlantic City, you're back on the map. Again." She lived next-door to the gray-haired man who was exiting his door and passed the uninvited guests on his way downstairs. Chrissie babbled on about their drive from Canada across Colorado and Utah, and their visit to an Indian commune - which she estatically extolled for their "dynamite mushrooms."
Lou and Grace - Their Long-Time Co-Dependency:
The elderly peeping-tom gentleman was in his cheap brick apartment's kitchen, ironing a tie, when a bell clanged on his wall - alerting him to attend to the needs of middle-aged, cranky, and obnoxious Grace Pinza (Kate Reid) in the apartment below on the ground level. She was his mob boss' widow from many years past after her husband's murder. Lou entered Grace's downstairs apartment when she instantly verbally-abused him for being late after she had signaled him - as a nursemaid - to immediately tend to her needs: ("Here I am, ringing this bell like Charles Laughton in The Hunchback of Notre Dame"). He was apparently a 'kept man' in servitude to the miserly, nagging, aging beauty queen - she displayed several nasty personal characteristics: she was a feisty, shrewish, broken-down (invalid and bed-ridden) moll - possibly a retired whore? She complained that she was "nobody's hunchback," and reminded him of his 24/7 duty to her:
You work for me, Lou! The cigarettes you put in your mouth, I pay for. I ring this bell and you get down here.
Threatened to be put out of the organized crime business by the onslaught of legalized glitzy casinos, Lou had always lived on the edge, and had been forced to care for her for four decades, and on the side act as her long-time lover. As she mooned over her poodle dog Peppy, the ever-patient Lou prepared Grace's meal of hash and eggs, and in return, she only reluctantly and ungratefully gave him five bucks. He would have to buy his own cigarettes she said, as she mocked him: "You're the big-time thief. Mr. Mastermind. Mr. Ten-Most-Wanted."
Sally's Capitulation to Dave and Chrissie:
Upstairs, Sally argued with her disagreeable, separated husband Dave ("I don't want you coming where I work...I don't want any more of your surprises"). She asked why Dave had earlier deserted her in Canada, had run off with Chrissie, and impregnated her. He irresponsibly answered: "These things happen." She was adamant that she wasn't going to bail him out this time: "I want you outta here...I don't want you here....I'm not taking care of either of you this time....You screwed me up in Vegas so I couldn't get a job." [Dave had probably followed her to Vegas from Canada and earlier ruined her chances due to his sour reputation and drug-dealing.] She chastised the deadbeat for his bad luck and poor choices: "You're like King Midas in reverse. I don't want you touching my stuff." She was incensed when he asserted that she was indebted to him for getting her out of Canada: "If it wasn't for me, you'd be back home makin' moose jam, puttin' out for lumberjacks." When he said she smelled like a can of rotten tuna fish, she punched him in the stomach. When she wasn't looking, he reached into her purse and stole her wallet before leaving.
Chrissie defended her allegiance to Dave, played upon Sally's emotions ("I think of this baby as being ours. Dave and mine and yours"), and also shared her beliefs in mysticism and reincarnation. She compared her life's span and reincarnation history with Dave's:
Dave's got a much higher developed soul than either you or me. I mean, I've hardly been reincarnated at all, but Dave, wow, he can remember all the way back to ancient Egypt, building the pyramids and all of that. He's had some really hard lives. You know, I think he's due for a real big break in this one.
Sally reluctantly allowed the innocent and childish-sounding Chrissie (with Dave) to stay one night only. Outside her door as she returned to work, Sally vowed repeatedly to herself: "I am not gonna get upset." As she ran down the Boardwalk to the casino, late for work, Sally passed Lou, who was walking Grace's pet dog.
Lou - His Small Numbers Game Racket:
Lou entered the Pet-Tique pet salon (going-out-of-business), and after handing off Grace's Peppy for a scheduled appointment ("the usual"), he took a small-time bet from a second black worker. On the side, Lou ran an illegal lottery ("numbers game"), gathering small dollar bets from various acquaintances during his rounds. The female owner reminded Lou before he left that the casinos were gambling's future: "Going out of business, Lou. No sense playing the numbers anymore." Like the decrepit buildings that were being razed all over Atlantic City by wrecking balls to make way for commercialized, free-for-all gambling and casinos, Lou was about to be replaced.
Nonetheless, he acted as an elder statesman - living off his past reputation as a tough guy who knew other gangsters - as he strolled through the run-down, littered ghetto-slums near the Boardwalk, and took more bets from poverty-stricken, down-and-out poor black folks.
Sally's Training For Her Future:
Sally was in a training course to become a casino black-jack dealer at a simulated gambling table in a room where ballet dancers practiced. Her strict and autocratic teacher Joseph (Michel Piccoli) tried to trick and distract her by spilling his drink, in order to teach everyone a lesson on focus and concentration:
"You took your eyes up. You allowed me to distract you! Everyone, listen to me. The players are coming to the casino in teams. One sits here, one sits there. The cards are good. The player at the first base spills his drink. Your eye moves. The player at the third base triples his bet. They have a million clever ways of trying to cheat you. Focus! Concentrate! Concentrate. Concentrate."
Sally - who wanted to be more cultured and to better herself (as part of her deliverance from her situation) - was also being instructed by the womanizing Joseph about other extravagances in life, including opera (the Norma opera that she had been playing on her cassette player) and the French language (on tutorial tapes). After her lesson, smooth-talking Joseph extolled her future as a blackjack dealer/croupier in one of the more glamorous resort casinos in Monte Carlo:
"You get your license to learn how to deal and the whole world will open up to you. It's not just cards, you know. It's your future. I want you to concentrate. I hate you going back to that oyster bar. The world should be your oyster...If you'd only stop being afraid. Deal with courage. You're, you're a little pearl produced by that oyster bar. Une petite perle."
Lou and Drug-Dealing Dave - Meeting Up at an Atlantic City Bar:
After collecting his bets, Lou met with local black mobster and bookie Fred O'Reilly (John McCurry) in the Club Harlem bar (or Clifton's), to deliver his week's bets ($48 dollars and 6 bits or 75 cents), down from the previous week due to economics: "Everybody's broke!" Feeling the pinch himself, Lou tried to pawn off a silver cigarette case to Fred for a "double sawbuck" ($20 dollar bill). (Later, it was revealed that Lou had shamelessly taken the case from Grace's apartment - it belonged to her dead husband Cookie.) [Note: The slang term referred to the number 20, written XX in Roman numerals, and resembling two sawbuck stands used for cutting wood.] But Fred rejected the offer, on account of the fact that he smoked "Cuban Monte Cristos" that were too big for the case. Although Lou fancied himself as a dignified wheeler-dealer, he had never achieved the notoriety he thought he possessed - in reality, he was only an errand boy for higher-ups.
As Lou sat at the bar and spoke to the black bartender Queenie, Dave walked over to Fred and initiated a drug deal - their conversation quickly moved from the public bar area to the restroom. Dave brought out his packet of white-powdered, high-quality cocaine - and Fred took a sample snort and rated it as "Very nice indeed!" When Dave divulged that the cocaine was found in a Philadelphia phone booth, Fred refused to buy the drugs, not trusting the disheveled outsider:
"This is a family town....I only do business with the people I do business with. The people I do business with find out I do business with the people I don't do business with, I can't do business with you."
He bluntly criticized Dave's looks: "You look like a fire sale." When offered a cut in a deal, Fred wrote down a contact number for another potential buyer, and sternly reminded Dave: "I don't do business with you." After the failed transaction, Lou recognized Dave from the hallway as he nervously made a phone call to the recommended contact, but Dave rudely ignored him. Buoyed by the prospect of selling the drugs, Dave was then warned by Fred that he was in over-his-head: "They'll bust you in the lobby. You look like a training poster from the narc squad." As Lou was leaving the bar, Fred described Lou for Dave in one sentence - he was an old-time, small-time former mobster whose time had passed:
"He used to run numbers for the dinosaurs."
Desperate to make a deal, Dave ran after Lou and tried to befriend him after earlier shunning him, claiming that the word in Las Vegas was that he was "the man to know." As they strolled by Lou's apartment, Lou bemoaned that the apartment - a "work of art" - would soon be torn down to make room for a casino. Dave proposed to pay Lou $100 dollars to borrow his apartment for one hour (for something: "technical - business," in other words, to prepare his cocaine for a deal). Lou was impressed by Dave's claim that he had been recommended by Harry Gropke, one of Lou's old associates in Las Vegas - a long-past connection with the underworld.