Nekromantik (1987, W. Germ.)
Director Jorg Buttgereit's first-time feature was a low-budget, cultish, gross-out, depraved and controversial German horror film. It started with a quote from V.L. Compton: "What lives that does not live from the death of someone else?" It also came with a disclaimer-warning in its opening frames for its many taboo-breaking sequences: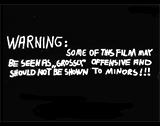 WARNING: Some of This Film May Be Seen As
"Grossly" Offensive and Should Not Be Shown to Minors!!!
It was reviled and banned in many countries for its depiction of necrophilia and other graphic activities and perversions - urination, bathing in bloody water, an autopsy, sex with corpses, rabbit cruelty (killing and skinning), cat disembowelment, graveyard sex, and decapitation by a shovel.
It told of the morbid preoccupation of a couple with corpses, helped by the fact that suicidal and manic-depressive accident clean-up crew member Robert "Rob" Schmadtke (Daktari Lorenz) would bring dead artifacts home.
The film opened with the aftermath of a horrific car accident, being cleaned up by Rob, employed by Joe's Cleaning Agency (JSA) - notable for its symbol of a pentagram surrounding a skull and crossbones (Totenkopf) on the company's truck/van. There were views of the bloodied, deceased victims (in and outside the vehicle). After work, Rob returned to his apartment where he kept a collection of preserved remains in various jars filled with formaldehyde. He added to his assortment of human parts gathered from his day's work, stored on a multi-shelved rack.
Cleaning Up After a Horrific and Gruesome Car Accident

Car Crash Victims

Fascist-themed Company
His girlfriend Betty (Beatrice Manowski) enjoyed bathing in bloody water, while Rob watched a televised interview with a psychiatrist speaking about phobias, including arachnophobia. Rob often had grotesque dreams/fantasies (one was of the slaughter of his childhood pet - a rabbit when he was a boy).
In the next sequence, an unnamed apple-picker/gardener (Harald Weis) was accidentally shot in the neck and killed by his neighbor (Volker Hauptvogel) (who was aiming at birds), who then hid the body to avoid incrimination by depositing it in a pond. In his job duties, Rob was able to make off with the rotting cadaver and brought it home to Betty - and they fondled it lovingly.
During a threesome, Betty also found pleasure in making love to a rotting and decomposed cadaver with a sawed-off piece of a broom handle (outfitted with a condom) stuck in its groin as a makeshift penis. After the menage a trois sequence, Betty pounded a raw steak before frying it in a pan, for a meal served with a blood-red liquid. The decomposing body also served as a "toy" or wall decoration in their apartment (next to a centerfold) - plates were set under the corpse to catch dripping fluids. The next day, Betty performed cunnilingus upon herself with the corpse's head.
Everything took a downturn when Rob was fired from his job and Betty fled (with the corpse). To reach new heights of degradation, Rob angrily resorted to:
committing animal torture, mutilation and the brutal killing of his own cat (and submerging himself under the dead animal in his bathtub while bathing in bloody water from its innards)
watching a misogynistic, cheap teen slasher horror movie in a theatre with other unemotional patrons
suicidal drug use and excessive alcohol consumption
and a dream sequence of his own partial decomposition inside a garbage bag
| | | |
| --- | --- | --- |
| | | |
| Mutilation of His Own Cat | 'Film Within a Film' - Slasher Horror | Dream: Rotting Away in a Garbage Bag |
After tossing a decapitated head and some entrails back and forth with a woman dressed in white, Rob enjoyed kinky graveyard copulation with a prostitute (atop a tombstone), but failed due to impotence. When she mocked and laughed at him for his sexual dysfunction, he strangled her and had sex with her corpse. The next morning, he also murdered an elderly man in the graveyard by chopping his head off with a shovel.
In the film's final socially-isolated sequence, Robert simultaneously masturbated and committed disembowelment (hari-kiri) with a knife - culminating in an orgasmic semen-blood mixed expiration, a sexualized suicide. It was intercut with a reverse-motion ungutting of the rabbit from his previous dream.
Robert's Simultaneous Masturbation (Semen and Blood) and
Disembowelment Suicide
The last shot - ending in a freeze frame - was his grave plot (marked with a wooden cross bearing his name) being dug up by an unidentified woman (wearing stockings and high heels) - had Betty returned for his dead body to perform more necrophilia?