Warner Bros. Stars - Cagney and Bogart:
Warner Bros. found itself in the late 1930s (at the time of increasing involvement in European affairs before WWII) with three tremendous talents - James Cagney, gritty director Raoul Walsh, and a new actor named Humphrey Bogart. Bogart was catapulted to fame by playing escaped killer Duke Mantee in The Petrified Forest (1936).
In various combinations, this trio made three memorable gangster films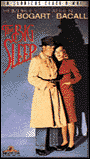 :
Raoul Walsh's The Roaring Twenties (1939) was a realistic, documentary-style, historical saga and chronicling of the Prohibition Era. Cagney and Bogart both starred in remarkable roles as bootlegging gangster rivals. It was the last great gangster film before the arrival of film noir in the early 1940s. It ended with Cagney's memorable and tragic death scene (evoking Michelangelo's Pieta) on snowy church steps.
Walsh's dramatic cult classic They Drive By Night (1940), a romantic melodrama, told about a freelance truck-driving business of wildcat drivers (co-stars George Raft and Humphrey Bogart as two brothers, Joe and Paul Fabrini). In the crime tale, Joe was seduced by his boss' half-crazed wife Lana Carlsen (Ida Lupino) although Joe was interested in pretty ex-truck stop waitress Cassie Hartley (Ann Sheridan). To take over the trucking business and also to entice Joe, the scheming Lana murdered her low-class husband Ed Carlsen (Alan Hale) (with carbon monoxide poisoning), but then blamed the 'accidental' murder on Joe when he rebuffed her advances.
Walsh's High Sierra (1941) was notable for featuring Bogart in his first starring role as a more sympathetic character - a newly-released, aging criminal named Roy "Mad Dog" Earle who fell in love with an innocent lame girl (Joan Leslie). The film concluded with Earle's heroic last-stand in the mountains where he was gunned down.
Bogart's most famous starring roles were in film noir-ish masterpieces as a private detective fighting crime, first as hard-boiled Sam Spade in John Huston's
The Maltese Falcon (1941), a faithful adaptation of Dashiell Hammett's "B" novel and the first in a string of marvelous film noirs and crime films in the 40s. He starred opposite Mary Astor as a conniving, double-crossing femme fatale who was almost able to lure Spade into corruption.
And then Bogart portrayed Philip Marlowe, another investigative detective (derived from Raymond Chandler's novel) in Howard Hawks' complex film
The Big Sleep (1946). His co-star was Lauren Bacall - and the real-life couple were once again paired in John Huston's memorable crime drama set in the Florida Keys, Key Largo (1948) with Edward G. Robinson resurrecting his iconic gangster image as the infamous Johnny Rocco.
Prison Films - A Subgenre:
Other highly dramatic films in the crime genre were actually a subgenre - the prison crime film. These were focused on the regimented setting for criminals - the prison and life behind bars. Prison films have portrayed the tremendous impact prison life had on prisoners as well as on wardens and guards. They were often populated by vindictive wardens, innocent men wrongly imprisoned, or stool-pigeons. Themes have also included methods of evasion, attempts to escape or prove innocence, social consciousness and concern about the prison system, and the death-row experience. One of the earliest prison films was the much-imitated, melodramatic The Big House (1930) with Wallace Beery as the prison's top con-man.
Mervyn LeRoy's expose I Am a Fugitive From a Chain Gang (1932) was another early landmark film with Paul Muni in a nominated role as James Allen, a WWI veteran and an innocent man sentenced twice to a chain-gang in the South for being an accomplice to a holdup. He was clearly portrayed as a victim of society's brutal, degrading criminal system. The film indicted the prison system (and cruel chain-gang treatment) for causing his criminality. Corrupted by injustice and resorting in the end to stealing, the protagonist was quoted as saying:
The state's promise didn't mean anything. It was all lies! They just wanted to get me back so they can have their revenge, to keep me here nine more years. Why, their crimes are worse than mine, worse than anybody's here. They're the ones that should be in chains, not we!
RKO beat LeRoy's film to the theatres by a few months, with director Rowland Brown's Hell's Highway (1932), another pre-Code film that depicted the horrible treatment of prisoners (wearing uniforms with bullseyes on their backs) in a Southern locale, and opening with the self-strangulation suicide of prisoner Joe Carter (John Arledge) in a sweatbox. The film's hero Frank "Duke" Ellis (Richard Dix) later became involved in a prison riot that led to his death in the film's original ending.
Fritz Lang's Fury (1936) was an expressionistic, realistic study of mob rule, injustice and revenge, and a precursor to the film noir classics of the 40s and 50s. It was the story of wrongfully-imprisoned and charged Joe Wilson (Spencer Tracy), whose jail cell was set on fire by a brutal, hysterical lynch mob, and left for dead. Playing the victim and hiding out, he watched the torment of his would-be vigilante murderers.
In Each Dawn I Die (1938), Cagney starred as a reporter who was framed for murder by gangsters and sent to prison, where he was befriended by inmate gang boss (George Raft). Jules Dassin's Brute Force (1947) starred Burt Lancaster (in his third film) as an inmate in Westgate Penintentiary under the harsh rule of a sadistic warden - still, he planned an escape to be with his critically-ill girlfriend (Ann Blyth).
Great Gangster-Crime Films Merging in the 1940s with Film-Noir:
As stated earlier, as the decade of the 40s and the post-war period emerged, crime films became darker, more brutal, violent, and cynical -- many crime/gangster films were actually film noirs. After World War II, gangsters were often businessmen who represented large and corrupt corporations (often anonymous). The first film to illustrate changes in the character of gangsters after WWII was Byron Haskin's I Walk Alone (1948). Burt Lancaster took the role of Frankie Madison, an ex-con who faced a changed world and a double-cross by his partner after his release from 14 years in prison. He learned that Noll 'Dink' Turner (Kirk Douglas) was now a pseudo-legitimate and respectable, high-flying Manhattan night-club owner/racketeer, unwilling to share in bootlegging profits from an earlier promise (Turner: "This is big business. We deal with banks, lawyers, and a Dunn and Bradstreet rating. The world's spun right past you, Frank.")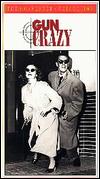 Crime films merged with film noirs in the post-war period (lasting in the classical period until
Touch of Evil (1958)), featuring tales of heroes doomed by passion - and made with highly expressionistic styles. Memorable gangster characters in film noirs ncluded Alan Ladd as a cold, solitary, professional killer in This Gun For Hire (1942), and James Cagney as a violent, psychopathic, mother-fixated, bad-guy killer in the extremely violent White Heat (1949), marking the actor's return to gangster films after a full decade. The superb B cult 'lovers-on-the-lam' movie Gun Crazy (1949) featured an obsessed gun-loving couple (Peggy Cummins and John Dall) on a violent murder spree. In an early 'fatal attraction' movie, The Postman Always Rings Twice (1946), (the first English-language film made from James M. Cain's novel), a drifter (John Garfield) was seduced by married, white-hot waitress Cora (Lana Turner) at a roadside cafe, who led him to help murder her kindly husband to escape her boring lifestyle.
In writer/director Nicholas Ray's first feature film, RKO's poignant noir They Live By Night (1949), Farley Granger (as likeable fugitive convict Bowie) and Cathy O'Donnell (as his romantic partner Keechie) were both doomed and pursued lovers on the run from the law. Bowie's criminal past caught up with him and he was gunned down by authorities in the conclusion. In the fatalistic noir
Out of the Past (1947), a definitive flashback film of melodramatic doom and betrayal, both sleepy-eyed, ill-fated, joyless and laconic investigator Jeff (Robert Mitchum) and lethal, slick racketeer/gangster czar Whit (Kirk Douglas in his fourth film) were romantically fascinated and erotically-obsessed with the self-indulgent, lethal, and erotic enchantress Kathie (Jane Greer). Other fatalistic and cynical noirs included Edgar Ulmer's low-budget Detour (1945), and Robert Siodmak's The Killers (1946).
One of the best suspense/thriller noir films of the 40s,
Double Indemnity (1944), had a brilliant script (written by Raymond Chandler and director Billy Wilder) based on the 1943 crime novel by James M. Cain. In the story, sexy, heartless femme fatale Phyllis Dietrichson (Barbara Stanwyck) enticed an insurance salesman (Fred MacMurray) into a scheme to murder her husband, in order to fraudulently collect a double indemnity accident policy pay-off. Both ended up dead when betrayal and paranoia infected their relationship. Also, Billy Wilder's macabre
Sunset Boulevard (1950) opened with the protagonist - B-movie screenwriter Joe Gillis (William Holden), floating dead in a swimming pool and narrating the scene, with flashbacks about how various events led to his demise.
The beautiful star Gene Tierney was the main character in two crime-related film noirs:
in Laura (1944), a gripping, moody, stylish murder mystery, Tierney was the 'victim' of her mentor - newspaper columnist Waldo Lydecker (Clifton Webb).
in John Stahl's melodramatic Leave Her to Heaven (1945), Tierney became the ruthless, greedy killer of her husband's paraplegic brother (Darryl Hickman), by luring him out onto a lake and causing his drowning.
Fritz Lang's spy film Cloak and Dagger (1946) was memorable for its long, brutal fist-fight sequence between physics Professor - turned - American spy (Gary Cooper) and an enemy agent. [Note: This scene was imitated in an excruciating death struggle in Hitchcock's Torn Curtain (1966), when world-famous scientist Paul Newman fought in a farmhouse kitchen with a Soviet villain and slowly asphyxiated the man in a gas oven.]
Hitchcock's 'Psychological' Crime Thrillers:
At mid-century, Alfred Hitchcock made a major contribution to the crime genre with a series of 'psychological' thrillers. In his mid-1940s film Spellbound (1946), a psychological mystery film, he used contemporary Freudian theory and current interest in analysis plus other psychological elements to increase the suspense. Other Hitchcock films, with aberrant or troubled personalities who were led to commit crimes, included these sophisticated thrillers:
Shadow of a Doubt (1943), with Joseph Cotten starring as unassuming Uncle Charlie - aka the Merry Widow murderer
Rope (1948), based upon 1924's Leopold and Loeb murder case, featuring two perverse, pseudo-intellectual bachelors (Farley Granger and John Dall) who planned and executed the 'perfect' murder - a thrill killing after which they hid the body in a chest during a dinner party
Strangers on a Train (1951), a gripping ingenious thriller, about two strangers who met on a train. Pro tennis player Guy Haines (Farley Granger) met deranged, maniacal sociopath Bruno Antony (Robert Walker), who suggested that they solve each other's problems by swapping murders (the killing of Guy's two-timing wife Miriam, and the elimination of Bruno's hated father). Great set pieces included the amusement park stalking, the cocktail party scene of how to commit a murder, the vigorous tennis match cross-cut with the sewer grating scene to retrieve the film's MacGuffin (a cigarette lighter), and the out-of-control merry-go-round in the finale when Guy was finally cleared of the murder.
Dial M For Murder (1954), an intriguing film about wealthy socialite wife Margot (Grace Kelly) who by film's end came to discover that her husband Tony Wendice (Ray Milland) had planned to murder her to inherit her fortune, although she foiled the blackmailed intruder's deadly deed with a pair of scissors thrust into his back
Rear Window (1954)
Vertigo (1958)
North by Northwest (1959)
Psycho (1960)
Organized Crime-Gangster Films in the mid-1950s: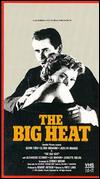 In the decade of the 1950s, gangsterism was portrayed with organized crime organizations (the Mob) taking over, accompanied by tense action, realistic settings, rich characterizations, and a view of society as sick, immoral and corrupt. Abraham Polonsky's lyrical debut film Force of Evil (1948) demonstrated the doomed and needless fate of the older brother of slick, corrupted Wall Street mob lawyer Joe Morse (John Garfield) who had sold out to the mob and became indebted to the criminal syndicate for life. In Fritz Lang's classic crime film noir The Big Heat (1953), Glenn Ford played a vengeful homicide detective (after his wife was killed in a car bombing) in pursuit of a big crime operation and its crime lord to clean up the corruption with the aid of a gangster's moll (Gloria Grahame). Its most violent scene included the face scalding and disfigurement of the heavy's (Lee Marvin) girlfriend with a pot of coffee.
A gritty, grim view of New York's waterfront racketeering and corrupt union bosses was portrayed in the violently raw, documentary-style film titled
On the Waterfront (1954), starring Marlon Brando as ex-fighter Terry Malloy and Rod Steiger as Malloy's brother and the union boss' crooked lawyer. In an effective, classic film noir American crime film titled The Big Combo (1955), a gangster's ex-girlfriend helped half-crazed cop Cornel Wilde break a syndicated crime organization led by Richard Conte. At the height of the apocalyptic paranoia of the Cold War, Robert Aldrich's paranoid, suspenseful, noirish, melodramatic crime film Kiss Me Deadly (1955), based on Mickey Spillane's pulp fiction novel, told how sleazy, hard-hitting private eye Mike Hammer (Ralph Meeker) tracked down a sinister conspirator named Dr. Soberin (Albert Dekker) - who possessed an atomic, 'glowing' box containing the Great Whatsit.
Crime dramas of gun-crazed killers, daring or troubled protagonists, or real-life criminals were commonplace, often with endearing, charismatic characters that evoked the earlier, 30s style gangster films. Director Roger Corman's Machine Gun Kelly (1958) offered a view of the notorious bank robber (Charles Bronson), as did the character portraiture Al Capone (1959) starring Rod Steiger as the prohibition-era Chicago gangster. Budd Boetticher's The Rise and Fall of Legs Diamond (1960) was about legendary bootleg trafficker Legs Diamond, and Joseph Newman's King of the Roaring 20s (1961) told the story of New York's infamous 20s gambler/bookie Arnold Rothstein (David Janssen) who fixed the 1919 World Series. Roger Corman's gangster epic The St. Valentine's Day Massacre (1967) provided an account of the battle for Chicago's bootleg business between Al Capone and Bugs Moran. Corman's trashy gangster film Bloody Mama (1969) starred Shelley Winters as Ma Barker, in the first of his series of 'Mama' movies. And John Milius' debut film Dillinger (1973) colorfully captured the life story of bank robber John Dillinger and other notorious criminals.
Not to be forgotten were the contributions of Ian Fleming's international, dinner-jacketed spy hero James Bond, who began his long franchise run of over two dozen espionage crime thrillers, beginning with Dr. No (1962). Bond would soon become the favorite cinematic secret agent, supplemented with an array of gadgets, cars, villains, and Bond girls.
The Caper (or Heist) Film - Another Subgenre Type of Crime Film: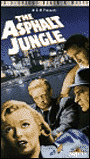 The caper film was another subgenre of the crime film that developed in the 1950s - John Huston's The Asphalt Jungle (1950) was a superb film-noirish example of the 'heist' picture, depicting a gang of assorted criminals conducting a carefully-planned jewel robbery caper. A fatally-wounded gang member Dix Handley (Sterling Hayden) died after returning to his father's Kentucky horse ranch in the film's lyrical ending. In Stanley Kubrick's dark, sharp-edged The Killing (1956), Sterling Hayden led a group of criminals in a precisely-timed rip off of a racetrack. In both films, things went awry with disastrous results.
In Robert Wise's noirish Odds Against Tomorrow (1959) - noted as the first noir with a black protagonist, Harry Belafonte starred as drug-addicted, troubled, indebted black nightclub singer Johnny Ingram, who teamed up with remorseless, bigoted, unstable ex-convict killer Earl Slater (Robert Ryan) and middle-aged crooked ex-cop Dave Burke (Ed Begley) to commit a bank robbery. In the end, they were ultimately stymied by racial prejudice. After the robbery and during pursuit by the authorities, Slater and Ingram faced each other in a deadly, fiery shootout in an oil refinery.
In the light comedic caper Ocean's 11 (1960), the 'Rat Pack' (Dean Martin, Sammy Davis Jr., Frank Sinatra - as Danny Ocean, and Peter Lawford, etc.), a group of ex-WWII soldiers led by Danny Ocean, orchestrated a heist of five Las Vegas strip casinos (Sahara, Riviera, Desert Inn, Sands, and The Flamingo) on New Year's Eve. Their successful caper, precisely accomplished with a power outage, ended with a twist - the money hidden in a coffin and transported to San Francisco ended up in a crematory! The original The Thomas Crown Affair (1968) combined two elements - the heist film and a romance, between dapper millionaire/bank robber Thomas Crown (Steve McQueen) and sleuthing insurance investigator-lover Vicki Anderson (Faye Dunaway) - with the famous scene of their seductive chess game. And in The Italian Job (1969), an audacious heist of $4 million in gold bullion from the payroll of Turin-based automaker Fiat was planned by Charlie Croker (Michael Caine) - his clever ruse was to create a paralyzing traffic jam in the streets and while getting away in three Mini Coopers.
The Doberman Gang (1972) was advertised in taglines as having "the most incredible caper ever conceived." An ex-con and some of his friends trained a pack of Dobermans to rob a bank. In Peter Yates' comedic The Hot Rock (1972), a foursome of thieves led by John Dortmunder (Robert Redford) were in continual pursuit of a hot rock - a valuable gem dubbed the Sahara Stone. The Best Picture-winning The Sting (1973) reunited the buddy team of Robert Redford and Paul Newman as two con artists in 1930s, Depression-and Prohibition-Era Chicago who joined together for revenge (with an off-track horse betting trick) against a big-time New York racketeer (Robert Shaw). And after a bank job in Sam Peckinpah's The Getaway (1972), Steve McQueen and Ali McGraw were chased across Texas toward the Mexican border. In Don Siegel's Charley Varrick (1973), Walter Matthau found himself on the run from hitman Joe Don Baker after robbing a bank with mob-laundered funds.
British film-makers at Ealing Studios also contributed a series of crime caper comedies, including director Charles Crichton's The Lavender Hill Mob (1951, UK), starring Oscar-nominated Alec Guinness as a mild-mannered transporter of gold bullion. Uncharacteristically, he stole one million pounds worth of gold, then melted it down into small Eiffel Tower statues. Guinness also starred in the similar The Ladykillers (1955, UK) by director Alexander Mackendrick - he portrayed a criminal mastermind posing as a music professor who was planning a heist of 60,000 pounds with a small group of oddball thieves. Things became more complicated when his kindly octogenerian landlady Mrs. Wilberforce (Katie Johnson) became involved. [Note: The Coen Brothers remade the film - as The Ladykillers (2004), with Tom Hanks in the Guinness role, as Professor G.H. Dorr.]
Courtroom Dramas - Another Subgenre Type of Crime Film:
Beginning in the mid-1950s, suspenseful, law-related courtroom dramas were thriving. Typically, tense trials pitted lawyers against each other, and set up one-on-one conflict between a prosecutor and a defendant. Sometimes, the protagonists were a "little" guy (an individual) against a "big" guy (or corporation), or the more abstract "good" vs. "evil," or they often involve wider issues, such as race, sex, capital punishment (life and death), and morality. And of course, courtroom crime dramas usually contained some of the most fascinating thematic elements in film -- murder, betrayal, deception, perjury and sex. They often featured unexpected twists and surprise testimony, unusual motives, moral dilemmas, crusading lawyers and wrongly-accused victims.
One of the most memorable courtroom dramas (spiced up with the repeated mention of "panties") was Otto Preminger's Anatomy of a Murder (1959), with James Stewart as wily small-town Michigan lawyer Paul Biegler defending Army Lt. Manion (Ben Gazzara) who shot a local bar owner for allegedly raping his sexy wife Mrs. Manion (Lee Remick).
Many courtroom films have been based on historical events, such as the 1925 Scopes "Monkey Trial" in Inherit the Wind (1960) pitting two great lawyers against each other (Spencer Tracy as Henry Drummond - Clarence Darrow, and Fredric March as Matthew Harrison Brady - Williams Jennings Bryan), the war crimes tribunal post WWII in Judgment at Nuremberg (1961), or fictional, such as in Billy Wilder's Witness For the Prosecution (1957), based upon Agatha Christie's stage play. However, for reasons of length, many non-fiction courtroom dramas were often shortened or compressed, and details were sometimes glossed over or changed.
Sometimes, courtroom-related films emphasized flaws in the justice system - Sidney Lumet's Twelve Angry Men (1957) observed how quick-to judge jury deliberations can potentially be disastrous to defendants due to claustrophobic conditions, racist attitudes, juror's conflicting personalities, and heat and fatigue. Earlier, RKO's and Irving Pichel's noirish melodrama about adultery They Won't Believe Me (1947) was about the trial of philandering playboy Lawrence Ballentine (Robert Young) accused of a brutal murder. In fact, two of the women with whom he had been associated ended up dead. In the film's twisting fateful conclusion, Ballentine jumped to his death from a window (he expected to be convicted) before the jury revealed its verdict - not guilty!
To Kill a Mockingbird (1962) revealed the racist attitudes of a small-town in the Depression-Era South, when well-respected and heroic lawyer Atticus Finch (Gregory Peck) passionately defended a black man accused of raping (or attacking) a poor white-trash woman. Director George Stevens' melodrama about class striving, A Place in the Sun (1951), starred Montgomery Clift as young working-class George Eastman who fell passionately in love with debutante Angela Vickers (Elizabeth Taylor), but then found that the world of privilege and wealth was unattainable when his needy, lower-class ex-girlfriend (Shelley Winters) revealed that she was pregnant. He was tried for her alleged murder when he took her for a boat ride on a lake and she drowned - and he ended up condemned to be executed.