Hitchcock's Menaced Women:
Many of Hitchcock's earlier black-and-white works featured menaced women:
Rebecca (1940) - in this adaptation of a Daphne du Maurier tale, a naive, unnamed newlywed (Joan Fontaine) was victimized by the tyrannical housekeeper (Judith Anderson) of her widower husband's (Laurence Olivier) ex-wife Rebecca, in a Gothic noirish setting, until she fully discovered the strange events surrounding Rebecca's death
Suspicion (1941) - a wealthy wife (Joan Fontaine again) was suspicious of her fortune-hunting husband (Cary Grant) after the murder of a friend (Nigel Bruce)
Shadow of a Doubt (1943) - Joseph Cotten starred as a rich widow-killer who threatened his suspicious favorite niece (Teresa Wright)
Spellbound (1945) - Gregory Peck appeared as a young psychiatrist (actually a disturbed, amnesia imposter) who was accused of murder and counseled by psychiatrist Ingrid Bergman through dream analysis
Notorious (1946) - Ingrid Bergman became the slowly-poisoned wife of a Nazi spy (Claude Rains)
Vertigo (1958), one of Hitchcock's greatest and most disturbing films, with James Stewart as retired police detective Scottie Ferguson who became obsessed with the disturbed enigmatic 'wife' Madeleine (Kim Novak) of an old friend, while suffering the effects of his fear of heights - and vertigo
Psycho (1960) - this shocking and engrossing, most influential thriller-noir - a classic, low budget, manipulative, black and white film - included complex Oedipal themes and schizophrenia; it told about a loner - a mother-fixated motel owner and taxidermist (Anthony Perkins), who killed embezzling, blonde real estate office secretary Marion Crane (Janet Leigh) in the classic set piece (the 'shower scene'); the psychotic, disturbed cross-dressing transvestite "mother's boy" was dominated by his jealous 'mother', rumored to be in the Gothic house on the hillside behind the dilapidated, remote motel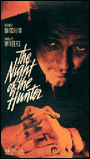 Imperiled Children Noirs:
in Ted Tetzlaff's The Window (1949), a prone-to-lying slum boy (Bobby Driscoll) wasn't believed when he vowed that he had witnessed a New York murder in an adjoining apartment - and his life was threatened by the killers
in the masterwork The Night of the Hunter (1955), the only film ever directed by actor Charles Laughton, Robert Mitchum starred as a psycho-crazed, creepy preacher (with finger knuckles tattooed reading "L-O-V-E" and "H-A-T-E") desperately stalking two children to learn their monetary secret
Corruption and Crime Noirs:
Crime and corruption were often the main focus of noir films, usually with tough police detectives in pursuit:
in Charles Brabin's gritty pre-noir The Beast of the City (1932), gangsters were pursued by a serious police chief (Walter Huston)
in director Archie Mayo's The Petrified Forest (1936), Humphrey Bogart (in an early role) took Bette Davis and Leslie Howard hostage in a desert restaurant/service station
in Raoul Walsh's gangster noir High Sierra (1941) based on W.R. Burnett's novel, Humphrey Bogart (in his first starring role) performed as aging gangster Roy "Mad Dog" Earle with a heart of gold toward country girl Velma (Joan Leslie), who couldn't give up his life of crime and died while pursued in the Sierra Mountains
in Stuart Heisler's The Glass Key (1942), Alan Ladd starred as Ed Beaumont, a right-hand man and political aide who attempted to save his politician employer (Brian Donlevy) from a murder rap, while Lake played the seductive fiancee of the boss
in Frank Tuttle's This Gun For Hire (1942), marking the first teaming of Alan Ladd and peekaboo blonde Veronica Lake, Ladd starred as "angel of death" hitman Raven, an unsmiling San Francisco professional hit-man who became embroiled in a double-cross and went on the run from police
in Fritz Lang's suspenseful wartime espionage thriller Ministry of Fear (1944), based on Graham Greene's novel, Stephen Neale (Ray Milland), in possession of microfilm won in a carnival cake raffle, found himself on the run from both the Nazis and the authorities
in Robert Siodmak's (and cinematographer Woody Bredell's) expressionistic noir thriller Phantom Lady (1946), based upon Cornell Woolrich's (pseudonym William Irish) pulp novel, an engineer (Alan Curtis) accused of murdering his wife (and sentenced to the electric chair) had an unbelievable alibi (involving a mysterious 'lady' with an ornate hat), causing a police inspector to race against time to prove his innocence
in Irving Reis' Crack-Up (1946), a middle-aged art critic and forgery expert (Pat O'Brien) who blacks out must retrace his recent past to circumvent an art forgery conspiracy at a New York museum
in director Joseph H. Lewis' cult film noir So Dark the Night (1946), a French investigating cop must solve murders committed while on vacation
director Roy William Neill's (known for a series of 1940s 'Sherlock Holmes' films) murder mystery Black Angel (1946), based on the novel by Cornell Woolrich, was about an alcoholic piano player (Dan Duryea cast against type) who attempted to solve the murder of his estranged wife in Los Angeles when suspected of being the culprit; with a supporting cast of Broderick Crawford and Peter Lorre
director Robert Wise's nasty noir Born to Kill (1947), based on James Gunn's novel Deadlier Than the Male, starred Lawrence Tierney as a mean, cold-blooded double-murderer ("the coldest killer a woman ever loved"), and Claire Trevor as his bad-girl mistress
Edward Dmytryk's noirish political drama Crossfire (1947) told about the social issue of anti-semitism prejudice, in its flashback story regarding an investigation (by Robert Mitchum and Robert Young) into the mysterious murder of a Jew by a bigoted GI soldier (Robert Ryan)
in Henry Hathaway's violent docu-crime noir Kiss of Death (1947), Victor Mature starred as paroled robber Nick Bianco opposite chilling, sadistic gangster Tommy Udo (Richard Widmark in his stunning screen debut, noted for the scene in which he giggled hysterically while pushing a wheelchair-bound old woman down a flight of stairs); [remade as the western The Fiend Who Walked the West (1958), and Kiss of Death (1995) with Nicolas Cage]
in Edmund Goulding's Nightmare Alley (1947), Tyrone Power starred as traveling carnival con-man "The Great Stanton" who also claimed to be a spiritualist who could communicate with the dead - until exposed
Robert Siodmak's fatalistic Cry of the City (1948) and the doom-laden Criss Cross (1949) both featured unreliable characters, tenuous relationships and twisting plots, with Yvonne DeCarlo in the latter film as a femme fatale enticing a love-sick Burt Lancaster during a heist gone wrong; [the film was remade by Steven Soderbergh as The Underneath (1995)]
Fred Zinnemann's Act of Violence (1948) starred Van Heflin as returning, ex-POW WWII veteran 'war hero' Frank Enley, who harbored the dark secret that he was a Nazi collaborator to survive, known only by vengeful sole-surviving ex-comrade Parkson (Robert Ryan)
director John Farrow's suspenseful and complex thriller The Big Clock (1948), with a giant corporate clock as the film's centerpiece, told the flashback story of a media executive and Crimeways Magazine journalist George Stroud (Ray Milland) in a race against time to solve the murder of his tyrannical boss Earl Janoth's (Charles Laughton) mistress Pauline York (Rita Johnson) in 1940s New York - in an investigation that quickly showed himself as the framed prime suspect [the film was remade as No Way Out (1987) with Kevin Costner and Gene Hackman]
in John Huston's intelligent, exciting, theatrical, but moody, downbeat crime drama/thriller (and melodramatic gangster-related film noir) Key Largo (1948), bullying, fugitive gangster Johnny Rocco (Edward G. Robinson), on-the-run with fellow mobsters and his alcoholic lush moll and ex-nightclub singer Gaye Dawn (Claire Trevor), found himself in a Florida Keys hotel in the off-season during a violent, tropical hurricane; he snarled while waiting for a counterfeit money deal and held various residents hostage including returning war-scarred veteran Frank McCloud (Humphrey Bogart), newly-widowed Nora Temple (Lauren Bacall) and her wheelchair-bound father-in-law and hotel manager James Temple (Lionel Barrymore)
in director Robert Rossen's Best Picture-winning All the King's Men (1949), Broderick Crawford portrayed a power-corrupted politician based upon Louisiana's Huey Long
in director Max Ophuls' domestic noirish melodrama The Reckless Moment (1949), upper middle-class housewife Lucia Harper (Joan Bennett) covered up for her daughter's manslaughter of her seedy, older lover, and then fell in love with blackmailing, infatuated small-time crook Martin Donnelly (James Mason)
director Robert Wise's last film for RKO, The Set-Up (1949) told of an aging boxer (Robert Ryan) betrayed by his trainers
in director Nicholas Ray's first feature film They Live By Night (1949), bank robber "Bowie" (Farley Granger) was 'on-the-run' with eloped lover/wife "Keechie" (Cathy O'Donnell)
Raoul Walsh's film noirish gangster film White Heat (1949) starred James Cagney as unstable, mother-fixated, sadistic killer Cody Jarrett who blew himself up on an oil tank in the fiery climax, screaming: "Made it, Ma! Top of the world!"
maverick director Nicholas Ray's In a Lonely Place (1950), a mature, bleak and dramatic film noir, told about a world-weary, acerbic, self-destructive, hot-tempered, depression-plagued, laconic Hollywood screenwriter and anti-hero Dixon Steele (Humphrey Bogart) who became the prime suspect in a murder case of a night-club hat-check girl Mildred Atkinson (Martha Stewart); his romantic relationship with a lovely neighbor/would-be starlet Laurel Gray (Gloria Grahame) in his housing complex grew stronger when she confirmed his alibi, but she became increasingly suspicious
in black-listed director Jules Dassin's grim Night and the City (1950), Richard Widmark provided the lead performance as an ambitious, scheming, and self-deceiving London hustler
in John Huston's classic heist film The Asphalt Jungle (1950) based on W.R. Burnett's novel, a group of criminals (including Sterling Hayden as Dix Handley) gathered to execute one last, ill-fated jewel heist caper for criminal mastermind Doc (Sam Jaffe) and crooked financial backer (Louis Calhern appearing with his mistress Marilyn Monroe); the unsuccessful jewel robbery unraveled in the film's taut central scene - with the film's final great sequence of Dix' death in a Kentucky horse pasture [The film was remade three times as the western The Badlanders (1958) with Alan Ladd, a jewel heist flick titled Cairo (1963), and Cool Breeze (1972) with an all-black cast]
in Otto Preminger's Where the Sidewalk Ends (1950) with a Ben Hecht script, raging, violent, and out-of-control NY cop Mark Dixon (Dana Andrews), whose father was a gangster, covered up the accidental death of a suspect by inadvertently framing local cab-driver Jiggs Taylor (Tom Tully), and became further entangled when he fell in love with the man's daughter Morgan Taylor-Paine (Gene Tierney)
in Nicholas Ray's On Dangerous Ground (1951), embittered cop Robert Ryan - investigating a murder of a young girl outside the city - fell for the blind sister (Ida Lupino) of the prime murder suspect, her mentally-ill brother
in Phil Karlson's hard-edged, tough, low-budget bank heist tale Kansas City Confidential (1952), ex-con florist delivery man Joe Rolfe (John Payne) was framed during a $1.2 million armored car robbery job in Kansas City, committed by masked criminals including Boyd Kane (Neville Brand), Pete Harris (Jack Elam), and Tony Romano (Lee Van Cleef); after being cleared and released (and losing his job and reputation), Rolfe pursued the criminal gang to Mexico to the fictitious resort town of Borados where he took payback revenge; Rolfe impersonated Pete Harris after Harris was gunned down by police in Tijuana; complications arose when he fell in love with the fresh-faced law student daughter Helen "Punkin" Foster (Coleen Gray) of the gang's double-crossing mastermind-boss 'Mr. Big': bitter ex-cop Tim Foster (Preston Foster) who was posing in Mexico as a vacationing fisherman
in Fritz Lang's savage The Big Heat (1953), bereaving, unrestrained cop Glenn Ford was on a one-man crusade against corruption
in writer/director Samuel Fuller's action-packed, raw thriller-noir Pickup on South Street (1953), Richard Widmark starred as tough-minded ex-con pickpocket Skip McCoy embroiled in the plot with femme fatale prostitute Candy (Jean Peters) after unknowingly stealing microfilm (bound for Communist spies) from her purse during a crowded subway ride
in Andre de Toth's B-film crime noir Crime Wave (1954), Sterling Hayden starred as a confrontational, hard-nosed detective who despised a paroled San Quentin convict struggling to redeem himself
in director Joseph H. Lewis' thriller-film noir The Big Combo (1955), sadistic and arrogant mobster hood-kingpin Mr. Brown (Richard Conte) was able to lure weak-willed, abused, and unwilling society blonde Susan Lowell (Jean Wallace) to himself; she was eventually able to help half-crazed, obsessed police detective Leonard Diamond (Cornel Wilde) break Mr. Brown's syndicated crime organization
Robert Aldrich's apocalyptic, jarring and violent Kiss Me Deadly (1955) was an adaptation of Mickey Spillane's novel of the same name; it told the quest tale of hardened and violent detective Mike Hammer (Ralph Meeker) and sexy assistant Velda (Maxine Cooper) to learn about the deadly contents of the "Great Whatsit" box [Later films repeated the motif of the mysterious box, such as Repo Man (1984) and Pulp Fiction (1994)]
Phil Karlson's documentary-styled The Phenix City Story (1955) opened with a 15 minute preface of interviews by real-life reporter Clete Roberts of the actual principal characters in the muckracking docu-drama, including a newsman, locals, and a widow; the focus was Alabama's evil 'sin city' of Phenix City, centering on "The Poppy Club" known for corrupt card games, rigged gambling, murders, and other vices catering to soldiers from nearby Fort Benning; it was led by boss Rhett Tanner (Edward Andrews) and his brutish henchmen (e.g., Clem Wilson (John Larch)); violence came to a climax after some beatings of local opponents, the murders of Fred Gage (Biff McGuire) and a black girl (with a threat pinned to her dress), and the assassination of State Attorney General nominee Albert Patterson (John McIntire), after which his veteran-son John Patterson (Richard Kiley), a lawyer, took up the courageous torch of justice
in Stanley Kubrick's The Killing (1956), Sterling Hayden starred as an ex-con involved in a doomed-to-fail horse racetrack robbery, and Marie Windsor portrayed the duplicitous, adulterous femme fatale who plotted to run away with the money with gangster Val (Vince Edwards) after betraying her husband (Elisha Cook, Jr.), the inside-man at the track
in Fritz Lang's underrated crime noir While the City Sleeps (1956), Dana Andrews starred as ambitious newspaper reporter and TV host Ed Mobley who used all competitive methods possible to hunt for and discover the identity of a serial sex killer - "The Lipstick Killer" (revealed to be teenaged Robert Manners (John Barrymore, Jr.)), in order to gain the newspaper's editorship - even resorting to using his girlfriend/fiancee Nancy Liggett (Sally Forrest) as bait; in the conclusion, the killer was captured in an exciting subway tunnel chase and confessed to four murders
in Alexander MacKendrick's Sweet Smell of Success (1957) from a script by Clifford Odets and Ernest Lehman, Burt Lancaster starred as ruthless, all-powerful and evil NYC gossip columnist J.J. Hunsecker (based on Walter Winchell) in league with his sleazy, hustling press agent Sidney Falco (Tony Curtis) - both engaged in a nasty smear campaign to prevent the columnist's young sister Susan's (Susan Harrison) marriage to a musician
in one of the last true classic film noirs (and the first noir to include a black protagonist), Robert Wise's crime drama Odds Against Tomorrow (1959), a trio of bank-robbers (including Harry Belafonte as indebted nighclub entertainer Johnny Ingram) faced tensions (of racism and prejudice) within their gang

Cross-Over Noirs:
The term film noir has also been more widely applied to other categories of films. Some of the most interesting film noir derivatives were the film noir westerns of the 1950s:
Non-genre dramatic films, such as Billy Wilder's drama about alcoholism titled The Lost Weekend (1945), Wilder's
Sunset Boulevard (1950), and Laurence Olivier's Hamlet (1948) could also be considered cross-over dramatic noirs. Surprisingly there was even a noir musical, Michael Curtiz' Young Man with a Horn (1950).
There are at least a few distinctive 'women's' film noirs: Laura (1944), Mildred Pierce (1945), Leave Her to Heaven (1945), Max Ophuls' domestic melodrama The Reckless Moment (1949) and Robert Siodmak's The File on Thelma Jordon (1950) with Barbara Stanwyck.