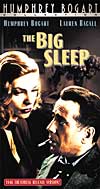 Noirs with Raymond Chandler's 'Philip Marlowe':
Over the years from 1939 to 1958, Raymond Chandler wrote seven full-length Philip Marlowe novels about the popular, hard-drinking detective-gumshoe - a PI sleuth. His works set the standard for the "hard-boiled" and world-weary detective character and his milieu.
Six of Chandler's books were adapted into feature films (several more than once), and many different actors have portrayed the hard-drinking PI in theatrical films, including:
Dick Powell
George Montgomery
Robert Montgomery
Elliott Gould
Robert Mitchum (twice)
James Garner
Humphrey Bogart
Raymond Chandler's Seven Full-Length Philip Marlowe Novels

Chandler Novel
(7 in total)

Date of Novel

Title and Date of Film
and Director

Actor Who Played Marlowe

Film Notes

(1) The Big Sleep

1939


The Big Sleep (1946)
d. Howard Hawks

Humphrey Bogart

- confusing, classic Howard Hawks who-dun-it, and a tale of blackmail, pornography, and murder in Los Angeles
- adapted for the screen by co-writers William Faulkner, Leigh Brackett and Jules Furthman
- Bogart was teamed with real-life wife Lauren Bacall


The Big Sleep (1978, UK)
d. Michael Winner

Robert Mitchum

- a UK remake of Howard Hawks' 1946 film
- Mitchum's 2nd portrayal of Marlowe
- with Candy Clark and Sarah Miles as the two Sternwood daughters, and Oliver Reed as corrupt gangster Eddie Mars

(2) Farewell, My Lovely

1940


The Falcon Takes Over (1942)
d. Irving Reis

George Sanders as Gay Lawrence
(not as Philip Marlowe)

- it was the first of three film versions of Chandler's Farewell, My Lovely
- based on Chandler's book, Farewell, My Lovely, and on novelist Michael Arlen's 1940 fictional crime short story Gay Falcon
- the protagonist was Gay Stanhope Falcon (later renamed Gay Lawrence) rather than Philip Marlowe
- it was the third installment in the Falcon series of four films from 1941 to 1942 starring George Sanders; in all, there were 16 Falcon films from 1941 to 1949, with Sanders and two other actors (Tom Conway as Tom Lawrence and John Calvert as Michael Waring)


Murder, My Sweet (1944)
(aka Farewell, My Lovely)
d. Edward Dmytryk

Dick Powell

- the film, a twisting story of intrigue, was especially noted for its expressionistic lighting and flashback structure
- singer Dick Powell starred in an against-type role as the down-and-out PI searching for paroled ex-con Moose Malloy's (Mike Mazurki) missing lover Velma/Helen Grayle (Claire Trevor) in wartime Los Angeles


Farewell, My Lovely (1975)
d. Dick Richards

Robert Mitchum

- shot in color, a remake of The Falcon Takes Over (1942) and Murder, My Sweet (1944)
- set in Los Angeles in 1941
- with Charlotte Rampling as the seductive Helen Grayle/Velma, Jack O'Halloran as Moose Malloy, and Sylvia Miles (Best Supporting Actress-nominee) as Jessie Halstead Florian

(3) The High Window

1942


Time To Kill (1942)
d. Herbert I. Leeds

Lloyd Nolan as Michael Shayne
(not as Philip Marlowe)

- Marlowe was renamed Michael Shayne, a similar gumshoe private detective
- this was a version of The Brashear Doubloon (1947)
- this was the last of a series of seven films from 20th Century Fox (from 1940 to 1942), with Lloyd Nolan starring as Michael Shayne


The Brashear Doubloon (1947)
(aka The High Window)
d. John Brahm

George Montgomery

- technically a remake of Time to Kill (1942)

(4) The Lady in the Lake

1943


Lady in the Lake (1947)
d. Robert Montgomery

Robert Montgomery (also directed film)

- experimentally shot from the point of view of Marlowe

(5) The Little Sister

1949


Marlowe (1969)
d. Paul Bogart

James Garner

- the setting was 1960s Los Angeles
- with martial arts expert Bruce Lee as the villain

(6) The Long Goodbye

1953


The Long Goodbye (1973)
d. Robert Altman

Elliott Gould

- a spoof film, set in modern-day Los Angeles
- the lone, unconventional sleuth investigated the murder of a friend's wife

(7) Playback

1958

none

- the only Chandler novel about Marlowe never filmed
[Note: Also, James Caan portrayed Philip Marlowe in the HBO film Poodle Springs (1998), based on Chandler's unfinished novel Poodle Springs - completed after his death by Robert B. Parker and published in 1989. Even African-American actor Danny Glover portrayed shamus Marlowe in the 1995 anthology Showtime TV series Fallen Angels in an episode titled "Red Wind."]
Romance Film Noirs with Great Femme Fatales:
Twisted, shocking melodramatic film noirs featuring deadly femme fatales on a path of romance and self-destruction (romance noirs) with the men in their lives included the following examples:
Fritz Lang's second American film You Only Live Once (1937) with a framed-for-murder, doomed ex-convict Henry Fonda in flight to the border with loser wife Sylvia Sidney and child
Jean Renoir's classic, tragic, and film-noirish crime drama La Bête Humaine (1938, Fr.) (aka The Human Beast) about murder, guilt and adulterous infidelity in a love triangle, adapted from Emile Zola's 1890 novel, starring Jean Gabin as homicidal, tormented railroad engineer Jacques Lantier - the "human beast," Le Havre deputy station master Roubaud (Fernand Ledoux), and his sexy, manipulative and troubled femme fatale wife Séverine Roubaud (Simone Simon)
William Wyler's The Letter (1940) featured Bette Davis as a murdering wife whose professed innocence was compromised by a damning letter
Billy Wilder's (and Raymond Chandler's) adaptation of James M. Cain's novel Double Indemnity (1944) included a persuasive, sinister brassy blonde (Barbara Stanwyck) who convinced a smart-talking insurance agent/lover (Fred MacMurray) to murder her unsuspecting husband so they could share 'double indemnity' insurance proceeds; also with Edward G. Robinson as a shrewd insurance investigator
Fritz Lang's tense The Woman in the Window (1944) told about a law-abiding college professor (Edward G. Robinson) who became embroiled in a crime when he unintentionally committed a murder and suddenly found himself on the run from blackmail with a beautiful, strange model (Joan Bennett)
Michael Curtiz' melodramatic, mother-daughter noir classic Mildred Pierce (1945) featured Best Actress-winning Joan Crawford as a suspected murderess who covered up for her beloved but venomous femme fatale daughter (Ann Blyth)
the psychological, melodramatic noir Leave Her to Heaven (1945), one of the first noirs shot in color, highlighted a menacing, father-fixated, unstable femme fatale (Gene Tierney) who would stop at nothing (the drowning murder of her husband's younger paraplegic brother in a Maine lake, and a deliberate miscarriage to kill her unborn child when she deliberately fell down stairs) to possessively hold onto the man she loved
Edgar G. Ulmer's gritty, cheaply-made ("Poverty Row"), fatalistic, cultish crime film Detour (1945) was about the bleak twists of fate; in a flashback story cynically narrated, a world-weary, identity-stealing hitchhiker (Tom Neal) was haplessly involved in an ambiguous death during his thumbing trek to Los Angeles, and later became involved with a nasty hitchhiker - the film's blackmailing, vindictive femme fatale con Vera (Ann Savage) whom he accidentally strangled with a telephone cord through a closed door; [Note: the film was remade as Detour (1992) and starred the son of the original ill-fated protagonist, Tom Neal, Jr.]
Tay Garnett's stylish and moody The Postman Always Rings Twice (1946), from James M. Cain's novel, starred "sweater girl" Lana Turner as the libidinous, restless platinum blonde wife Cora Smith - who was stuck in a roadside diner and loveless marriage and convinced her illicit lover Frank Chambers (John Garfield) to murder her good-hearted husband Nick (Cecil Kellaway)
in Lewis Milestone's The Strange Love of Martha Ivers (1946), Barbara Stanwyck's murderous past might be revealed by her alcoholic, unrespected attorney husband Kirk Douglas
Rita Hayworth was featured in a sultry performance as the black glove-stripping Gilda (1946) to the tune of "Put the Blame on Mame" in Charles Vidor's classic film noir of a love triangle - the 'love goddess' portrayed the sexy, hedonistic red-headed wife of South American casino owner Ballin Mundson (George Macready) who became involved with her husband's abusive croupier (Glenn Ford) - her ex-beau. She became notorious for her much-quoted line: "If I'd been a ranch, they would have named me the Bar Nothing"
Robert Siodmak's adaptation of Ernest Hemingway's 1927 short story of a twisting double-cross, The Killers (1946), featured Burt Lancaster (in his film debut as the doomed ex-boxer Ole "the Swede" Andersen) and the stunning Ava Gardner as the manipulative vixen Kitty Collins (who was quoted as saying: "I'm poison, Swede, to myself and everybody around me"); it was noted for its exceptional beginning in which the Swede was assassinated by two professional killers - and accepted his death stoically. [This film was remade by director Don Siegel as the violent crime noir thriller The Killers (1964) with Lee Marvin, Ronald Reagan (in his last feature role), and Angie Dickinson]
in director John Cromwell's Dead Reckoning (1947), an on-the-run WWII veteran's alluring Southern girlfriend (Lizabeth Scott) threatened military buddy Humphrey Bogart
director Jacques Tourneur's quintessential, slick film noir Out of the Past (1947) (aka Build My Gallows High) of underworld intrigue was filled with complex flashbacks; it featured Robert Mitchum as the doomed, double-crossed ex-private eye Jeff Markham with a sordid past who fell for the icy femme fatale Kathie Moffat (Jane Greer) he was trailing for ruthless gangster Whit Sterling (Kirk Douglas); Markham knew the dangers of falling in love with her ("You're like a leaf that the wind blows from one gutter to another"); [remade as Against All Odds (1984) with an older Jane Greer as her original character's mother]
Nicholas Ray's doomed lover film They Live By Night (1949) starred Farley Granger and Cathy O'Donnell as fugitive, misfit criminals on the run [remade as Thieves Like Us (1974)]
Joseph H. Lewis' tabloid romantic/crime B-movie melodrama Gun Crazy (1949) (aka Deadly Is the Female) - was another amour fou 'Bonnie and Clyde' tale with two disturbed and doomed protagonists/lovers on a crime spree - gun-loving Bart (John Dall) and blonde carnival sharpshooter (Peggy Cummins); noted for one unbroken take filmed in the getaway car during a bank robbery scene
Billy Wilder's classic black comedy and film noirish drama Sunset Boulevard (1950) was a "behind the scenes" look at Hollywood and the price of fame, greed, narcissism, and ambition; down-on-his-luck B-movie hack screenwriter Joe Gillis (William Holden) spoke (in flashback with voice-over narraton) beyond the grave as a dead man floating face-down in a swimming pool in Beverly Hills, about his six-month struggle to produce screenplays to meet the demands of the industry and satisfy the thirsty illusions of immortality and comeback of aging, waspish, megalomaniacal silent film queen (and femme fatale) Norma Desmond (Gloria Swanson) in her decaying Sunset Boulevard mansion
Otto Preminger's Angel Face (1953) starred Jean Simmons as a psychotic 'angel of death' who talked chauffeur Robert Mitchum into a murder scheme
Henry Hathaway's Techni-colored noir Niagara (1953) provided the perfect star vehicle for curvy sexpot Marilyn Monroe as Rose Loomis, a sinfully-wayward, unhappily married woman (to unstable, WWII veteran George (Joseph Cotten)), in its tale of murder and sexual jealousy; one of its taglines proclaimed: "A raging torrent of emotion that even nature can't control!"
Documentary-Style Noirs:
There are numerous, pseudo documentary-style film noirs ("docu-noirs"), often set in dark, rain-swept, crime-ridden urban areas, made in a realistic, semi-documentary fashion and often filmed in actual locations of real-life events:
Henry Hathaway's docu-drama The House on 92nd Street (1945) about Nazi spies scheming to learn the atom bomb formula, was based on actual FBI cases
Henry Hathaway also directed the film noirish Kiss of Death (1947), was derived from Stoolpigeon - a story by Eleazar Lipsky (with a screenplay by Ben Hecht and Charles Lederer); Victor Mature starred as paroled robber Nick Bianco opposite chilling, sadistic gangster Tommy Udo (Richard Widmark in his stunning screen debut, noted for the scene in which he giggled hysterically while pushing a wheelchair-bound old woman down a flight of stairs)
Call Northside 777 (1948), another Henry Hathaway-directed film (based on a true story), starred James Stewart as dogged Chicago reporter P.J. "Mac" McNeal who uncovered a police coverup that sent Frank Wiecek (Richard Conte), a wrongly-convicted, innocent man to jail for killing a cop eleven years earlier in 1932; he originally investigated an ad in which Frank's mother Tillie Wiecek (Kasia Orzazewski), offered $5,000 for new evidence to clear her son, causing "Mac" to become increasingly certain that Frank was unduly imprisoned
Crane Wilbur's crime drama Canon City (1948) - a re-enactment of a 1947 prison escape in Colorado
director Jules Dassin's great crime drama The Naked City (1948) featured Barry Fitzgerald as a New York City cop investigating a murder over six days, and climaxed with a suspenseful chase and shootout on the Williamsburg Bridge
Anthony Mann's documentary style crime noir T-Men (1948) told about two undercover US Treasury men (Dennis O'Keefe and Alfred Ryder) who infiltrated a deadly counterfeiting gang; in one memorable scene, one of the T-Men was executed while his partner watched
the little-seen Abandoned (1949), from director Joseph Newman, about a late 1940s LA newspaper reporter (Dennis O'Keefe) pursuing a missing girl, along with her sister (Gale Storm known for the TV series My Little Margie), into the sordid black-market baby adoption racket, while encountering a corrupt private investigator (Raymond Burr)
Alfred L. Werker's (and uncredited Anthony Mann) police procedural film noir He Walked By Night (1949) was the story of the capture of psychopathic killer Erwin "Machine-Gun" Walker; the film inspired actor Jack Webb to create Dragnet - first a radio show and then a TV cop show
also, Joseph Newman's moralistic urban crime drama 711 Ocean Drive (1950) told about the rise and fall of an organized crime kingpin (Edmond O'Brien as a telephone company repairman turned bad); the film capitalized on various book-making scandals at the time sensationalized and exposed in the newspapers; with on-location settings of L.A., Palm Springs and Nevada, particularly at Hoover Dam
Billy Wilder's Ace in the Hole (1951), an insightful expose of the media, starred Kirk Douglas as a cynical and immoral newsman named Charles 'Chuck' Tatum who exploited a 'human interest' story to the public by orchestrating a media frenzy around a man trapped in a Pueblo cliff dwelling tunnel-cave collapse
Alfred Hitchcock's noirish, true-life story thriller The Wrong Man (1956) with Henry Fonda as a New York musician framed and wrongly-accused of committing armed robbery - and undergoing a nightmarish ordeal, including the mental breakdown of his wife (Vera Miles)

Prison Noirs:
Noirs have sometimes been set in prisons or jails:
in Mervyn LeRoy's I Am a Fugitive From a Chain Gang (1932), an innocent WWI veteran (Paul Muni) was wrongly imprisoned as a chain gang convict, and after two escapes faced life as a hunted fugitive; also the earlier RKO release by Rowland Brown, Hell's Highway (1932) - with a similar bleak view of a Southern chain-gang prison
Fritz Lang's message film Fury (1936) - his first American film - with Spencer Tracy as a falsely accused kidnapper who was threatened and nearly-lynched by a mob in a small Midwestern town
Jules Dassin's dark prison drama Brute Force (1947) - more harsh than noirish about the oppressive Westgate prison (headed by ruthless and sadistic chief guard Captain Munsey (Hume Cronyn)) with Burt Lancaster as an inmate seeking to escape to be with his critically-ill girlfriend

Menaced-Women Noirs:
In menaced-women noirs, the tables are turned and women are menaced by the men in their lives (often their husbands), as in these examples:
in George Cukor's Gaslight (1944), Ingrid Bergman was driven to near insanity by her menacing, mentally-cruel husband Charles Boyer
in Otto Preminger's hard-edged noir romance Laura (1944), a police detective (Dana Andrews) investigated socialite Laura's (Gene Tierney) murder until she reappeared - and was threatened a second time; the film contained troubling necrophiliac themes and sexual obsession by the hard-boiled detective for the dead woman; with a great supporting cast including Vincent Price, Clifton Webb, and Judith Anderson; Oscar winner for Best B/W Cinematography
in Anatole Litvak's unnerving and tense Sorry, Wrong Number (1948), bed-ridden hypochondriac/heiress Barbara Stanwyck overheard a phone call plot that her weak husband Burt Lancaster planned to kill her
in Nicholas Ray's In A Lonely Place (1950), Humphrey Bogart portrayed a burned-out, troubled, hot-tempered, and near-psychotic Hollywood screenwriter and murder suspect while having an affair with neighboring, alibi-providing, aspiring blonde starlet Laurel Gray (Gloria Grahame) - their sexual attractiveness to each other was soon torn apart by jealousy, fear, and suspicion