Plot Synopsis (continued)
---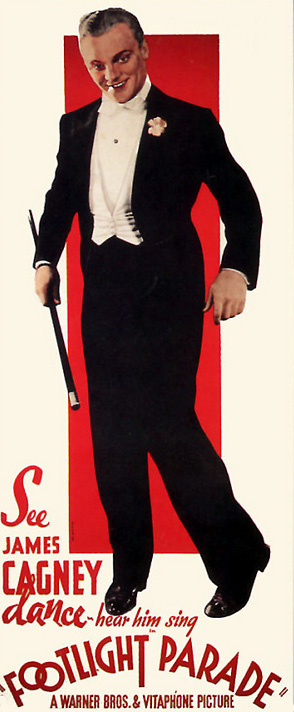 Corruption at Frazer and Gould's:
It was confirmed that Kent's profits and earnings were being sucked up by his two employers. In their office, Gould and Frazer received their 6-month financial reports and gloated: "Profits going up all the time," while comparing the figures with records from Kent's studio: "No profits at all." Gould confirmed the bookkeeper/auditor's (William V. Mong) question about how Kent's profits were non-existent: "Mr. Kent's statement shows that all profits go back into production. Is that right?" The two corrupt studio bosses ordered that the practice of skimming Kent's profits should continue: "Draw $20,000 in cash for Gould and me, and charge it to production costs as usual." The auditor was promised a "century note" for helping them to pay themselves dividends with a corrupt second set of financial records.
Further Tensions - Nan's Jealous Feelings About Vivian with Kent, A Report of Unprofitable Finances, and Scotty vs. Bea:
The vampish Vivian had designs on Kent and was attempting to romance him - by giving him a personal gift after their night out - a large framed picture of herself. He proudly displayed it on his desk. The long-suffering Nan was becoming exasperated by the unnecessary distractions Vivian was providing: "There's some mighty pretty country around here. Eleven wires, nine phone calls and one secretary slowly going out of her mind." Ignoring Nan's insinuations, Kent ordered auditions for a female singer to co-star with Scotty, and announced a new department - 'Styles and Ideas' - to be headed by Vivian whom he claimed "has brains and all kinds of culture." Nan muttered to herself: "I should've kicked her out the minute I saw her."
News came via a phone call that there was more trouble on the road: "Four girls from the 'Swiss Navy' unit married a quartet in Philadelphia yesterday and they wanna quit." To keep the unit from quitting, he promptly suggested hiring the quartet to join in the act. After Vivian arrived to begin her new job as Kent's manager of the 'Styles and Ideas' department, Nan quipped: "I hope you'll both be very happy." Gould congratulated Kent on the new hire, and presented the semi-annual financial figures to him. After glancing at his unprofitable numbers, Kent reacted: "Maybe I'd be better off on a salary." Gould lied about his own profits: "Frazer and I ain't drawing a cent out of the business either." Kent also griped about Gladstone stealing his idea about 'Mechanical Dolls':
"Between Gladstone stealing all our stuff, and you saying there are no profits, I'm getting pretty well fed up. "
Gould encouraged Kent to consider future profits with the Apollo Theater circuit: "Think of the Apollo Deluxe Theaters....They're gonna do prologues. Forty houses." He claimed that they were working on a deal, against Gladstone, to secure a contract with the Apollo theater chain owner George Apolinaris (Paul Porcasi).
Meanwhile in her newly-assigned office space, Vivian was caught reading "NAUGHTY STORIES" when she heard a knock on her door, and she hid the book. The lascivious censor Charlie Bowers dropped in to become better acquainted.
The Singing Auditions for "Ah, The Moon is Here!" - The Film's First Musical Number:
Kent entered one of the rehearsal rooms full of female singer hopefuls ready to audition and possibly co-star with Scotty Blair. They were ordered to show off: "All right, girls, stand up! Show Mr. Kent your legs. Oh, higher, higher," but Kent wanted a singer, not a looker: "This is an audition, not an exhibition." Together, cigar-chomping Francis and Scotty - in a very humorous segment, sang the duet together to demonstrate the lovey-dovey routine for: "Ah! The Moon Is Here."
Francis:
Ah! The Moon is Here
Ah, And we are here.
Love is off to a wonderful start.

Scotty:
I'm sitting pretty and you're by my side.
I'm well supplied. Plenty of you, plenty to do.

Francis:
Ah, it feels so grand When I hold your hand.
There's a hop, skip and jump in my heart.

Scotty:
What is this funny thing I can't get too much of?

Together:
Ah, I've got a feeling it's love.
The second singer-auditioner, who was profusely doused in perfume, indignantly denounced her rejection: "Why, I've sung before crowned heads," and Kent flippantly answered: "You've laid yourself wide open for a crack," but then wisely let it go. The third auditioner (Gracie Barrie) performed perfectly with Scotty and was immediately chosen. When asked out to lunch by Harriet, Scotty claimed he was in training and couldn't join her, but agreed to escort her out of the rehearsal room.
Bea and Scotty both missed an opportunity to be with each other, while Kent was planning his own lunch date with Vivian - causing Nan more upset. She tossed a book at Vivian's portrait on Kent's desk and sent it smashing to the floor. Then, she maliciously phoned Vivian, disguised her voice, and cancelled Kent's luncheon date: "Miss Rich? I'm calling for Mr. Kent. Yes, he won't be able to have lunch with you. No, he said you may take the afternoon off. He doesn't want you to strain yourself the first day."
At a nearby lunch counter, Bea happened to find herself sitting next to Scotty, and they both entered into a petty yet flirtatious squabble with each other - interrupted by Harriet's arrival:
Bea: "It's the only vacant seat."
Scotty: "At least you're sitting next to another good singer."
Bea: "I'll try not to let it spoil my lunch."
Harriet: "Why, Scott dear! You told me you'd stopped eating lunch."
Scotty: "Well, I have. You see, I got up so late, I'm just having breakfast."
Harriet: "Well, I'll forgive you this time, you naughty boy."
Bea: (to the waitress) I'll take spinach. (to Scotty) If I were a man, I wouldn't be a lap dog tied to any woman's apron strings."
Scotty: "I might surprise you."
Bea: "You probably won't."
Two Job Appointments: Scotty as Kent's New Manager - and the 'New' Bea as Francis' Dance-Teacher Assistant:
After lunch, Scotty unexpectedly told Kent that he was quitting, but Kent wouldn't accept his notice: "Don't be silly, singers never quit. They hang on till somebody knocks them off." Scotty explained his reasoning - his desire to fill Harry Thompson's open position as Kent's manager:
"There's no future in singing....I wanna be your assistant. You haven't filled Thompson's job yet. I'll work a year for nothing if you insist on a sample...Aw, give me a chance at the job, will ya? That's all I want. I know I'll make good."
Kent quickly reconsidered and gave Scotty the assistant manager job: "We'll make-believe you're Mrs. Gould's relative. Keep you on anyway. You've got the job." Afterwards, Scotty affirmed to Bea that Mrs. Gould had nothing to do with his promotion: "I got this absolutely on my own." He also criticized her stern and officious-looking demeanor (with glasses) and lack of makeup. He observed how she never expressed her 'non-business' self or revealed her true feminine beauty:
"That's the trouble with you. You're all business. All efficiency. You're not alive. You're not a bit feminine. Look at that dress. Look at those glasses. All you need is a pair of brown-paper shoes and The Atlantic Monthly tucked under your arm."
Afterwards, Bea rushed to Nan's office to seek advice on making herself more attractive: "Tell me, where do you get your hair done and where do you get all those pretty dresses?...Well, you're the type men like and..." Nan interrupted: "Me? Ha, ha, ha, know any more funny stories?"
During one of the rehearsals that Kent was involved in, Nan presented the 'new' Bea to him - dramatically different without her spectacles, donning a better hair-style, and a less mousy-appearance. She exclaimed how she had always aspired to dance and sing on-stage:
"I got sick of looking like a schoolteacher and I'm sick of working in an office. I wanna go back on the stage."
After a short display of her tap-dancing talent, Kent immediately offered Bea the job of teaching routines to the new dancers - and she was appointed as Francis' new assistant, who mocked his own oft-repeated catchphrase: "It can't be done, Mr. Kent, it can't be done." Kent remarked to Nan: "Another good gal gone wrong."
"Sittin' on a Backyard Fence" - The First of Four Busby Berkeley-Choreographed Musical Numbers:
The next sequence was a practice-rehearsal of the alley-cat number: "Sittin' on a Backyard Fence." It was performed by lead chorine Bea costumed in a furry cat-suit with ears and a tail. She was tap-dancing to the lyrics, and as the main kitty-cat, she urged dozens of other fellow cat chorines behind her to dance in an apartment alleyway - with a moonlit backdrop, and atop a backyard fence:
Refrain:
Come out, come out Come out and get your loving
Now, don't you keep me in suspense
Come on, come on We'll do our turtle-dovin'
Sittin' on a backyard fence

Come on, come on The little stars are peekin'
They're waiting for you to commence
Uh-huh, uh-huh I kinda thought I'd weaken
Sittin' on a backyard fence

It may be just another little backyard alley
Off the avenue But I can see a willow tree, a moonlit valley
In the dreams I share with you

Meow, meow The kitty-cat is cooing
He shows a lot of common sense
He knows, he knows There's always somethin' doin'
Sittin' on a backyard fence
During the rehearsal of the slightly-surreal song-and-dance routine, the camera pulled back to reveal the audience observing (various orchestral members, Scotty, Francis, and other chorines from other productions).
The lead feline noticed a small mouse (midget Billy Barty) stealing bottles of milk. From an overhead angle, the camera viewed the feline as she ascended through a hole in the floor - she emerged onto the surface of a giant, circular-shaped cat mouth, that closed beneath her. The other approximately 30 felines rested their heads on the perimeter of the circular platform to watch as she tap-danced around in front of them. Meanwhile below the surface, the mouse stole a chunk of cheese resting in a mouse-trap - pleased with himself for evading capture. A striped male tom-cat (Billy Taft) climbed over the top of the fence, as close-ups of each of the feline's faces popped into view in front of a retreating camera - creating a seemingly-solid line of cat heads. The tom-cat appealed to the lead feline to join him for some copulation: "Come on, come on, Come out and get your lovin'", and she climbed up to sit next to him on the fence-top for some "turtle-dovin'" - and to sing the remaining lyrics as a duet.
The obsessively-moral censor Bowers told Francis how he rated the number as scandalous: "Oh, those contortions are pretty vulgar."
After the show, Scotty pulled Bea aside and thought he recognized her: "You look like a girl I used to know." He then realized who she was and accused her of fooling him, but was enamored by her beautiful transformation: "You tried to fool me, didn't you?...Oh, but what a change. You're beautiful, and what a dancer." He asked her for "a little kiss" - but she denied him: "Uh-uh! Mrs. Gould's little boy? I should say not."
Securing a Contract for the Chain of 40 Apollo Theaters:
Gould pressured Kent to compete against Gladstone for a suddenly "hot" contract, to provide a series of 'prologues' for the chain of Apollo theaters. Kent promised to have a plan to secure the contract in the next day: "I'll give you something tomorrow that'll knock Apollo for a loop," but afterwards was unsure he could deliver: "Now all I have to do is think it up." In his office with Nan, they pledged to work together until they had achieved success - they locked foreheads:
Kent: "Old Faithful's gone blank on me. I thought of a thousand ideas and every one of them moth-eaten."
Nan: "If the little girl's not too bold, how's for me sticking with you to get it. You could think out loud."
Kent: "Like we used to?"
Nan: "It might help. Keep throwing ideas at me."
Kent: "And you throw the poor ones right back. Sold. We'll give Apollo a show if it takes all night. We'll have dinner, think and walk."
During a tiring all-nighter at his apartment, Kent and Nan were striking-out on new and usable ideas for 'prologue' units and eventually fell asleep in the living room. Over breakfast the next morning, Kent admitted he had no new inspirations: "Didn't even dream of one." He joked about an 'insane asylum' idea: "I could play the lead myself without any trouble." Suddenly, after looking at a newspaper headline: "WHAT HAPPENS TO UNPRODUCED MUSICAL COMEDIES?", he exclaimed that shortened musical comedies would be appealing to 'picture fans':
Kent: "I can tell you what's gonna happen to them. We're gonna put them in picture houses, prologues!... Cut them down to 40 minutes. Give them a picture and a musical comedy for 50 cents."
Nan: "Most picture fans never saw a musical comedy."
After Kent shared his idea with his partners Gould and Frazer, a formal dinner at Frazer's apartment with picture house chain-owner Apolinaris was set for that evening. The pitch was made by Gould: "There you are, Mr. Apolinaris. You give them a musical comedy and a picture, all for 50 cents!", but they were dismayed by Apolinaris' response. He had already received a similar, competing offer from Gladstone, but they were encouraged when offered a chance to present (or preview) their own stellar examples of three 'prologues' - it would be a make-it-or-break-it fair shot at acquiring the contract for Apolinaris' 40 movie theaters:
"It's good. But somebody beat you to it....You know Thompson, Gladstone's director?...Same thing!... Gladstone's got three prologues in rehearsal. Gonna show them to me Sunday. Now here's what I'll do. You fellas get three started, but they got to be ready Saturday night. I'll preview them in three of my houses around town and get audience reaction. What I like ain't worth a cent. What audiences like is worth a million."
Frazer phoned Nan to try and reach Kent, but he was out on a very late-night date with Vivian and couldn't be reached. Nan was awakened in the middle of the night (at 3 am) when a giddy and drunken Kent and Vivian returned from a night on the town, and became incensed when he asked: "How's the world's best secretary?" She sternly told him: "They want you at Frazer's apartment right away." She became worried when he ignored her urgency: "Can't be annoyed," and feared he had tied the knot with Vivian: "Don't tell me you married that chiseler?" [Note: She feared that Vivian's cold-blooded, gold-digging aspirations to be Rich - her last name, were coming true!] She was relieved that they were only engaged, and then lectured Kent on the momentous chance he was oblivious to - the opportunity to preview three prologues to secure the contract, to allow them to have 40 units simultaneously running in Apollo's large chain of theaters:
Nan: "Now you listen to me. This is your big chance. Forty units in deluxe houses. The whole Apollo circuit."
Kent: "It's too late for units. Units to the right of 'em. Units to the left of 'em. Volleys and thunder and lightning and everything."
Nan: "Come on, now! You get up here! This is a chance of a lifetime." (She pushed him to the door and into the hallway, in the direction of an awaiting taxi)
Kent: "All right, all right, I'll go, but I want you to know I resent this."
And then Nan literally kicked Vivian out her door as well: "Now you scram before I wrap a chair around your neck!...Outside, countess. As long as they have sidewalks, you've got a job!"
Kent's Acceptance of the Challenge - 72 Hours of Locked-Down 'Prologue' Preparations:
In Frazer's apartment, although Kent was angered with his "quarter-wits" partners (Gould and Frazer) and suspected that they had something to do with Gladstone's theft of his ideas, he vowed to present three prologues to the cinema-chain owner and win the contract:
Kent: "I'm gonna show that big jerk three prologues by Saturday night that will stand him on his ear! I'll give him the greatest show he's had since he quit the restaurant business."
Gould: "In three days? Where will you get the people?"
Kent: "Right in our own studio. We'll use three choruses and double up on the principals."
Gould: "It can't be done!"
Kent: "Give me absolute authority to start it tonight and I'll do it."
Gould and Frazer: "You've got it!"
Kent: "It's done."
The next morning, Kent gave a rousing pep-talk to his entire cast and staff inside the rehearsal studio, to prepare for three different and spectacular routines to acquire the contract. And to ensure secrecy and prevent leaks to his rivals of his three 'prologues,' Kent insisted on literally locking (and imprisoning) everyone inside the studio for 72 hours, with no one coming or going. He promised to bring in cots and catered meals during the staging of the three numbers:
"We've gotta have three of the greatest prologues ever put on. Now, get this. Somebody working among us has been giving Gladstone the inside dope. Selling him my ideas. And for once, I'm gonna put a stop to it. Now this is the way we're gonna do it. Nobody leaves here until Saturday night. (murmuring) Quiet! You'll eat here and sleep here - live three whole days right here in the studio. Quiet! This is war, a blockade. Anybody comes in, stays in."
After a moment's thought, no one accepted Kent's offer to leave, and he thanked them: "This is a large order. Three prologues in three nights. We're gonna work your heads off. Curse you and break your hearts, but by Saturday night, we'll have what we want. All right. Hop to it." Francis complained to Gould: "This is dangerous, Mr. Gould. Anything might happen. Suppose a fire broke out - locking us in like this" - Gould agreed: "He can't do it," but was powerless to stop Kent. A montage of right-to-left pans illustrated the feverish pace of preparations - the composition of songs, and rehearsals on stage.
Meanwhile, Scotty begged Bea to reconsider his romantic feelings for her, and vowed that his relationship with Mrs. Gould was "all washed up," but she was unconvinced: "Yeah, but does Mrs. Gould know it?" Scotty's protestations were reinforced when Mrs. Gould walked by with her new beau, one of the handsome lead cast members Mr. Joe Barrington (Philip Faversham). Scotty was vindicated when Bea responded: "It does look like Independence Day" - and they kissed. Their amorous behavior was noted by Bowers who complained to Kent: "How can you expect to keep up a high moral tone with that going on?" Kent was pleased he had played a Cupid-like role: "I'm awfully glad to have played love's little messenger and brought you two together," but reminded them they should save their affections for the 'prologues' (Scotty was in two of the productions, and Bea would be in all three). Predictably, the health-anxious Francis feared he would have a heart attack and pessimistically forecast: "It can't be done, it can't be done."
The next morning, Vivian complained about being locked up like in jail, and for not receiving her engagement ring. Kent was unsympathetic: "Sorry, dear, better get used to it." Nan hinted that she would make a much different fiancee: "I wouldn't beef about being locked up with the man I love."
Finally, the staging of the auditions was to occur in three different locations in NYC on the same night, each an hour apart that evening, with the company loaded onto buses and shuttled from one theater to the next (as they hurriedly changed costumes and scurried around):
9:00 pm - Jupiter Theatre
10:00 pm - Mercury Theatre
11:00 pm - Diana Theatre
Kent remarked: "Looks like we're in the laps of the Greek gods." He was worried about one of the 'prologues': "That water nymph number will empty the theater like a stench bomb," but there was no time to modify it.
Further Complications with Kent's Estranged Wife Cynthia:
Kent's separated wife Cynthia burst into the office, introduced by Nan as a "dizzy dame." Kent's former wife was still his wife - she had not found the time to seek the divorce in Reno, Nevada. Nan dropped a serving tray - stunned to learn that Kent had been married. As Kent surmised, his wife was there for mercenary reasons: ("You heard I was in the money") - to claim what she thought was his fortune, and to contest that he was planning to marry Vivian Rich, although she was conducting her own promiscuous affair in Europe. To avoid causing "plenty of trouble," she demanded $25,000 dollars and required payment by 4:00 pm, and afterwards would threaten him with her lawyer. The enterprising Nan thought of an idea to help Kent: "And when I get an idea I do something about it."
Nan rushed over to the rehearsal stage for "By a Waterfall" to speak to Scotty - asking him about the rumor (by busybody Mrs. Gould) that Kent's corrupt partners were scamming him: "Were you on the level when you said that Frazer and Gould were holding out on Mr. Kent?...Anything we can prove?" Nan then discussed the alleged scandal directly with Kent's bosses in their office, and accused them of criminal activity: "And you've been gypping him for months...My knowledge is worth money. It's out and out robbery and that's a crime in any country." She bluffed that she was bringing the case to a lawyer: "Mr. Kent will let the jury decide." To keep her mouth shut, she demanded blackmail money from them - $25,000, and further threatened: "If I tell Kent, he'll walk out and you know it." Frazer promptly wrote her a check for the full amount.
Meanwhile, Kent broke the "tough news" to Vivian that he was still married: "My wife. She never got the divorce" - the upshot was that their engagement was off, unless he could get $25,000 to pay his wife off. Gold-digging Vivian resisted the news and insisted on getting married - "You promised to marry me and you're going to marry me." Kent had a change of heart about Vivian when she called him a "silly-looking baboon," and bragged about her own intelligence: "I wrote the book and I know all the answers." The low-class Vivian revealed her true nature when she threatened to sue him: "Smart enough to sue and attach everything but your garters." He concluded as he walked out on her: "I'd rather have you sue me than marry me."
In the lobby, Nan rushed forward with the $25,000 check: "There is a Santa Claus...Take it and ask no questions." When Kent asked how she did it, she boldly admitted: "Blackmail!... I played a pair of deuces like four aces and they paid." Kent asked: "Frazer and Gould have been holding out on me?", but she fibbed and said it was a "bookkeeping mistake." Kent suspected otherwise and barged into Gould's office to confront his two sleazy partners:
"So you double-crossed me?...I slaved day and night for you and what do I get? You stab me in the back! Me, the guy who made this place! Who killed myself so you two chuckle-headed apes could get rich...Go and get somebody else to double-cross!"
Kent refused to proceed with the auditions for Apolinaris: "Fix it yourselves, you two wonder men." He ran outside with Nan, grabbed a taxi-cab and told the driver: "Anywhere, just keep going." Nan attempted to talk sense into Kent - "Let's go back, boss....They'll never get Apollo if you quit," but Kent was fed up and tired of the whole enterprise. Gould echoed Kent's remarks: "When Apolinaris hears, he wouldn't sign if we gave him Garbo on roller skates."
As Kent attempted to wipe out and eliminate his name from a large wall poster sign reading "Chester Kent Prologues," he suddenly had a revelation about how to improve the third "wood nymph" prologue after he spotted black kids playing in a opened water hydrant: "A mountain waterfall splashing on beautiful white bodies." He returned to the studio with renewed fervor to get everyone back to work:
"Listen, get back to work. That third prologue has changed. All the dance routines are shifted. Only this time, it's gonna be good."
In quick succession, Kent took care of all the impending issues:
Kent paid off his wife in his office with the $25,000 check and demanded a release that they were no longer married
he grabbed Apolinaris leaving Gould's office, who thought he had quit, and insisted that he remain to see the auditions
he pressured his partners Gould & Frazer to cut a new deal with him ("And I'm the dealer!") so that he would more fairly share in the profits
he caught Vivian in a compromising position in her office with the censor Bowers, who laughingly explained: ("I was just showing Miss Rich what you can't do in Kalamazoo"), thereby negating her breach-of-promise lawsuit
he praised Nan for her help in getting him straightened out - and asked for her help next time in "picking dames to fall for"; she insisted that she already had been doing just that: "What do you think I've been doing?"
he presented his director Francis with new plans for a revised prologue, and when he threatened to quit and whined about his hard work, Kent fired him and took over as director
A chalk CALL BOARD displayed the new schedule for the prologue auditions (with Apolinaris in the audience) - with information about bus departures for the cast and crew:
Bus Leaves Studio - 7:00 pm
Diana Theatre - 8:00 pm
Mercury Theatre - 9:00 pm
Jupiter Theatre - 10:00 pm
However, the first theatre where the bus arrived was the Jupiter Theatre!