Plot Synopsis (continued)
---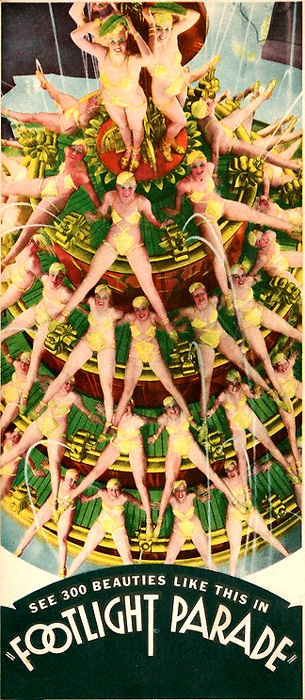 Kent was in the audience with Nan by his side for the first of three fantastic and extravagant presentations that evening (meticulously choreographed by Busby Berkeley) and performed back-to-back. The themes of the three 'prologues' were:
Honeymooning Bliss Among Newlyweds
A Spectacle of Feminine Aqua Beauty
Shore Leave Sordidness With a Prostitute and Exacting Military Drill
"Honeymoon Hotel" - Prologue # 1:
[Note: This risque and bawdy sequence was a nine-minute rehashing or sequel of ideas Berkeley had already exhibited in "Shuffle Off to Buffalo" from 42nd Street (1933) and "Pettin' in the Park" from Gold Diggers of 1933 (1933). The next year, Warners released an animated Honeymoon Hotel (1934) cartoon that followed the general pattern of the film, replacing humans with anthropomorphized male and female insects - TumbleBug and LadyBug - who honeymooned at a hotel and during their 'hot' lovemaking set it on fire.]
The curtain rose on the first prologue, featuring two hapless, not-yet-wed lovers, portrayed by Scotty Blair and Bea Thorn - as Scotty sang the lyrics to his sweetheart. They were first seen only from the legs down walking to the right down a sidewalk, passing a fire hydrant and stopping behind a large luggage cart obscuring them behind it. The pieces of stacked luggage (marked with Honeymoon Hotel stickers) were slowly removed to reveal their full figures - signaling their arrival at a train station. They both glanced at a newspaper ad for the Honeymoon Hotel, boasting 400 rooms and 400 baths and "Everything to make your honeymoon complete." A close-up and matching dissolve turned the ad into a fantasy view of the hotel doorman (William Irving) greeting them as they arrived at the 'Honeymoon Hotel' (in Jersey City, NJ).
How am I to say what I want to say
In the proper way, my dear?
I'm not a gallant cavalier
But I'm sincere

So I'm gonna say what I have to say
In the language of the day
You may have heard it all before
But here it goes once more

How about a little celebration
To the jingle of a wedding bell?
How about a little reservation
At the Honeymoon Hotel?

Honeymooning's gonna be my hobby
Don't you think a honeymoon is swell?
Wait until we walk into the lobby
Of the Honeymoon Hotel

Cupid is the night clerk
'Neath the stars above
He just loves his night work
We just love to love

Oh, I'm a mister looking for a missus
As a missus, you'll do very well
Bring along your things and all your kisses
To the Honeymoon Hotel
This was followed by swish-panning introductions of other hotel personnel who added a line of the song lyric: Joe the registration clerk (Harry Seymour) at the front desk, and an upstairs Maid (Mildred Dixon). Other characters included - the hotel detectives (Fred Kelsey & ?), a chirpy telephone switchboard operator, and a black Porter (Sam McDaniel):
Doorman: I'm the man in charge of transportation I will see that everything goes well
Clerk: I'm the clerk in charge of registration At the Honeymoon Hotel
Room Service: I'm the boy who carries up a cider Anytime you push a little bell
Maid: Bridal suites are never very idle At the Honeymoon Hotel
House Detectives: We're the house detectives But we're puzzled with The fact that no one stops here Unless their name is Smith
Phone Operator: I'm the girl in charge of conversation I hear things I wouldn't dare to tell
Porter: I's the captain of the comfort station At the Honeymoon Hotel
The couple were ushered into the lobby and front desk area of the hotel that featured only married (?) couples (all named Smith to remain anonymous). The groom whispered something to the clerk who directed them to the back office of the Justice of the Peace. A brief animation showed postcards and envelopes flying out of the hotel's mail slots and re-forming into black silhouettes of the couple during a marriage ceremony with the judge. The just-married newlyweds proceeded back to the lobby toward the hotel's elevator. After being unpleasantly eyed by two elderly Old Maids (Louise Carter and Vangie Beilby) in the elevator, the couple vacated and chose to take the stairs instead to their upstairs honeymoon suite.
As they kissed in the hallway outside their room, they were interrupted by a large contingent of the bride's family members spying on them from their room. The welcome party included her Mother (Leila McIntyre), Father (John Hyams), Aunt Matilda (Lillian Lawrence) (with a baby bottle gift), Uncle (Jimmy Conlin), Sister (Betty Jane Graham), Son, and a Little Boy (Billy Barty):
Mother: Aren't you glad to see your dear old mother?
Tell me why you didn't let us know.

Father: No, they didn't notify us, Mother, ha, ha
But they will when they need dough, oh, yes

Aunt: Aunt Matilda has a present for you
It will come in handy, you can bet

Uncle: We got that just 20 years before you
But it ain't been used as yet

Congratulations, Sister
All your clouds have passed

Son: Congratulations, Father
She's off your hands at last

Groom: Of course you know that all of you are welcome
Bride: I'm so glad to see you I could cry

Little Boy: It's a lot of hooey that we're welcome
Groom: We'll be seeing you, goodbye
The Groom departed from his room with his slippers and night clothes draped over his arm - leading a parade of all the other grooms (on both floors of the two-storied hotel), marching two abreast down to the end of the hallway, to share a communal bathroom before going to bed. [Note: The newspaper ad had boasted 400 Rooms and 400 Baths in the hotel, but this sequence implied there was only one bathroom on each floor.]
Next, the many lingerie-wearing brides (with either skimpy nightgowns or barely-there pajamas), the second half of the young amorous couples, popped their heads out of their rooms to take a peek. The pretty newlyweds had been shacked up for a week (with their grooms) in the hotel, and were eager to offer marital advice to nervous newlywed Bea in Room # 2. After walking three abreast down the hallway, they knocked on her door and supported her in song, as they locked arms and strolled down the hallway to her room:
Newlyweds: I've been notified there's a little bride
All alone in number two
I think we ought to see her through
I will, Me, too

We've been here a week
When you're here a week
Then you're qualified to speak
Let's tell her what it's all about
My dear, will you come out?



Bride: Oh, I'm glad it's you. I feel so nervous
I don't know my husband very well
Newlywed: Husbands are a feature of the service
At the Honeymoon Hotel

Bride: Gee, I'm sorry that I ever, ever
Left my little home in New Rochelle
Newlywed: Wait a while, you'll want to stay forever
All: At the Honeymoon Hotel
The large group was cautioned by the two House Detectives: "Girls, you'll have to scatter," but the brides all complained: "We don't see why we should." The detectives responded: "You're in Jersey City And not in Hollywood."
The grooms returned from the communal bathroom to their rooms, singing: "We've got to be in bed before 11.:00 Naturally, we think that's very swell 'Cause every little bridal suite is heaven At the Honeymoon Hotel." The lecherous Little Boy, Bea's younger brother, imitated them and followed them down the hallway to one of the rooms. In unison, 'Do Not Disturb' signs were hung on the outer door-knobs. Scotty returned to his room, turned out the light, and got into bed, and found himself next to the Little Boy:
Scotty: Kiss your little honey-boy good night, girl
Now we're married, dear, and here we are
I've the right to be beside the right girl
Boy: But you're in the wrong boudoir
He chased the boy out of his room, and realized he was in the wrong room. Bea saw him in the hallway, and accused him of being unfaithful to her (in song):
Scotty: Oh, honey!
Bea: Don't you dare to lie to me, I caught you
Scotty: But darling.
Bea: Getting friendly with that blonde gazelle
Scotty: Please don't make me sorry that I brought you To the Honeymoon Hotel
Bea: In the morning I'll see my attorney I will have my little tale to tell
Scotty: And for this I took you on this journey To the Honeymoon Hotel
Bea: Who was that blond woman Making eyes at you?
Scotty: I don't know that woman I cross my heart it's true,
Bea: If I hurt your feelings I regret it Won't you please forgive your little Nell?
Scotty: Aw, let's put out the lights and just forget it
After quarreling and then reconciling, Bea and Scotty spooned together in a double bed, and the camera panned left to an open magazine on a table that flipped over a few pages (due to a gust of wind) to a full-page picture of a smiling toddler glancing over at them.
"By a Waterfall" - Prologue # 2:
[Note: This naughty and racy pre-Code number was an amazing geometric production featuring over 100 performers, mostly scantily-clad swimmers in an aquacade.]
The next stop on the 'prologue' audition tour - prefaced by scantily-clad chorines changing into their bathing suits on the bus-ride - was the Mercury Theatre. Seated in the audience behind Apolinaris, Kent leaned over to Nan and whispered: "Well, if this doesn't get him, nothing will."
The lavish 10-minute 'It-Was-All-a-Dream' sequence began with the stage curtain opening on a well-dressed Scotty, reclining and lounging in a verdant, pastoral park setting on a grassy incline with a small babbling brook's waterfall next to him, as he daydreamed and sang about his love for his sweetheart Bea. She soon appeared in a white dress and came to his side, at first responding to his calls with "Yoo-hoo-hoo-hoo."
I appreciate the simple things
'Cause I'm awfully fond of getting
Love in a natural setting
This is what I call the simple things

Just a winding stream
Where I can drift and dream
And when I'm waiting
For you

By a waterfall
I'm calling you
(Bea: Yoo-hoo-hoo-hoo)

We can share it all
Beneath a ceiling of blue
We'll spend a heavenly day
Here where the whispering waters play
There's a whippoorwill that's calling
You-hoo-hoo-hoo

By a waterfall
He's dreaming, too
There's a magic melody
Mother Nature sings to me
Beside a waterfall
With you...
After singing the lyrics to Bea, Scotty fell asleep and daydreamed - and the fantasy came to life. A group of three bathing beauties further up the incline in the background, seated on a larger rocky waterfall, joined in song and signaled for Bea to join them. To join them, she walked over to them (only her bare legs were visible) and then dove into the sparkling water in a larger pool. As the camera pulled back, at least 100 gorgeous chorines (wearing nude-colored bathing suits and rubber bathing caps meant to represent hair) were now perilously perched on the side of a gigantic waterfall. Some of the bathers slid down long slippery slides or dove from the sides into the pool, as the soundtrack played the tune and an angelic heavenly chorus reprised the 'love call' lyric. Swimmers smiled and waved at each other and frolicked in the water during the aquacade. Some segments viewed the girls from beneath the glass-enclosed aquarium as they dove in, or swam together and caused frothy bubbles of air to appear. They often created intricate patterns or formations - amazingly synchronized together. Views of the naiads were shot from many angles, including top views, underwater shots, close-ups, and above-water shots. A V-shaped pyramid formation of flutter-kicking bathers entered at the top of the frame.
During one segment, dozens of linked arms and legs of floating swimmers (forming kaleidoscopic patterns with their legs) were zipped (brought together) and then reversed (unzipped) as one swimmer swam through and broke open the zipper (and then closed it by swimming back). A parade of smiling faces was created by filmed close-ups of the beauties' faces, one-by-one, as they broke the surface of the water. During one circular formation with swimmers' arms intertwined and locked together, they laid back on the surface of the water and kick-splashed to propel themselves backwards, revealing the perimeter of the enormous rectangular pool as the circle grew larger and larger. The aquacade was now not being performed in a smaller woodsy area and pool, but in an art-deco Roman bath - a gigantic, stucco-decorated enclosure (featuring some tall diving platforms) with a large water fountain in the background. Multiple divers targeting the center of the pool created beautiful and often abstract patterns. Rotating or spinning spoke-wheel formations, shot from above, were impressively created by the swimmers, and enhanced by dimmed lighting effects (alternating light and dark figures). Pairs of chorines (locking their heads and legs together) spun around. Also seen from an overhead-view, they arranged themselves in shallow water in horizontal rows while resting their extended hands on each other's shoulders - eventually revealing themselves as twirling vertebrae of two, mirror-image snake-like formations. They then rearranged themselves into butterflies and into a geometric mandala pattern - with a more pleasing series of concentric circles.
The climactic finale was prefaced by a close-up view of four swimmers (standing out of the water and positioned back-to-back) donning large flower leaves on their heads, and as the camera slowly moved away, revealing that they formed the top tier of a revolving, 70-foot high, human fountain formation composed of five layers or stories - similar to the shape of a wedding cake. There were small decorative waterspouts or streams of water on each level. As the camera pulled further back, some of the bathers were seen to be kneeling at the base of the pyramid-shaped spiral - resembling a phallic-like worshipping position. The surface of the aqua-pool in the foreground reflected the fountain - it resembled a pointed-downward reverse image. A high-angle overhead view of the fountain again displayed the kaleidoscopic patterns of the extended and retracted legs of the bathers. From the sides, numerous waterspouts sprayed the dozen-or-so synchronized swimmers in the middle of the pool.
The sequence ended with a crane shot zooming into a blurry, watery closeup of one of the swimmers (Bea) before she dove under the water. Another imperceptible cut returned to the forest glade where Bea was splashing water onto Scotty's face to wake him up. He stood up and embraced her, as they reprised the song together and kissed: ("There's a whippoorwill that's calling You-hoo-hoo-hoo By a waterfall he's dreaming, too There's a magic melody Mother Nature sings to me..."). The 'prologue' ended - like the previous one - with another baby-themed vignette. A panning movement upward viewed a nest in a nearby tree where a mother bird was feeding the hungry open mouths of her four baby birds.
In-Between Prologues # 2 and # 3:
On the way to the third prologue, to be previewed at the Diana Theater, chain-theater owner Apolinaris continued to complain about his indigestion after eating "pie and salami." Kent was emboldened by the previous two previews. However, he was worried that Bea's dance partner, Joe Barrington wouldn't be up to the task. Bea and Scotty were encouraged, however - mostly about their own relationship:
Scotty: "Honey, how about a prologue honeymoon?"
Bea: "I'll sign now."
Scotty: "We'll make love in 40 cities."
Bea: "And then start all over again - if Apollo signs."
Kent found the drunken Barrington in his dressing room with Thompson's informant Grace, who was trying to sabotage the third performance by getting him sloshed. Kent roughly grabbed her and threw her out, implying that he knew she was Harry's informant: "My regards to Thompson!" When Barrington begged to not be in the show as the male lead dancer: ("I've only appeared in amateur performances"), the insistent Kent vigorously pushed the resistant actor ("No, I can't go on") toward the backstage area. After a brief scuffle against the drunken leading man Barrington (offscreen), the curtain rose as Kent fell down a flight of stairs onto the onstage floor - and he had no choice but to signal the orchestra conductor to begin the musical prelude for the third and final number.
"Shanghai 'Lil" - Prologue # 3:
[Note: The stylized and exotic, pre-Code third 'prologue' - with a bit of militaristic flag-waving at the end - provided commentary on Paramount's Shanghai Lily character (Marlene Dietrich in Shanghai Express (1932)) from the year before - and highlighted usually-taboo subjects: inter-racial romance and rampant drug use.]
The setting for the impressive, ten minute-long third 'prologue' was a decadent, backstreet bar (that fronted an opium den and brothel) in the Orient on Shanghai's waterfront. An unidentified man in a formal "monkey-suit" (viewed from the waist down) was single-mindedly searching (during a long camera movement to the right) for his long-lost girlfriend amongst patrons seated at the barroom's tables. One of the prostitutes asked: "Looking for your Shanghai Lil?" He stomped on a flower offered to him by one Asian female, and poured himself a drink at the bar. The cigar-smoking bartender (Otto Fries) responded: "No, I ain't seen Shanghai Lil." (Kent was finally revealed as the lead actor for the prologue, as a character named 'Bill.') He wrestled for the whiskey bottle against uniformed Sailor Pal (Roger Gray), who knew that 'Bill' had "jumped ship" to look for his lost-love "dame." They sat at one of the tables as Bill sang about Lil:
I've covered every little highway And I've been climbin' every hill
I've been lookin' high And I've been lookin' low Lookin' for my Shanghai Lil
The stars that hang high over Shanghai Bring back the memory of a thrill
I've been lookin' high And I've been lookin' low Lookin' for my Shanghai Lil

I learned to love her The little devil was just A butterfly
But you discover something on the level Shining in her eye
Oh, I've been tryin' to forget her But what's the use? I never will
I'll be lookin' high And I'll be lookin' low Lookin' for my Shanghai Lil

I've got to have another brandy... (Bill strode over to the bar)
In the next sequence, as the song continued, the camera tracked or panned down the entire length of the bar as fifteen hedonistic prostitutes, barflies and low-lifes of many different ethnic races, nationalities and genders (Asians, Africans, Anglos, a Frenchman, a Jew, etc.) each sang (or spoke) one-line fragments of the lyrics.
He's shaking like he's got a chill
I know what it takes To cure him of the shakes
Ah, what he wants is Shanghai Lil
Oh, she's a fascinating heathen
But say, she ain't been through the mill
Since she met that gob She's acting like a snob
Say, who the heck is Shanghai Lil?
That tiny devil!
No, she's on the level She can't hurt you and me
That oriental dame is detrimental To our industry
You said it!
I offered her a house in London
And I a chateau in Deville
She said she won't be mine For all of Palestine, oy!
They all go for Shanghai Lil
Bill staggered through a back-room door still looking for his girl, instead finding in the shadowy surroundings mostly jaded, recumbent, long-haired, drug-addled Caucasian female opium addicts frozen in blank stares while lounging in the opium den.
An abrupt cut brought up a close-up of a scruffy sailor-customer chugging down a mug of beer at the vice-ridden bar. As he leaned back, the camera viewed the entire span of the bar (with the many degenerate customers lined up on the left) receding into the distance. One of the rowdy sailors (Duke York) in the bar area jumped onto a table to resume the song about Shanghai Lil:
Sailor:
Come on, let's drink to Lil
He's looking for her still
Drink her down to Shanghai Lil (the patrons all cheered)
(All singing) Here's to the devil of a sailor
Here's hoping that she always will
Sailor:
She's every sailor's pal
She's anybody's gal
(All singing) Drink her down to Shanghai Lil
Offended, Bill assaulted the sailor and punched him to the floor, prompting a large-scale melee and saloon brawl to erupt. Soon, the Shore Patrol MP's broke up the fight and the bar area cleared out. Bill emerged from behind the bar - now wearing one of the sailor uniforms. A chorus of Bill's sailor pals proceeded to finish the song:
He can knock 'em down
And he can lay 'em low
Fighting for his ---
Hiding in a trunk, Shanghai Lil (Ruby Keeler) suddenly popped her head out from the lid - she was dolled up in politically-incorrect Chinese makeup, a full-length satiny-silk pajama outfit, and a jet-black wig. As he took her in his arms, she began to sing the remainder of the song as a duet with him - with an over-exaggerated accent:
Lil: I miss you very much a long time
I think that you no love me still
Bill: I've been lookin' high And I've been lookin' low
Lookin' for you, Shanghai Lil

Lil: I think you go with other sweetheart
And very many tears I spill
Sailors: He's been lookin' high And he's been lookin' low
Lookin' for you, Shanghai Lil

Lil: I got new lover
Bill: You little devil! You're just a butterfly
Lil: I like new lover
Bill: You're still on the level You can't kid this guy
Lil: I pray to Buddha in the Josh house
And Buddha he bring back my Bill
Sailors: He's been lookin' high And he's been lookin' low
Lookin' for you, Shanghai Lil
Along the top of the endlessly-long bar and on one of the smaller round bar tables, Lil and Bill initiated a fantastic tap-dance duet - the segment's highlight. Their brief dance was abruptly ended with the sound of a military bugle, blowing a reminder to summon the sailors back to their American warship. Bill joined the orderly row of sailors who were lined up in their ranks to march through the streets to their awaiting ship amidst cheering crowds. Asian patrons in the bar and other onlookers waved flags and patriotically supported the American troops as they were departing. An impressive display of military marching and rifle-handling topped off the parade.
Bill was participating In the lineup of sailors about to bid farewell, when Shanghai Lil rushed up and begged to go off with him. It was a reversal of the situation - now Shanghai Lil was looking for Bill and begging him to take her with him:
Lil: Oh, please you take me On great big steamboat with you Across the sea?
Bill: I'd like to take ya But that great big steamboat Don't belong to me
As part of the impressive militaristic drill and marching maneuvers, a phalanx of Oriental women also marched in alternating rows amongst the sailors.
The entire production climaxed with three jingoistic configuration shots and images (briefly set to three tunes: "Anchors Aweigh," "The Stars and Stripes Forever," and "Yankee Doodle Dandy"):
a top-photographed, overhead view of the marching sailors' caps (each outfitted with a card or placard image) that turned and transformed into the 'Stars and Stripes' US flag
the middle section of the placards flipped to reveal the face of US President Franklin D. Roosevelt
another top-viewed formation - created from the sailors' caps - was of the NRA's Blue Eagle (the logo of the controversial National Recovery Administration of FDR's New Deal) - the sailors on the perimeter of the formation fired their rifles
The chorus of sailors sang the remaining lyrics of the theme song as they marched away:
The stars that hang high over Shanghai
Bring back the memory of a thrill
I've been lookin' high And I've been lookin' low
Lookin' for my Shanghai Lil

I learned to love her The little devil
Was just a butterfly
But you discover something on the level
Shining in her eye

Oh, I've been trying to forget her
But what's the use? I never will
I've been looking high And I've been looking low
Till I find my Shanghai Lil
In the meantime, Shanghai Lil had disguised herself by dressing in a sailor's suit uniform to join Bill on board the ship. He reached for a pack of playing cards in his pocket, and as he fanned through the cards to entertain her - he created a crude flip-book animation of his ship sailing away - to Lil's delight.
The Finale:
For once, Francis exclaimed his positive outlook when the show ended: "I knew we could do it! I knew we could do it!" Both Kent and Bea took their bows in front of the curtain. In the audience, Apolinaris assured Gould that he would sign his contract right then and there to provide prologues to the 40-theater chain of Apollo movie houses.
Kent grabbed Nan with another idea: ("This idea's for a wedding!") - she thought he was referring to another 'prologue' idea, but he surprised her by proposing: "For you and me." She was thrilled by the idea:
Kent: "You like it?"
Nan: "Whatever you say, boss."
Kent: "I'll make you love it." (The screen turned black, and the audio picked up their kissing-smack)