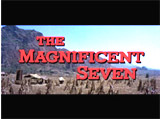 The Magnificent Seven (1960)
The film was one of the most popular, shoot-em-up westerns of all-time. The 'updated' remake from producer/director John Sturges was a adaptation of Akira Kurosawa's Japanese film epic The Seven Samurai (1954) about Samurai warrior-swordsmen that defended a 14th century village.
In this film, the "Magnificent Seven" defended Mexican peasants against bandit leader Calvera (Eli Wallach).
The film made stars of many of its macho actors, notably Steve McQueen as Vin (and the other six gun-slinging American outlaws: Brad Dexter as Harry Luck, Horst Buchholz as Chico, James Coburn as knife-throwing Britt, Robert Vaughn as Lee, Charles Bronson as wood-cutting Bernardo, and Yul Brynner as Chris Adams). It was also noted for Elmer Bernstein's memorable, Oscar-nominated score.



"Nobody throws me my gun and says run. Nobody."

- "That was the greatest shot I've ever seen."
- "Worst. I was aiming at the horse."
"If he rides in with no idea of the reception we can prepare for him, I promise you we'll all teach him something about the price of corn."



The show-down/duel between Britt's knife and a fast-draw gun.
The final stand-off to defend the village between the "Magnificent Seven" and Calvera's gang.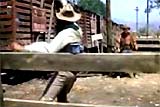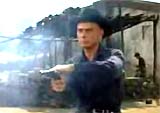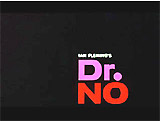 -- And almost all of the other Bond films to follow! See James Bond film Series-Franchise.
This was the first of the James Bond series of action-packed spy thrillers, and it played a key role in establishing the Bond character as a recognizable icon in popular American contemporary culture. All of the films feature clever opening title sequences and trademark theme music, sexy and beautiful women, great diabolical villains, exotic, international locales, the calm manner and witty, subtle humor and repartee of the mythic hero 007, violence, terrific action sequences, stunts and chase scenes, narrow escapes, gimmicks, and great cinematography.
Its predictable formula starred the debonair, dashing and charming British "Secret Agent 007," James Bond (portrayed over the years by numerous dashing actors), with great taste in clothes, wine, food, and exotic, sexy women.

"That's a Smith and Wesson. You've had your six."

The emergence Venus-like from the water of Honey Ryder (Ursula Andress), an innocent, voluptuous island girl/diver wearing a sexy, white bikini and hunting knife, and carrying giant seashells.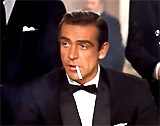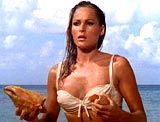 The Great Escape (1963)
This critically-acclaimed and box-office champ from director John Sturges was a classic WWII German POW camp (Stalag Luft North) escape tale (based on a true story).
It told about an all-star group of Allied prisoners (American, Canadian, and British), starring Steve McQueen as Allied POW loner Captain Virgil "Cooler King" Hilts, and others including James Coburn, Richard Attenborough, Charles Bronson, Donald Pleasence and James Garner.
It was based on Paul Brickhill's 1950 factual account of the true story of 76 Allied servicemen POWs during World War II who escaped from Stalag Luft Nord III in Germany. This "great escape' was the largest mass escape during the war. The war film was enhanced by a stirring musical score by Elmer Bernstein.

"It is the sworn duty of all officers to try to escape. If they cannot escape, then it is their sworn duty to cause the enemy to use an inordinate number of troops to guard them, and their sworn duty to harass the enemy to the best of their ability."

The image of Hilts, in a prison cell, endlessly bouncing a baseball against a wall into his baseball mitt, and his exciting (yet ultimately unsuccessful) attempt (actually stuntman Bud Ekins) to escape from the Germans by vaulting a stolen German motorcycle over a six-foot barbed-wire/wooden prison fence at the Swiss border.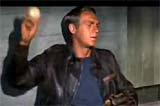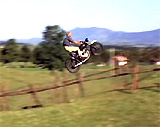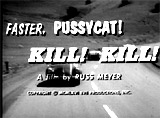 Faster, Pussycat! Kill! Kill! (1965)
Sexploitation films always did well with male audiences in grindhouse theatres. 'King of the Nudies' director Russ Meyer's best and most popular work was this overly dramatic, trashy, semi-fantastical, and violent (but without nudity) film that originally failed at the box office. It was considered hard-core in its day.
It starred three buxom go-go dancers by night who went on a murderous desert rampage by day in their hot-rod sports cars: the vivacious blonde Billie (Lori Williams), the masochistic and lesbian-leaning Rosie (Haji), and the villainous, tough, and masculine, black-haired dominatrix bad-girl Varla (Tura Satana) with Kabuki-styled eyebrows, who excelled in karate. Varla also offered significant breast-cleavage exposure bursting from her tight, totally-black outfit, and she sported black bangs and cat-eye makeup.
Although a flop and initially reviled by feminists as "juvenile sexism," this cult film has been reassessed as a pro-feminist "female empowerment" epic. In its gender reversal, the female characters were seen as cunning, powerful, supercharged, aggressive and sexually predatory, while the males were either weak, decrepit, sexually impotent or mindless brutes.

The encounter with a young couple on the salt flats: Tommy (Ray Barlow) and his timid, naive bikini-clad girlfriend Linda (Susan Bernard, December 1966 Playmate); cleancut racer boyfriend Tommy competed on the salt flat race track against Varla and the others (and he lost when he was run off the track by a cheating Varla and spun out); afterwards during a challenge fist-fight, Varla karate-chopped Tommy in the neck and lethally back-crunched and spine-cracked him, while Linda was kidnapped, drugged and taken hostage-captive after witnessing the murder.
The gas station dialogue when a dumb attendant (Mickey Foxx) said he wanted to 'see' America while looking down at Varla's bounteous chest: "Just passing through, huh? Boy, that motor's sure hot! You gals really must have been moving on these little machines. Yes, sir, the thrill of the open road. New places, new people, and new sights of interest. Now that's what I believe in, seeing America first!"; Varla memorably growled back: "You won't find it down there, Columbus!"
The demise of Billie after she told her evil companions that she was leaving them. As she was walking away, Varla threw Rosie's switchblade knife a long-distance into her back - Billie staggered and arched backward before falling dead to the ground. Varla also ran down and killed the owner of a dilapidated ranch - crippled, wheel-chair bound "old man" (Stuart Lancaster), who had witnessed Billie's murder. He allegedly had inheritance money hidden somewhere on the premises - the money flew out of the seat of the capsized wheelchair.
The return of Rosie to the scene of Billie's murder to retrieve her knife from Billie's back, when muscle-bound and dim-witted Vegetable (aka "Veggie") (Dennis Busch), one of the old man's two sons, assumed that she was responsible for Billie's death and he knifed her to death ("I'll give you the knife") - with three vicious stabs to her abdomen - and she fell dead at his feet ("Your knife is yours to keep now"). Seeking revenge for Rosie's death, Varla ran down Vegetable and partially crushed him against a wooden fence.
In the film's violent conclusion out in the desert, during hand-to-hand combat between Varla and the 'old man's' older son Kirk (Paul Trinka), Varla was gaining the upper-hand until Linda smashed into her with the ranch's jeep-truck and she soon died (with a clenched fist in the air about to strike). Linda cried out hysterically: "I killed her like she was an animal. Like she was nothing!" - Kirk responded: "She was nothing, nothing human! A real Jekyll and Hyde. You saved my life, so stop cryin', huh?" As they were leaving, Linda asked: "Are you gonna just leave her there?", Kirk coldly replied: "Well, she's not goin' anywhere" - the film's last line