Romantic Pairings in the 90s:
the oft-repeated response "Ditto" of Sam Wheat (Patrick Swayze) to girlfriend Molly Jensen (Demi Moore), when she told him, "I really love you," and the passionate pottery wheel scene in which spirit-ghost Sam revealed himself to grieving Molly in Ghost (1990)
the association of Hollywood hooker Julia Roberts and corporate businessman/client Richard Gere in Pretty Woman (1990)
the severely-punished, fateful love affair between Kevin Costner and Anthony Quinn's wife (Madeleine Stowe) in Revenge (1990)
the attraction between widowed Jewish lawyer (James Spader) and older Missouri waitress and barfly (Susan Sarandon) in the sexy White Palace (1990)
the wild and sensational coupling of Elvis-worshipping, rebellious convicted murderer Sailor Ripley (Nicolas Cage) and sexy lady Lula Pace Fortune (Laura Dern) in David Lynch's road film Wild at Heart (1990)
the tensions that arose from an inter-racial romance between a married architect (Wesley Snipes) and an Italian-American office worker (Annabella Sciorra) in Spike Lee's urban romance Jungle Fever (1991)
the protective wooing of repressed ex-Secret Service agent (Kevin Costner) for client/pop star Whitney Houston (in her film debut) in The Bodyguard (1992)
the pledged love between frontiersman Hawkeye (Daniel Day-Lewis) and the beautiful British officer's daughter Cora (Madeleine Stowe) in the lush film from James Fenimore Cooper's novel The Last of the Mohicans (1992); with the famous promise: "You stay alive, no matter what occurs! I will find you! No matter how long it takes, no matter how far, I will find you"
the offbeat dance/romance and the Cinderella blossoming of young love between love-struck novice dancer and plain-Jane wallflower (Tara Morice) and her daring dance partner (Paul Mercurio) in Australian director Baz Luhrmann's debut film, Strictly Ballroom (1992)
the sexually-liberating love between a 19th century imported mute bride (Best Actress-winning Holly Hunter) and a sensual, blackmailing overseer (Harvey Keitel) in New Zealand director Jane Campion's romantic drama The Piano (1993)
the formal relationship between repressed English butler Mr. Stevens (Anthony Hopkins) and younger housekeeper Sally (Emma Thompson) in The Remains of the Day (1993)
the real-life joyous love affair and marriage between Narnia books British author C.S. Lewis (Anthony Hopkins) and divorced American fan/poet Joy Gresham (Debra Winger) - until her tragic terminal illness that was both uplifting and heartbreaking in Shadowlands (1993)
the bittersweet romance between co-workers: a busboy (Christian Slater) and a waitress (Marisa Tomei) in Untamed Heart (1993)
the unfolding, 14-hour, conversational romance between two strangers who were a perfectly-matched couple: American Jesse (Ethan Hawke) and young Frenchgirl Celine (Julie Delpy), who met on the Eurail and then explored Vienna together before saying goodbye at a train station - in one of the most romantic of films, director Richard Linklater's Before Sunrise (1995); their story was continued (nine years later) in the witty Before Sunset (2004) with the same cast of two, now older and wiser, who reunited in Paris on a sunny afternoon - in real-time - with Jesse having only a few hours before a flight home to New York as they begin talking again and sharing thoughts about Life's Big Questions, with the film ending with Nina Simone singing Just in Time; the two lovers reprised their roles by appearing in a segment of Waking Life (2001)
the brave and bold love of one's country and one woman (Catherine McCormack) by a Scottish patriot (Mel Gibson) in the Best Picture-winning Braveheart (1995)
the four-day summer affair between Clint Eastwood as a bridge photographer and a repressed Iowa farmwife (Meryl Streep) in The Bridges of Madison County (1995), adapted from Robert James Waller's best selling short story
the platonic, long-term love relationship between English painter Dora Carrington (Emma Thompson) and eccentric homosexual writer Lytton Strachey (Jonathan Pryce) in Carrington (1995)
the assistive concern of counselor/nun Sister Helen Prejean (Susan Sarandon) for a convicted Death Row Louisiana killer (Sean Penn) in director Tim Robbins' Dead Man Walking (1995)
the discovery of true love by Sandra Bullock with the brother of one's supposed, comatose fiancee in the light-hearted While You Were Sleeping (1995)
the flashbacked, remembered WWII tragic, mismatched love affair of a mysterious, disfigured plane crash survivor ("The English Patient" - Ralph Fiennes), cared for by Canadian nurse Juliette Binoche in an Italian monastery, with a lovely Englishwoman (Kristin Scott Thomas) in The English Patient (1996), director Anthony Minghella's Oscar-winning romantic tearjerker; includes the famous line: "Swoon, I'll catch you."
the restorative relationship between previously hateful and annoying romance novelist Jack Nicholson and waitress Helen Hunt in As Good As It Gets (1997); "You make me want to be a better man"
the grand, star-crossed love story between a steerage passenger (Leonard DiCaprio) and a high-class debutante Rose (Kate Winslet and Gloria Stuart) in director James Cameron's sweeping epic Titanic (1997)
the unlikely pairing of charming bank robber George Clooney and federal agent Jennifer Lopez - in a cramped car trunk during a getaway and in a dreamy hotel love sequence - in Steven Soderbergh's Out of Sight (1998)
the quirky, mismatched romance between 15 year-old Rushmore Academy student Max (Jason Schwartzman) and his teacher Miss Cross (Olivia Williams) in the very original Rushmore (1998)
the romantic feelings of Jessie the Cowgirl when entranced by the dashing Buzz Lightyear: "Well, aren't you the sweetest space toy I ever met!" in the digitally-animated Toy Story 2 (1999)
the twelve-year relationship of childhood friends and high-school sweethearts Monica (Sanaa Lathan) and Quincy (Omar Epps) during their entire basketball careers, in Love and Basketball (2000), Gina Prince-Bythewood's first feature film - a character study and sports romance
the independent hit film My Big Fat Greek Wedding (2002)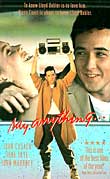 Cameron Crowe's Recent Works:
John Cusack romanced Ione Skye outside her window at dusk, by holding a boom box aloft playing Peter Gabriel's In Your Eyes in rock reporter/director Cameron Crowe's debut film Say Anything... (1989). He also confessed: "I gave her my heart and she gave me a pen." In subsequent years, Crowe would also direct the insightful Singles (1992) about Seattle twenty-somethings searching for romance (in the film, Campbell Scott jokingly admitted to Kyra Sedgwick: "I was just nowhere near your neighborhood"). Another Crowe film was the slick comedy-romance Jerry Maguire (1996), that popularized the phrase delivered to gushing sports agent Tom Cruise by secretary/single mother Renee Zellweger: "You had me at hello." The film also popularized the phrase: "You complete me." And Almost Famous (2000), a coming-of-age romance/drama, followed a teenaged rock journalist as he pursued a rock-band story and its prime groupie Penny Lane (Kate Hudson).
Jane Austen Film Adaptations:
Many romance-laced period films have been adaptations of the dialogue-rich, socially-observant, and satirical novels by 19th century novelist Jane Austen (1775-1817), including these appealing films and their over two dozen mini-series versions, BBC films and TV movies - not to mention stage productions. These romantic, often sexually-charged film adaptations reached a zenith in the mid-90s:
Pride and Prejudice (1940) - published in 1813 by Jane Austen; it was a classic MGM box-office success - a story about five unmarried sisters in the Bennet household in Georgian England; the romantic comedy of manners starred Greer Garson as Elizabeth Bennet and Laurence Olivier as Mr. Darcy; it was also a 5-part BBC-TV adaptation in 1980 (telecast in the US on PBS' Masterpiece Theatre in the fall of 1980) and a five hour BBC mini-series in 1995 with Colin Firth (first shown in the US on the A&E cable network); a Bollywood variation by director Gurinder Chadha was titled Bride and Prejudice (2004); and Joe Wright directed the latest iteration Pride & Prejudice (2005) starring Oscar-nominated Keira Knightley as strong-willed Elizabeth
Northanger Abbey (1986, UK) - published in 1818; a made-for-TV BBC film, telecast in the US as PBS' second Masterpiece Theatre presentation of the 1987-88 season
Sense & Sensibility (1995) - published in 1811; director Ang Lee, a tale of 19th century manners, morals and romantic fulfillment; garnered 7 Oscar nominations (including Best Picture, Best Supporting Actress-Kate Winslet, Best Actress-Emma Thompson, Best Cinematography, Best Costume Design, and Best Original Dramatic Score) with only one Oscar win (Best Adapted Screenplay-Emma Thompson); also a BBC-TV miniseries in 1985
Persuasion (1995, UK), published in 1818; director Roger Michell, a made-for-BBC TV film
Emma (1996) - published in 1816; director Douglas McGrath, with Gwyneth Paltrow as the title character in a film about courtship; inspired director Amy Heckerling's remake Clueless (1995) with Alicia Silverstone as the Emma character (named Cher Horowitz) going to school at Beverly Hills High; also a TV miniseries in 1997 with Kate Beckinsale as Emma, and broadcast on A&E
Mansfield Park (1999, UK) - published in 1814; director Patricia Rozema, with feminist character Fanny Price (Frances O'Connor); also appeared as a made-for-BBC-TV miniseries in 1983
Jane Austen was the subject of a biopic from Columbia Pictures and British producer Tony Garnett titled Becoming Jane (2005), about her early life (played by Natalie Portman) and a romance with a young Irishman before she achieved fame as a writer.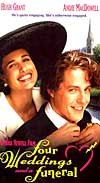 Hugh Grant's British Romantic Comedies:
In recent years, charming British romantic comedies with actor Hugh Grant have taken various shapes and forms, with the Brit: as a reserved, bumbling, and stammering 30-ish bachelor in pursuit of American Andie MacDowell after their meeting at a wedding in Four Weddings and a Funeral (1994); as a shy, travel bookstore owner who romances neurotic movie star Julia Roberts in Notting Hill (1999), and who is told: "I'm just a girl, standing in front of a boy. Asking him to love her"; and as the dashing romantic conquest of the overweight heroine Renee Zellweger in Bridget Jones's Diary (2001). Grant also appeared in first-time screenwriter Emma Thompson's adaptation of Jane Austen's dramatic costume romance Sense and Sensibility (1995), as one of the potential husbands for three headstrong Dashwood daughters (Elinor (Emma Thompson), Marianne (Kate Winslet) and Margaret (Emilie Francois)). In Love, Actually (2003), Hugh Grant appeared as the newly-elected British Prime Minister who was competing with the US President (Billy Bob Thornton) over the affections of shapely staff secretary Natalie (former UK soap star Martine McCutcheon).
Julia Roberts in 90s Romantic Comedies: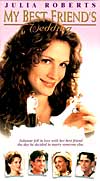 After her successes in Steel Magnolias (1989) and Pretty Woman (1990), Julia Roberts found her stride with mostly light-hearted romantic comedies, including the following:
I Love Trouble (1994), with Nick Nolte
Something to Talk About (1995), with Dennis Quaid
Woody Allen's Everyone Says I Love You (1996)
My Best Friend's Wedding (1997)
Notting Hill (1999), with Hugh Grant (see above)
Runaway Bride (1999), reunited with Richard Gere
The Mexican (2001), with Brad Pitt
America's Sweethearts (2001), with Billy Crystal
Supernatural Romantic Comedies: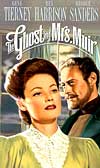 Supernatural romantic comedies have featured ghostly characters, in such films as I Married a Witch (1942), Capra's It's A Wonderful Life (1946), the fantasy/romance Here Comes Mr. Jordan (1941) [remade as Heaven Can Wait (1978)] about a young boxer sent to heaven but because of a mix-up returned to Earth in the body of a soon-to-be-murdered millionaire, Ernst Lubitsch's classic satire
Heaven Can Wait (1943) in which a roguish dandy Henry Van Cleeve tries to convince the devil in Hell that he deserves eternal damnation, The Bishop's Wife (1947) with Cary Grant as a heavenly angel sent into the household of the bishop's neglected wife (Loretta Young), Joseph L. Mankiewicz's The Ghost and Mrs. Muir (1947) about a cranky, former naval captain ghost (Rex Harrison) who falls impossibly in love with the widow/occupant (Gene Tierney) of his seaside cottage, or One Touch of Venus (1948) about a store window statue of Venus de Milo (Ava Gardner) that comes to life for a young department store window decorator (Robert Walker).
More recently, the top grossing film Ghost (1990) featured the enduring and passionate connection between a murdered investment consultant (Patrick Swayze) and his lover (Demi Moore) - with the memorable scene at a pottery wheel backed by the Righteous Brothers' Unchained Melody - ("Sam...I can hear you"). And Anthony Minghella directed Truly, Madly, Deeply (1991) - a tale of a mourning and depressed Nina (Juliet Stevenson) for her musician lover Jamie (Alan Rickman) who suddenly and briefly was brought back as a ghost.
Homosexual Love: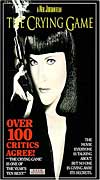 Early on, homosexuality was examined in director William Friedkin's The Boys in the Band (1970), compared to both Who's Afraid of Virginia Woolf? (1966) and Steel Magnolias (1989). The first modern mainstream film to feature an explicit gay romance (with a sensual gay kiss) was Arthur Hiller's romantic soap opera Making Love (1982) with Kate Jackson, Harry Hamlin and Michael Ontkean. Gay love was also explored in modern-day England in director Stephen Frears' My Beautiful Launderette (1985) between young Pakistani immigrant Omar (Gordan Warnecke) and working-class fascist punk-rocker Johnny (Daniel Day-Lewis). Longtime Companion (1990) detailed the devastating effects of AIDS in vignettes involving seven gay men (especially the caring of Bruce Davidson's David for deteriorating, dying AIDS-stricken lover Sean (Mark Lamos)).
And Neil Jordan's surprising and controversial The Crying Game (1992) told the unexpected story of growing love between Dil (Jaye Davidson) and IRA footsoldier Fergus (Stephen Rea). Joseph Fiennes as Elizabethan playwright William Shakespeare found inspiration for his famous play 'Romeo and Juliet' after loving cross-dressing beauty Viola De Lesseps (Gwyneth Paltrow) in John Madden's Shakespeare in Love (1998). Best Director-winning Ang Lee's Best Picture-nominated film Brokeback Mountain (2005) was the first mainstream gay/bi-sexual romance film heavily promoted by the media, told about a secret lifelong bond and longing for forbidden love between two young men in the early-mid 1960s - ranch-hand Ennis del Mar (Oscar-nominated Heath Ledger) and rodeo cowboy Jack Twist (Oscar-nominated Jake Gyllenhaal), who grew close while herding sheep in the summer on an isolated Wyoming mountain.