Bacall and Bogart: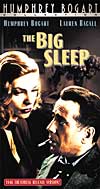 Young Lauren Bacall erotically challenged co-star (and soon-to-be husband) Humphrey Bogart in her screen debut in To Have and Have Not (1944) with "Anybody got a match?" and after a kiss encouraged him with: "It's even better when you help," and then suggested: "You know how to whistle, don't you, Steve? You just put your lips together - and blow." The infamous pair with on-screen chemistry co-starred together in three more films:
The Big Sleep (1946), Bogart and Bacall shared racy dialogue about horse-racing and saddles, and after being kissed, Bacall breathily stated: "I like that. I'd like more."
Dark Passage (1947), with Bacall as a lonely heiress aiding wrongly-accused escaped convict Bogart who has recently undergone plastic surgery
Key Largo (1948), John Huston's classic crime thriller, with Bogart and Bacall terrorized in a S. Florida, hurricane-threatened hotel by mob gangster Edward G. Robinson
Painful Romances in the 20s -50s:
Love did not always conquer in the end. Sometimes love, becoming an all-consuming passion, suffered serious setbacks and threats along the way, or ended disastrously - as in the following tragedy-tinged romances:
Sunrise (1927), F. W. Murnau's superb silent romantic melodrama of a farmer's (George O'Brien) temptation to kill his trusting wife (Janet Gaynor) due to seduction by an evil vamp (Margaret Livingston) from the City
The Kiss (1929), the last MGM silent film in which a married Greta Garbo is tried for her husband's murder after a platonic kiss from Lew Ayres
Charlie Chaplin's moving and sentimental silent City Lights (1931), the timeless story of the Tramp's love for a blind flower girl (Virginia Cherrill)
A Farewell to Arms (1932), Frank Borzage's classic dramatization of Ernest Hemingway's novel, a World War I melodramatic story of doomed love in Italy between a wounded ambulance driver (Gary Cooper) and a nurse (Helen Hayes)
King Kong (1933), with the famous closing line: "It was Beauty Killed the Beast."
Queen Christina (1933), Rouben Mamoulian's account of the 17th century Swedish queen (Greta Garbo) who must abdicate her throne and go into exile after proposing marriage to the Spanish ambassador (John Gilbert)
Of Human Bondage (1934), a fallen-woman romantic melodrama about an obsessive romance between an introverted, club-footed medical student (Leslie Howard) and a slutty, illiterate waitress (Bette Davis)
Alice Adams (1935), with the pathetic yearning of Katharine Hepburn's love-sick character to escape her lower-class, impoverished confines through romance with a young man (Fred MacMurray) of a higher social circle
Dodsworth (1936), William Wyler's chronicle of the unhappy Grand Tour of Europe during a failing marriage taken by Walter Huston and wife Ruth Chatterton
Three Comrades (1938), Frank Borzage's romantic tearjerker in which three disenchanted war veterans (Robert Taylor, Franchot Tone, and Robert Young) all love the same tubercular girl (Margaret Sullavan) in Weimar Germany
Gone with the Wind (1939), although a Civil War epic, also a melodramatic, romantic, and tempestuous love story between Scarlett O'Hara (Vivien Leigh) and Rhett Butler (Clark Gable); one of its most famous lines was forcefully delivered by Gable to Leigh: "You should be kissed - and often, and by someone who knows how."
the tragic love tale The Hunchback of Notre Dame (1939), about the grotesquely deformed Quasimodo (Charles Laughton) - the bellringer of Notre Dame cathedral, who has rescued the beautiful gypsy girl Esmeralda (Maureen O'Hara) and cried "Sanctuary!" - he speaks the film's last line to a gargoyle: "Why was I not made of stone like thee?"
Wuthering Heights (1939) the classic, tragic love story of mismatched romance between moody Heathcliff (Laurence Olivier) and his childhood step-sister and sweetheart Cathy (Merle Oberon)
Rebecca (1940), the classic gothic tale of the marriage between a widower (Laurence Olivier) and his young, unnamed vulnerable bride (Joan Fontaine) who is haunted by the shadow of the late Rebecca, her predecessor; Hitchcock's first American film
Mervyn LeRoy's and MGM's tear-jerker Waterloo Bridge (1940), the tragic and bittersweet wartime romance between a WWI army colonel (Robert Taylor) and a young ballerina (Vivien Leigh) who resorts to prostitution after believing that her lover was killed at the war-front
Casablanca (1942), a thrilling romantic melodrama and war film involving the Nazis and intrigue in Vichy-occupied Casablanca; a smoldering, tragic love story of Rick (an apolitical, cynical club owner) and Ilsa (a lover from his past in Paris); in the fog-shrouded airport finale, Rick lets the love of his life go, telling her: "If that plane leaves the ground and you're not with him, you'll regret it...Maybe not today, and maybe not tomorrow, but soon, and for the rest of your life"
MGM's and Mervyn LeRoy's incredulous Random Harvest (1942), in which a WWI soldier (Ronald Colman) experiences memory loss and forgets his wife/secretary (Greer Garson) - until the film's emotional climax
Now, Voyager (1942), the memorable Bette Davis film of a mother-dominated, transformed ugly duckling/spinster who finds some happiness in life through a sympathetic psychiatrist (Claude Rains), and with married man Jerry (Paul Henreid) and his daughter Tina; contained one of the more obvious metaphors for making love was the sophisticated action of lighting someone else's cigarette (or sharing it), and ended with the classic line: "Oh Jerry, don't let's ask for the moon. We have the stars"
For Whom the Bell Tolls (1943), in which Maria (Ingrid Bergman) asks Robert Jordan (Gary Cooper): "I don't know how to kiss, or I would kiss you. Where do the noses go?"
Leave Her to Heaven (1945), a tale of psychotic, compulsive and obsessive love with Gene Tierney as a wicked deadly wife
Love Letters (1945), in which Jennifer Jones discovers that the treasured letters she has were not written by her lover
Spellbound (1945), Hitchcock's romantic thriller, in which young psychiatrist Gregory Peck tells co-worker Ingrid Bergman: "Something has happened to us...It was like lightning striking. It strikes rarely."
Brief Encounter (1946), David Lean's most famous of British romances; a quintessential, desperate tale of unconsummated illicit love - set mostly in a railway station during weekly visits between two mature and repressed adults (who are married to others)
Gilda (1946), a tale of deceit, twisted and tortured loves and hates in a love triangle between a casino owner (George Macready), his sexy strip-teasing wife (Rita Hayworth), and the owner's right-hand man, wife's bodyguard and ex-lover (Glenn Ford)
The Ghost and Mrs. Muir (1947), an unusual romantic fantasy between a ghostly sea captain (Rex Harrison) and a widow (Gene Tierney)
Letter From an Unknown Woman (1948), director Max Ophuls' classic tale of unrequited love between an arrogant, philandering concert pianist (Louis Jourdan) and an enthralled young 19th century Viennese woman (Joan Fontaine) - the "unknown woman' of the film's title
The African Queen (1951), an East African adventure romance in which prim missionary spinster Rose Sayer (Katharine Hepburn) and a gin-soaked riverboat captain Charlie Allnut (Humphrey Bogart) face hanging by WWII Germans, but the bickering and admiring lovers are given a few moments of reprieve for a wedding: "I pronounce you man and wife - Proceed with the execution"; she expresses her sensual exhilaration after running the rapids earlier in the film: "I never dreamed that any mere physical experience could be so stimulating!"
A Place In The Sun (1951), George Stevens' classic tale of poor-boy-meets-rich-girl within an obsessive, romantic, and doomed atmosphere; Montgomery Clift tells his idealized Elizabeth Taylor: "I love you. I've loved you since the first moment I saw you. I guess maybe I even loved you before I saw you."
The Quiet Man (1952), John Ford's Irish story of a romance between a high-spirited, red-haired lass (Maureen O'Hara) and American ex-boxer (John Wayne), with a brawling struggle over the traditional dowry and consummation of the marriage
Roman Holiday (1953), director William Wyler's bittersweet film brought together smitten newspaper reporter Gregory Peck and royal princess-on-the-run Audrey Hepburn in Rome for a brief time; in their classically-romantic, first sad goodbye scene, Hepburn cautions Peck before returning to her entourage: "Promise not to watch me go beyond the corner. Just drive away and leave me as I leave you...I don't know how to say goodbye. I can't think of any words."
Sabrina (1954), Billy Wilder's romantic Cinderella-like tale about a chauffeur's daughter (Audrey Hepburn), transformed after attending finishing school and cautioned to steer away from loving his playboy brother (William Holden) by a much-older businessman (Humphrey Bogart)
Disney's The Lady and the Tramp (1955), the most romantic animated feature ever, about a mismatched couple: a high-class cocker spaniel (Lady) and a stray mongrel (Tramp)
Love is a Many-Splendored Thing (1955), the struggle surrounding the romance between a beautiful Eurasian doctor (Jennifer Jones) and a married American war correspondent (William Holden) in post-WWII Hong Kong
Marty (1955), a realistic, poignant, lonely-hearts story of two little people (a butcher and plain-Jane) who eventually find each other; in a simple declaration of love, Betsy Blair tells homely middle-aged Italian Ernest Borgnine: "I know that when you take me home, I'm just going to lie on my bed and think about you."
Summertime (1955), David Lean's British film about a late love in Italy between Katharine Hepburn and Rossano Brazzi
The King and I (1956) - a musical romance between a bald-headed, mid-19th century Siam King (Yul Brynner) and a widowed English tutor (Deborah Kerr)
An Affair to Remember (1957), a weepy remake of director Leo McCarey's own Love Affair (1939), in which a playboy (Cary Grant) and nightclub singer (Deborah Kerr) fall in love on an ocean liner, and plan to meet on top of the Empire State Building six months later. After a long-delayed rendezvous, a disabled Kerr tells Grant: "Don't worry, darling...if you can paint, I can walk. Anything can happen." [Sleepless in Seattle (1993) borrowed the same plot device.]
Sayonara (1957), with its tragic, cross-cultural and racial love affairs between American serviceman stationed in Japan during the Korean War
Hitchcock's Vertigo (1958), the suspense-thriller in which Kim Novak divulged her love for the obsessed James Stewart before her 'first' apparent fall to her death: "It wasn't supposed to happen this way...if you lose me, then you'll know I loved you and I wanted to go on loving you."
One of the top comedies in film history, Billy Wilder's Some Like It Hot (1959), also featured an elderly millionaire Osgood (Joe E. Brown) tango-romancing cross-dressing Daphne (Jack Lemmon), and the Cary Grant-impersonating 'Josephine's' (Tony Curtis) yacht seduction of a willing-to-help Sugar (Marilyn Monroe)
the trashy soap-opera A Summer Place (1959) with Sandra Dee and Troy Donahue as young summer lovers, memorable for its instrumental theme song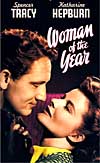 Tracy and Hepburn:
Spencer Tracy and Katharine Hepburn were a popular screen team in the 1940s who continued their celluloid pairing for twenty-five years in nine films together, until their final appearance in 1967. Most of their priceless films were romantic, urbane 'battle of the sexes' films:
Best Script-winning Woman of the Year (1942) from George Stevens, their first pairing together, with Tracy as a sports journalist and Hepburn as an uptight political journalist
Keeper of the Flame (1942), the least typical of Tracy's and Hepburn's films
Without Love (1945), a wartime comedy from the 1942 Broadway play
The Sea of Grass (1947), a family drama directed by Elia Kazan, with the pair as a Western ranching couple
Frank Capra's and MGM's politically-tinged State of the Union (1948), with the two as an estranged couple brought together during a Presidential campaign
Adam's Rib (1949), by director George Cukor; their best film together as married, competing courtroom attorneys in a case of attempted murder
Pat and Mike (1952), reunited with director George Cukor; the second-best film of the series; an entertaining 'war of the sexes' comedy with Tracy as a sports promoter/manager of golf/tennis athlete Hepburn
Desk Set (1957), directed by Walter Lang; the pair are matched up as an efficiency expert and network TV researcher, another comedy highlighting the couple's flirtatious, good-natured bickering and eventual love
Guess Who's Coming to Dinner (1967), a serious drama with Hepburn and Tracy as San Francisco parents concerned over their daughter's inter-racial romance; an Oscar-winner for Hepburn
Tracy also starred in Vincente Minnelli's Father of the Bride (1950) as the harried father of bride-to-be Elizabeth Taylor - remade with Steve Martin and Diane Keaton in 1991 (with a sequel in 1995).
Rock Hudson and Doris Day: 50s/60s Romantic Comedies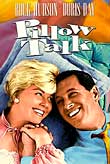 And then squeaky-clean, formulaic, courtship romantic comedies populated the 50s, exemplified by the innocent Rock Hudson/Doris Day bedroom farces:
Pillow Talk (1959)
Lover Come Back (1961)
Send Me No Flowers (1964)
Their best classic, witty and light-hearted 50's sex comedy was Pillow Talk (1959), a highly successful box-office hit that starred Rock Hudson as a womanizing, playboy/songwriter who attempts to woo prissy interior designer/career girl Doris Day. She positively loathed him, especially after over-hearing his conversations on their shared party line.
The squeaky-clean but sexy Doris Day also starred with other leading men of the time in further romantic comedies, including James Cagney (in Love Me or Leave Me (1955)), Richard Widmark (in The Tunnel of Love (1958)), Clark Gable (in Teacher's Pet (1958)), David Niven (in Please Don't Eat the Daisies (1960)), Cary Grant (in That Touch of Mink (1962)), and James Garner (in The Thrill of It All! (1963) and Move Over, Darling (1963)).