Beyond the Silent Years - A New Openness in Hollywood: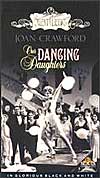 MGM brought out a loosely-constructed 3-part set of racy films with three young, amoral ('modern') Jazz Age flappers (Joan Crawford, Anita Page, and Dorothy Sebastian) - free and easy single women of the time. All of the films featured premarital love-making and sex, hip flasks and wild parties, hedonistic lifestyles, the latest expensive fashions, and hot Charleston-dancing scenes:
Our Dancing Daughters (1928) - with a breakthrough role for Joan Crawford
Our Modern Maidens (1929) - Crawford's last silent film, and the only film with Crawford and then husband Douglas Fairbanks Jr.
Our Blushing Brides (1930)
The difficult plot of the scandalous The Easiest Way (1931), with Constance Bennett as the upwardly-mobile, high-priced mistress of a wealthy advertising mogul (Adolphe Menjou), had to be heavily watered down to satisfy the suggested restrictions of the code. RKO's Ann Vickers (1933), based on Sinclair Lewis' novel and starring Irene Dunne as the title character, was challenged because of its melodramatic plot about a dedicated reformer who advocated birth control and had an affair with a dashing young army captain not her husband.
Women's stories were depicted honestly, and films in the early 30s had an honesty and openness that would be short-lived, due to the hastening of censorship by the constraints of the Production Code:
one rare characterization was offered by Greta Garbo who appeared as the bisexual Swedish queen in Queen Christina (1933) although Hollywood attempted to 'heterosexualize' the Queen's life story. The film's subtext also included cross-dressing, 'butch' mannerisms, and a shared, affectionate mouth-to-mouth kiss with her lady-in-waiting Countess Ebba Sparre (Elizabeth Young). The Swedish queen also steadfastly declared: "I shall die a bachelor," but experienced a prolonged, sensuous love-making scene with a Spanish lover (John Gilbert) before a roaring fire in a bedroom inn; she memorized the room after nights of passion, and reflected: "This is how the Lord must have felt when he first beheld the finished world with all his creatures breathing, living"


Tarzan's (Johnny Weissmuller) loincloth costume and Jane's (Maureen O'Sullivan) skimpy jungle outfit and nude underwater swim (with a body double) - both very revealing in the early, uncensored Tarzan films, Tarzan, the Ape Man (1932) and Tarzan and His Mate (1934)


Fredric March's Best Actor portrayal of the dual-natured Dr. Jekyll & Mr. Hyde (1931) character - a heavily-censored horror film due in part to its inclusion of a scene of Jekyll kissing nude mistress-prostitute (Miriam Hopkins) under her bedsheets, and her seductive invitation to return quickly: "Come back soon"


Ann Dvorak's portrayal of a cocaine-addicted and child-abusing woman in Three on a Match (1932)


Greta Garbo as a night-club performer who was kissed, in a prolonged upside-down shot, by a crude admirer Erich von Stroheim in As You Desire Me (1932)


Virginia Bruce in Kongo (1932) as a psychologically-abused, debauched, and raped drug addict and whore under the control of tyrannical cripple Walter Huston in the African jungle


Vienna-born Hedwig Kiesler (later known as Hedy Lamarr) as adulterous Eva who was seen skinny-dipping, romping in the sun-lit woods, and love-making in a cottage during a rainstorm (with an obvious expression of fulfillment and orgasmic pleasure on her face in a close-up) to a handsome young surveyor, in the early, scandalous Czechoslovakian foreign erotic drama from director Gustav Machaty titled Ecstasy (1933) (aka Exstase). It was the first theatrically-released film in which the sex act (sexual intercourse) was depicted. The film was blocked in 1935 by US Customs from import into the US for its obscenity, marking the first instance of customs laws prohibiting a film from entering the US
For the five years before the Hays Production Code of 1934 went into effect, Busby Berkeley featured barely-clad bathing beauty starlets (clothed to appear naked) in his extravagant productions, especially Footlight Parade (1933) and its racy "By A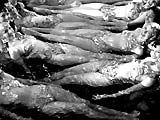 Waterfall" sequence with dozens of legs of floating swimmers (with suits to make them appear naked) being unzipped and zipped. The film's bawdy "Honeymoon Hotel" sequence featured married (?) couples (all anonymously named Smith), along with newly-weds Dick Powell and Ruby Keeler, preparing for their wedding night while her lecherous 'Little Boy' brother (midget Billy Barty) almost shared their wedding night.
Teasing, gold-digging chorus girls and dressing rooms were also featured in the Warner Bros.' musicals Gold Diggers of 1933 (1933) and
42nd Street (1933). [Errol Flynn's frequent sexual notoriety and exploits with women led to the coining of the phrase: "In like Flynn."]
Tough, free-loving, ruthless and sinful women, self-reliant and sex-enjoying ingenues, and other adventurous vamps were on display in mainstream, adult-oriented, early 30s Hollywood films that frankly portrayed uninhibited sex, women with babies out of wedlock, and excessive violence. Many of the film's titillating titles hinted at unmentionable film content and taunted the censors:
Call Her Savage (1932) - with Clara Bow as a tempestuous, rebellious, free-spirited, impoverished, and brawling Texas girl named Nasa "Dynamite" Springer driven to soliciting for male escorts
Hot Saturday (1932) - a daring film with Nancy Carroll as a small-town resident given a bad name by gossip (this was Cary Grant's first film as a leading man)
Female (1933), director Michael Curtiz' lusty comedy with Ruth Chatterton as the sexually-dominant, predatory, libidinous and hard-nosed president of a large automobile manufacturing company in sexual pursuit of her male employees
Ex-Lady (1933), a sex comedy with Bette Davis in an early role as an independent woman who didn't believe in marriage
Ladies They Talk About (1933) - an early 'women in prison' film, with Barbara Stanwyck as an imprisoned bank-robber, with a love-hate relationship for the radio evangelist who turned her in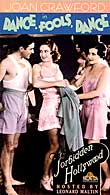 Actress Barbara Stanwyck starred in a number of pre-Code films that produced a furor, and helped to speed the end of sexual freedom, although much of the sexuality was implied and muted. The films included the naughty Night Nurse (1931) with Joan Blondell and Stanwyck as nursing school trainees often undressing and appearing in their lingerie, and Warner Bros.' risque Baby Face (1933) with physically attractive Stanwyck seductively and sexually aggressive in using men for her ascent within the New York City banking world.
The Production Code had difficulties with a liberated Joan Crawford in her underwear in Dance, Fools, Dance (1931) (the first of eight films pairing Crawford with Clark Gable), and Gloria Swanson in Prodigal Daughters (1923) as a sexy, modern woman. The beautiful and bewitching Garbo provided great sex appeal and numerous love scenes in The Mysterious Lady (1928), and Kay Francis starred as a woman employed in an 'escort service' in George Cukor's early sassy Girls About Town (1931). Roy Del Ruth's workplace drama Employees' Entrance (1933) was both audacious and racy with its story of a high-powered, overly-ambitious and fanatical department store executive (Warren William) and a young Loretta Young as the sexually-harassed wife of one of his subjugated employees.
Early Films Featuring Prostitutes: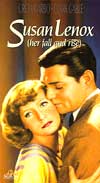 Early films featuring tales of fallen women or working girl prostitutes included Biograph's silent The Girl Who Went Astray (1900), the melodramatic Traffic in Souls (1913) (see above), and Sadie Thompson (1928) (based upon W. Somerset Maugham's forbidden play Rain - with a changed title) with Gloria Swanson as the Pago Pago tramp. Also, there were two films with Greta Garbo: Anna Christie (1930), and Susan Lenox (Her Fall and Rise) (1931) - Garbo's fourth talking picture and the first Hollywood talkie to portray a fallen woman/prostitute (or 'cooch dancer at a carnival').
The title of D. W. Griffith's part-talkie Lady of the Pavements (1929), his last silent film, was Hollywood's way of referring to a prostitute streetwalker. In this transitional talkie film, Lupe Velez (later famous as "the Mexican Spitfire") took the role of a cabaret singer/prostitute who was dressed in glamorous gowns and passed off as a noblewoman to fool Prussian Count Karl von Arnim (William Boyd, the future Hopalong Cassidy).
There were others with similar themes: Rain (1932) (a remake of Sadie Thompson, but now with its original title) with Joan Crawford as a "lost woman" on a tropical Pago Pago island, Waterloo Bridge (1931 and 1940) with Mae Clarke and Vivien Leigh respectively as a dancer who resorts to prostitution. And one of the earliest roles of Katharine Hepburn found her as a transvestite, masquerading as a man named Sylvester Scarlett - with obvious gender confusion in Sylvia Scarlett (1935).
The Hastening of the Code:
It is generally believed that certain offensive pre-Code films caused the hastening of the Hays Code in the late 20s through the mid-30s with their challenges to the morals and manners of the times. Many films presented women using their sexuality to get ahead, or depicted the 20s sexual revolution too openly:
A Woman of Affairs (1928), an MGM and Clarence Brown film with Greta Garbo and John Gilbert (in their third film together), was based upon Michael Arlen's erotic and controversial play titled The Green Hat, but sanitized for Hollywood, with its non-explicit melodramatic story of a woman engaged in numerous illicit and amorous love affairs


The Godless Girl (1929), with lurid and sensational content (along with puritanical moralizing) from vice/virtue director Cecil B. DeMille (his last silent film), about a godless, radical atheist girl (Lina Basquette) and the head of a Christian youth organization (Tom Keene), and their degradation (and eventual romance) when charged with manslaughter and sent to a brutal reformatory school


The Divorcee (1930), with Norma Shearer's Oscar-winning role as a 'bad girl' with a man's name (Jerry), who matched her unfaithful husband with a tryst of her own to 'balance the account'; the film was controversial at the time for its reversal of the 'double standard'; Shearer's next pre-Code film was Clarence Brown's A Free Soul (1931), with the actress cast as a free-spirited "new kind of woman"


both Warners' Little Caesar (1930) and The Public Enemy (1931) with Edward G. Robinson and James Cagney respectively portraying detestable, merciless gangsters; the latter film contained the notorious scene of Cagney pushing a grapefruit into his moll girlfriend's face during a breakfast argument


Red-Headed Woman (1932), featured Jean Harlow as red-headed Lil "Red" Andrews - a promiscuous, amoral, lower-class gold-digger, often barely clad who enjoyed rough treatment (an early example of S&M - after being face-smacked, she snapped back: "Ah, do it again, I like it, do it again!") and who unrepentently benefited from her sexual escapades with married men


Faithless (1932), starred Tallulah Bankhead as a calculating heiress who ended up as a desperate prostitute on the streets, to provide medicine for her ailing husband


Red Dust (1932), was another vehicle for Harlow - this time as a seductive 'prostitute' stranded on a rubber plantation and involved in a romantic triangle with Clark Gable and Mary Astor; in the film's final scene, while reading a children's story to a bed-ridden Gable, Harlow asks herself: "A chipmunk and a rabbit. Hey, I wonder how this comes out?"


Scarface: The Shame of a Nation (1932), was a particularly violent gangster film and noted as the first one with a gangster using a machine gun; also included racy hints of incest between the title character (Paul Muni) and his sister (Ann Dvorak)


The Sign of the Cross (1932), Cecil B. DeMille's early Biblical/historical epic and first sound spectacle, was a combination of 'sin and sensation' or vice and virtue - it slipped eroticism of Ancient Rome in with Claudette Colbert's nude asses' milk-bath, sadism, lesbianism, homoeroticism, orgies and a flower-garlanded-tied nude blonde Christian martyr awaiting death in a Roman arena from a devouring silverback gorilla. The film's most decadent and debauched moments were cut by censoring boards, and deleted for the film's re-release in 1944, but then reinstated in the mid-90s video version


Baby Face (1933) - see previous discussion


Convention City (1933), starred Mary Astor, bosomy Joan Blondell and Adolphe Menjou; it was a pre-Code comedy (a lost film unfortunately) about unhappily-married, out-of-town conventioneers pursuing extra-marital affairs with "hostesses" during their stay in Atlantic City


The Story of Temple Drake (1933), a steamy but toned-down, pre-Code drama adapted from William Faulkner's notorious, tabooed, best-selling 1931 short story Sanctuary, starred Miriam Hopkins as the promiscuous, willful and flirtatious title character - a Mississippi judge's Southern belle daughter who was raped with a candle by a degenerate gangster; she subsequently killed her kidnapping rapist, but later admitted in a courtroom scene that she secretly enjoyed the rape


Flying Down to Rio (1933) featured lots of see-through dresses, skirts and blouses, and also risque dialogue; one of the blonde chorus girls, jealous of the flirtatiously-successful Brazilian Dolores Del Rio (as Belinha DeRezende), asked: "What have these South Americans got below the equator that we haven't?" - and she also wore the first women's two-piece swimsuit seen on-screen!


any of Mae West's controversial sex comedies, such as She Done Him Wrong (1933) and I'm No Angel (1933) - see below